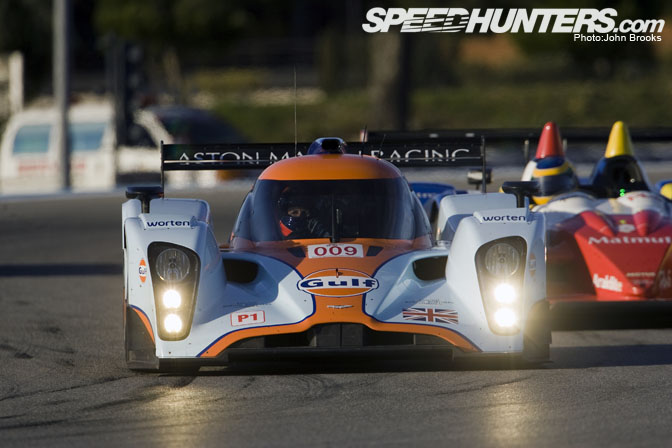 It's that time of year again. The cars that are going to star in the coming season start to emerge from the winter gloom and in 2009 that gloom has gone on for far too long. So it was a relief to get on the plane bound for Marseille en route to Le Castellet for the Le Mans Series Test days. Star of the show was the first public appearance of the Lola Aston Martin LMP1, decked out in the iconic blue and orange of Gulf Oil.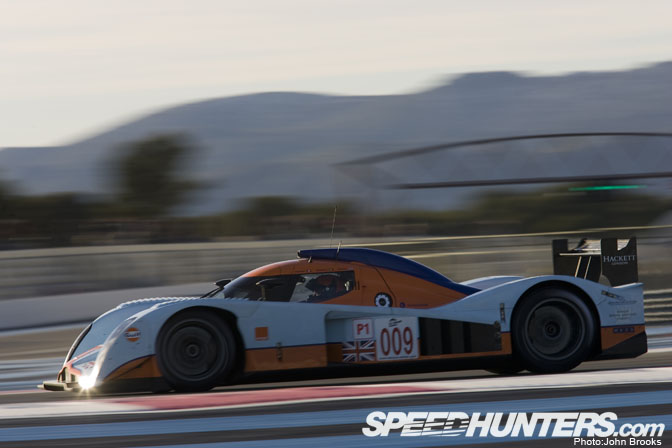 There is a saying in motorsport that if a car looks right at first glance, then it generally turns out OK. That is the case I think with new/revised Lola Aston Martin LMP1 which combines the sleek, slippery shape required for top speed with obvious muscle…………..an athlete at the peak of fitness then. And one that does not end in i………Ferrari, Lamborghini, Maserati, errrr……… Audi but you get the idea, this is a British car from one of the most iconic and famous brands on the planet…….thank you and goodnight 007!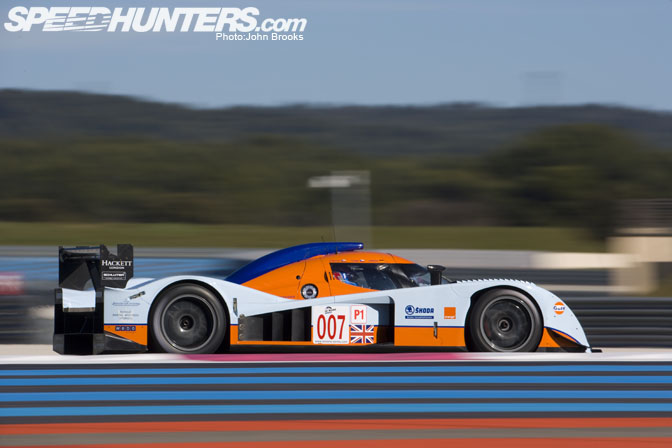 But is it an Aston Martin? Or a Lola? Or some form of hybrid? In the past weeks a major scrap has broken out between the two companies, trading PR releases regarding the other side's claims. Why? Is this another case of two bald men fighting over a comb? Well as usual the answer is all about money.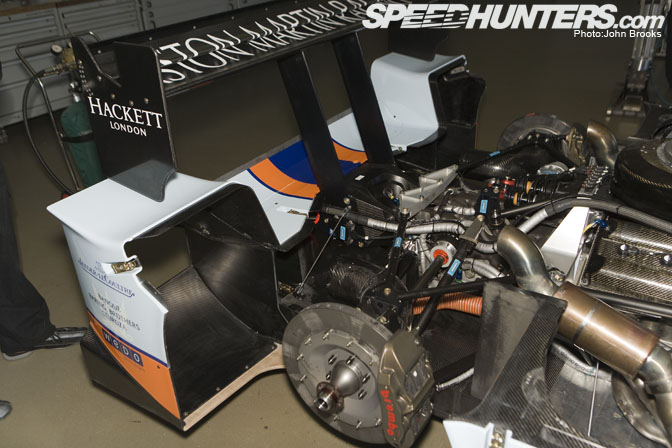 The project has its roots in the desire for Aston Martin to aim at an outright victory at the 2009 Le Mans 24 Hours, celebrating the 50th anniversary of their 1959 win. In 2008 the first step was taken when an engine developed from the DB9 was installed into a new Lola B08/60 of the Czech based Charouz team. Although outpaced by the turbo diesels of both Audi and Peugeot the project progressed well and rule changes which would curb the power of the oil burners meant that the 2009 Aston Martin effort could be on level terms with the other factory teams. So far so good. The plans were drawn up in the sunny times of 2007 after the sale of Ford's stake in the company to a group of investors led by David Richards, Chairman of ProDrive and also Aston Martin Racing.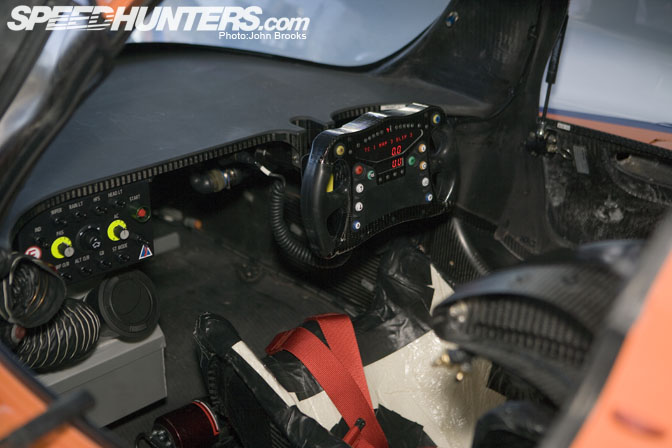 However as we are all too well aware the world's financial climate has changed and no industry has fared worse than those making cars. There would be no money available to produce an Aston Martin for racing and until December 2008 it looked as if Le Mans would also slip by as there was no budget for that either.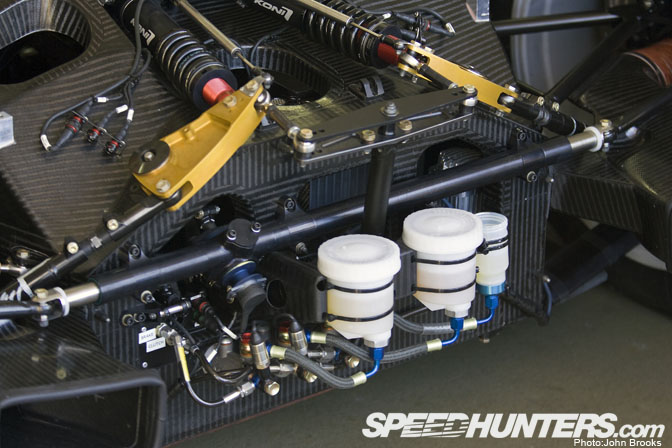 At this point a sponsorship deal was agreed with Gulf Oil and suddenly there were funds that would allow a full Le Mans campaign. The only possible solution was to purchase two B09/60s from Lola and work with the famous car builder to challenge the dominance of the diesels. There was a discussion to see if the cars could be rebranded as Aston Martins and given a proper type number etc. Lola's owner and Chairman, Martin Birrane told me that they had offered to share the IPR of the car if half of the development cost of in excess of £4.5 million was paid over to Lola. Given that Aston Martin was in the process of reducing their workforce by 600 (out of a total of 1,800) it is not surprising that they were not in a position to make that kind of financial deal. So the contract was signed and the car would be known as a Lola Aston Martin LMP1, which is what was homologated by the FIA and ACO.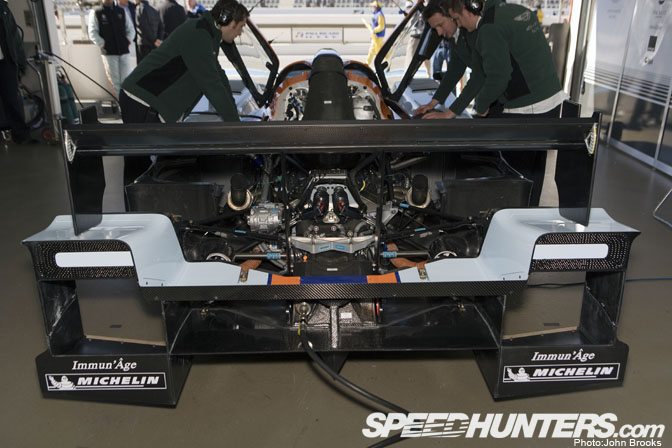 Then the trouble started…………
David Richards is a charming, urbane individual, a journalists' delight as he gives a ready quote and is always accessable. So they were very pleased when he came out with " The basic tub and crash structure are Lola's, everything else is ours. Last year's car was a bit of an ugly duckling, we've tried to turn it into a swan." He further maintained that his company had made "a radical redesign" of the Lola, including a new long tail.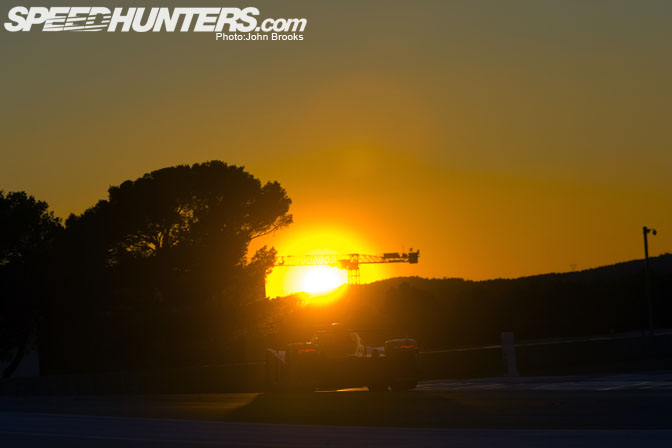 Good punchy stuff but Lola were not amused. A stiffly worded reply was next.
"Following a number of inaccurate and misleading quotes given by Aston Martin Chairman David Richards, regarding the supply of the Lola LMP1 chassis to Aston Martin Racing for this year's Le Mans 24 Hours and the Le Mans Series' programme, Lola has dedided to set the record striaght."
It is completely inappropriate that Aston Martin should now attempt to achieve 'ownership' through misrepresentation in the media. Lola's binding contract with Aston Martin is for two cars, the nomenclature of which under the contract is that the cars must remain Lola Aston Martin."
"The Lola Aston Martin is a Lola designed and built car. It is not a 'radical redesign' as stated by AMR."  
"Aston Martin has undertaken some body styling cues that required some CFD to reinstate the Lola aero performance."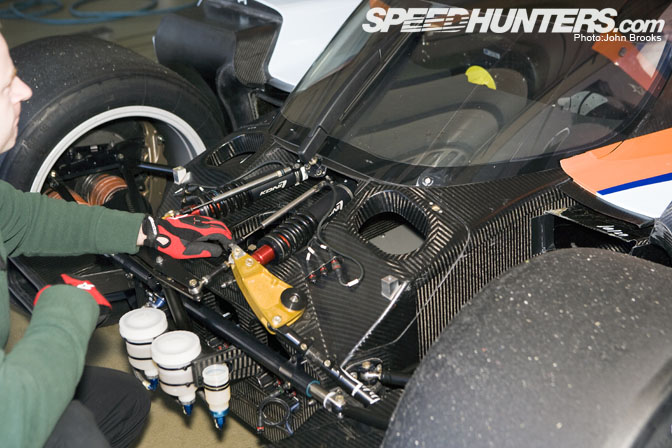 Oh dear, oh dear.  It is most unfortunate that these two fine companies should have such a public row. Speaking to other figures in the paddock, there was a general air of sympathy and support for Lola as they had built and designed the car from scratch, risking Birrane's money. Martin rescued Lola when it collapsed in 1998 after tryng to enter Formual One without the necessary funding in place. Since then he has pumped a lot of his own fortune in to the enterprise to keep it going. It has become very successful in the defense and aerospace markets where its quick response times give an edge over the more traditional players. In motorsport it is hard to be rational about the level of return on investment. I asked Martin why he continued, was it that he just a racer at heart like the rest of us,
He replied "Some men in my position buy a boat, but I get seasick. Some buy jets but where would I park it? So I bought Lola." all said with a smile and not a little pride in the company. He is over 70 and still runs his property empire and until last year competed in his Lola prototype in historic events, a true SpeedHunter.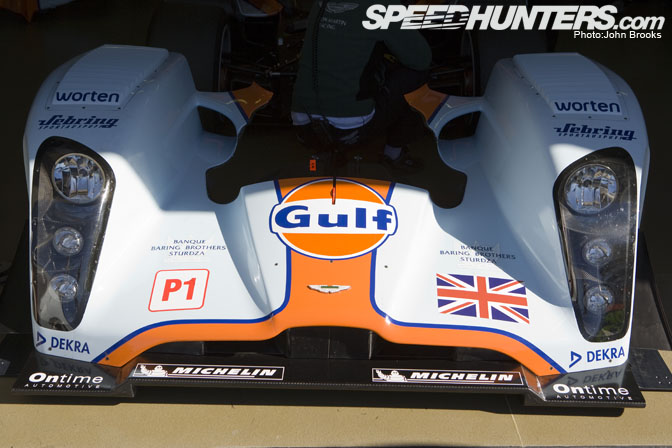 From Aston Martin's perspective they have made many changes to the standard car, mainly as a result of installing the 6 litre V12. So a new X-trac transmission, completely revised cooling system, rear suspension and electronics are new. Plus of course the styling and aerodynamic revisions front and rear, which incidently to my untrained eye, give the impression of a Porsche 917 circe 1971 rather than any product of Gaydon or Newport Pagnell.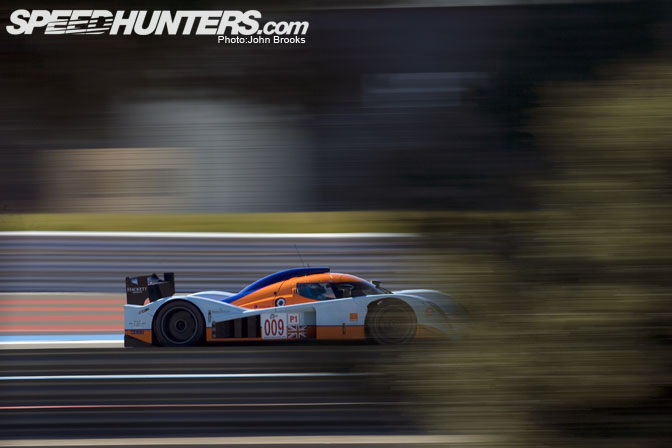 Whatever the arguments between the two parties, one thing is for certain, the car itself is drop dead gorgeous.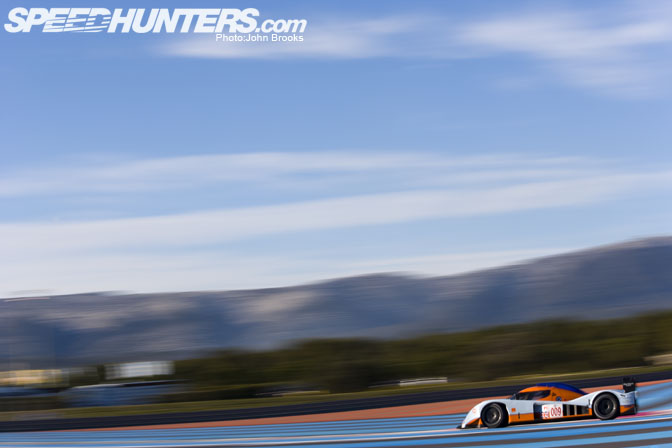 With a V12 howl, blue and orange warpaint and the 007 factor it is bound to get the loudest cheers when the Brits mass across from the pits at La Sarthe. How will it compare to the Peugeot and the Audi? Well we get a better idea when the LMS Spa race is run as the French are bringing three 908s along as a final test before the big race. My guess is that they will not quite be on the pace of the factory diesels, considering what budget is available to AMR they will do a fantastic job. Budget plays a part in the driver choice too. Jan Charouz, Miguel Ramos and Harald Primate are all very capable drivers who bring money without which there would be no project but they are not McNish or Minassian but who is?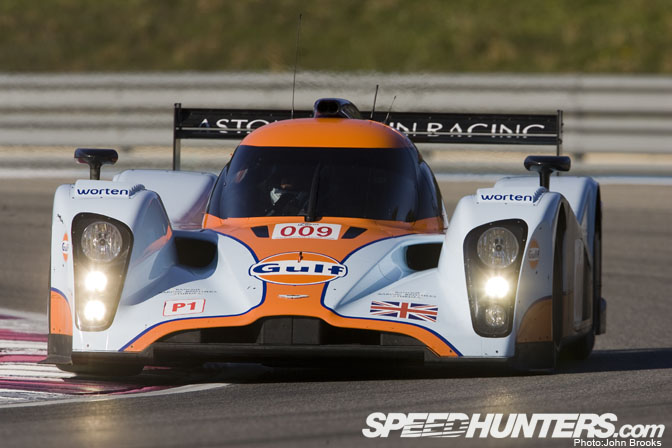 The whole programme received a major setback when on Sunday afternoon Tomas Enge rode the kerbs too much at the flat out Signes corner located at the end of the Mistral Straight and ploughed on head first into the barriers, a 15g 285kph impact. He was pretty shaken up having banged his chest on the steering wheel but held his hands up and admitted that the accident was his fault. The chassis was declared a write off and Lola will have to set to and build up another one, PDQ. Despite the war of words Lola have proclaimed that they will get AMR back on track as soon as possible. For their part the staff at AMR look set to continue with the 18 hour shifts for some time to come. Ah the glamour of motorsport.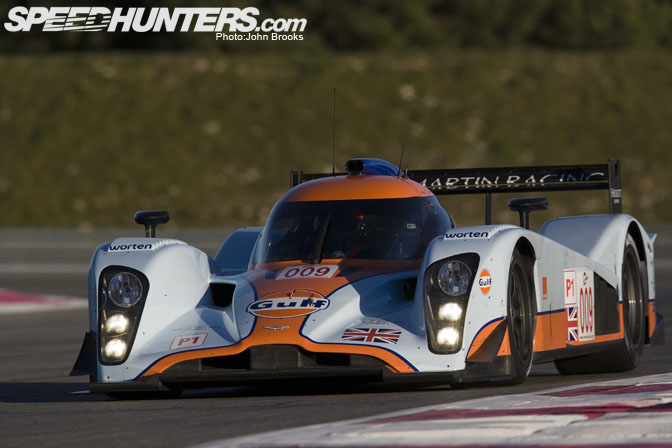 These wonderful cars will be racing this year at Barcelona, Spa, Le Mans, the Algarve, Nurburgring and Silverstone. Get along and see them, history will be made in front of your eyes. With the way the world is right now it may be a few years before we see their like again.
John Brooks