I have seen some badass drift cars in my life but none of them came from Holland — until now, that is. Lennard Wander has made one of the most stylish and aggressive looking cars to date, and I salute him for that. This car has also given me the opportunity to finally take my own pictures for a Speedhunters feature. I even bought a new camera for this shoot, the Sony A300. I must say I enjoyed every minute of shooting this car, thanks to Lennard and the overall style of his car. Let's have a closer look and see what this car has to offer.
It was raining all day long so when I arrived at Lennard's garage he offered to go to Falken's warehouse where we could shoot in private and under a roof. The car was bought from the infamous Dan Joyce (known for his antics on the TV show Dirty Sanchez) after he imported it from Japan. You can see the 'original' car on the Driftworks forum here. The car already had a fully built SR20 but Lennard wanted more and started working on the car with a good friend of his, Albin Droogsma, who is an expert in full chassis preparations. More on that later…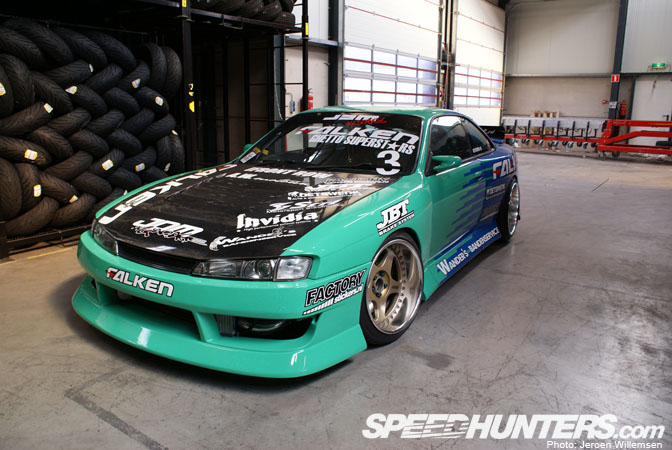 The exterior of the car features a full BN Sports blister kit that includes the front and rear fenders, sideskirts and the front and rear bumper. Let me tell you, this car is wide and, with a setup like this, the fitment of the wheels is paramount. Luckily for Lennard he owns a tire service shop that he started together with his father.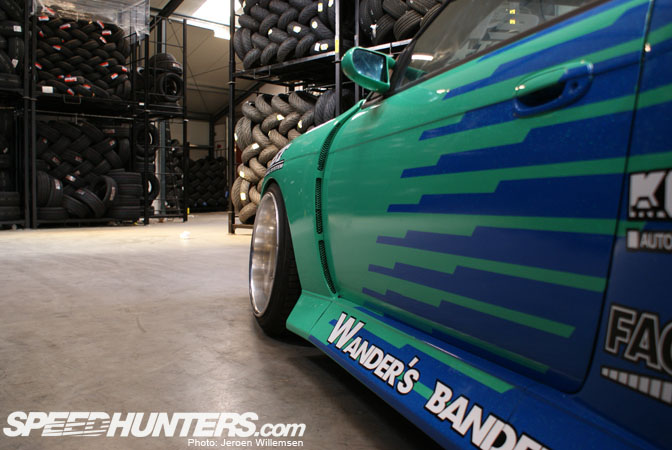 A shot from the side reveals how wide the front fender really is. The offset is spot on.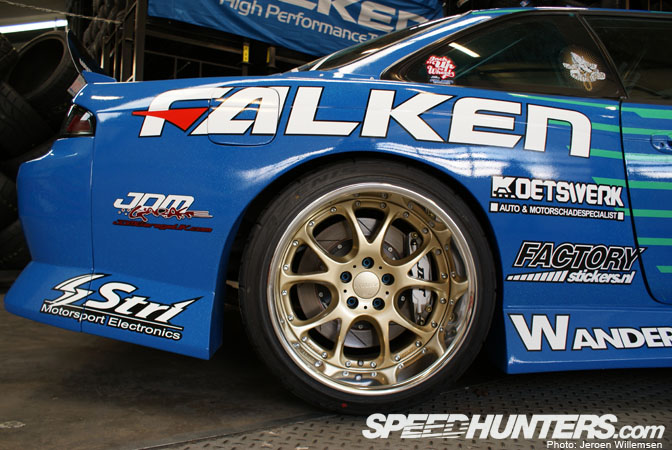 The car came with a set of Koenig 18" wheels but they seemed a little too small in the rear. Lennard opted for a set of SSR Agle Strusse in 18"x12 with an ET of -35. These wheels have a dish so large you can fit two iPphones side by side with ease. The tires are of course made by Falken and come in size 265/35/18. Behind the wheel you see a 4 pot JBT brake with a 355mm rotor — these fill the wheel perfectly.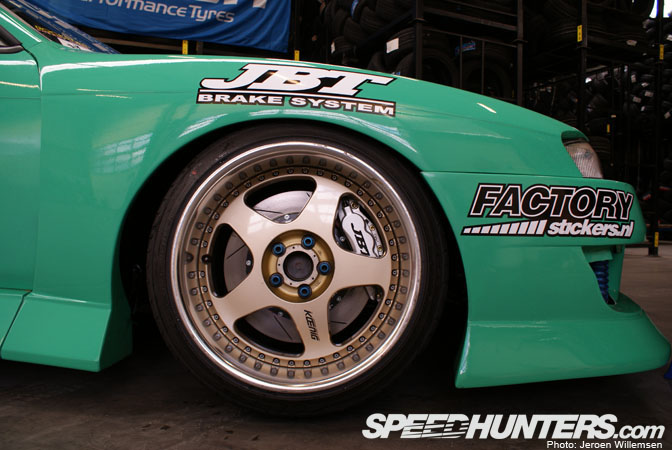 In the front, we can see the 'original' Koenig wheels in size 18"x12 with a ET of -15. The tires are the same size as in the rear and again we can see a JBT caliper but this time it's 6 pot with a 355mm rotor. Up close these brakes look really beefy and I'm sure they're are up to the task at hand.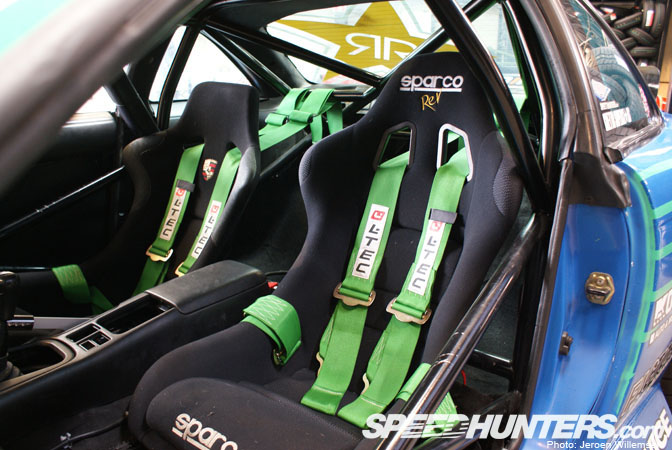 Inside the interior, there's a Sparco seat for the passenger but Lennard treated himself with a Porsche bucket seat thanks to his mate Albin. The extensive roll cage has been made by the same man, Albin. He has his own company called Front Row and specializes in everything that has to do with the chassis of a car.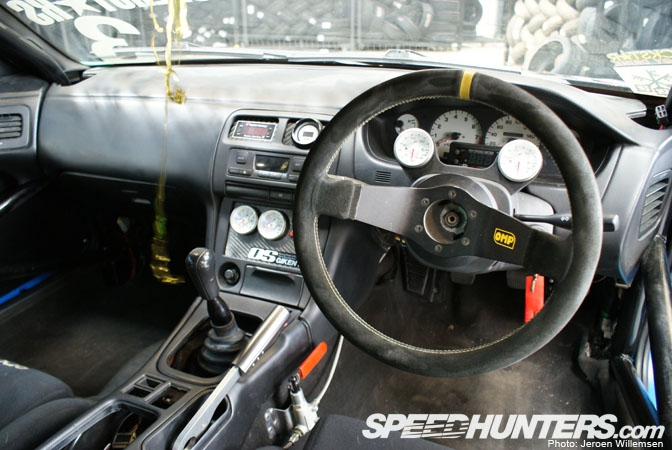 To keep check on all the vitals Lennard uses a Yashio Factory water temp meter, AEM air fuel ratio meter and a bunch of STRI meters including boost and oil temp. I can't get used to the Momo steering wheel with two bars, but I guess it helps when you are drifting. The hydraulic brake and the Wilwood brake bias adjuster also helps in getting the car sideways.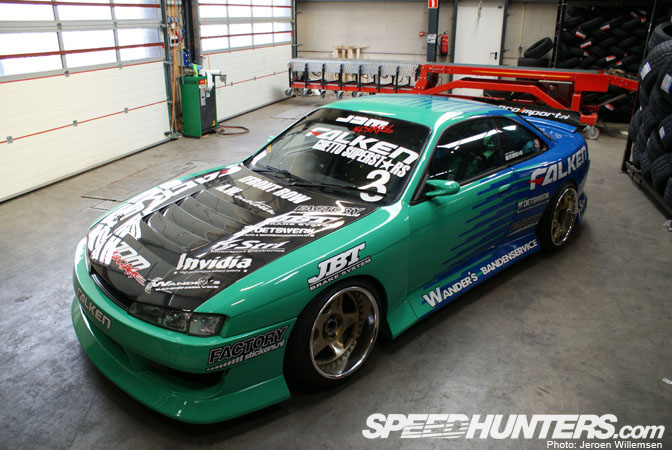 Let's see what that carbon hood is hiding.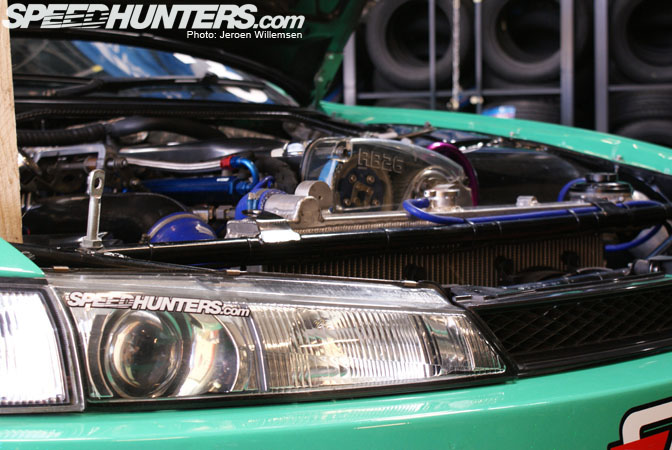 Yep — that's right, a fully built RB26. I also brought some Speedhunter stickers with me so Lennard could rep our favorite automotive blog.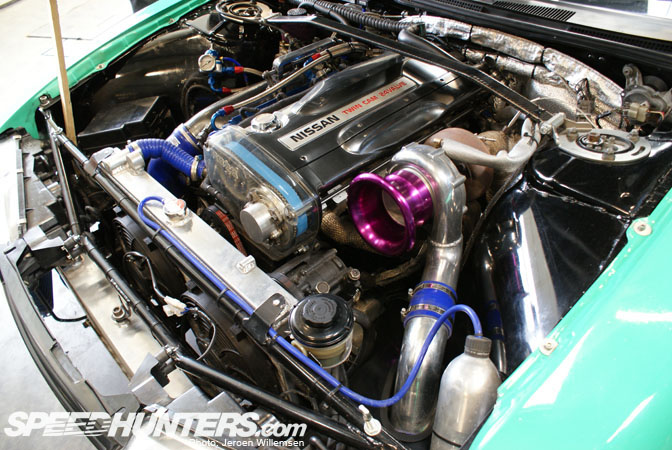 The engine has been made 'bullet proof' and is force fed thanks to a T70 turbo that connects to a massive intercooler. The turbo was so big that Albin had to make custom arches. Normally, you would see those arches in a full circle but now they have been made in such a way that there is enough clearance for the turbo and the wheels.
Another cool feature is the custom front end. You can remove it by unscrewing four bolts to remove the hoses. This way, you can easily access the front of the engine and perform some maintenance or adjust the pulleys.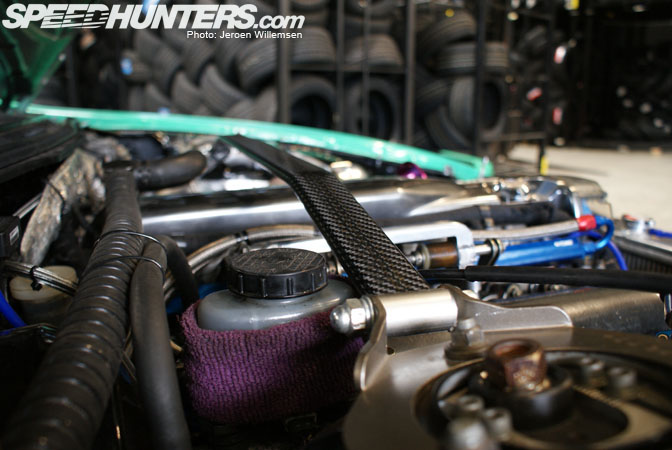 Lennard used a Tanabe suspension and mounted a carbon fiber strut bar amongst other things that are kept hidden under chassis.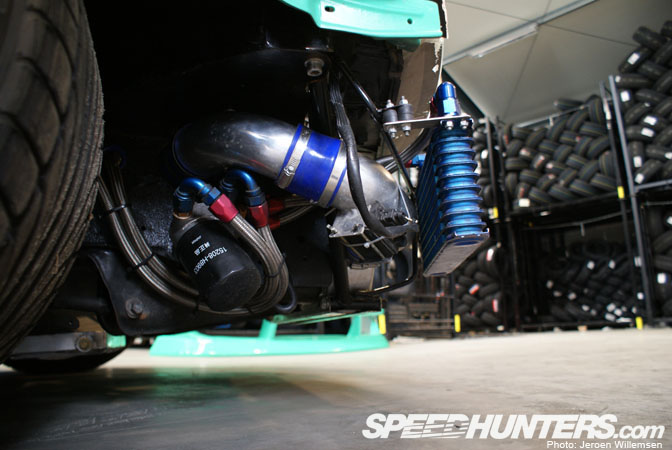 The oil filter has been relocated to the front and oil is cooled by this oil cooler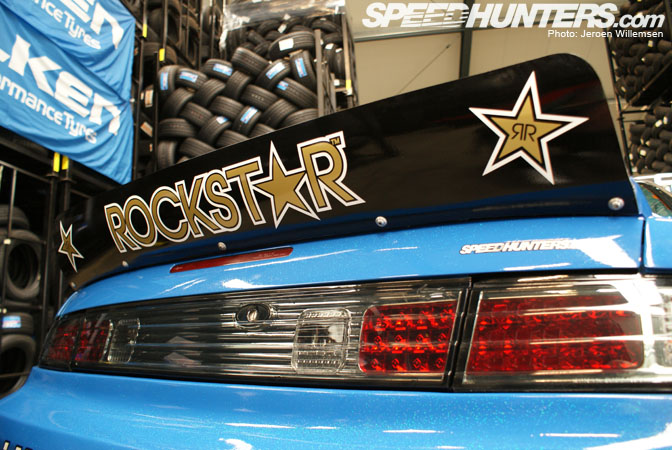 This spoiler has been handmade by Albin's father and adds a nice touch to the rear of the car. Spot the Speedhunter sticker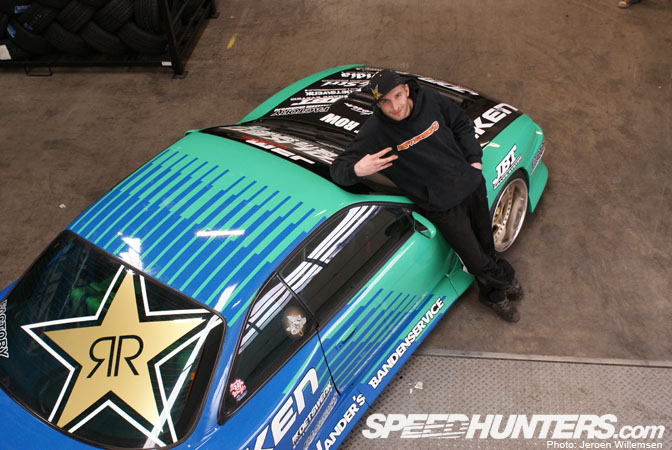 Here is the man himself, Lennard Wander. Thanks to him, I can be proud of at least one export product that will hopefully see a lot of drifting track around the world.
Lennard wanted to thank the following companyies that helped build this car: Falken, Rockstar, JCP Performance, Koetswerk, Factory Stickers, AW Motoren, Front Row, Wanders Bandenservice.
-Jeroen Willemsen