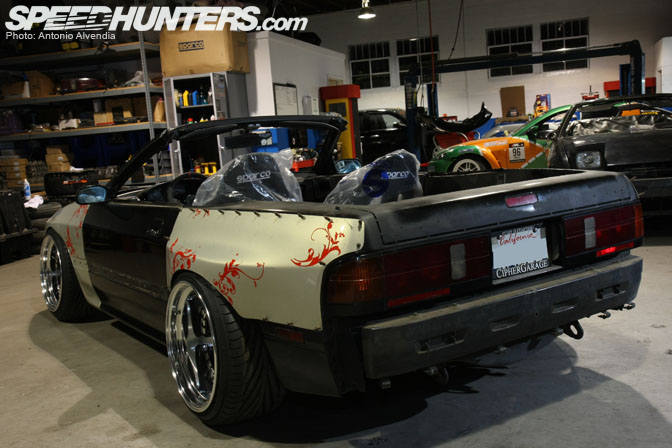 Over the next few weeks, as everyone anxiously awaits the start of the racing season, lots of car builders from all over are preparing their new cars. While this particular car is not intended for professional drifting use, I thought I'd just show some snaps of this Mazda FC3S truck that's being built at JTP Motorsports, the garage of Formula D FC3S driver Justin Pawlak.
While we have shown you other FC3S trucks on Speedhunters previously, this particular FC3S truck is a bit different because it's being made from an FC3S convertible! Just look at the way it sits! Outstanding.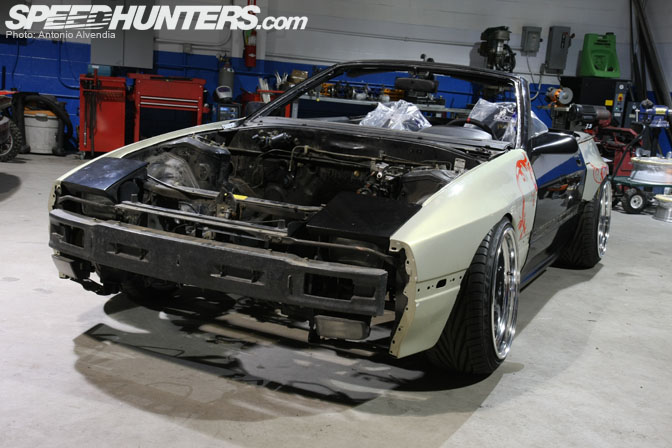 Right now, there's no engine, but don't you worry. This is JTP we're talking about. Justin is building a new rotary engine just for this car, and I'm sure it will be a hell of a strong and reliable motor.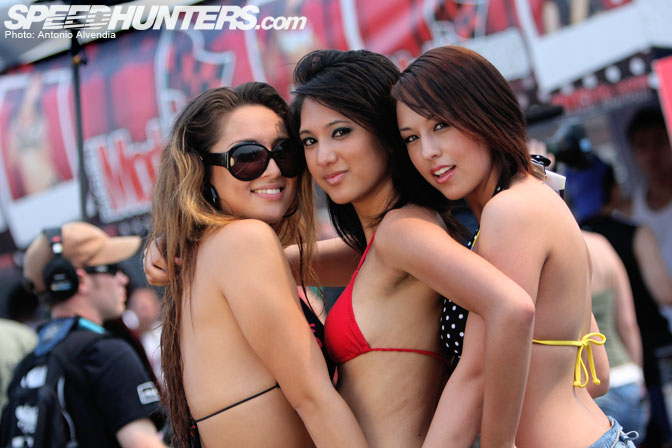 Justin knows that wheel width and offset is everything, so he chose to use Work Equip 01 5-spokes, sized in 18×10 (-6) and 18×11.5 (-21 offset). Today I asked Justin if these 5-spoke Equip 01s were just called normal Equip 01s, or if there was a special name for the 5-spoke version. Apparently, he says the 4-lug versions are always 4-spokes, and the 5-lug versions are always 5 spokes. I can't believe I didn't know that, especially since I currently own two sets of wide Equip 01s, and I've owned multiple sizes of this wheel in the past. And I never once figured that out! (Oh well, I suppose it's because I was only using 4-lug applications.) I suppose even people who think they know a lot about wheels can learn new things!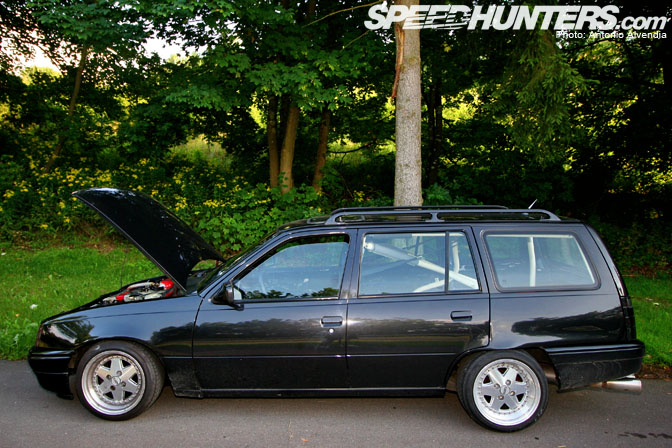 Deep stretch on those Mazzis MAZ1 tires. 255/35/18 stretched over 11.5 inch wheels in the rear, and 225/40/18 stretched over 10 inch wheels up front. This goes out to all the people who say stretched tires look stupid. Next year, you'll come around, and refer back to this article so you can write down Justin's tire and wheel sizes.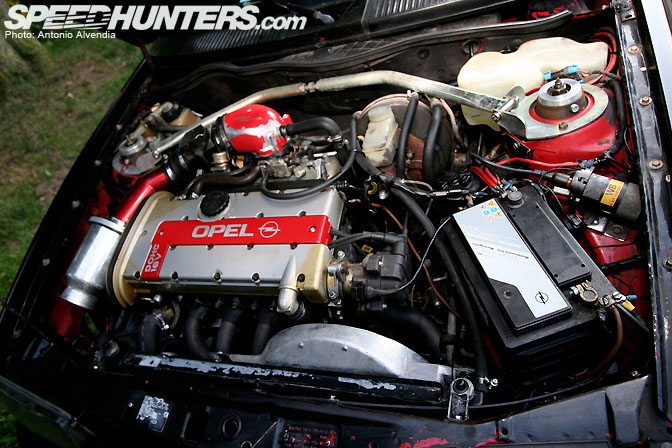 From the super aggressive Work Equip 01s to the mean green 18 inch TE37s in the background, Justin obviously doesn't have a problem accumulating wide wheels.
In case you're wondering why the fenders don't match the color of the body, Justin decided to use his spare widebody aero fenders from his other car, and install them on this FC truck project. I think they look pretty awesome, even if the car isn't painted yet.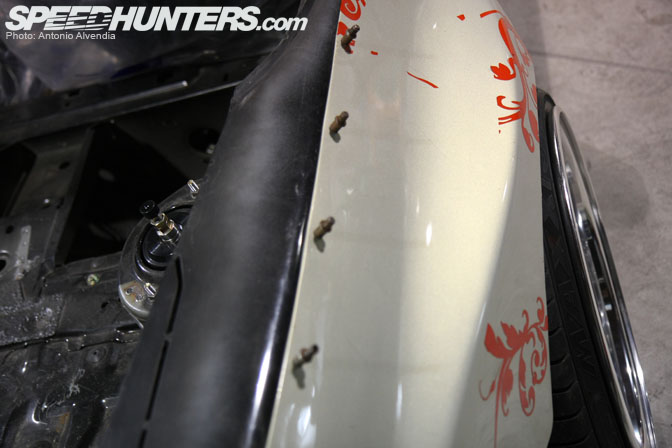 First things first, Justin concentrated on the stance and suspension of his car before doing anything else. I think this is an awesome way of thinking. Notice the black anodized top hat for the coilovers sitting there in the trunk? You don't see those too often; you only see them on cars that have high end suspension components.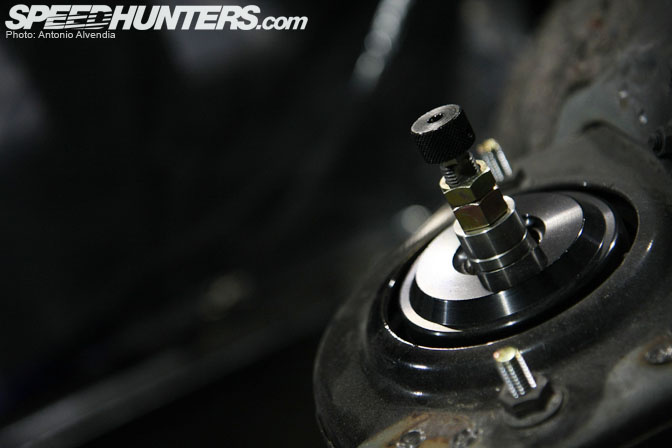 Yup, those are high end suspension components indeed. They are DG-5 coilvoers, available from Driftspeed.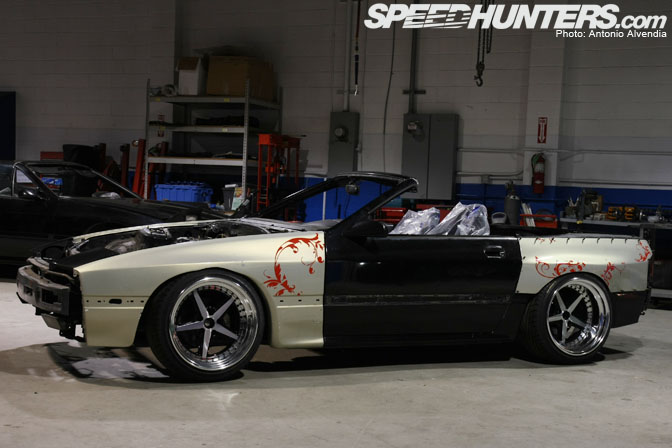 Here's a side view of how the car looks. It isn't even finished, and already I'm excited to see this car. Just imagine how outstanding this car will look once it's running and painted, and shredding across pavement! I can't wait.
-Antonio Alvendia