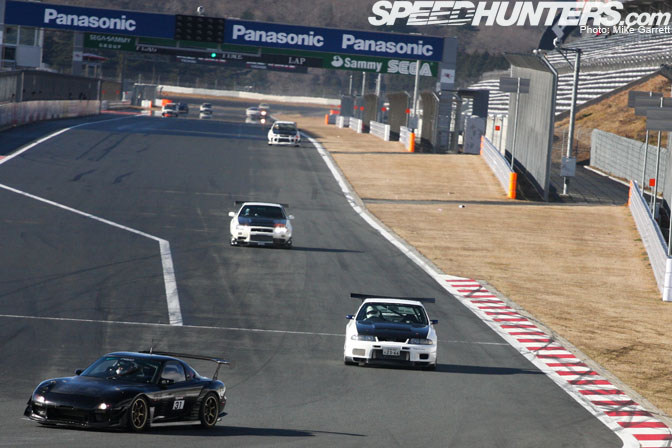 If you ask a Japanese person what their home country's most important landmark is, without a doubt they'll tell you it's Mt. Fuji, or Fuji-san as it's known in Japanese.  If you've ever had the chance to see the towering mountain on a clear day, then you'll know why. Fuji is also important to motorsports fans, not for the mountain itself but for the race track located nearby. Fuji Speedway is the holy ground of Japanese motorsport, history, dating back to the 1960's when legendary race cars like Hakosuka GT-R and Toyota 2000GT could be seen running on Fuji's banked corners.
Today, the refurbished Fuji Speedway sees everything from Super GT and D1 to open track days and of course the track's premiere event, the Formula 1 Japan Grand Prix. Since Toyota is Fuji Speedway's owner, we figured this month would be a good time to take a closer look at this famous Japanese racing circuit.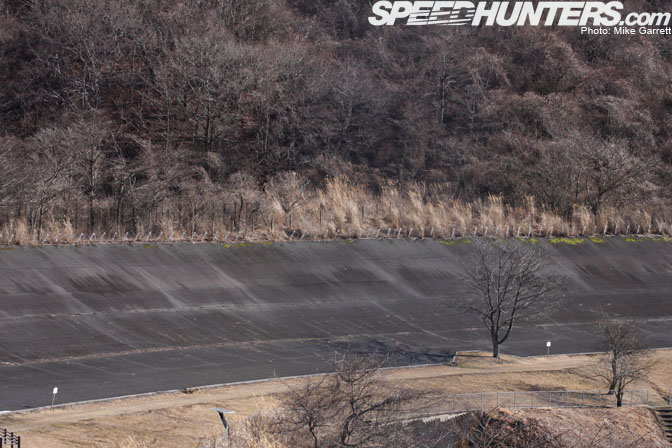 Believe it or not, Fuji Speedway was originally designed to be a high speed NASCAR oval track. Funds ran out part way through construction, and the track was converted into a unique road course which retained the banking of the unfinished oval. Soon after the track opened in 1965, this high speed banking became a notoriously dangerous part of the track. The infamous banked section was abandoned when Fuji Speedway was redone in the early '70s, but pieces of the old banking can still be seen at the track today.
Through the next few decades, Fuji would continue to see lots of historic racing action, including some of F1 action from the glory days. Even though F1 dropped Fuji Speedway in 1977 over saftey concerns, the track saw memorable domestic racing like the Fuji Freshman series where Keiichi Tsuchiya earned a name for himself, Super Silhouette, Group A, JGTC, and much more. Toyota purchased Fuji Speedway in 2000 and a few years later the track was closed for a major renovation. The new track was done by Herman Tiike, the designer of numerous modern F1 circuits. Although race fans and drivers would miss the "old" Fuji Speedway, everyone was anxious to see what the the new track would be like.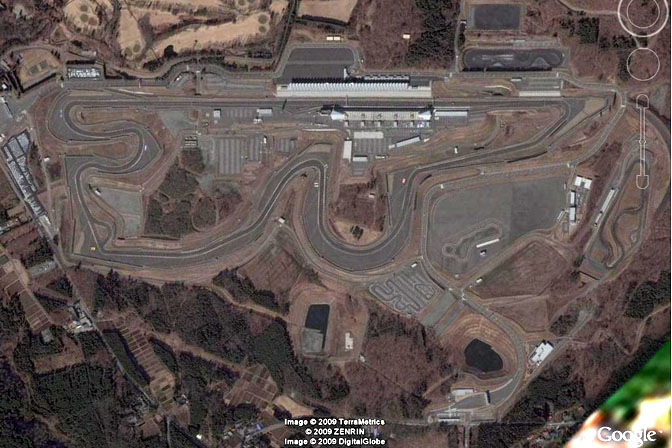 In 2005, Fuji Speedway reopened as a state-of-the art multi-course facility which is one of the finest in Japan. The centerpiece is the main racing circuit, which Toyota built with the intention of bringing Formula One back to Fuji. There are several other courses at Fuji Speedway, including a smaller road course, a large gymkhana pad, and a drift course designed with the input of Tsuchiya himself. Toyota's plan had worked, and in 2007 Formula One returned to Fuji for the first time in 30 years. After the 2008 Japan Grand Prix, it was decided that F1 would rotate between Fuji Speedway and Suzuka Circuit, which is owned by Honda. Of course with Honda's recent F1 pullout, many are wondering whether Suzuka will continue to host F1 events…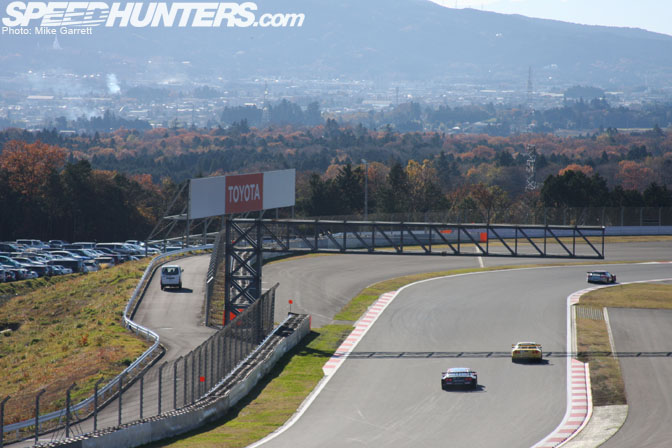 The first time I went to Fuji Speedway, I was overwhelmed by both the high-tech facility, and the picturesque scenery with Mt. Fuji looming over the track. Given the Fuji Speedway's hilly nature, there are lots of nice views of the surrounding countryside from all over the track.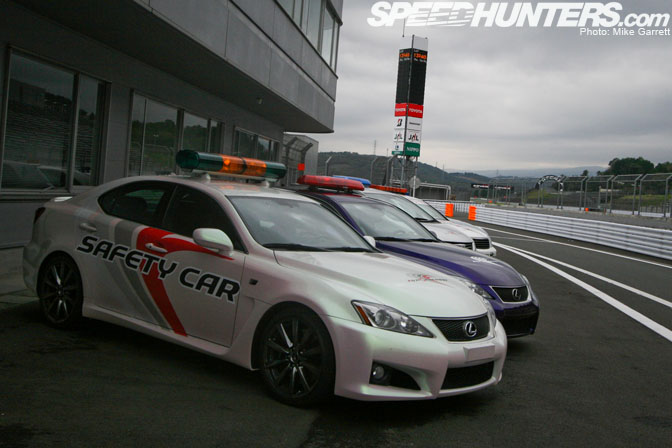 Walking around Fuji Speedway, it's not hard to see the Toyota influence. For example, these Lexus IS-F safety cars. Funny to think that today's pace cars are probably capable of outrunning a lot of race cars…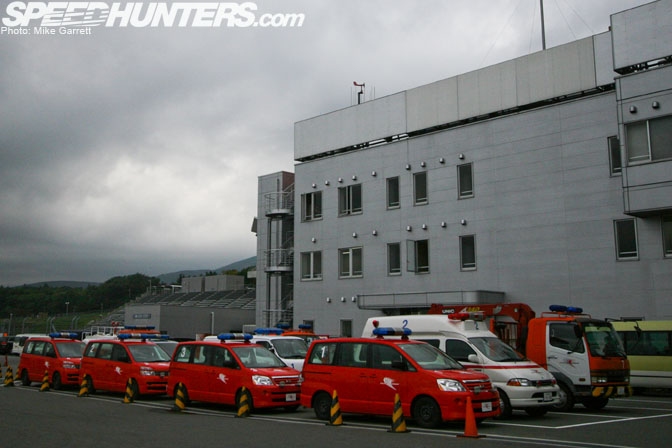 All the other support vehicles at Fuji Speedway are Toyotas as well.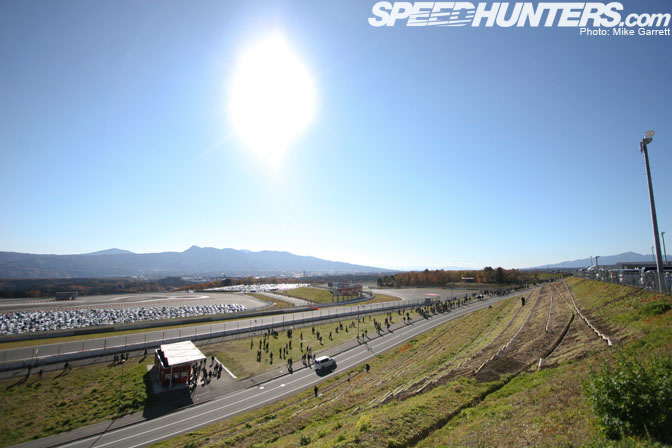 If you want to see the whole course, you'd better be in decent shape. The sheer size of the place as well as the hills make getting around Fuji Speedway quite the workout. It's nothing like a small or medium sized such as Tsukuba Circuit.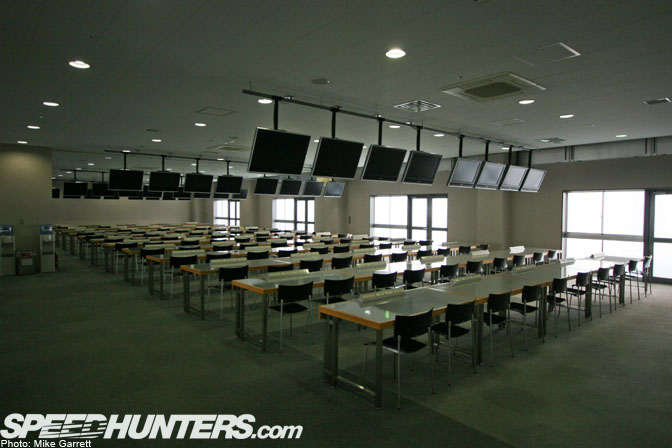 Here's a look inside Fuji Speedway's plush media area. There are TV monitors showing every part of the course, and the big windows provide a great view of pit road and the front straight. For a lot of events, Fuji Speedway even provides us media folk with bento box lunches.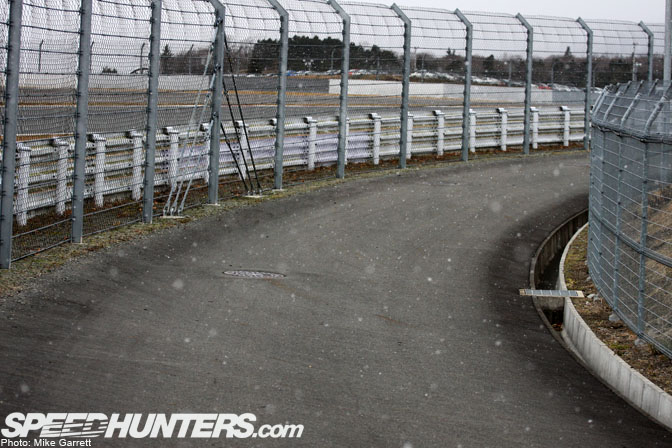 Now I haven't had the opportunity to shoot at too many F1-level race tracks, but I was very impressed with the access photographers have at Fuji Speedway. There are access roads the span the entire length of the track, and the fences are filled with photo-holes and platforms. I've shot a few events at Fuji, but still haven't even come close to exploring all the photographic opportunities there.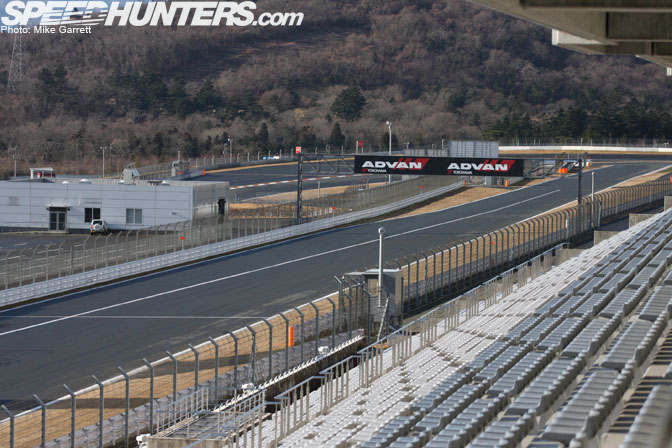 Here's the view from the main grandstand, looking down the front straight towards the final corner. Watching a GT500 race car fly down this straight is one of those things you just HAVE to experience at least once.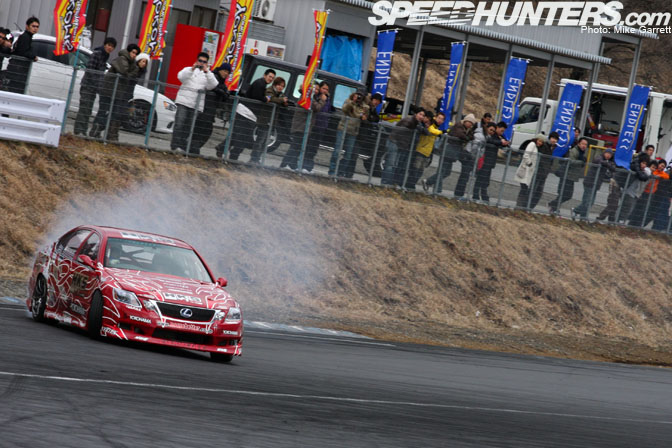 The drift course at Fuji Speedway is pretty simple. Essentially it's just a long rectangular strip of pavement with some zeebra strips and painted lines, but it works well and looks like a lot of fun to drive on. Goes to show then you don't need to much to have kick ass drift track.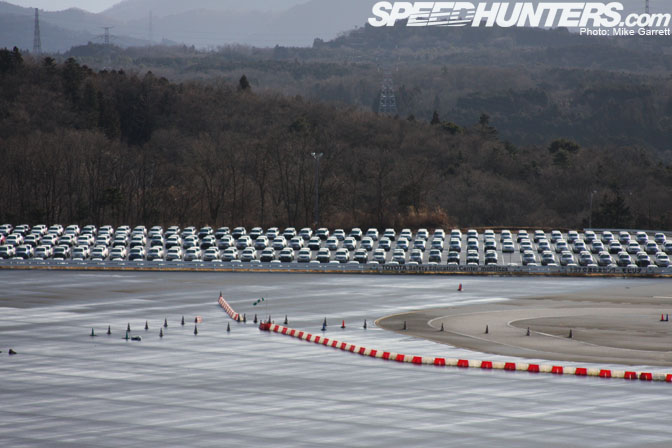 Here's a view of Fuji Speedway's gymkhana pad with a sea of unsold Toyotas being stored in the background. A sign of the times I suppose.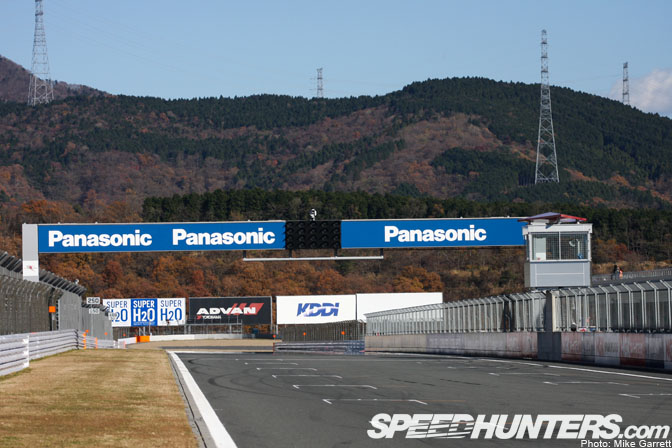 Looking down the front straight on a picture perfect fall day. Scenes like this are why I love Fuji Speedway – you don't even need any cars to make a cool photo.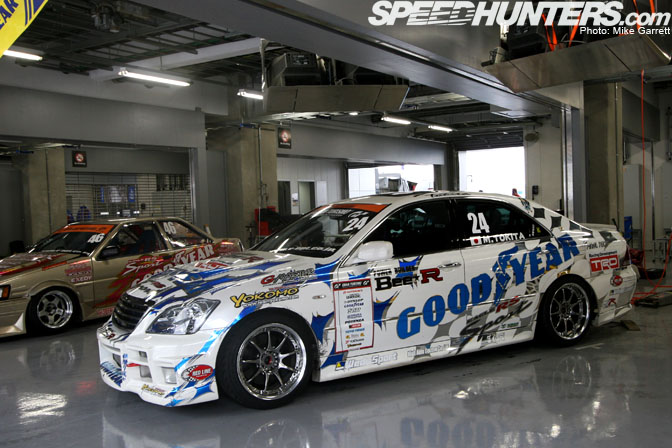 Fuji Speedway impresses from a driver's standpoint as well, Not many circuits in Japan give you pit boxes that are as big and as spotless as these. To use the old cliche, you could eat off the floors…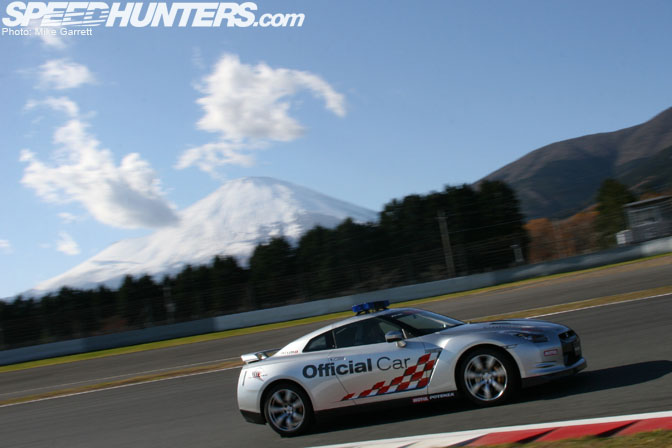 And finally, a Super GT R35 pace car passing through the final corner with Fuji-san in the background. Ideally there would be an iconic Toyota here instead of the Nissan, but we'll just have work with this…
If you find yourself looking to for something cool to do in Japan, I highly suggest a trip to see Fuji Speedway.
-Mike Garrett