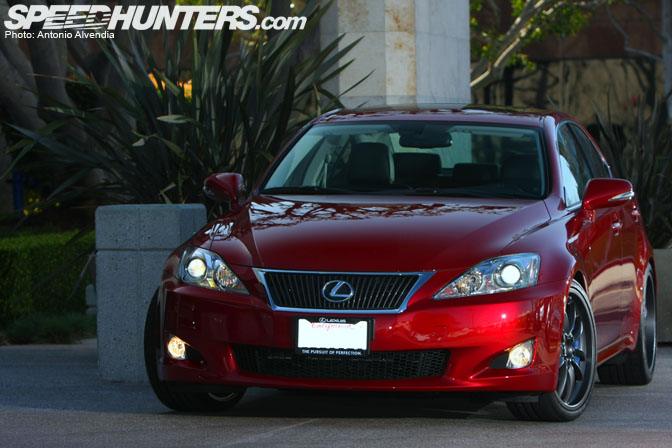 To follow up on the IS300/Altezza story that was published earlier today on Speedhunters, I thought I'd post up a new car story, featuring this newly revamped 2009 Lexus IS350, which is built up with F-Sport accessories. In case you haven't yet heard of F-Sport, it's the newly branded line of performance parts available from Lexus – basically the same concept as TRD parts for Toyotas, but for the Lexus brand.
As almost all our readers know, I'm a huge fan of, and owner of several Toyota/Lexus vehicles. I recently heard from a friend at Lexus that the corporate offices just received the kouki (late model) versions of the IS350s, which had minor exterior revisions from the early, or zenki model, so I asked him if I could stop by the office and see the newly re-done IS.
The subtle differences in Toyota's zenki and kouki (before and after minor change) models are often difficult to to spot unless you have both cars right next to each other, so I thought I'd just explain some of the new styling differences in the cars. New for 2009, Lexus revised the IS model's front bumper and front grill. While I like the overall sporty appearance of the front grill and bumper, I'm quite honestly a bit saddened by the fact that there isn't an available front lip spoiler at the moment, due to the bumper redesign. I sure hope someone makes a bumper lip kit pretty soon. Vertex lower lip kit, anyone?
Aside from the exterior changes, this F-Sport equipped IS350 also comes fully equipped with the F-Sport suspension, which consists of TRD/Bilstein shocks, F-Sport lowering springs, F-Sport rear chassis brace, larger diameter F-Sport sway bars and polyurethane bushings. Nice! These suspension improvements will surely make a difference in the high and low speed handling of the F-Sport equipped IS models, as if the IS350 didn't handle well enough already! This is great news!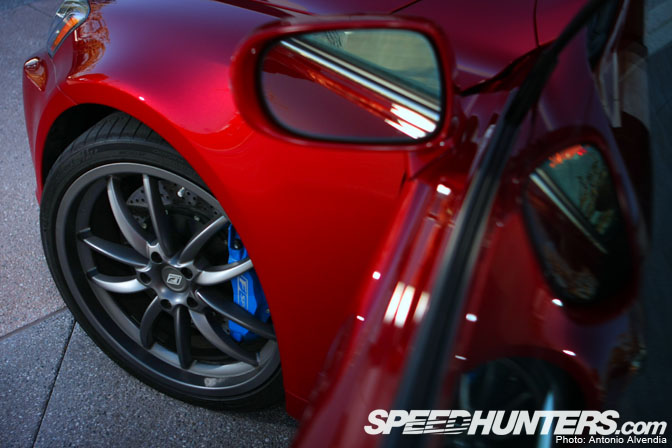 Wheels are important for the looks and performance of any car. This new F-Sport equipped IS350 features new lightweight forged alloy wheels with a staggered fitment – specifically, 19x8J up front with 225/35/R19 tires. The matching back wheels are actually 19x9J; I think it would look awesome to have 19x9J wheels all the way around the car. That would look awesome, due to the inceased fat lip of the wheels, from front to back. Aggressive.
Even when randomly glancing at the car, it's impossible not to notice the F-Sport brake upgrade, which consists of 6-piston calipers and cross drilled 355mm rotors, which are mounted on very nice looking black anodized aluminum hubs. Stainless steel braided brake lines also replace the factory rubber lines for added stopping performance – no danger of the brake lines expanding and bulging when the brake fluid gets hot from use on the racetrack or your favorite winding road.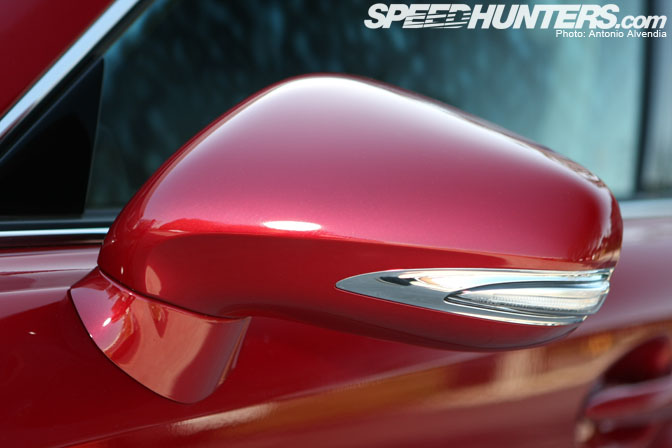 New for 2009 models, Lexus has this slick looking turn signal incorporated into the side mirrors. I think these mirrors will be an extremely cool upgrade for owners of first generation IS250s and IS350s.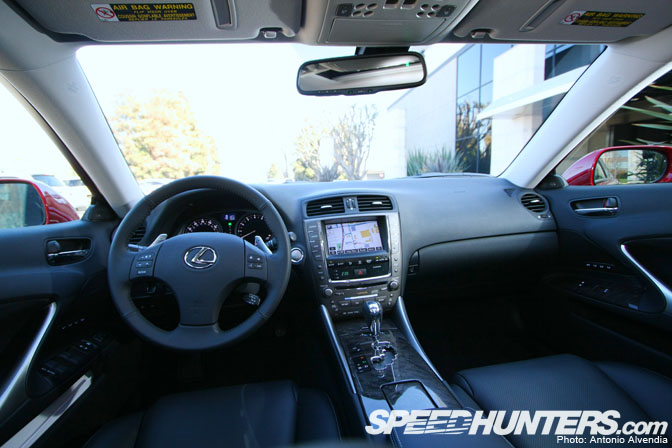 Inside the car, D-mode paddle shifting functions behind the steering wheel have been added to the normal IS350s, as well as contrast stitching on the door panels, leather covered center console/armrest lid and seats. Very nice way to step up the styling of the car, Lexus! As if it weren't classy enough. IS350 owners with high attention to detail may notice that the center panel instrument cluster is different as well.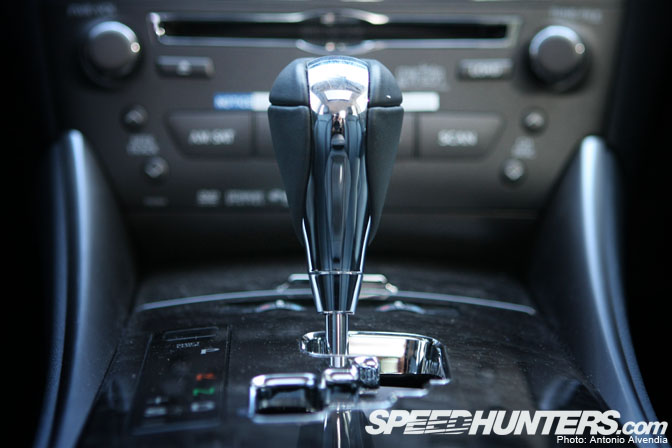 While I prefer driving the 6-speed manual transmission version of the IS, I must admit, the automatic version is pretty fun to drive as well, especially with the paddle shifters. Nice looking shift knob and center console too.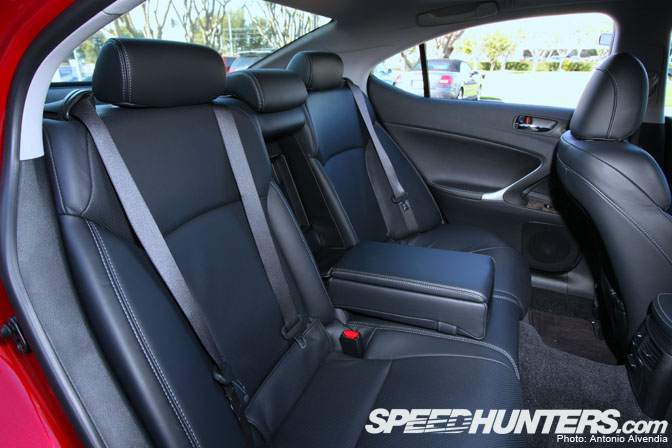 If you look closely, you can notice the double contrast stitching on the leather seats and center console armrests. It's details like this that make me like Lexus a whole lot.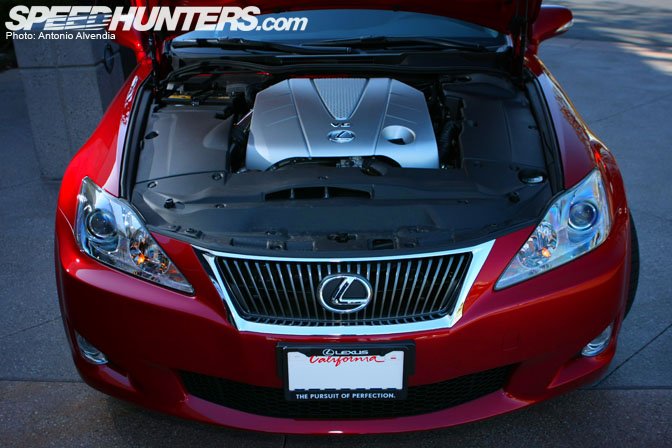 Even though the particular IS350 F-Sport in the photos doesn't have it installed, Lexus makes an additional optional F-Sport carbon fiber engine cover for the IS350. Although, to be extremely honest, I don't see the point in paying big money for a carbon fiber piece that just covers your engine. It doesn't make the IS350 perform better, but I'm sure some people out there will buy it just because.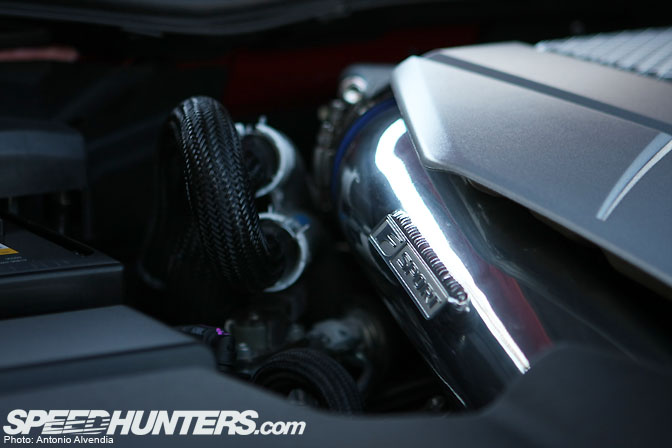 What I think does matter for performance, however, is the addition of the slick looking F-Sport intake system, which has a high flow air filter, and nicely badged piping system, as we can see here in the photo. Whoever designed that metal F badge did a hell of a good job. And I never like anyone's logos! Good job as usual, Lexus.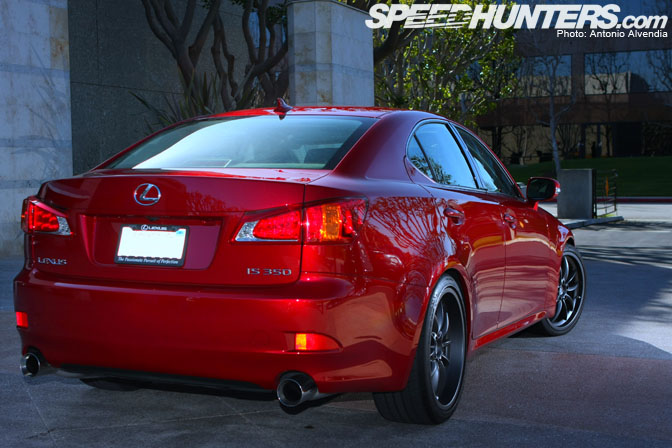 For the 2009 model year, the rear bumper of the IS350 has been revised, as well as the taillights.
From here, you can see the flat lip on the 19x9J rear wheels, which have 255/35/R19s mounted to them. Like I mentioned before, I think I'd like to see these 19x9s all the way around, with 225s mounted to them. That would look awesome, especially if the car was lowered a couple more inchers, and used spacers to improve the offset. You could do that, too… because these F-Sport accessories are just accessories, there's nothing stopping you from ordering rear F-Sport wheels only, especially if you're ordering the wheels from an easy-to-deal-with Toyota parts counter guy like Herb at Cabe Toyota in Long Beach, or Jay at Glendora Toyota.
The exhaust uses polished stainless steel pipes and mufflers, and looks pretty nice with the exhaust tip style subtly placed under the bumper. Don't worry about getting pulled over by the local five-oh though… this exhaust system is certified street legal, and doesn't affect emissions compliance, and isn't too loud either – it is under the 95 decibel legal limit. So take that, officer. Go harrass someone else.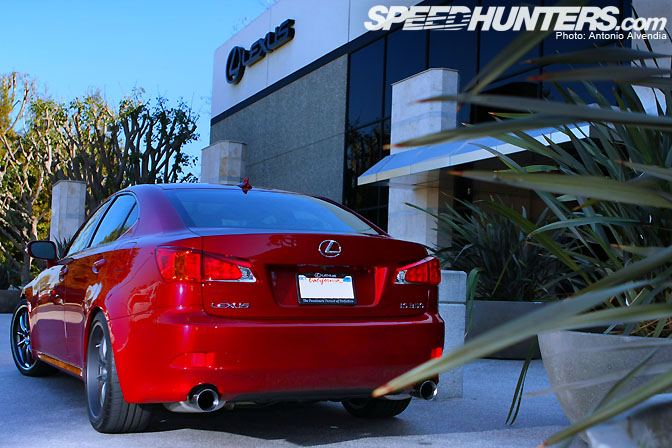 All in all, the F-Sport equipped Lexus IS250 and IS350 are really well done in my opinion. The big brakes and suspension modifications drastically improve the high speed and low speed cornering characteristics of the car, while retaining the smooth and luxurious Lexus ride quality. Even though installing an aftermarket intake system and exhaust are very simple mods, the beauty of the F-Sport packaged IS250 and IS350 is that the car comes with better-than-stock looking wheels, amazing big brakes, engine performance bolt-ons, and a good all-around suspension setup… and everything can be financed from the dealer as part of your monthly payment plan.
Good job, Lexus. I honestly think that the IS series cars are great for daily driving, and even more so if they are F-Sport equipped! Now the only difficult question is… which one to choose? IS250 F-Sport, IS350 F-Sport, or the monstrous ISF? Either one is pretty effin sporty.
-Antonio Alvendia