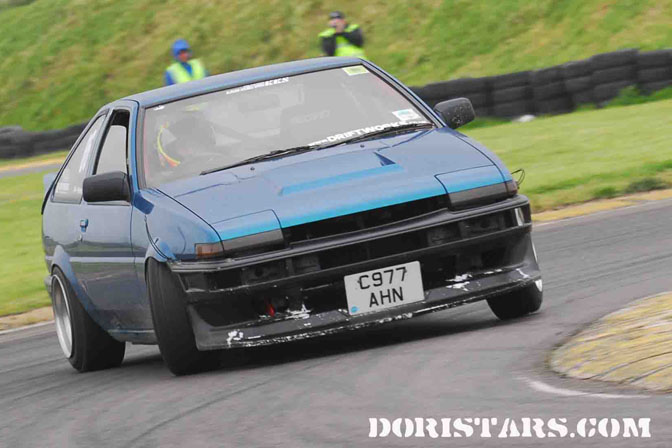 When we went on the very first Speedhunters trip to the UK in April of 2008, I was excited to attend an EDC drift event. Thanks to the generosity of our hosts, EDC's own Andy Barnes and Glenn Horncastle, the European Drift Championship Round 1 event at the famous Donington Park motor racing circuit was very fun and exciting! However, there was one particular car I didn't get to see in person… and as it turns out, it was the car I wanted to see in person the most!
In my opinion, Chris Parry, aka "PazzaAE86" on Club4AG has one of the coolest cars in the entire EDC series. I definitely think it's one of the best looking AE86s I've seen in the UK as well, based on the limited cars I've seen online or in British magazines. However, Chris was unable to make it to the 2008 EDC Round 1, because his car wasn't ready due to some O2 sensor problems. What a disappointment! I was definitely looking forward to seeing his car!
However, as luck would have it, I received an email from Chris, and we began to trade emails about his car. Actually, to clarify, we should say cars. Pazza has been pushing the envelope in the UK with his AE86s, when it comes to drifting prowess and automotive style. I thought we couldn't end our Toyota month on Speedhunters without doing at least a gallery of different photos of his cars in different stages.
Thanks to Chris and the numerous photographers who supplied photos of his car, we're able to run a few photos of the car in a gallery of the UK's most aggressive AE86 drift car, which is set up properly in the 2000-2002 Japanese drifting style! Great photo above, of the teal/blue Trueno that gave Chris some of his internet fame in the 86 crowd.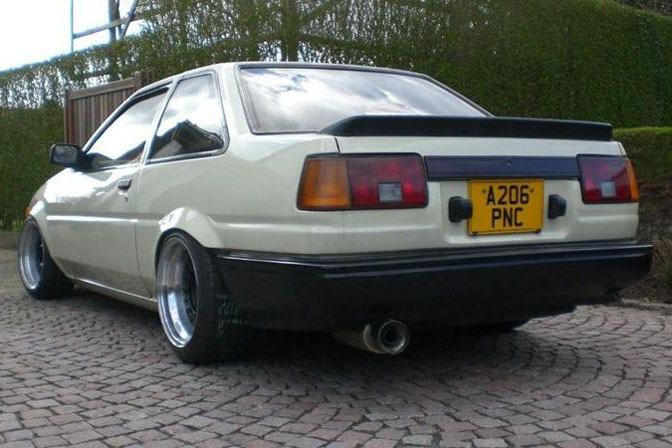 These photos aren't in order at all – I think it's more fun that way! Here's a photo of his zenki (early model) AE86 Levin 2-door coupe. In the UK, the Corollas actually came with Levin faces, and an AE86 would have to undergo a front end swap (just hood, fenders, bumpers, grill, headlights, and radiator support) in order to transform into the Trueno version of the AE86.
However, Chris didn't waste time on that – he just bought an actual kouki AE86 Trueno in Japan and imported into the UK in 2004.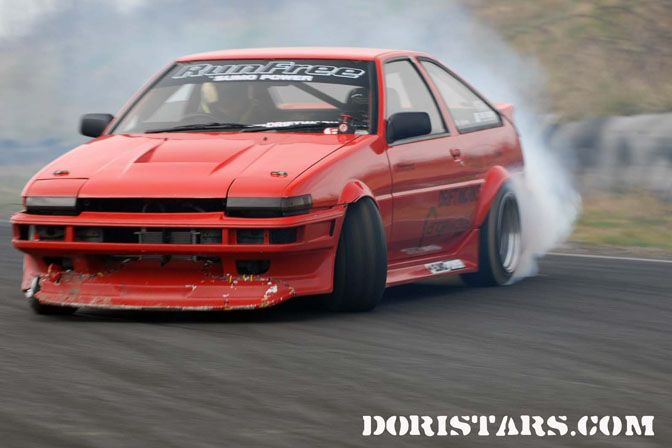 Awesome. When you look at this photo from far away, with a 3-door AE86 Trueno, painted in a hue resembling the famous "Yama Red" from the legendary AE86 drift team Running Free, with the signature Goodline hood and front bumper… you're not sure if it's a photo of Chris Parry from Night Spirit or Yamashita Koichi from Running Free. This car looks incredible; I love the style and resemblance to Yamashita's car. (If you must know, Running Free and Rough World are my absolute favorite drift teams, from a car standpoint and fanboy perspective. Yes, I'll admit that even though I'm around top drifters all the time, I haven't lost my young-at-heart passion for old school drifting culture or enthusiasm for my favorite cars and drift teams.)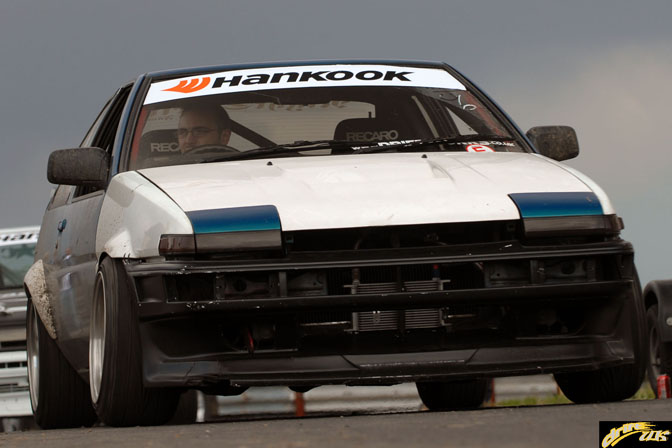 Come on!!! Mean with the camber and the stance. What an awesome looking car. Who cares about the paint? If you look closely, you'll notice an aftermarket oil cooler (Earl's?) and AN fittings sitting just behind the front bumper to keep the engine cool at high rpms. It's lucky for us American 86ers that US-model AE86s came with oil coolers as standard.
Chris imported this car to the UK in 2004, already equipped with Tein coilovers (affectionately described by Chris as "rubbish!"), TRD shocks and springs, TRD LSD, and some 14×9 -19 offset RS Watanabe wheels and a stock 4AG engine.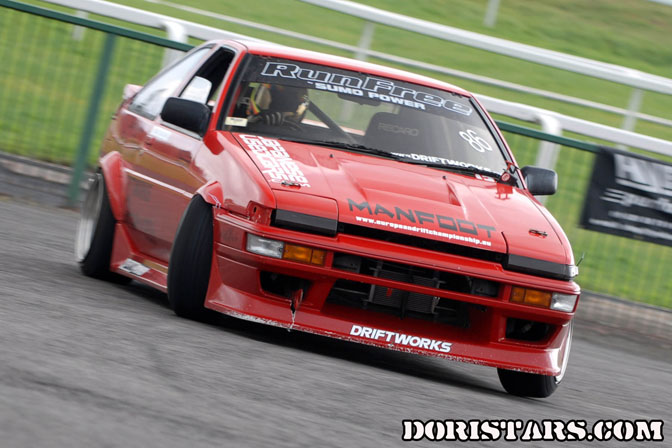 Here's another great pic from Doristars, of the car drifting; this time with Run Free aero. Chris says he drifted at almost every single event in 2007; it's very impressive to be committed to running a full schedule like that. What's even better, he had several wins and podiums under his belt by the end of the year.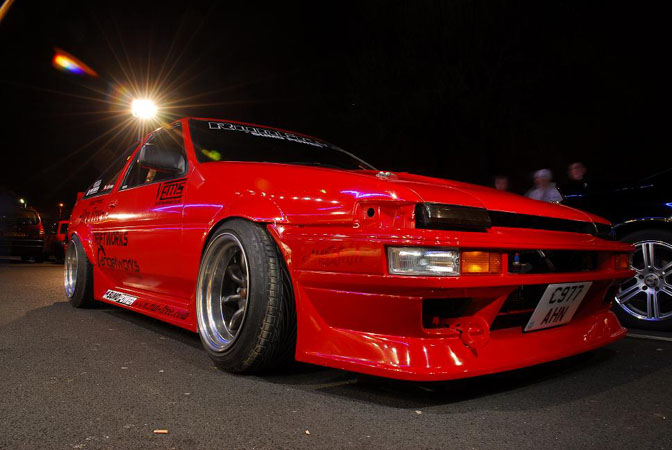 Come on. So cool! Looks like 15x9J Watanabe Type R.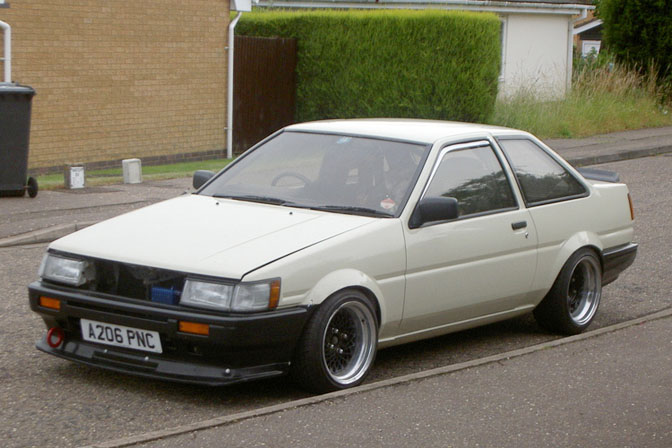 Wouldn't this be a fun daily driver? This was Chris's zenki Levin 2-door that he imported into the UK as well, which is nicely equipped with a mix of street car style and performance parts. Unfortunately, Chris sold it not too long ago… but don't be too sad. He ended up buying himself a BMW M3 so that he could turn his focus to attacking the Nurburgring. Noble intentions indeed.
You can tell at first glance that the car is definitely not stock; however, Chris insists that he found it cheaply, and thrashed around in it for a few months before selling it. Still, if that's his idea of a cheap AE86, I think maybe we all could use some cheap cars like this in our lives –  it had a half cage (roll bar), Nardi Classic steering wheel, Bride seats, custom coilovers and a 2way LSD. Sounds like a pretty simple, yet effective set up for driving fun!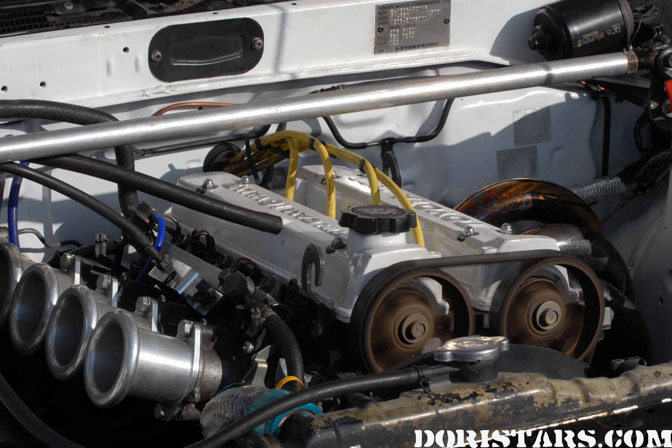 Not all Chris's cars are powered by 4AG engines, but I happen to like this particular setup. Individual throttle bodies, unshrouded timing belt and camgears, and a high rise header – just look at the clean bends on the pipes! Inside the engine, this 4AG has big cams, solid lifters, dual valve springs, and a nice high rev limit, thanks to the ITBs and the standalone engine management.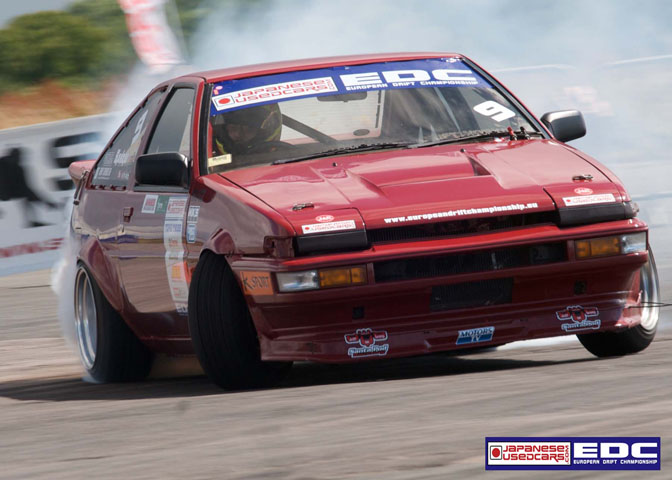 Here's another photo of Chris drifting, this time at an actual EDC drift event. If you look closely, you'll see that this guy apparently changes bumpers like some people change tires. He's running an OEM kouki bumper and zenki lip in this photo. See the big smoke behind the car though? It's a clue… this Trueno is no longer 4AG powered.
Chris says that he misses his 4AG engine, but after talking to John Russakoff at JSP in San Diego, he just couldn't resist the power and reliability of the Honda S2000 engine and transmission, since he already blew several T50 transmissions while drifting.
The EDC Round 4 event had its share of good and bad memories for Chris. He was ecstatic to have qualified in 4th place, behind Kumakubo, Phil Morrison, and Tanaka, however he totaled his car shortly afterwards, at the same event.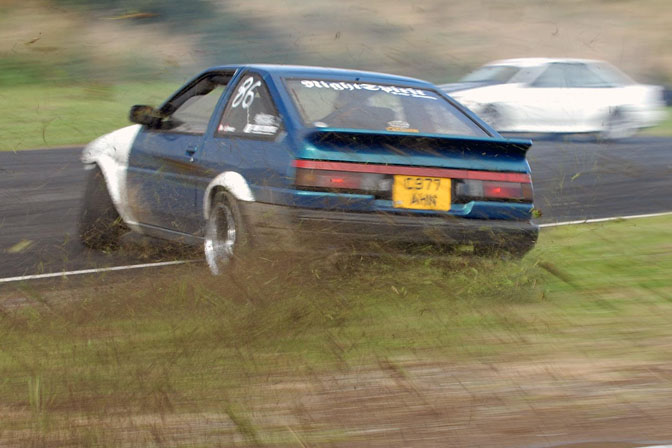 I love this photo! You can't be mad at a little dirt drop action!
I hope you readers enjoyed looking at this short gallery of pics as much as I did when I first saw them. Thanks to Chris for sending me the photos!
Keep an eye out for more news and photos from Chris Parry; he is building an all new AE86, and will be seeing track action very, very soon.
-Antonio Alvendia