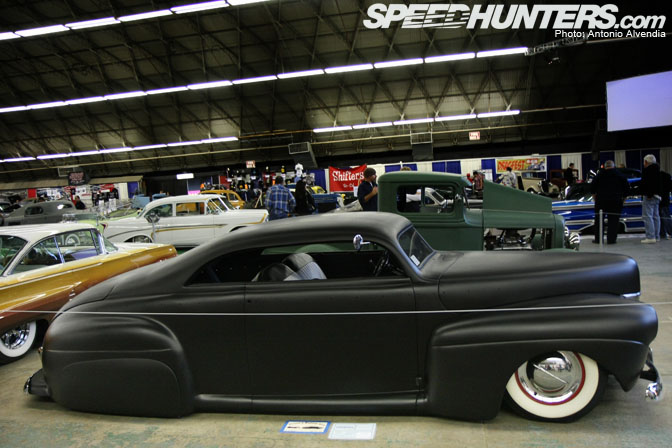 Here are some more photos from the Grand National Roadster show in Pomona… check out those overfenders – you can't even see the rear wheels at all. The seats and lack of a b-pillar between the front and rear windows look very intriguing to me, not to mention the top mounted rear view mirror.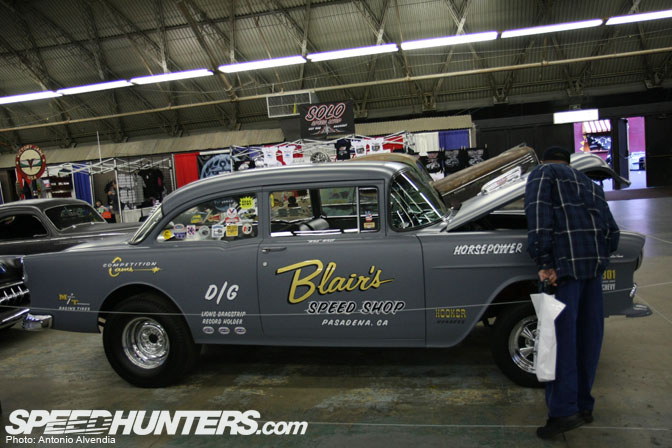 Blair's Speed Shop in Pasadena has been around forever. I haven't been there yet, but I've been curious about it. Maybe we'll have to stop by and do a Speedhunters feature at some point in the future.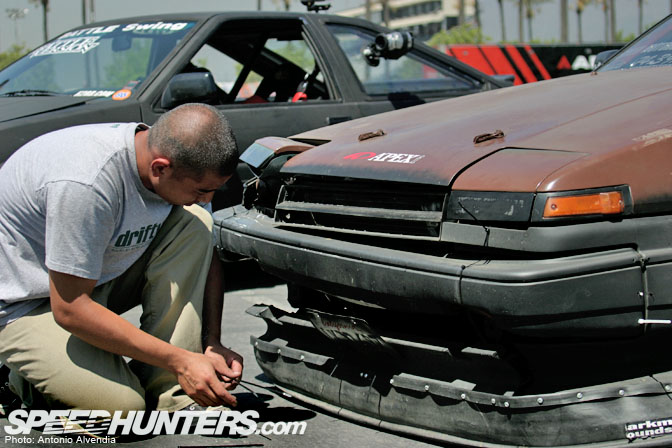 I love the pinstriping and the HAMB plaque on the firewall of this car. If you look very closely, you'll notice some small decals on the front window that give a hint into the taste of the car's owner. The vintage SCTA (Southern California Timing Association) sticker, Hop Up Magazine, and HAMB (Hokey Ass Message Board) logos are small and discreet, making the car look more classy. I think a lot of car owners from Southern Cali's Japanese car scene could learn something from this example of how to arrange stickers so it doesn't detract from the look of the car. Big stickers everywhere (especially graffiti ones, or decals with bad fonts) take a clean street car from hero to zero in my book.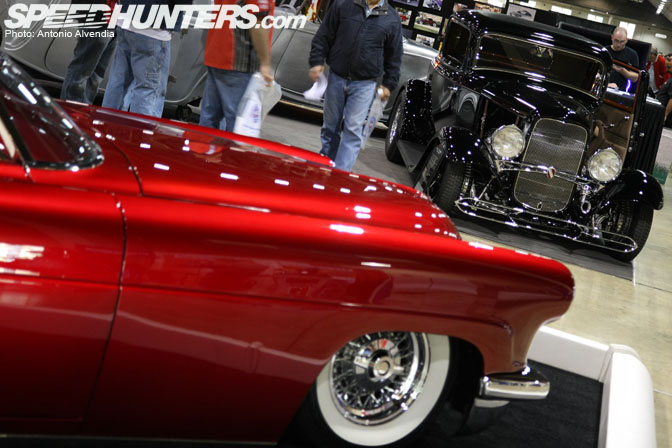 I just can't get over the paint quality on some of these cars! Now that's candy apple red! Doesn't it look just like a candy apple? And look at the black paint on the roadster parked behind it! These paint jobs are light years better than the paint on new current OEM cars.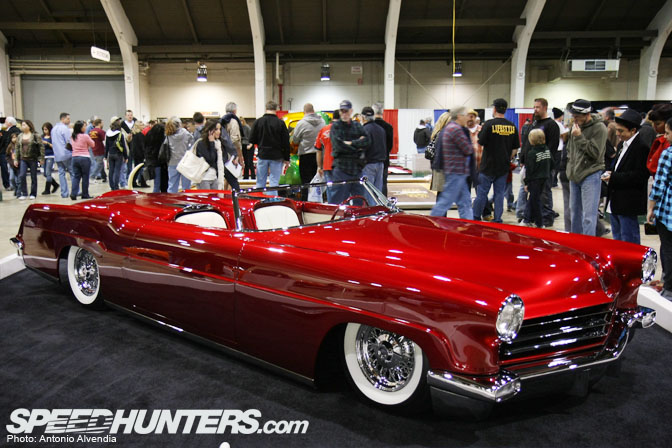 Wow. I could definitely see myself cruising around in a big, stylish open air vehicle such as this… except I don't think I could deal with having a car this clean – I wouldn't want it to be so clean to the point that I wouldn't want to drive it in fear of ruining the car's expensive paint or finish.
I wonder what type of big gangster looking vintage vehicle I could get? Something other than a 64 Impala or 65 Continental… hmm…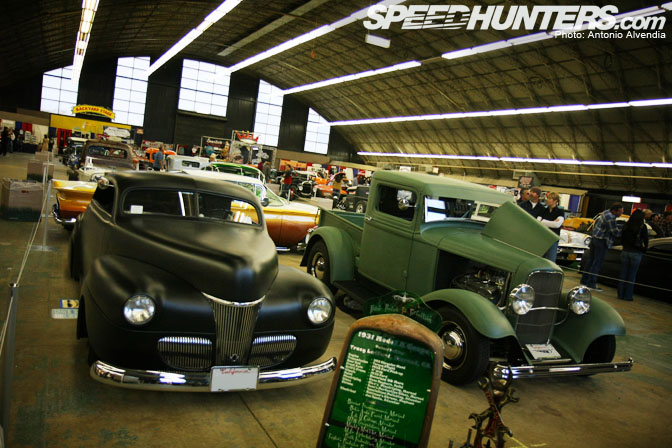 Does anyone know what type of car that is on the left? (There's a photo of it above also; the first photo in this post.)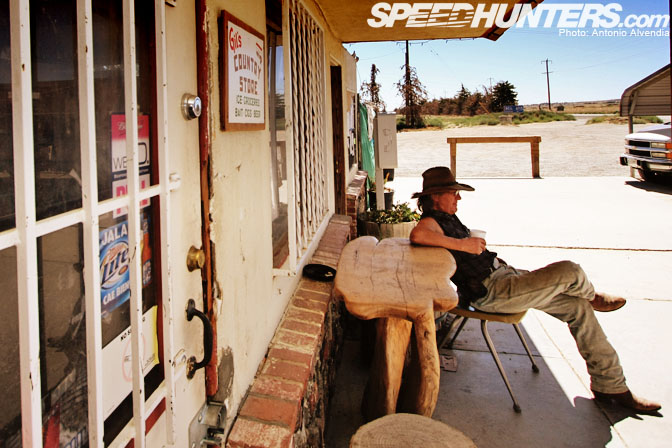 This is the type of car I'd imagine in movies like The Godfather. It's like a time capsule.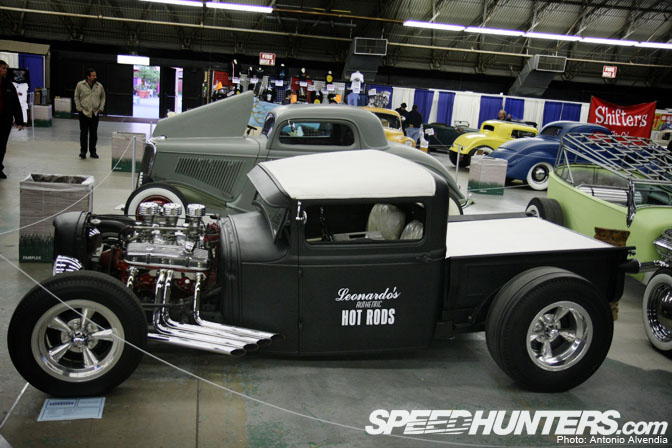 Now that's what I'm talking about! Leonardo's Authentic Hot Rods obviously knows how to build a cool hot rod truck! It looks like a real life Hot Wheels toy, I love it! And I love the paint, door graphics, slash cut exhaust pipes/headers, wheels, tires, and stance.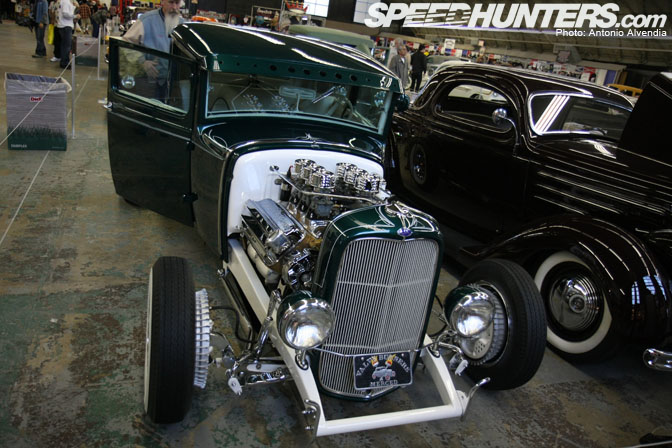 Wow look at those big drum brakes! This hot rod style of painting the firewall a different color than the exterior body color works very well on this particular car, as the white firewall looks awesome with the white painted frame, whitewall tires, interior and subtle white pinstripes continuing the theme around the car. Very cool. As is the car crew plaque. Seriously, I've been digging hot rods more and more and more lately.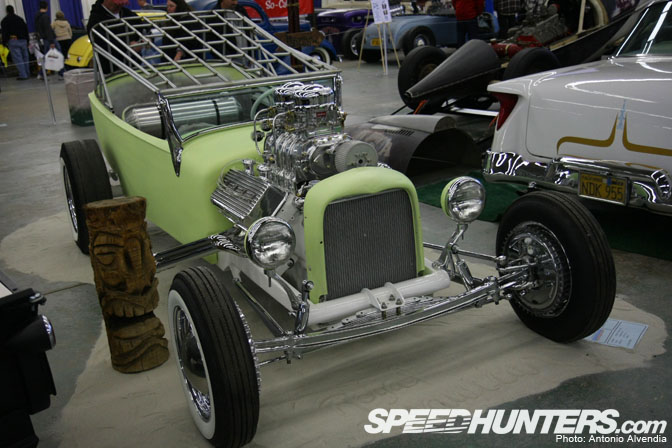 Cool roof! That certainly is interesting, and I like the rake of the roof as well. This hot rod had an interesting color choice of paint; it looks like one of those glow in the dark toys you get when you're a little kid. Notice how the tires wear down too… looks kind of dangerous!
I noticed that these wooden tiki statues seem to be extremely popular in the hot rod scene. Does anyone know the significance? I personally couldn't figure it out.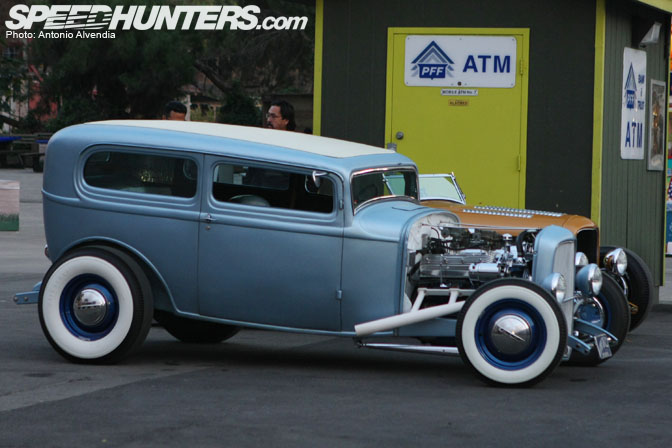 Hmm, what do you guys think of painted/powdercoated white headers and grill, like the one on this car? I think the car looks very cool, especially since it's raked a bit… I just imagine what it might look like if it were lower, especially in the rear. I'd think it would look pretty cool if the front were lower, and the rear were dramatically lower, with the top of the rear tire coming a little closer to the lowest body line underneath the rear window. Include some wider rear wheels with fatter tires, and maybe some sort of white lettered vintage logo on the doors, hmm…
Do you guys think these mods would make a car like this cooler, or just ruin it completely? I love super slammed lowboy hotrods… but maybe the owner of this car decided to build it this way for a reason. What's the best way, according to your style?
-Antonio Alvendia