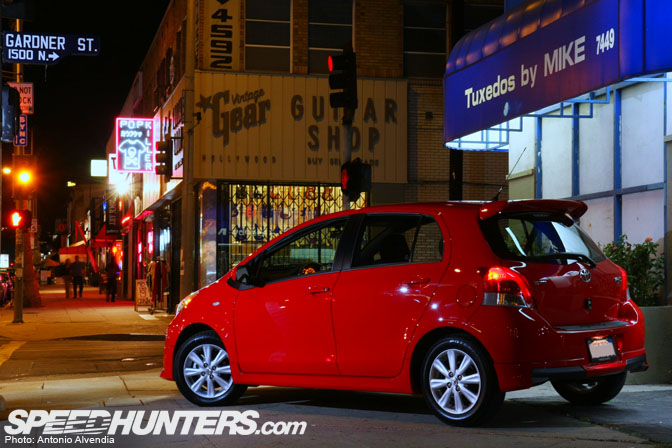 Since we recently featured some photos of a Toyota Vitz Cup car at Suzuka Circuit, I thought I'd write a story about its North American counterpart, the Toyota Yaris. Toyota Motor Sales recently debuted the newest body style of Yaris, the 5-door liftback version, so I couldn't resist the opportunity to take a Sport model Yaris 5-door for a test drive.
Overall styling wise, I definitely think the 5-door version of the Yaris Type S is the best looking Yaris in the lineup. I really like the way the rear end of the car looks, with the roof wing and sporty looking rear bumper. However, the main thing I like is the added length and utility of having rear doors, since whenever I go out, I usually need to lug camera equipment with me or a friend or two. Having rear doors definitely makes life easier in terms of lugging things around. I used this Yaris to go to a fashion photo shoot in downtown LA, and was able to pack the rear seats with a bunch of big light stands, lights, and cords, while the trunk was filled with lens cases, two computers, and some other random accessories.
My other favorite feature of the car was its gas economy! I felt as if the gas lasted me forever! In fact, with all the driving I normally do, from Torrance to Pasadena to West Covina to Downtown LA to Hollywood, I had the full gas tank last for six whole days. I knew the Yaris had good gas mileage, but I was really surprised at just how good it was! Toyota rates the Yaris' fuel economy at 29mpg city/35mpg highway. I personally found the Yaris fuel economy to be incredible, averaging between 33 to 34mpg during the time I had the car – this is awesome considering it was carrying me, a friend, and a ton of heavy camera equipment all over town. Not to mention, you get to use cheap 87 octane gas in the Yaris! Perfect. Since gas prices will be going up eventually, I think a fuel economical car like a Yaris is a great choice if you need a weekday commute car to get you around town, while your high horsepower, "under the table smog" track monster sits in your garage waiting for your weekend track events.
If you wanted to make a Yaris look cooler, you could always lower it with coilovers from an aftermarket manufacturer (like Tein or some other brand) and put some nice wheels on it! In fact, I was wondering what type of wheels I'd like to use if I owned a red Yaris like this.
The Yaris Type S comes with 185/60/R15 tires and alloy wheels from the factory. Imagine how cool this car would look dropped low to the ground with coilovers, and some wide 15 inch wheels with 195/50/15 tires. Of course your gas mileage might suffer a bit, using 10mm wider tires, but it won't be that much of a difference. The lower profile tires will make the car even lower, provided you lower the coilovers enough to remove the fender gap!
So what wheels do you guys think will look better on this red Yaris? Gold Work Equip 03 wheels with polished lip? Or white Gram Lights 57C? White TE37s? Gunmetal RS Watanabes? AME Shallen LX with diamond cut finish?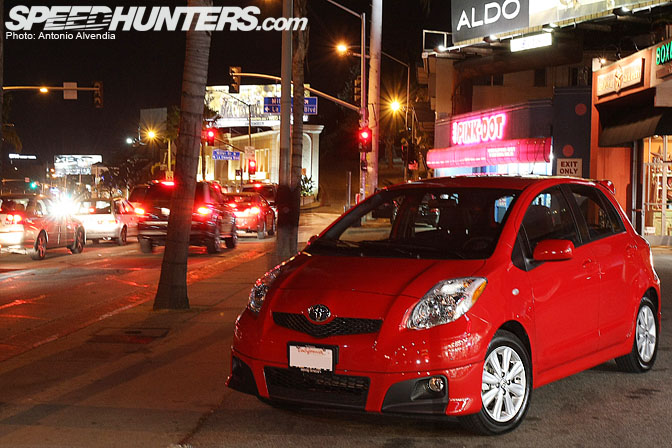 I think the Yaris S's front bumper has a lot to do with making it look cool. I like the small lip that protrudes outward, and I definitely like the foglights. If I were to own one of these cars, I would definitely switch the headlights and foglights to HID to get maximum brightness and vision on the road. Plus, it would look cooler. 
I think aero mirrors would do a lot to improve the visual style of the car also, as would removing the front license plate. California has that stupid law about mandatory front license plates, but I think most cars look much better without it. What do you guys think… Is removing the front plate worth the risk of a $25 fix-it ticket? It is for me.
Anyway, I don't think I'd be getting any speeding tickets driving a Yaris – not with the gas efficient 1.5 liter 4 cylinder engine! It only produces 106 horsepower at 6000rpm, but it has VVTi, so it actually has an okay amount of torque (103 ft lbs at 4200rpm) to get you around town. Sure it's not as fast as, let's say… a Nissan 370Z, but if you think about it, it has just a little less horsepower than an AE86. It should be fine for just driving to and from work.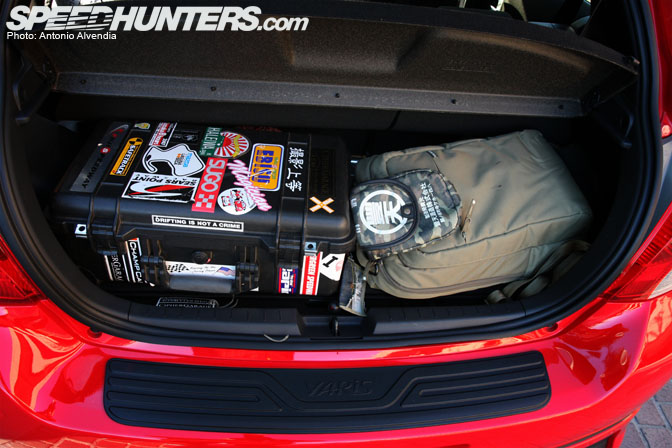 The trunk room isn't too big, but for me, it was big enough to fit my Pelican 1510 case that houses my lenses, my Burton 28L zoompack camera backpack, and my Incase backpack that houses my beloved unibody aluminum Macbook and external hard drive. I could still probably fit another bag and a couple of jackets in there if I wanted to.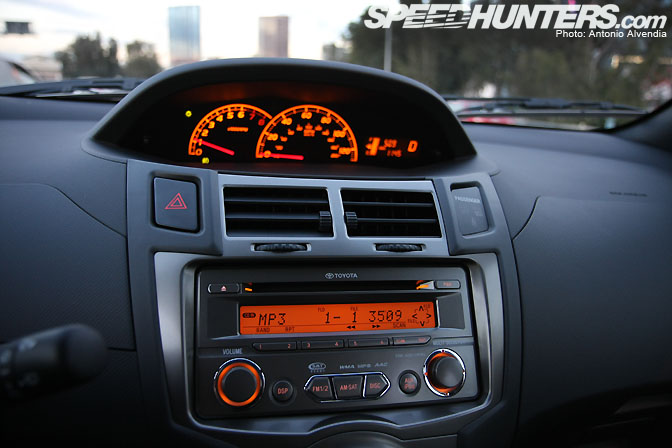 While it took me a while to get used to the center dash-mounted gauge cluster, I really liked the MP3 and iPod enabled head unit, which allowed me to play all my favorite downloaded MP3s all day long. If you like hip hop, old school reggae and 1970s funky soul music like I do, download the free MP3 mixes on Phoreyz.net or subscribe to the DJ Daz and Stones Throw podcasts on iTunes.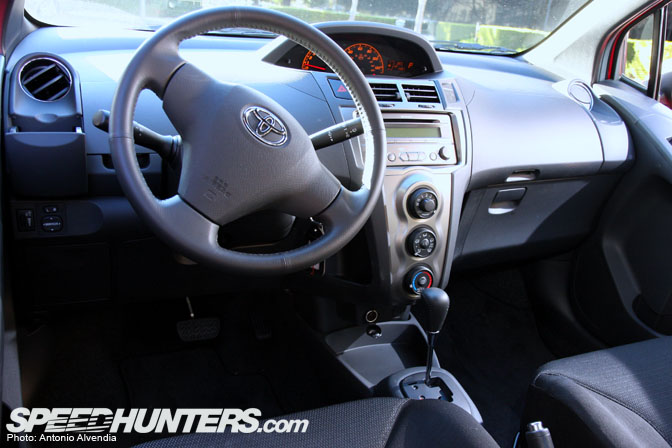 The Yaris S that we had on loan wasn't a 5 speed manual; there were none available on the day we picked up the car, so we tested the 4speed electronically controlled transmission version instead. However, since we were just testing the car around town, and didn't intend on showing it any racetrack action, the automatic tranny did us just fine.
Perhaps our favorite interior feature on the car were the loads of different storage compartments! The Yaris S has more than enough storage for all of the things a photographer might use on a daily basis. Several cupholders to hold drinks and cell phones, point and shoot cameras, CDs, notepads, gum, headsets, and other miscellaneous items.
If a good looking, gas efficient, daily driver is what you're looking for in a brand new car, then the brand new 5-door Yaris Type S liftback just might be your answer. Just think, if you had a brand new, reliable car for commuting duties… then you could pick up a less comfortable, yet super fun vintage "smog exempt" car to build up as your racetrack monster!
-Antonio Alvendia