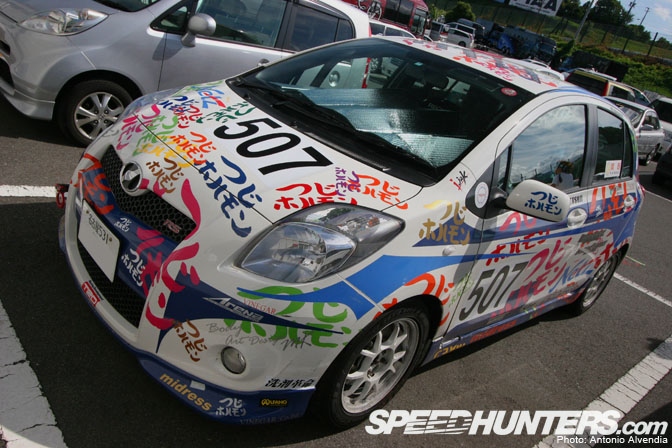 Turning our attention to some newer Toyotas, are a few photos of an interesting Toyota Vitz I saw in the parking lot at Suzuka Circuit. This car is a competitor in the Toyota Netz Vitz Cup, which is a spec series in Japan that pits these low horsepower, inexpensive cars against each other – If you had to compare it to something, you could say it's sort of similar to the Spec Miata road racing class here in the USA.
Of course the first thing that drew my attention to this Vitz was the brightly colored Tsuji Horumon graphics, which are a mix of Japanese characters wrapping all over the car. Yaris owners in North America might take notice of the slight differences to the Japanese bumpers, headlights, front emblem, and RS emblem on the grill, as seen in this photo.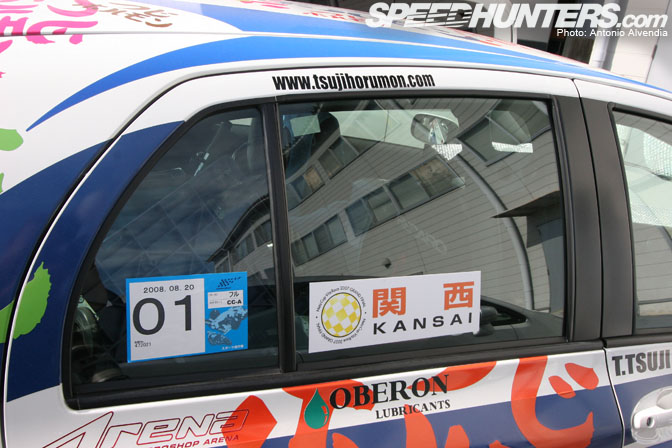 This Vitz is one of the cars representing the Kansai region of Japan in the Netz Vitz cup. If you look closely, you'll also spot the rollcage and Recaro seats inside.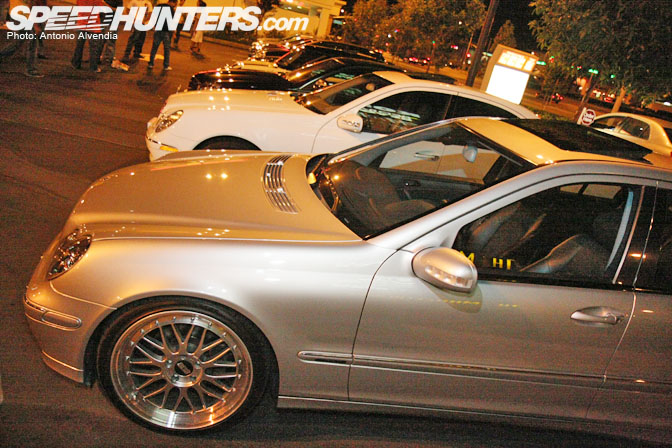 See the Netz sticker on the right bottom part of the rear window? It's a Toyota dealership chain in Japan. I thought it was also interesting that the Japanese Vitz models had different rear bumpers than the North American Toyota Yarises, which are, in essence, the same car.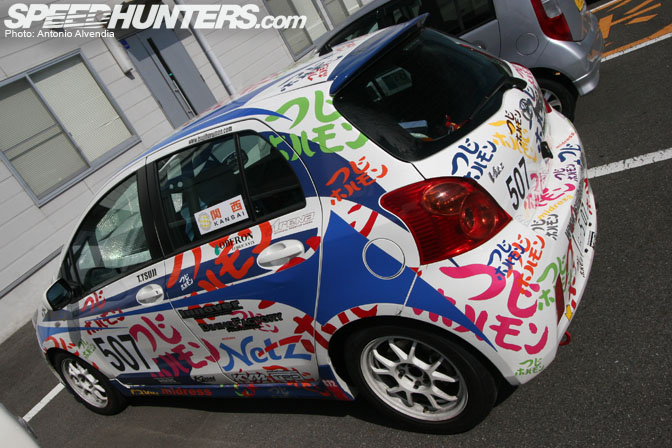 Last but not least, notice the lightweight racing wheels. While I obviously would have picked wheels with cooler looking fitment, I'm assuming they have to run weak offset wheels in accordance to the rules in the spec class? Even if they couldn't widen the wheels, I wish they could have at least run a lower offset so the fenders don't drape out and over the wheels; in Japan, they say that bad offset wheels on a car makes the car look like a train (reference to the way wheels sit inside and under the body. However, I think it looks similar to how a "baby tee" sticks out over the upper arm of a girl. You don't want your wheels looking girly, do you?
Either way, I enjoyed seeing this Vitz at Suzuka. It was definitely interesting! I had the chance to drive its North American counterpart recently – and surprisingly enough, I liked it! Stay tuned to Speedhunters for more on these small, fun cars. To me, the Vitz Cup is kind of like the modern equivalent of the Starlet Cup one make series. They are both for single makes of Toyota's small displacement economy cars. However, in defense of Toyota Starlets, at least the ones from the late 1970s and early 1980s were front engine, rear wheel drive, with limited slip differentials available, and the front suspension and brakes of an AE86 fit the car with very little modification.
-Antonio Alvendia