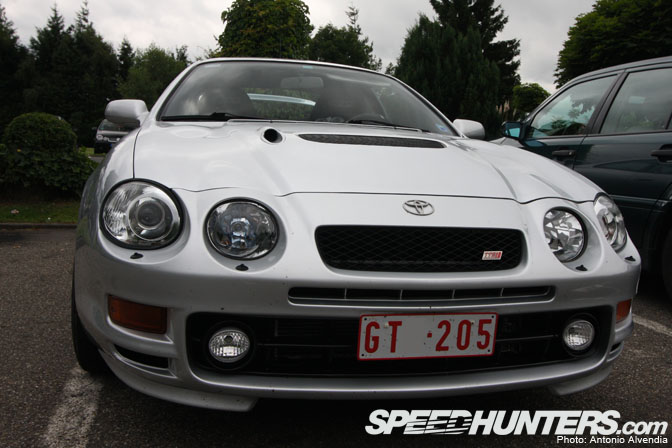 The ST205 Celica GT-Four is the final evolution in all wheel drive Celica technology. Just like its predecessors, the ST165 (1988-1989), and ST185 (1991-1993), the ST205 is powered by Toyota's mighty 3SGTE engine, a 2.0 liter turbocharged engine that pushes power to all four wheels. If I'm not mistaken, the last generation of 3SGTE, as found in the ST205, makes 240-250hp.
When I was just out of high school, I remember wanting to own ST185 and ST205 Celica GT-Fours sooooo bad. I had so many magazine clippings with Celicas from Japan; I just couldn't stop thinking about them. The idea of a turbocharged Yamaha head twincam 3SGTE and all-wheel drive had me convinced. (Until I began autocrossing with my first AE86.)
Imagine my delight when I spotted this ST205 GT-Four in a parking lot right down the road from Nurburgring's Grand Prix course. Originally Rod, Jeroen and I planned to stop in and take a look at the diecast minicar shop next to the track, but as we jumped out of our rented Lexus RX400h, I started taking pictures of this Celica for a small "Car Spotlight" on Speedhunters, when the owner of the car walked out, with a new diecast in hand.
I complimented him on his clean Celica – I didn't see very many modified Japanese cars in the Nurburgring area, much less ones with Work wheels! Turns out the owner of this GT-Four was a former AE86 rally co-driver (as you can probably guess, we obviously became friends right away), and had a few friends who worked for Toyota Team Europe. WOW TTE?! Aside from Nurburgring, TTE is the number one thing I wanted to do in Germany! He continued on to explain that there would be a Japanese classic car meeting coming in a couple weeks, and we should attend… but unfortunately, our schedule showed that we would be in Japan during the time of this meeting, so there's no way we could attend.
While we were talking about old school Toyotas, rally, and Germany, Rod and Jeroen came back from the die cast shop (the one I didn't get to go into cause I met the owner of this ST205), and Rod announced that we were going to be late for our meeting with the organizers of the IDC drifting series in Germany. Unfortunately we had to leave, and I had to cut my conversation short. However disappointed I may have been (and still am!) that I didn't get to see the diecast shop down the street from Nurburgring, I was very happy to meet this silver GT-Four, as well as its owner of course.
Notice the cool cutouts in the GT-Four RC hood and front bumper. I think these cutouts make the Celica GT Four look 100% better than a normal front wheel drive ST202. I also liked the small TTE emblem in the grill – it's a nice and classy touch!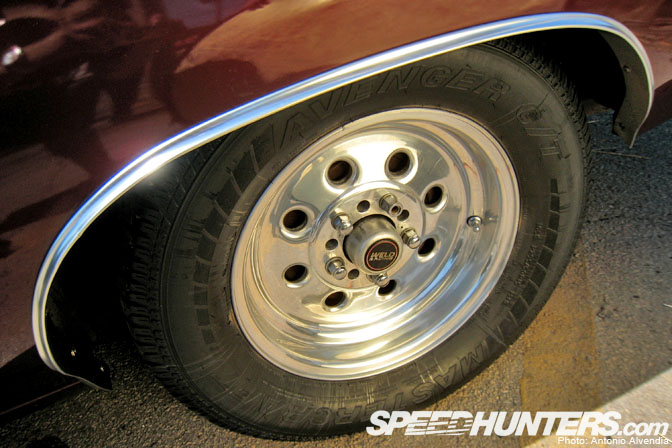 Look at that huge GT-Four rear wing! For some reason, I don't mind the big wing on the GT-Four at all. Toyota designed it that way!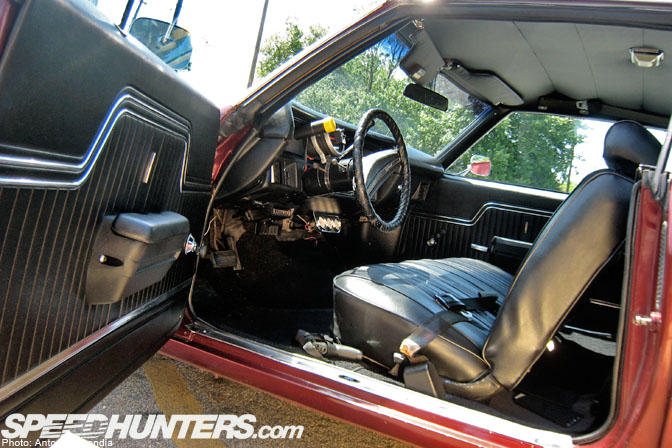 Work Emotion CR Kai one piece wheels look really good on this car, in my opinion. The GT-Four's owner told me he was going after a tarmac stage rally-inspired look for his car, hence the big one piece wheels. I think he chose a really good color for the CR Kais, and they especially look good with red aluminum lugnuts, which are color coordinated with the red lettering on the face and red brake calipers. Dig the Euro sidemarkets too, and notice the Euro version Celica doesn't have a nasty red rear sidemarker.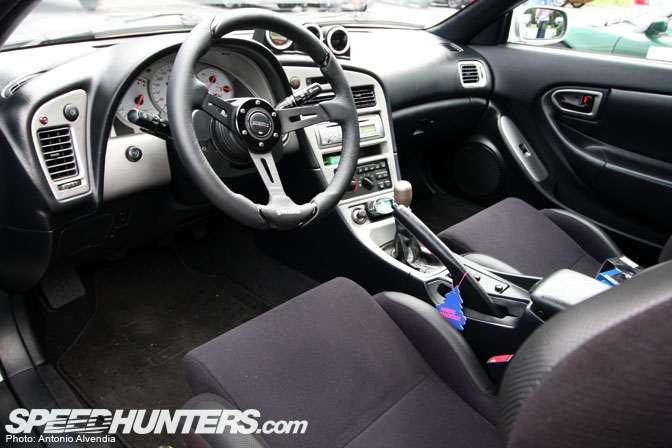 Here's the inside of the car… Sparco everywhere. I think if I were to run Sparco seats and steering wheel in a Toyota Celica, it would have to be the rare bronze Carlos Sainz edition steering wheel, shift knob, and seat set, which was available through Sparco USA around 1999-2000 timeframe. That would be PERFECT. Obviously Carlos Sainz was the one who made ST165s, ST185s, and ST205s cool, through his efforts as Toyota Team Europe's pro WRC driver for years. I want to meet him someday!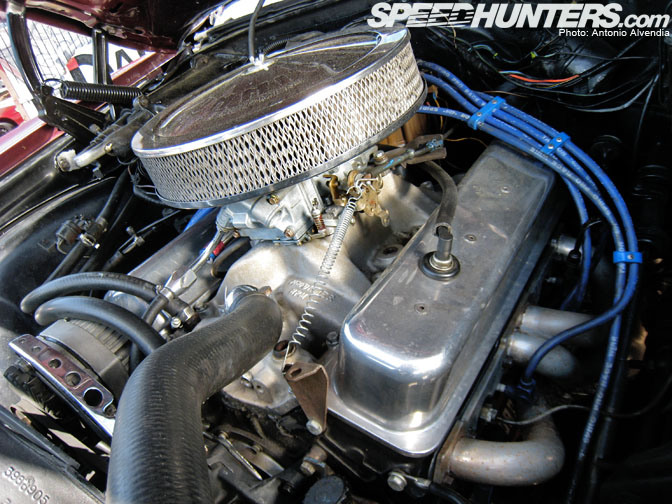 Notice also the Euro projector headlights and headlight sprayer nozzles? I think everything about this front bumper looks better than the USDM version, including the lower lip fins at the bottom. Awesome car. I'd love to own one if they were available in the USA… maybe one day I'll buy one in Japan, so that I'll have a fun snow car to play with when I'm at Ebisu during the wintertime.
-Antonio Alvendia