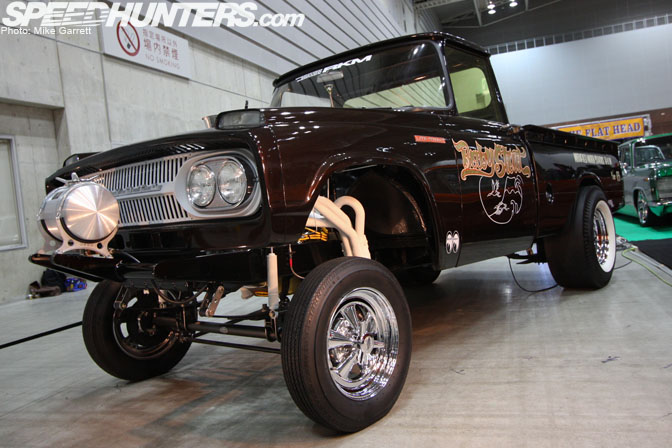 Here's something that should be a nice break from all the drift and tuner Toyotas you have been seeing here lately.
There were some amazing cars at the Yokohama Custom Car and Hot Rod Show last December, but one stood out to me more than any other. Actually, it wasn't even a car, but a gasser style Toyota Stout pickup truck built by a shop in Kyushu called RKM. If you are looking for a good example of the Japanese take on traditional hot rodding, it doesn't get any better than this.
Since vintage drag racing is probably one of the lesser known motorsports among Speedhunters readers, I suppose a quick explanation of what a "gasser" is should be in order. Hell, even I had trouble determining exactly what makes a car a "gasser". In simple terms, they are are 1940s-'60s drag cars or pickups defined by their with raised suspension and front straight axle conversions. The heyday of the gasser was in the '60s, but in the past few years they have been getting more and more popular and can be seen in large numbers at traditonal hot rodding events like the HAMB drags.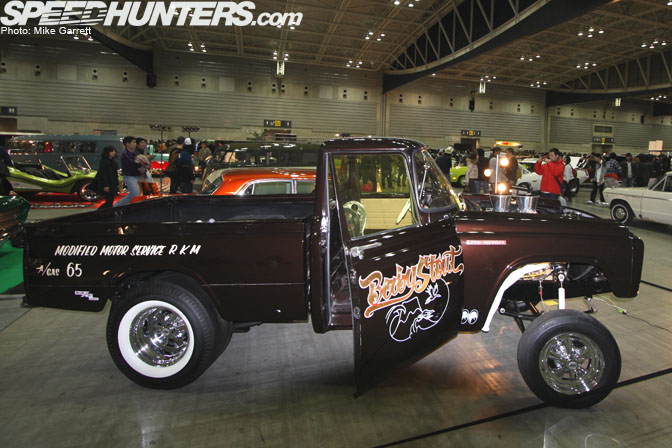 For the base vehicle, RKM started with a Showa 42 (1967) Toyota Lite Stout pickup, which is a pretty rare vehicle in itself. You've probably realized now that pickups aren't too common in Japan . Outside of enthusiast owners, you hardly ever see them on the streets, and classic pickups like this are even more hard to find.The project was a long one involving a full frame-off build with lots of one-off
fabrication.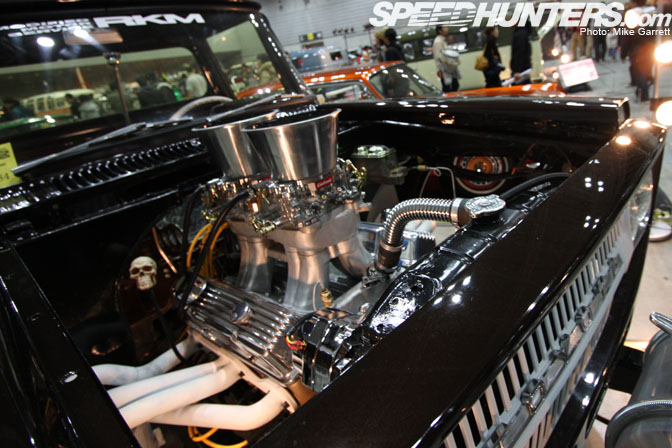 The hoodless engine bay of the Stout is dominated by a classic 350 cubic inch small block Chevy V8 outfitted with a vintage style high rise intake manifold with a pair of four barrel Edelbrock carbs. Purists may scoff at the Chevy mill, but the look and feel that are what's most important on a machine like this. A modern DOHC V8 just wouldn't be appropriate. If you glance at the cab, you can also see that RKM did a left-hand-drive conversion to this JDM model truck.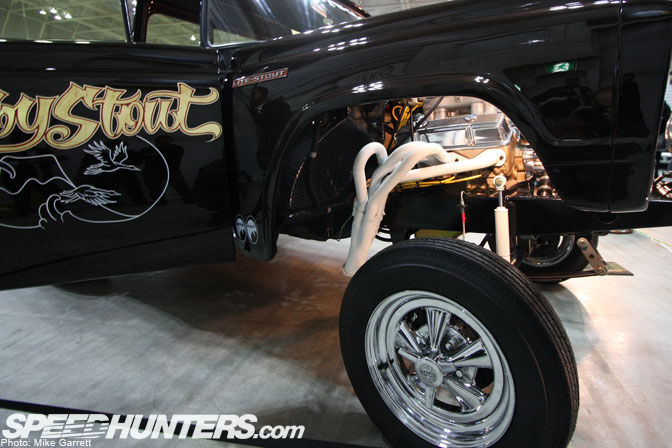 Here's a better view of the front undercarriage. The factory Stout front suspension was redone with a traditional straight axle, and the body sits significantly higher than stock. It has that perfect "nose in the air" look that most gassers have. In fitting with the nostalgic theme, the wheels are Cragar SS mags – skinny in the front and wide in the back with a set of whitewall racing slicks. There are also "Baby Stout" graphics and retro style race class lettering on the bed. The white-coated headers are also a period style feature as opposed to the more popular chrome or polished stuff. In proper hot rod fashion, there is nothing attached to headers.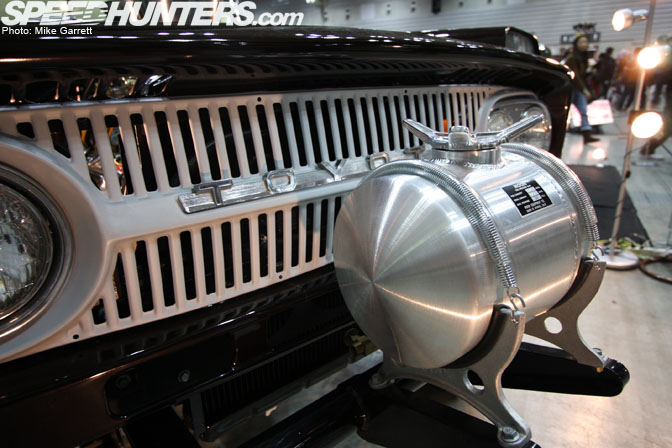 And finally, as a finishing touch to complete the retro drag look, a classic "Moon Tank" has been attached to the front.
 Apparently I wasn't the only one who liked it, as the Stout was given the award for Best Domestic at the show the Dynotones (the rock band who came from SoCal to play the show) also chose it as their favorite vehicle at the show.
You might be familiar with the hot rod caricatures done by famous
artists like Ed "Big Daddy" Roth. If you are, than just picture a real
life version of one of those and you'll know how cool this truck is.
-Mike Garrett