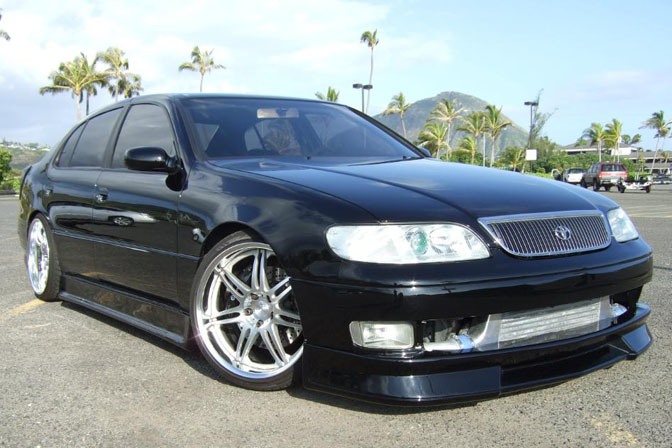 Sometimes there are just too many cars that we Speedhunters want to shoot, and we just don't have the time or budget to go visit them all. Such is the case with Barry Wong's JZS147 Aristo – I've known about it for quite some time now. I've been wanting to shoot this car ever since I first heard about it, but it lives all the way out in Hawaii! Since I knew I wanted to show Speedhunters readers this car, but wouldn't be able to fly out to Hawaii to shoot it, I just called up Barry directly, who was nice enough to take some snapshots of the car for us with his Fuji point-and-shoot camera.
For those that don't know, Barry Wong is the driver of the black Kaaz RPS13 in the Formula D series. While most people know him for driving his Kaaz-logoed S13, he has also been building this first gen Lexus GS300 as a four-door driftable "street car" for quite some time now.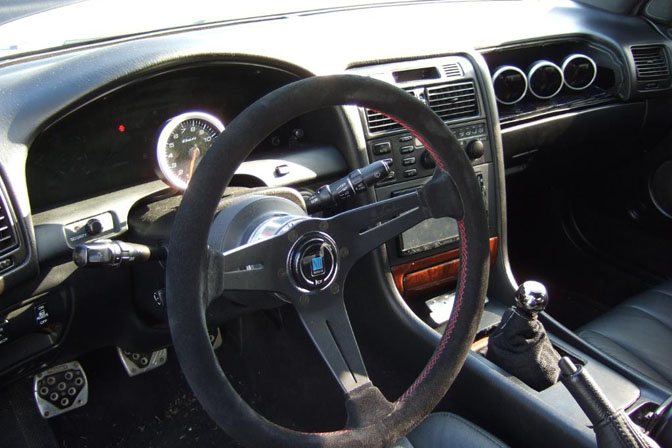 Even though it may look VIP-styled on the outside, the inside of Barry's JZS147 definitely has the soul of a drift car. You certainly don't see many VIP cars with Nardi "deep corn" (it's Janglish for deep cone offset) suede steering wheels and 5-speed transmissions. In fact, Barry's JZS147 Aristo started its life with an automatic transmission, and he swapped in the 5-speed, which sits right below a custom center console that he proudly cut and customized by himself. The black suede shift boot is a nice touch, matching the steering wheel.
Since the airbag steering wheel was removed, why should the passenger have an airbag? Barry just opted to remove the passenger airbag in favor of mounting Defi boost, water temp, and oil pressure gauges in its place – very nice! I also like the Defi 11K tach that sits in front of the factory gauge cluster.
However, this car is indeed a Lexus (err, Toyota Aristo), so Barry didn't want to gut out the interior. Instead, he had the interior completely refinished in custom black leather. Awesome! You don't normally see first gen GS300s with black interior.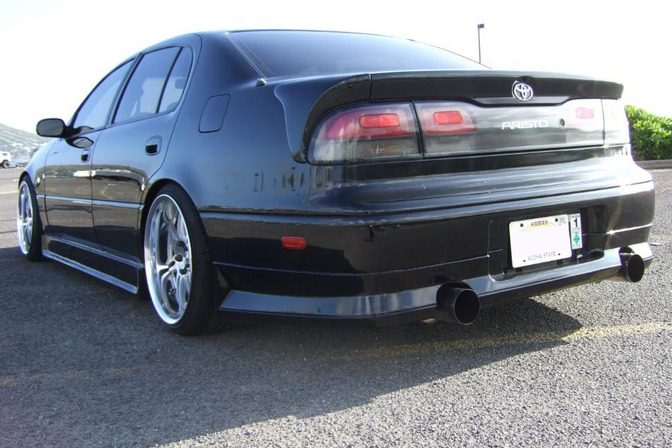 Just to make it stand out from other JZS147s cruising around in Hawaii, Barry completely removed any Lexus emblems on the car. He says that inside and outside, it only says Toyota now. Notice the Toyota logo and the Japanese OEM Aristo taillights? The vertical placement of the Hawaii state inspection sticker is pretty clean too.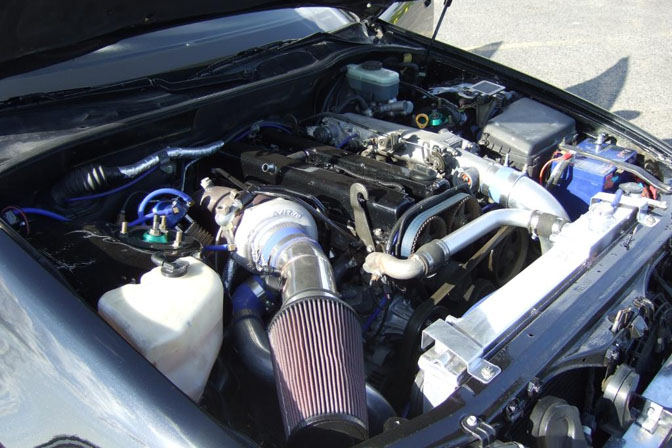 Just in case you didn't notice the GReddy front mount intercooler blatantly staring at you in the first photo… it's true. This isn't the normal all-motor engine you would find in a JZS147. Barry swapped out the factory engine and automatic transmission for a 1JZGTE engine and 5-speed trans. The new setup uses Kazama motor mounts, an Exedy twin plate clutch, custom 1-piece aluminum driveshaft, a customized T4 turbo, Raceport Blowoff valve and Pro-Gate 50 wastegate from Turbosmart, and an Autronic SM4 ECU to make 575 horsepower at the wheels at 28psi.
575 HORSEPOWER! On a "street car." I love it. That's more horspower than his dad's R35 GTR!!! Sheesh!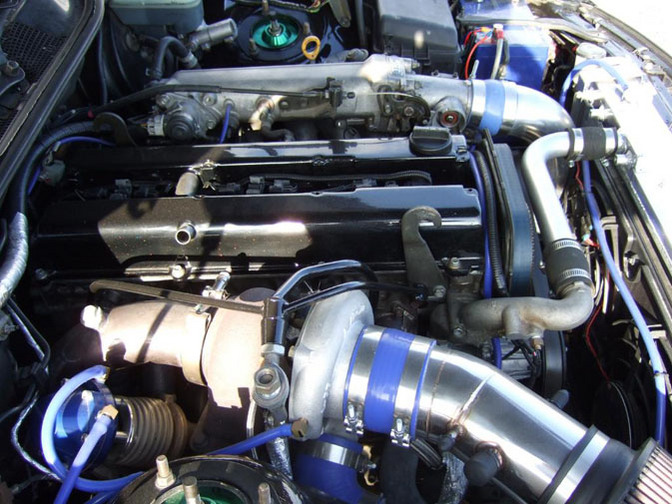 1JZs sure are nice. I bet this car is ridiculously fun to drive. It's not just an engine on wheels, either.
See the hint of green in the strut towers? Those are Tein Flex coilovers with custom shock valving and spring rates – they provide Barry with the ability to control this high horsepower beast.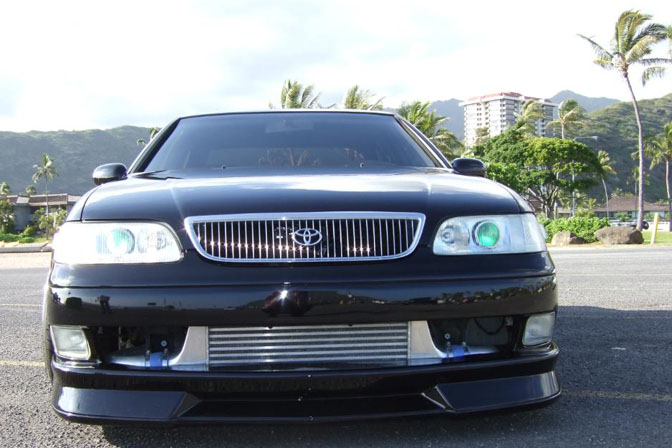 The huge cut out in Barry's Japanese OEM Aristo front bumper, with the Greddy front mount in plain view, and Wald front lip spoiler definitely let people know that this isn't your normal everyday GS300. The brand new projector headlights are a nice touch, too. An expensive, nice touch! Most JZS147 headlights are hazed over, and new ones don't come cheap.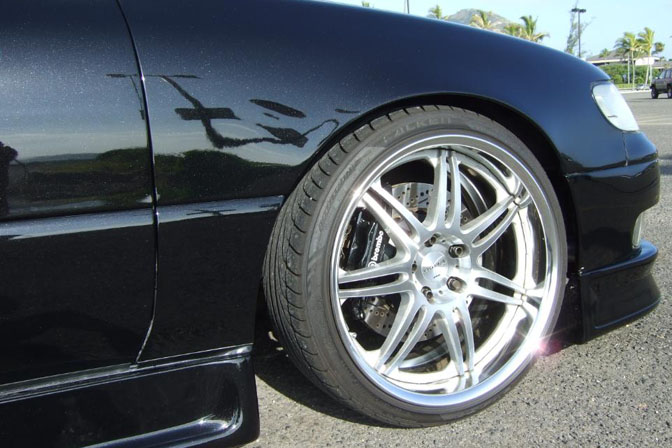 At first glance, it's very easy to spot Barry's super wide, blingin 19×10 (front) and 19×11 (rear) Work Varianza T1S wheels, which are wrapped in Falken FK452 235/35/19 tires up front, with meaty 265/30/19 tires in the rear.
However, the thing that really caught my eye was the gorgeous Brembo Grand Turismo big brake kit sitting behind the big Work wheels. It shows that Barry's Aristo isn't just for looks – he's serious about performance.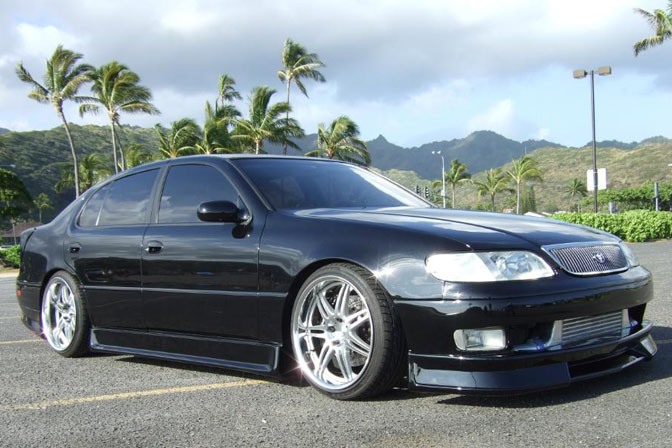 Here's one last photo of the JZS147, enjoying the cool ocean breeze, sunshine, and aloha spirit of Hawaii. Awesome car.
Mahalos for snapping the photos for us, Barry! Can't wait to see the car (all his cars, actually) in person next time I'm in Hawaii! Shoots!
-Antonio Alvendia