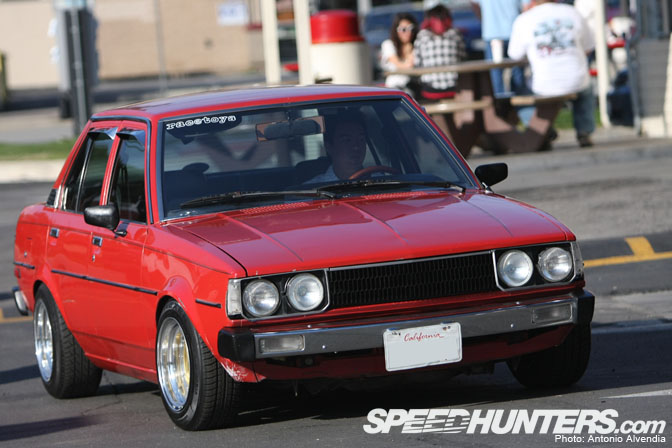 For some reason, I've been pretty enthralled by TE71/TE72 Corollas recently. Seeing cars like Grant Scott's AE71 in Australia and several of the AE71s I've seen in Japan definitely have me inspired. Accidentally, I even found a 1980 Corolla coupe for sale this week; I'm currently debating on whether or not I should buy it. Since I'm currently on this TE7x Corolla kick, I wanted to post up photos of this daily driven red 1980 TE72 Corolla 4-door, owned by Clarence (AKA Corollin on Club4AG). Clarence's TE72 4-door is one of the coolest "box-type" Corollas I've seen in the United States; it is super clean, and has great style.
What we're looking at here in factory paint from 1980;  who would have thought that 29 year old original paint could look so good?! I asked Clarence what his secret was, and he explained that the car didn't look like that when he first bought it. In fact, he admits that the paint looked dull and light pink from being oxidized, and honestly looked more faded than Method Man and Redman at a family barbecue. Clarence put three whole days of hard work into restoring his paint when he first got the car – it included clay barring the car to pick up the contaminants on the paint, then carefully cutting down the pink haze with just enough polishing compounds and cleaner waxes. Clarence says that it is extremely important to use different buffing pads when doing each step of the paint restoration, and there are even different grit levels that you must use to prevent cutting down too much of the original paint – remember, original paint is thin! Cut down too much, and the paint will come off completely, especially on the hard corners of the body! This isn't a car care and detailing website, but I thought that his story of how he did it was very interesting and compelling, because I'm always looking for tricks to maintain the shine of my 1973 TE27's original old paint.
Aside from its low raked stance, another thing that looks awesome on Clarence's Corolla is the fact that it has the 1979/1980 zenki round headlights. These are my absolute favorite headlights for this type of Corolla – the round shape just has such an awesome vintage look to it, especially with the rectangular trim surrounding it, and the old looking grill. Since 29-year old headlights can't possibly illuminate the road well enough for today's standards, Clarence opted to install HIDs into his headlight housings, and Hella foglight bulbs and housings for the round lights that sit right next to them.
The incredibly rare and expensive metal bumpers were unavailable in the United States – Clarence was lucky enough to buy them from the owner of another TE72. How lucky to find them for sale in the United States! Those metal bumpers definitely set it off – they make the car look more vintage and classy. So awesome.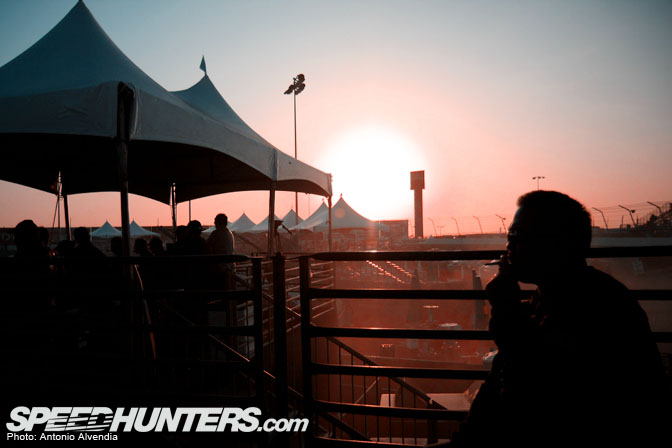 I like how low Clarence's car sits… just imagine – it's slammed on 13 inch wheels! Old school style; 13x8s with 185/60/13 tires. Super low. I can't stop admiring how clean this car is – from the paint to the wheels to the bumpers to the window visors. Let's also take a look at the exhaust – it's a brand I haven't seen in quite a while… a vintage ANSA muffler with dual polished tips that stick out underneath the bumper aggressively. Very cool. I also like the Cipher Garage "Offset is Everything" license plate frame! I was surprised to see that! Cool!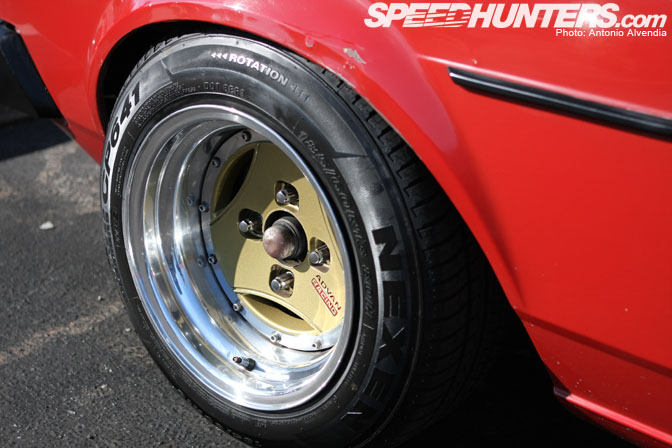 Clarence's box-type sedan definitely has a great stance. What's even cooler about his car is the rare wheels that it sits on – super rare 13×8 (negative offset) Advan Racing A3A wheels. Advan A3A wheels are a bit more commonly found in the Corolla scene of Southern California and Japan. These Advan Racing models are a lot more difficult to find! It's the Advan equivalent to RS Watanabe Type R wheels; all Advan Racing wheels have aggressive sizes, but they only come in 13 and 14 inch sizes as far as I know.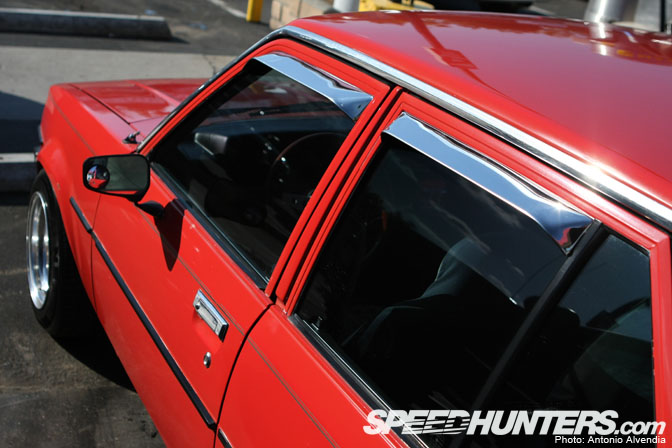 Another great detail on Clarence's car are the rare aluminum window visors, which are basically unobtainium as far as I'm concerned. These trim pieces are extremely rare, and are even hard to find in Japan or the Philippines. They definitely make the car stand out, matching the chrome bumpers, trim and polished fat lips on his wheels. I like these types of details because they make his car look even more vintage and classy. Very cool.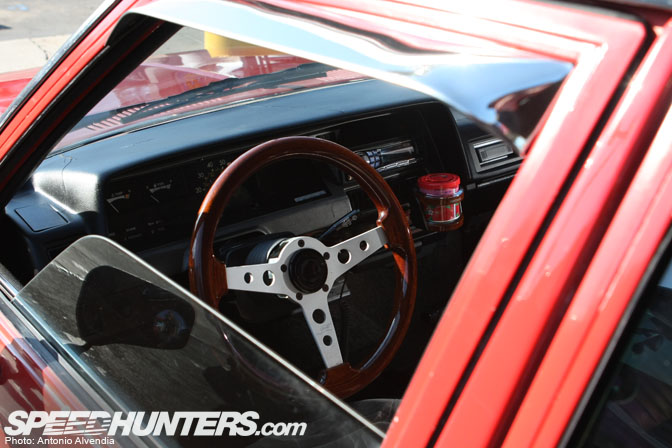 The interior of the car is pretty clean, and looks great in black. For a little bit of old school Filipino style, this box-type sedan has a wooden rim Grant steering wheel and a fake wooden cupholder attached to the dash, which holds a matching red My Shaldan air freshener. Filipino for sure!
Clarence is a young guy, but My Shaldan is the brand of air freshener that all Filipino uncles and aunts use in their cars, because they smell good, are readily available in all Chinese and Filipino supermarkets, and most importantly, because they're a lot less expensive than the JDM squash scented air fresheners. I wonder how many of our readers use My Shaldan and how many use actual Squash scented air fresheners? I've used both, and settled with squach scent in my AE86s. However, I noticed that people with fixed up Japanese cars definitely have a preference when it comes to air fresheners – they dare not use those carboard pine trees that you might find in musclecars. If you have a personal preference, what is it?
-Antonio Alvendia