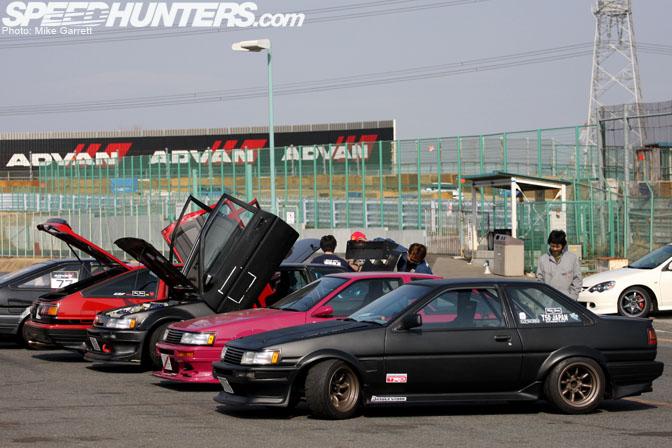 After checking out Paddy McGrath's coverage of the AE86 track day in Ireland, I came away very impressed with the quality of the cars that were on the track. These days, "JDM" is  the most overused automotive term around, but lot of those Irish-built cars genuinely looked like they came straight off a Japanese racing circuit. After getting those heart-warming feelings from Paddy's post, I thought I'd answer back with some photos of rear-wheel-drive Toyotas I've captured at various events at Tsukuba Circuit. This includes not just AE86's, but MR2's and other RWD Toyotas.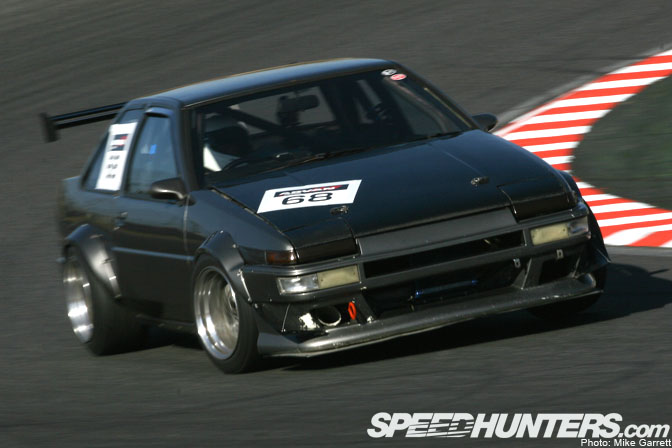 I know some of you guys are thinking that we've been showing too many AE86's this month, but you just can't deny the importance of this car. The Supra might have been Toyota's flagship sports car, but it's the AE86 that symbolizes Toyota's days of building simple cars that were both affordable and extremely fun to drive. The fact that 25 year-old plus AE86's are still so common at race tracks in Japan shows the kind of lasting appeal they have.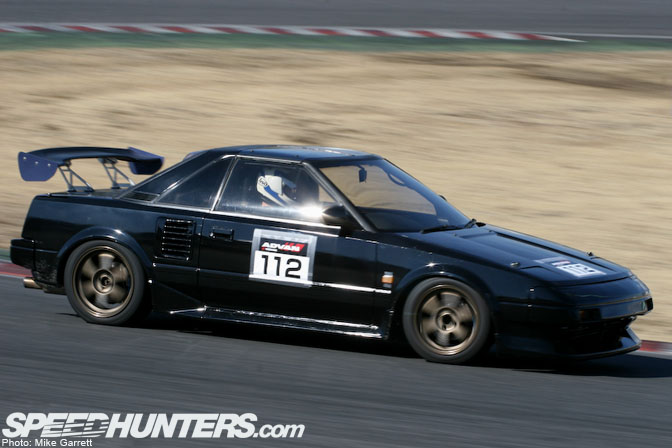 The AW11 MR2 is another car that defines the "fun" side of Toyota. When the MR2 hit the market, it was considered to be the most ground-breaking Japanese sports car since the original Datsun 240Z. This black AW11 is one of just a few that I've seen at the track. Despite being powered by the same 4AGE engine, for some reason this car just didn't become the phenomenon that the AE86 did. Did people prefer the more traditional FR layout? Or was it the added practicality the AE86 offered?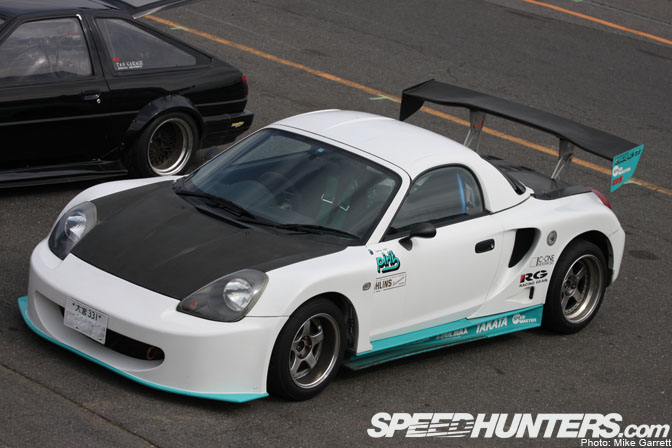 As recently as the late '90s, Toyota was still bringing out interesting rear-drive cars to the market. For example, the MR-S and the Altezza. When it comes to tuned MR-S's, the Techno Pro Spirit 1ZZ-powered car is the one to beat. Despite being a small tuning shop, TPS has became a household name among Japanese tuning fans after the MR-S dominated Hot Version's touge competitions.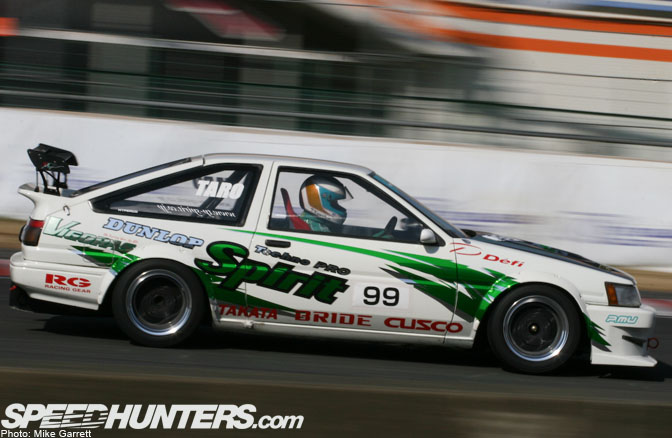 Techno Pro Spirit is also an established name in the AE86 community. Here's their race-tuned Levin running hard during a qualifying lap at Tsukuba last year.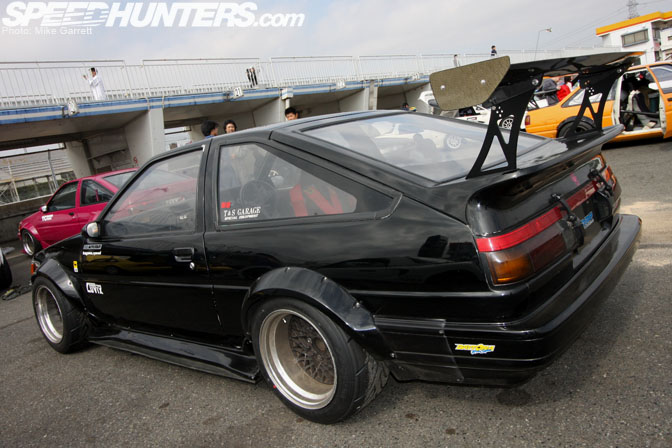 All over Japan you will find privately-owned AE86 track cars like this black Levin. There's really no car that better represents the "works spirit" better than these AE86's. When I was at Tsukuba Circuit a few weeks ago, there was a big group of these AE86 maniacs that brought their cars out for an afternoon of thrashing.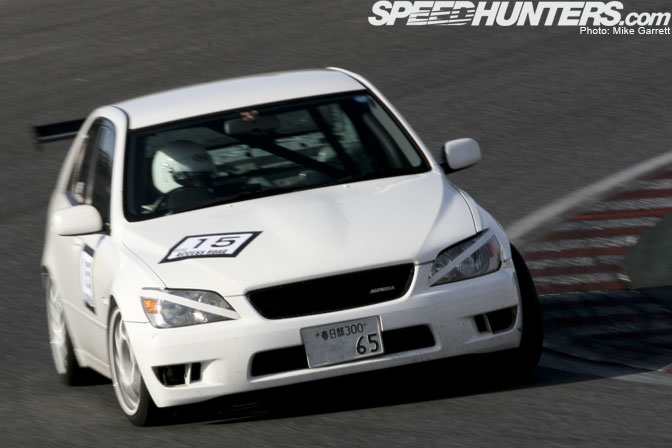 Even though I go to Tsukuba Circuit so often that all the track workers there know me, I haven't seen more than a handful of Toyota Altezzas in all my visits. This is kind of strange to me since I regularly see SXE10 Altezzas on the street.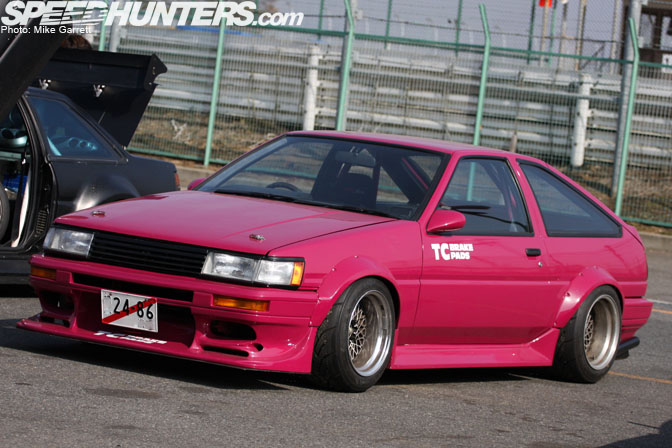 Maybe people use Altezzas as their daily drivers while saving their AE86's for track duty?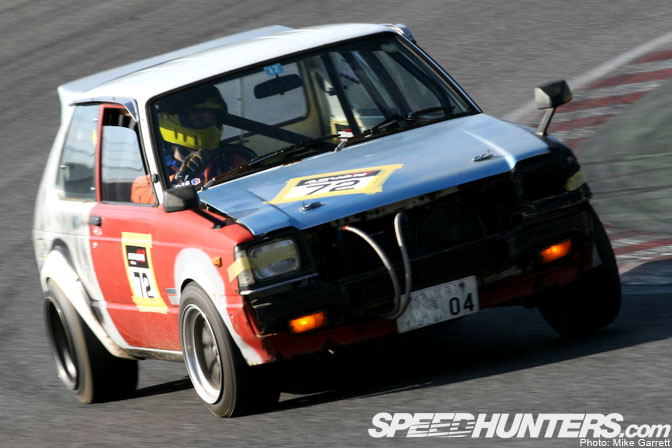 I'm trying to think of a proper word to describe this KP61 Starlet. How about Boro Chic? Whatever you want to call it, it looks like it would be absolute blast to drive.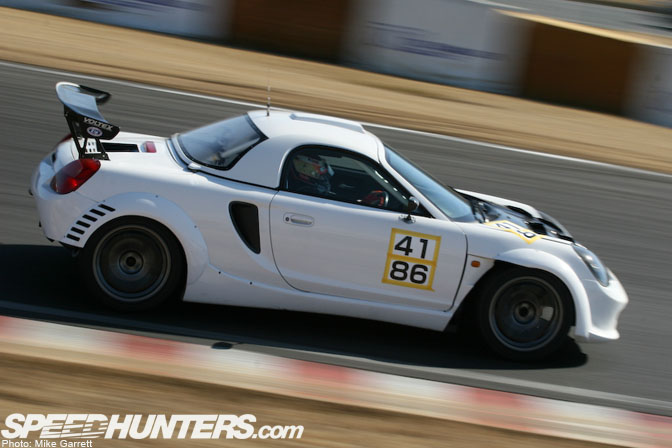 The Scorch MR-S time attack car is anything but boro boro. With some graphics and sponsor decals I think a lot of people would mistake this thing for a Super GT racer.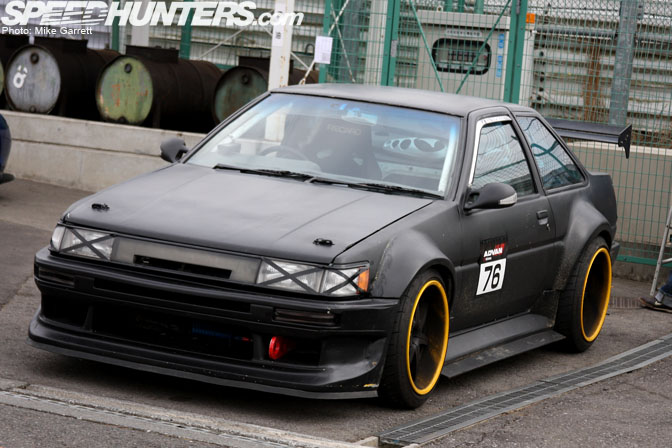 It's not too often you see AE86's with wheels larger than 15", so I was surprised to see this big-wheeled Levin coupe at the track. I'm not sure if there's a performance benefit to this setup, but the large wheels and custom fenders definitely give this car a unique "GT" look.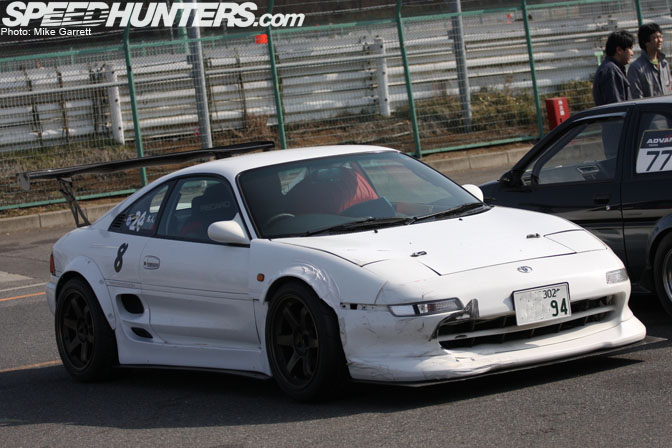 How many SW20 MR2's have you seen with stance like this? The exterior suggests this car has seen lots of hard-driven laps.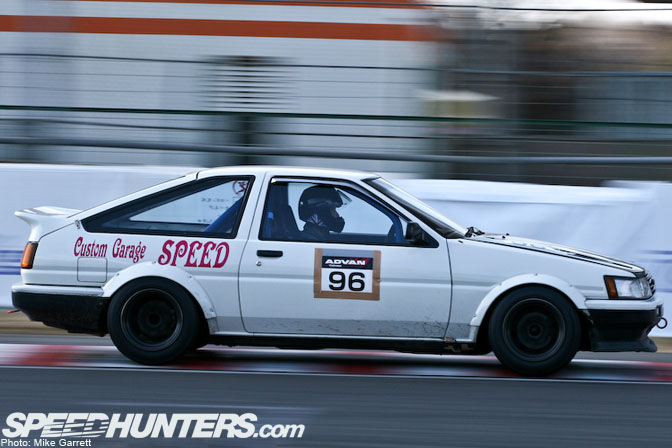 Finally, an AE86 Levin riding on the zeebra strips as it takes an aggressive line down Tsukuba's front straight. This car is representing Custom Garage SPEED, a small shop located here in Ibaraki-ken. You might remember seeing their N2 AE86 project car during this year's Tokyo Auto Salon coverage.
Man, I'm REALLY missing my old AE86 right now…
-Mike Garrett