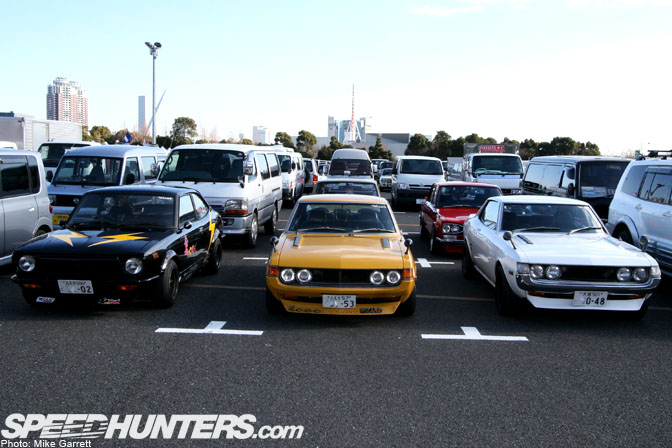 And now for some more Toyota-themed material from my photo archive. This time let's take a look at Toyotas from the late 1950s through the mid '70s – a period which saw Toyota lift itself out of Japan's tough post war period and begin down the path to global domination. From the car geek's perspective, there are some fine Toyota machines from this period, ranging from slammed Crown wagons to period-correct Celica race cars. Living in Japan, I've been fortunate enough to see a lot of these cars first hand and have built up a pretty nice collection of vintage Toyota photos.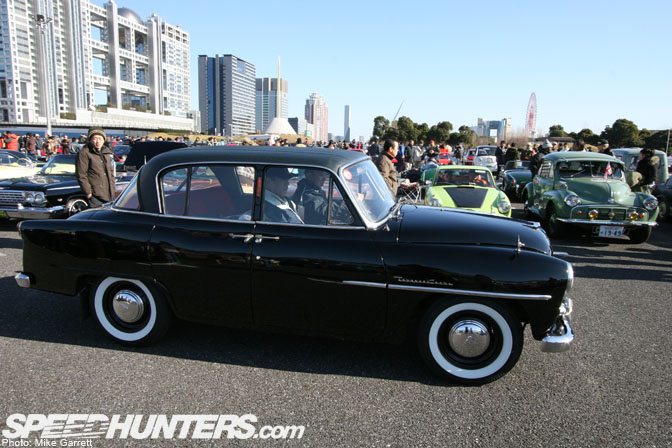 I'll start with the original Toyota Crown, which was one of Toyota's most significant vehicles during the 1950's.  In the USA the '50s were a prosperous time with new interstate highways being built and big-finned land yachts filling the driveways of suburban homes, but things were a bit different on the other side of the Pacific.  In the late '50s Japan was just starting to grow out of the tough postwar years and into a period of growth . I recently watched a film called Always , which takes place in 1958 Tokyo, and there's a scene in the film where one of these old Crowns comes into the neighborhood and everyone comes out of their houses to check it out. Having any sort of vehicle was a big deal in those days, especially a "modern" one like this.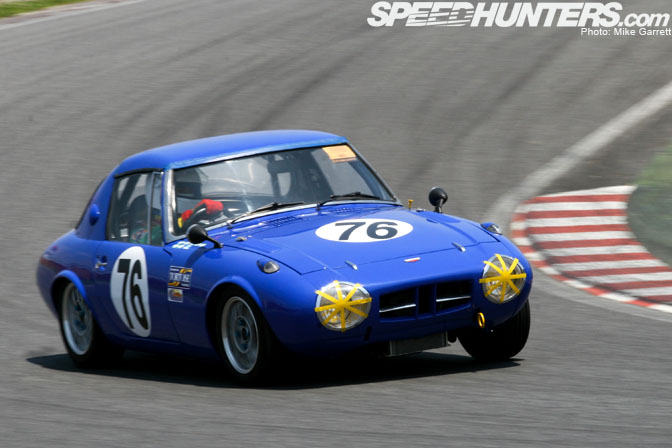 Not all of Toyota's early cars were sedans or commercial vehicles. The tiny Toyota Sports 800 was first introduced in the mid 1960's, and alongside the 2000GT it was one of the company's first real sports cars. As the name suggests, the Sports 800 was powered by an 800cc engine that made a tire-shredding 45hp in its most powerful configuration. Despite its rarity, there a few Sports 800 race cars out there, like this one I saw at the JCCA Tsukuba event in July.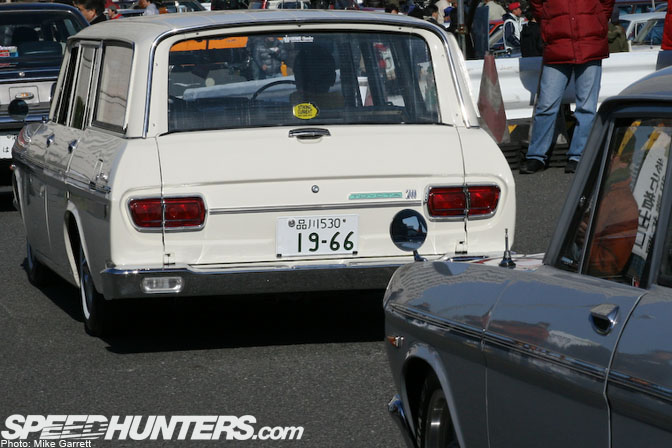 Seeing as how my automotive life started with an interest in classic American cars, it's natural that I'm a big fan of the '60s and '70s Toyota Crowns, which were heavily influenced by American cars of the period. My ideal garage would definitely have a spot for a mid '60s Crown Wagon sitting low on on some old school mags and a naturally aspirated 2JZ engine swap from Crown Classics in Yokohama.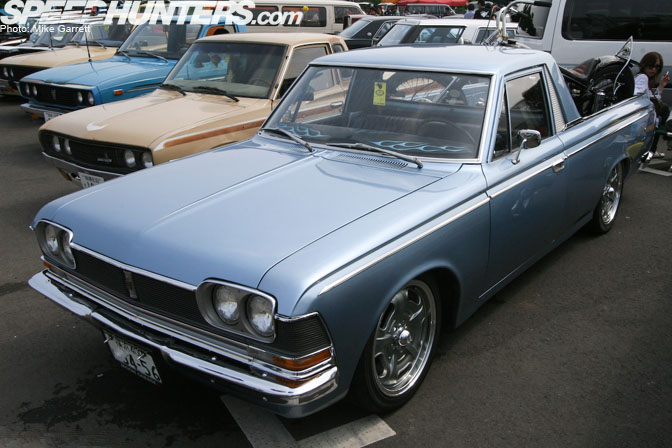 Then again the Crown pick up is pretty cool also. This left-hand-drive example is wearing a set of the popular Speedmaster" wheels which are sold by Mooneyes Japan. Also note the old school chopper in the bed…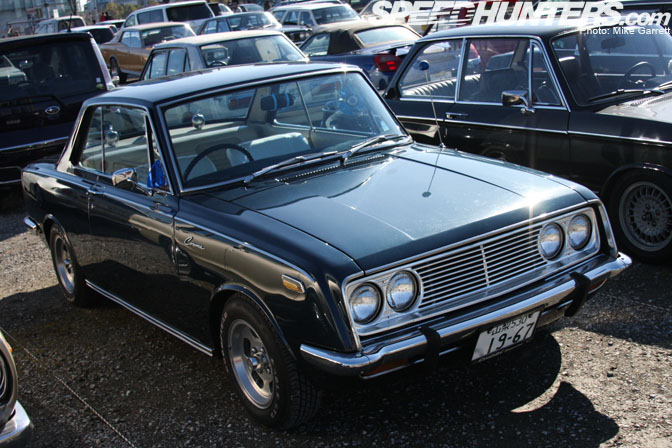 The US-inspired custom look is big among '60s and '70s Toyota owners in Japan. Here's a two-door Corona with a set of slotted mag wheels and retro white-letter rubber.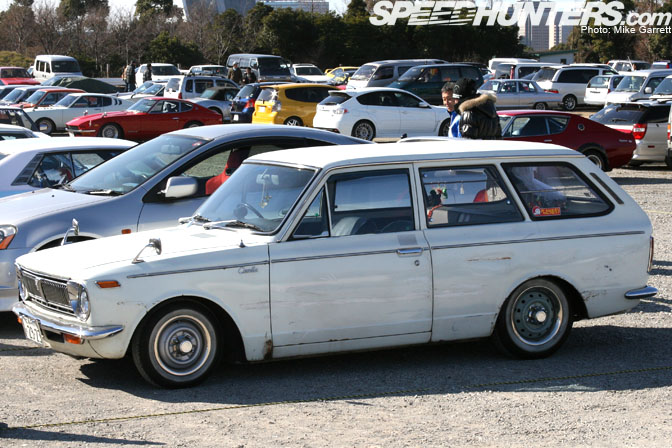 You can probably tell by now  that I'm a big station wagon geek. I spotted this first generation two-door Corolla wagon in the parking lot at last year's JCCA New Year Meeting. Like most of you guys, I'm a fan of low-offset dished wheels, but sometimes wide whites and steelies look great on cars like this, especially wagons. Surf's up!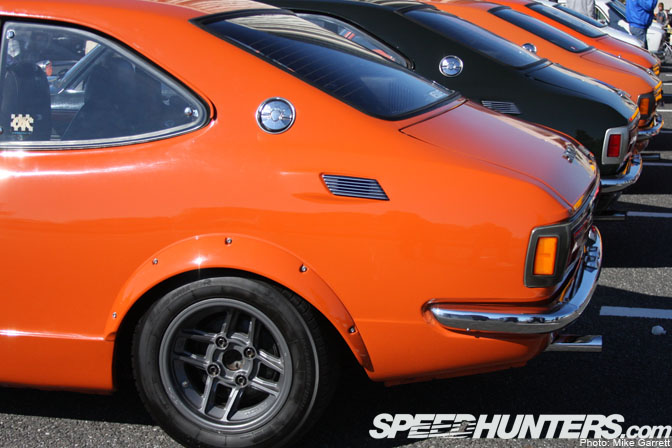 A fine line-up of TE27's at the '09 New Year Meeting last month in Odaiba. If you want an original TE27, you'd better like orange or dark green, because almost all of them seem to be one of those two colors. The car in the foreground is equipped with a set of rare Tom's wheels, a perfect match for any vintage Toyota.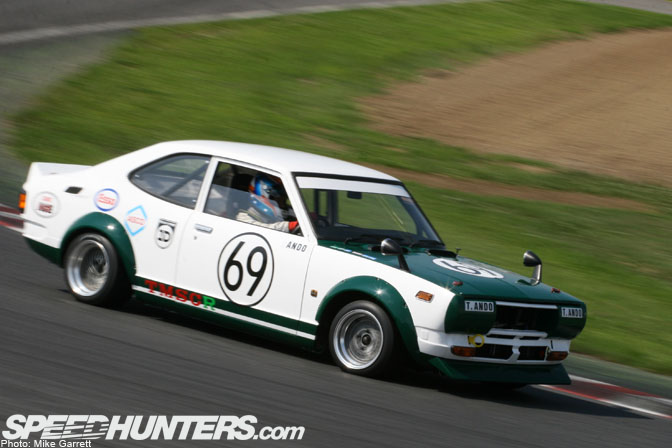 Here's a TE27 race car doing battle with some its Japanese and European rivals during '08 JCCA Summer Meeting. I like both the color combo on this car and the headlight covers for the period correct race look.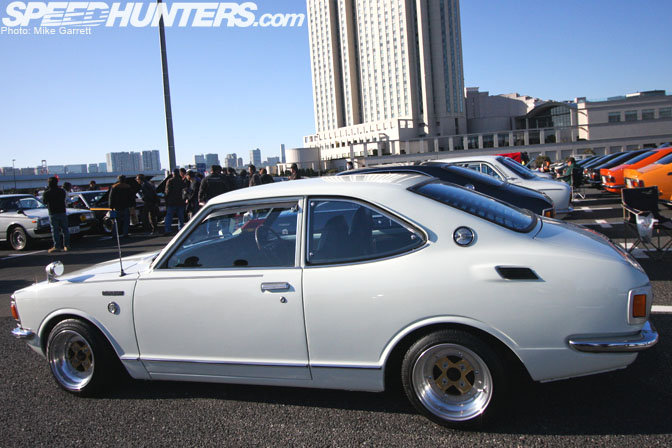 And a street-going version sitting low on a set of SSR Mk. II's.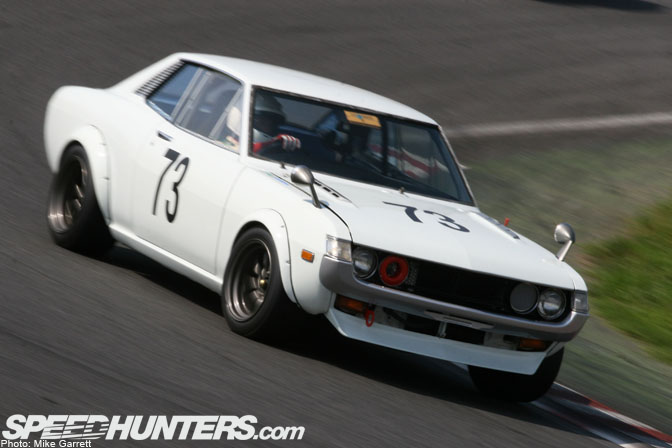 Here's a TA22 Celica 1600GT coupe looking like a scaled down SCCA Trans Am racer at Tsukuba Circuit. I think most of you guys will agree with me when I say the early Celicas are some of the best looking mass-production Toyotas ever made, especially ones with non-obtrusive JDM bumpers.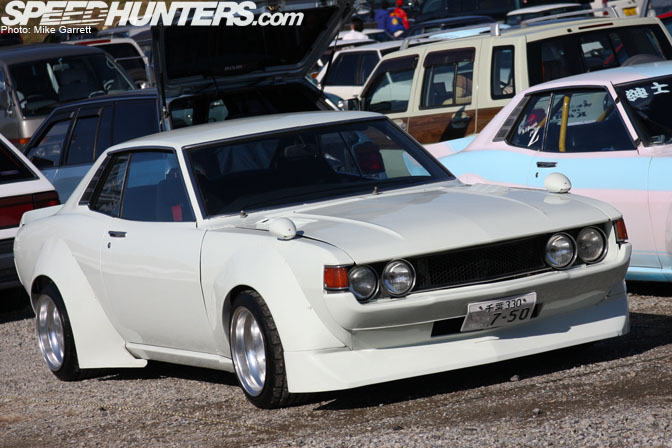 These early Celicas were similar to American pony cars not just in styling, but in their impact on car enthusiasts . Consider this flared and SSR Mk.1 equipped model to be the Japanese equivalent of a Camaro street machine jacked up with big tires, Cragar wheels, and velocity stacks poking through the hood. For us young guys it's "old school cool", but for people who were around when these cars were new, seeing them brings back genuine feelings of nostalgia. "Natsukashii!", as the Japanese would say.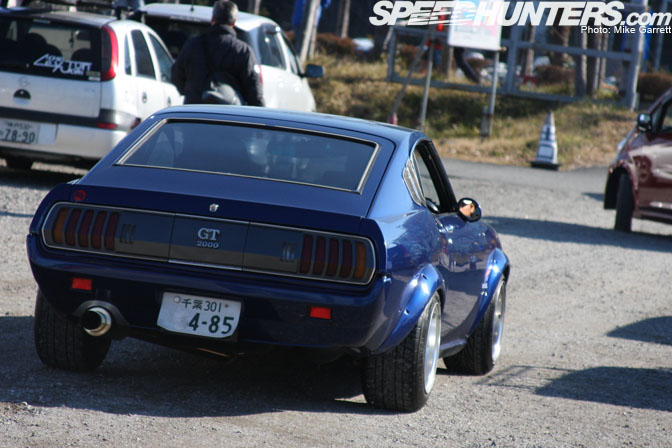 I'll wrap up with this Celica LB doing its best Mustang fastback impression in the parking lot of this year's NYM. If and when the Subaru-Toyota FR project hits the market, it'd be cool to see design traits taken from older model Toyotas like the first gen Celica.
OK, next time I'll move onto lowdown Toyotas from the '70s and '80s.
-Mike Garrett