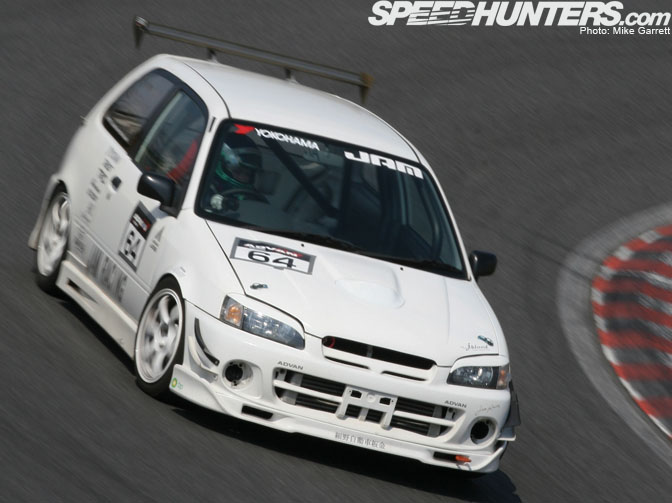 Car makers try to offer cars to fit every market,  but everyone knows that each has their own "signature" when it comes to enthusiast cars. For example, Honda has its compact FF sports cars, Nissan has the Z and, GT-R, while Mitsubishi and Subaru have their AWD rally cars, and Mazda its lightweight sports cars. What about Toyota though? As you read in my 101 post last week, Toyota's contributions to the automotive world are spread out pretty evenly. From big turbocharged sedans and MR sports cars to rally-spec Celicas and Corollas, Toyota has pretty much done it all.
With that said, I thought it'd be nice to take a look at some of the FF and AWD Toyotas I've spotted at the track over the past couple years. Toyota's FF's might not be as popular as their competitionn (cough..Honda), but they have a strong following among circuit racers. Toyota's small FF cars in particular make great platforms for those who are on a budget or those just getting into the world of motorsport.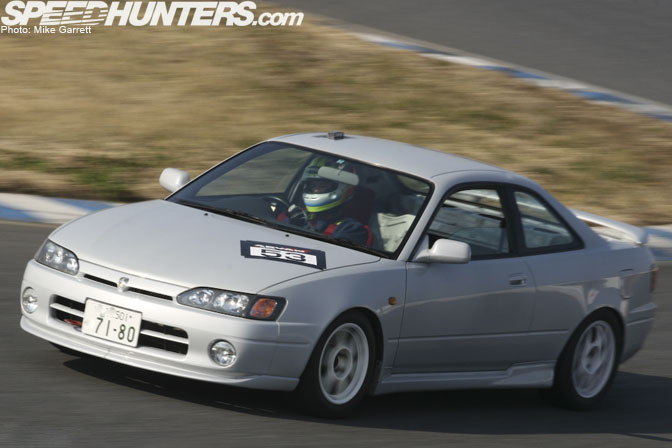 I'll start off with one of Toyota's best FF cars ever, the AE111 Levin and Trueno. We never got these in the USA, but they are popular in lots of other countries, including Japan. Packing the 20 valve 4AGE with factory individual throttle bodies and a 6-speed manual, these cars are advanced even by today's standards. The AE101's and AE111's might have lived in the shadow of the Type R Hondas, but the 20-valve engine reached legend-status after finding its way under the hood of the AE86.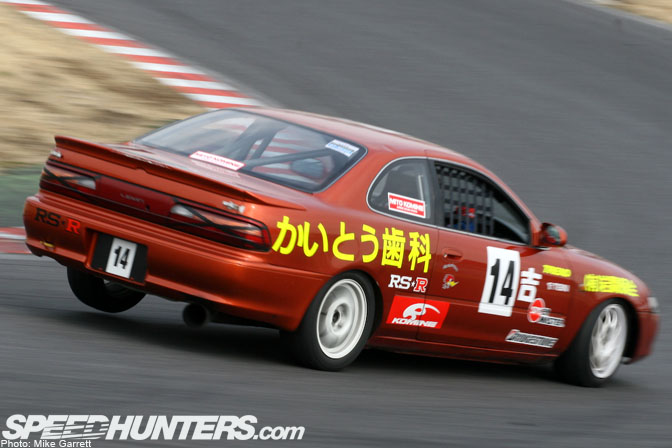 Here's an AE101 Levin doing what it does best – serving as a low budget weekend race car. In addition to the naturally aspirated 20 valve, these cars could also be had with the torque-heavy supercharged 4AGZE.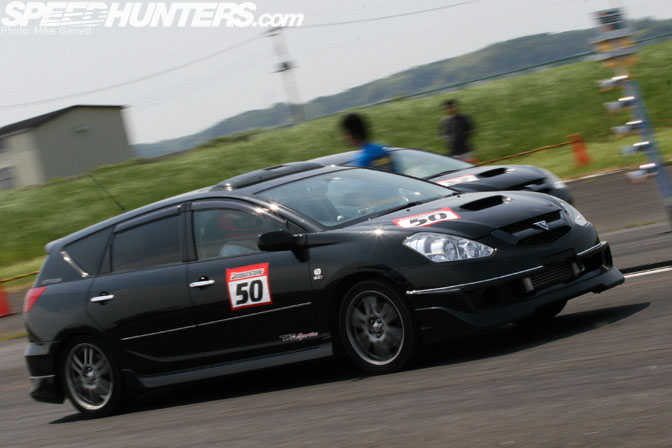 Here's a Toyota that you don't hear about to often, the Caldina GT-Four equipped a 3SGTE and all-wheel-drive. For a while this was the hottest car in Toyota's line-up, but production stopped in 2007. This photo shows two GT-Fours going at it during the Trust Zeroyon event last summer. Sleek looking machine isn't it?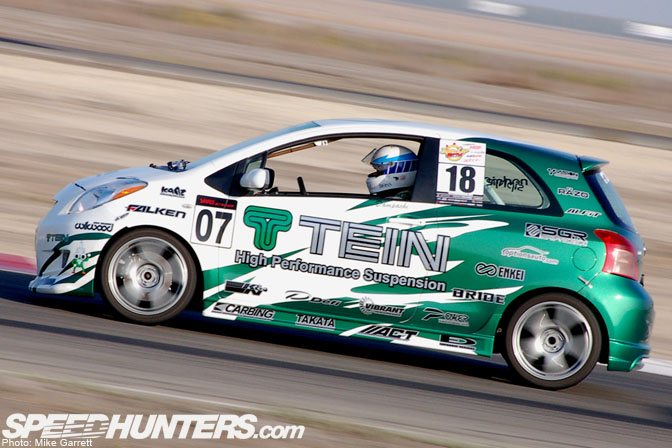 And here's a contribution from the USA – TEIN's Yaris 3-door time attack car. One thing I've always liked about the USDM Yaris is that it's available as a 3-door hatch. Not too many of those on the market any more…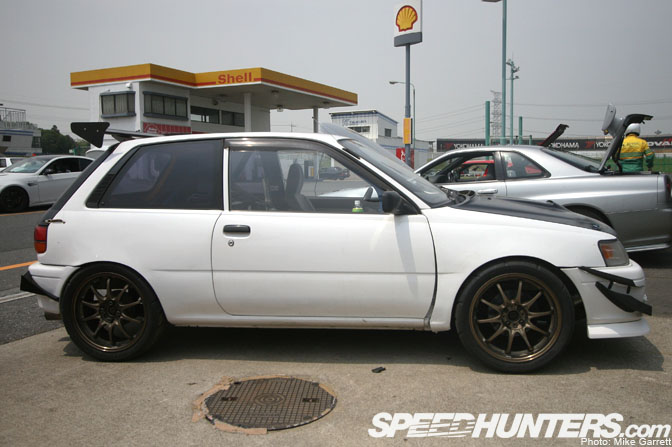 And now the spiritual predecessor to the Vitz and the Yaris, the Starlet. Us Yanks were lumped with the Tercel, but the rest of the world got the more interesting Starlet. The high end versions of the Starlet were even available with a turbocharged 1.3 liter four cylinder. I didn't get a look under the hood of this car, but I'm guessing it has plenty of power to turn those big CE28N's.  Anyone remember the old Option 2 video where they built a Starlet to run faster than an R34 GT-R?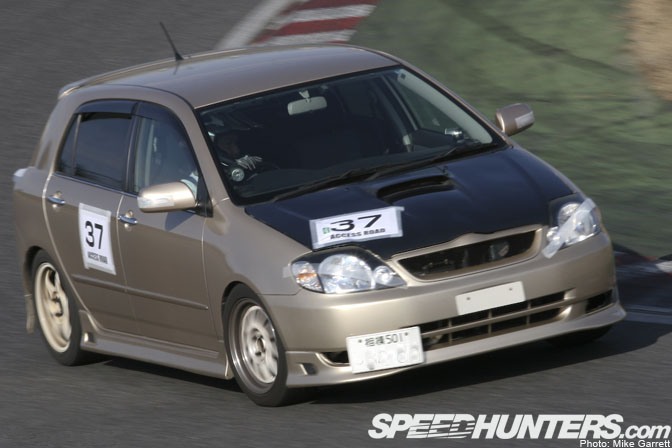 The Corolla Fielder wagon might be better suited for a shopping day than a track day, but as you should know by now, people in Japan will tune and race anything with wheels.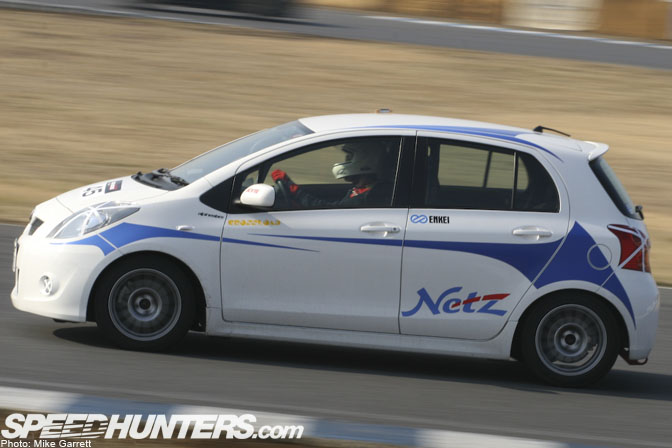 Here's a track-tuned Toyota Vitz similar to the one that Antonio just posted. Speaking of the Vitz, I was just reading an article in Rev Speed Magazine the other day about the Power Enterprise supercharger kit for the Vitz. With the blower the Vitz puts down 150ps, which is a nice number for a car of this size.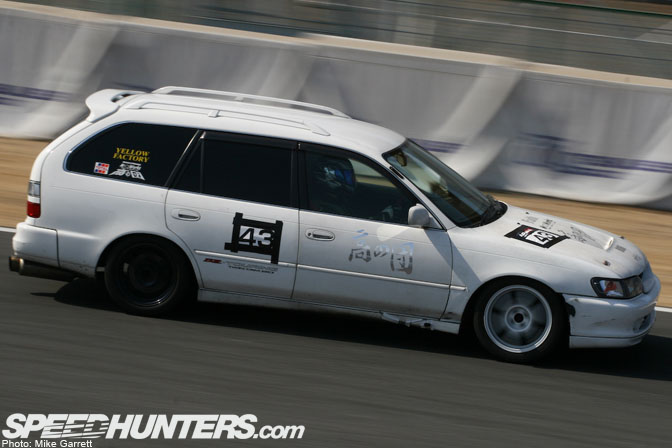 It wasn't just the coupes that came with the 20-valve 4AGE, you could also get a Corolla BZ touring wagon with the 20-valve and the 6-speed manual. Talk about a cool combination…
When it comes to tuned FF Toyotas in Japan, this one might be the king. It's an AE101 Levin JGTC replica built by Bomex and a shop called "BROS", and it recently lapped Tsukuba Circuit in just over one minute and two seconds. You may have seen this car at Tokyo Auto Salon during the past couple years.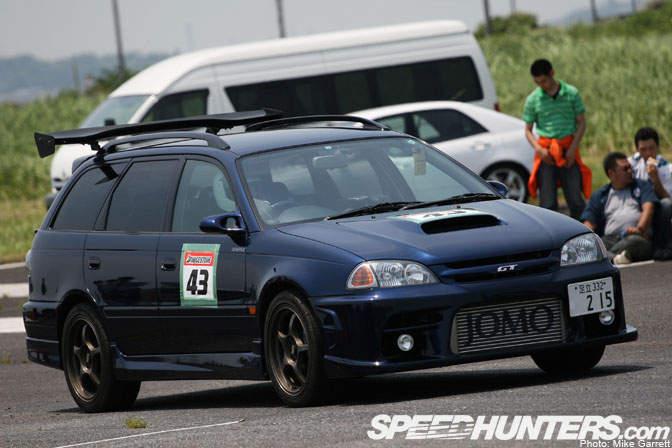 Here's an older model Caldina GT-T at the same Trust drag racing event. Essentially a station wagon version of the Celica GT-Four.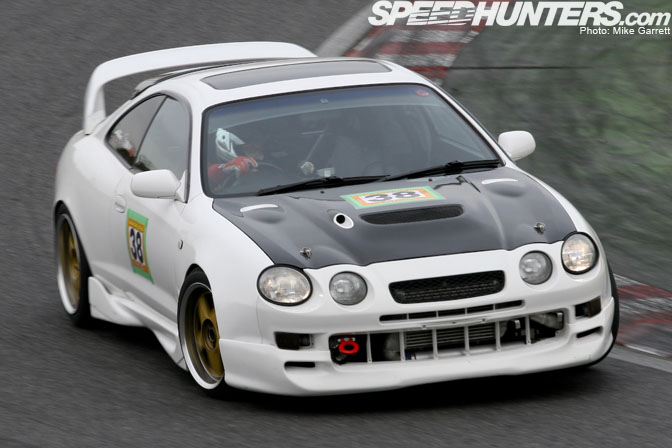 And one of the few ST205 Celica GT-Fours I've seen in all my trips to Tsukuba. This car was running in the 1:04 range when I saw it last year.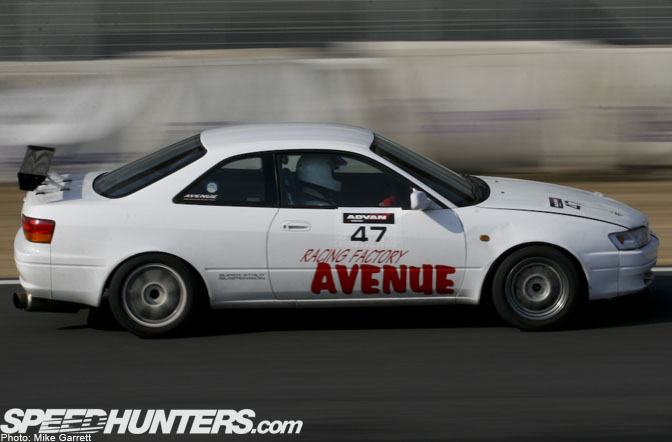 Another budget-built AE111 race car.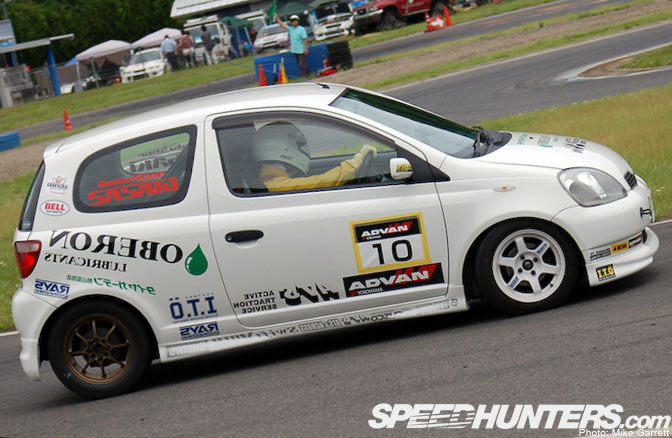 And finally, a first generation Vitz gymkhana car at Twin Ring Motegi back in 2006. The Vitz is one of the most popular gymkhana cars in Japan alongside Honda's FF models.
Next time I'll dig into the archive for some Supra and Soarer shots.
-Mike Garrett