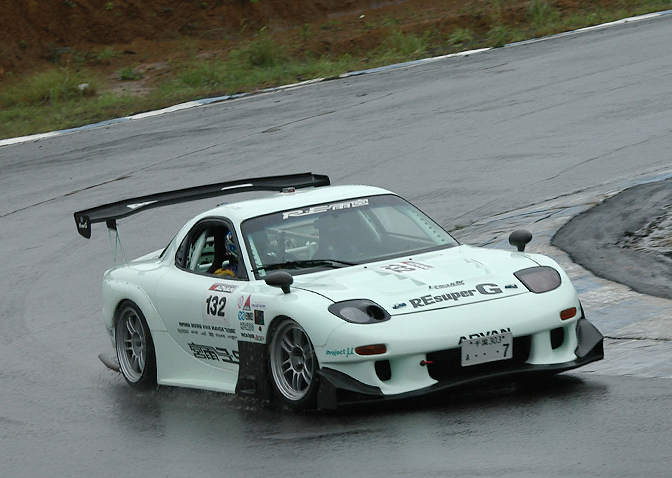 I'm more of a Nissan guy myself but I can understand the beauty of the Mazda, especially the RX7. For my daily doses of Mazda news I always log onto the RE-Xtreme blog run by Russell Gander. He always has the scoop on the latest info regarding the RX7. So for us Speedhunters it seemed like a good idea to ask Russell if he could describe his top 5 of best RX7's.
After all was said and done, Russell send me a bunch of pictures and a story to go with it. Let's have a look at the cars he has chosen and more importantly why. We will begin at number five and work our way down to number one.
Russell Gander:
Just pick the best 5 Japanese FD's of all time. Ah, that's easy…Not!
I remember seeing scoop chassis pictures of a 1991 FD3s RX-7 chassis back in 1990 in magazines as the design was being finalised. I was already an RX7 fan by then, but the sweeping door line and bubble roof had me thinking the FD would be a special car. Upon its release, I wasn't disappointed, but it was also the "Bubble" period in Japan making a car like the FD unaffordable for me.
I had started collecting information from the internet since around 1996 as I had an intention of FD ownership but the entry price was still prohibitive for used models. I started my original RE-Xtreme website in 1999ish.
By the time I arrived in Japan, it was 2002. Right at the height of the FD tuning scene when it seemed like every week there were new parts announced. The statement that the FD3s would end production was already made, but I was still looking forward to purchasing my first FD, having owned two FC3s RX-7s among a host of other Japanese sports cars.
11 years of production and a few revisions later, countless tuned versions have been tampered with by Japan's specialists and privateers alike. Here's my top 5 from hundreds.
#5 RE-Amemiya Greddy 9. 2002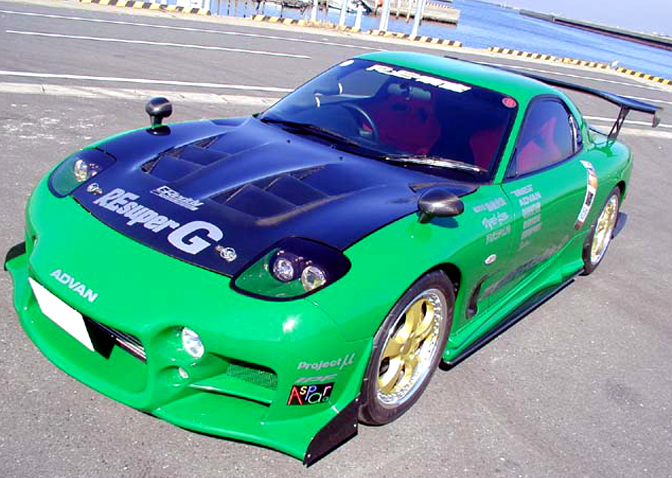 This car defines the RX7 as something that would be at the extreme end for a daily driven car. Ama-san would come to drive it personally for a long time. The front bumper, based on the last Mitsubishi GTO design, gave the car distinctive styling but also integrated performance benefits of ducting and down force.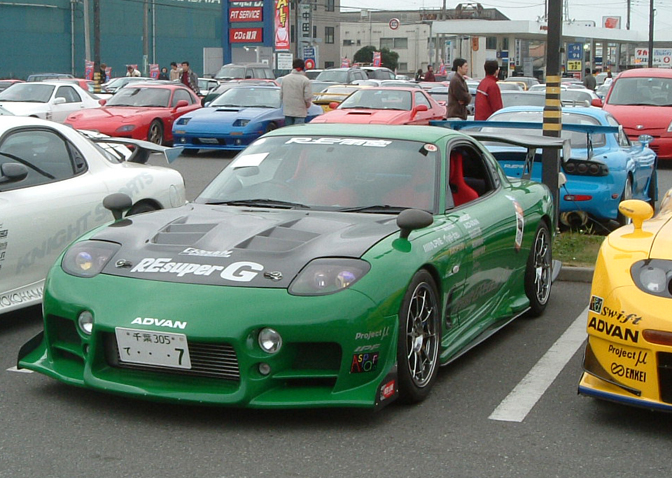 The G9 bonnet design is probably the most popular on RX-7s today and the diffuser pro was also developed on this car. 59s around Tsukuba TC2000 is a good time from the now "standard" 400~450hp TD-07 25G Turbo equipped RE-Amemiya package.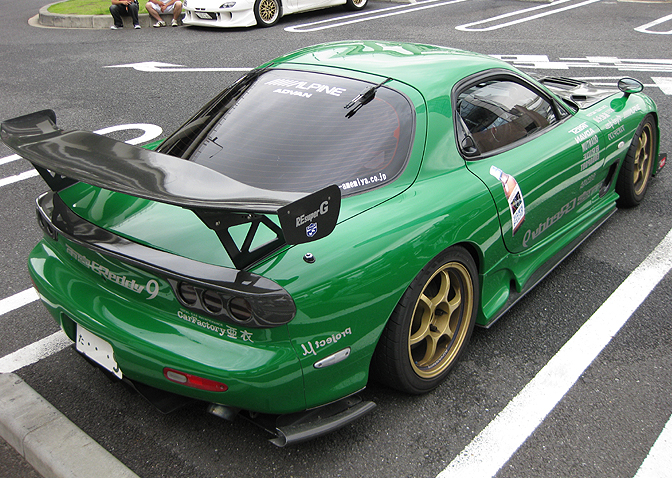 After Ama-san sold the car, the subsequent owner has perfected it with the slightest of tweaks. The car is still on the road in almost untouched form and going strong appearing at 7's day and other Japanese track events.
#4 Knight Sports "Type 4" 1997~2000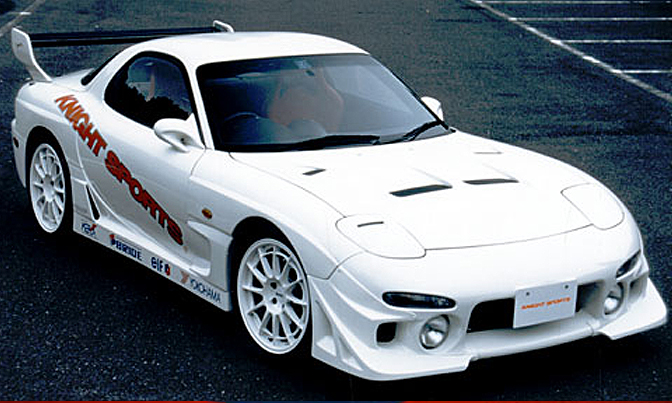 I rate this car as being one that changed the image of the FD for me as a shape that could be changed. The lines that Knight Sports added evolved this car into something very aggressive with the blister fenders and bolt on integrated lighting, ducting and canards.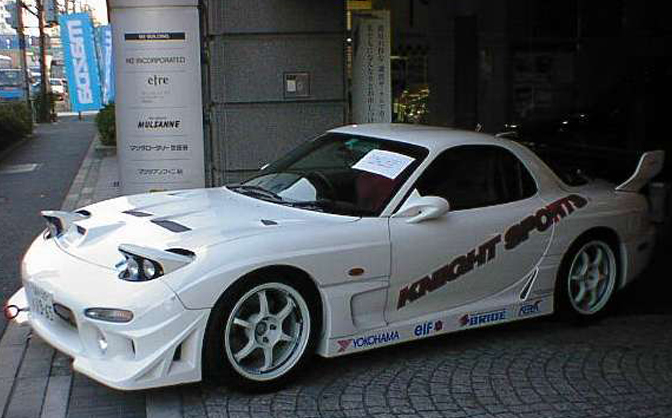 It appeared in 98 at TAS and on the Advan stand at the Tokyo Auto Salon in 1999 to debut the Advan Sienna Gen III Wheels. It was simply awesome. The square lines simply made the car look angry. Black versions of this car are absolutely menacing.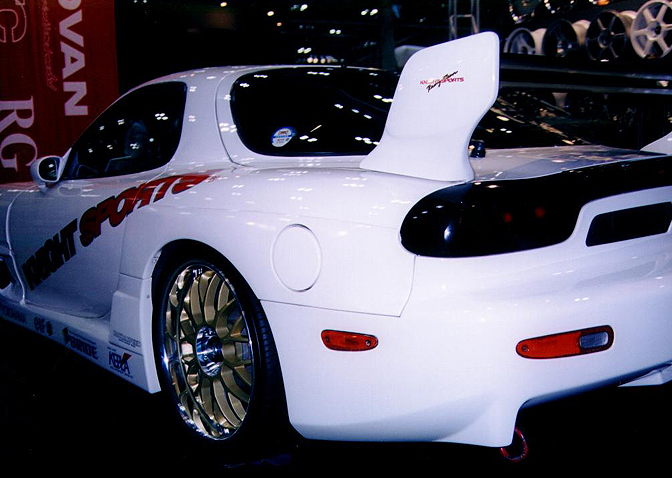 The vented bonnet and subsequent vent for the air intake led to the development of the V-Mount system that places this car firmly in the FD history books. Knight Sports tuning philosophy for street legal performance was enhanced and perfected during this era and the car remained running a boost-up, twin-turbo setup.
#3 Mazdaspeed R-Spec 2000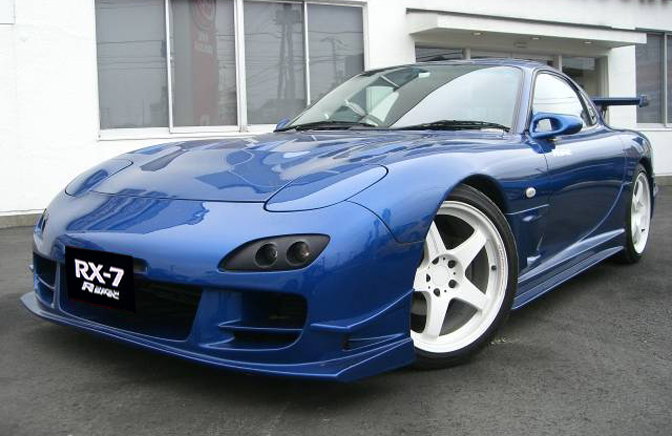 What can be said about the R-Spec. It was the pinnacle of factory FD tuning that you could simply option directly from the showroom floor. That said, there're not too many people who purchased these, as the Spirit R was available at the same time which simply didn't need too much doing to it.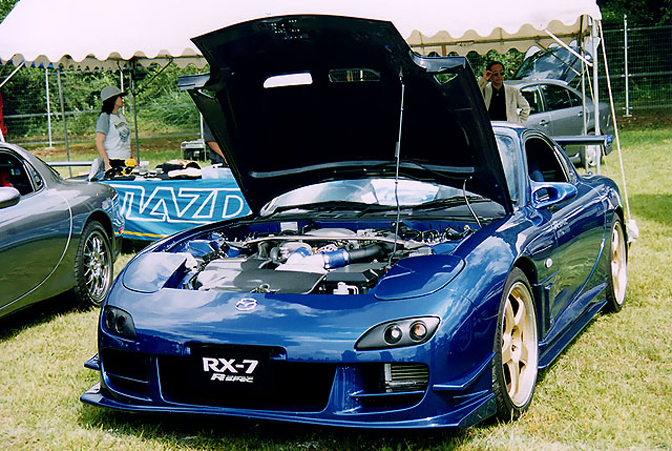 The images that adorned catalogues and magazines made many drool for a long time as the Mazda Speed parts list was extensive. The car featured beautiful RAYS MS-01 forged alloys of 18" size. Upgraded brakes by Endless, full exhaust, radiator, oil and inter coolers, chassis braces and bushings and other functional items like suspension, diff and twin plate clutch.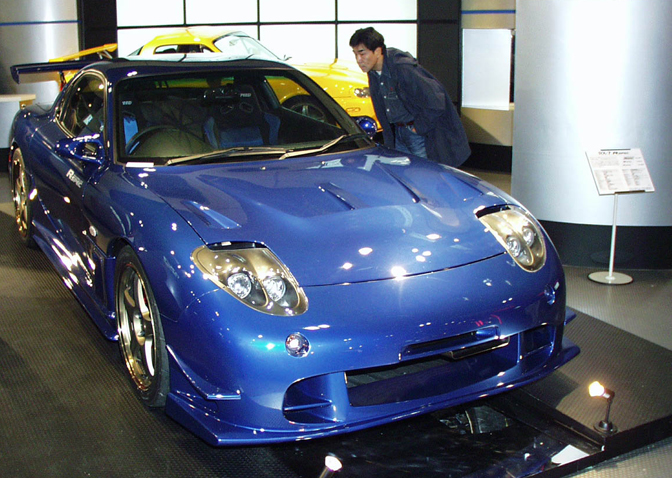 Carbon parts included a nice air box, the front splitter and rear diffuser and full carbon bonnet priced at over $3000. The aero was derived from the R-Spec Concept that included slightly more extreme components but the end result is still striking. The interior also received a host of parts including seats, dash panels and gauges.
#2 "Maru's" Street Legal Circuit Spec. 2005~2009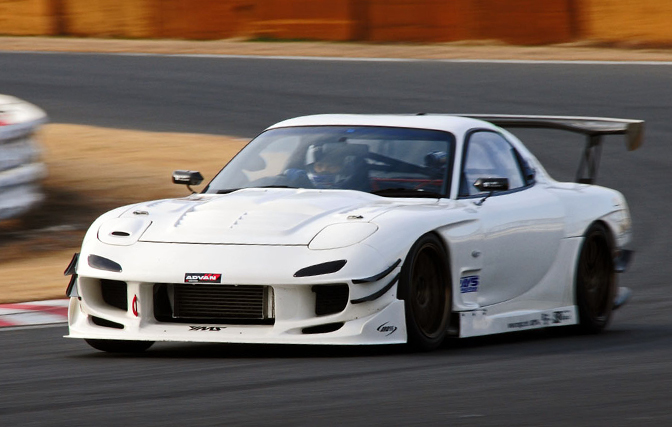 This car tops the list of privately owned street driven car's that gets absolutely abused on the track and driven home. With a high horsepower 13b, it's fast and proves you don't need a 20b for power. Tsukuba disappears in 57 seconds! And it simply looks ultra cool on new RE30.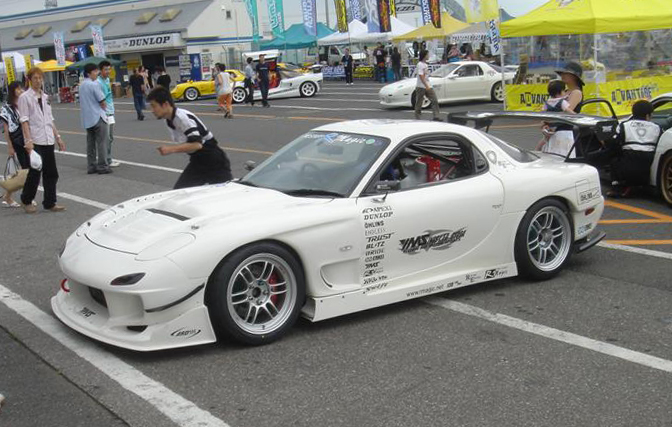 A White FD highlights it's shape and this one is certainly a bit more aggressive than standard. R-Magic have performed most of the tuning on this car but it has also been influenced by YMS in the past.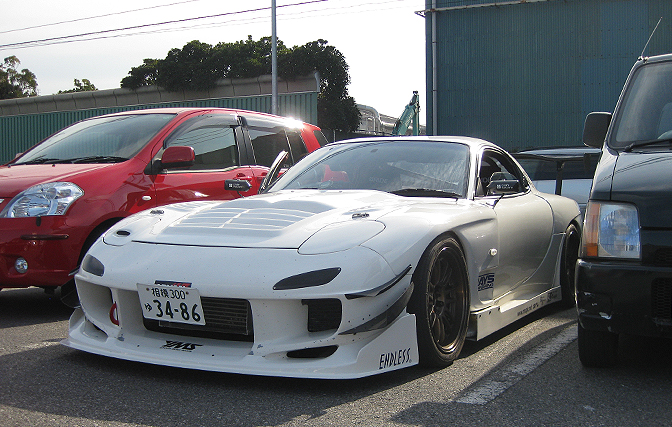 Currently one of the fastest street tuned FDs, check out this video for the car in action. http://eyevio.jp/movie/204865
#1 RE-Amemiya Time Attack SPL – 2002 spec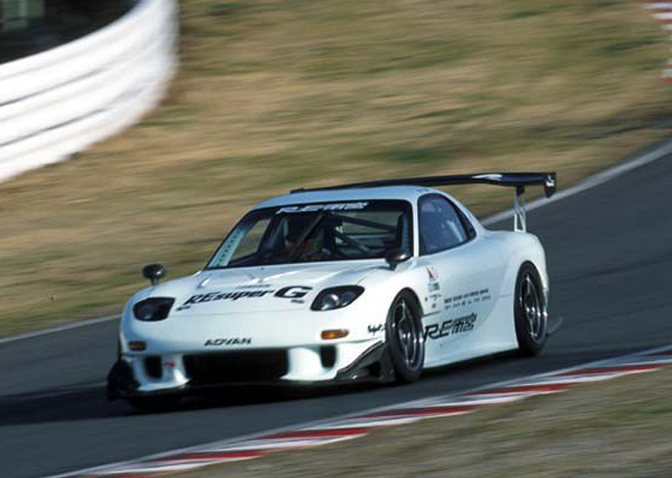 This car was developed for one purpose. To be the fastest street registered track RX7 in Japan. RE-Amemiya was racing the Super GT car in the 300hp class for a long time. That doesn't mean that the Super GT car delivers the same feeling as a 500hp car on S-tyres.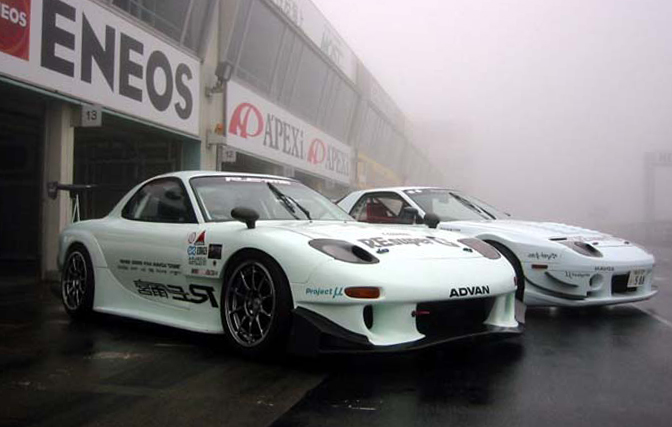 RE-Amemiya transferred their setup knowledge to their street registered time attack car, then went on to tour Japan and smash lap records in the process. The car set and held the RWD record at Tsukuba for a long time at 56.8s until the competitors ditched standard components and became more like full race cars that cannot be street driven.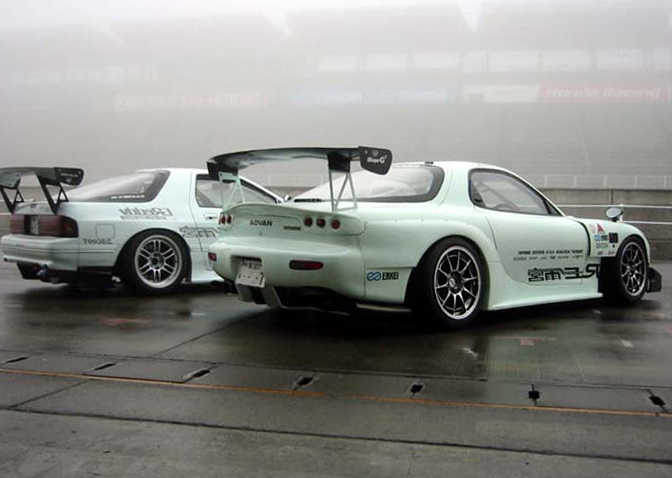 It also came as a benefit that it wears arguably the most influential wide-body kit for the 3rd generation of RX-7. The AD GT kit includes the curvaceous side skirts and flares, AD facer (2000 version) with canards and the massive splitter. You can watch many option videos featuring this car on youtube.
-Russell Gander
So there you have it, the ultimate top 5 of the RX7 according to Russell. I have always liked the RE Amemiya's cars and it is good to see that Russell thinks the same because he chose two ot them in his top 5.
We at Speedhunters would like to thank Russell for his insight and the story. Please Visit his site for even more RX7 related info.
-Jeroen Willemsen