In the second of our two part retrospective, we look at the second half of the 1990's in the British Touring Car Championship. If you missed the first part, then you can catch it here.
With the help of images from BTCC.net and Peter Still Photographic, we rejoin the action from '96 season.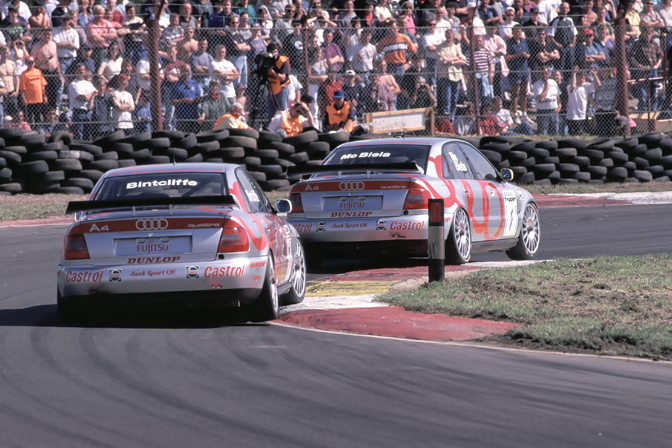 BMW, Renault, Vauxhall, Ford and Honda were joined by Audi for the '96 Season.
Audi Sport UK would dominated the series, thanks to their four wheel drive A4 quattro. The extra traction gave them more grip, in the dry, on the wet and on the grass!
Audi won the first four races easily, before ToCA introduced a weight penalty to off-set the quattro advantage.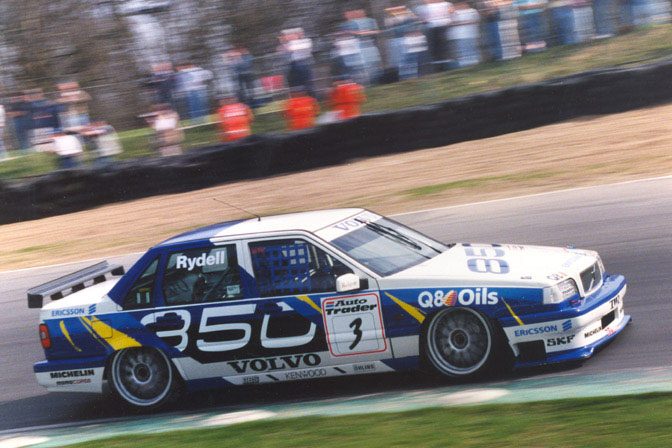 It worked for just one race when Kelvin Burt won his first race for Volvo (team-mate Rydell shown above), but normal service was resumed for the following round when Biela won again, thanks to a damp track.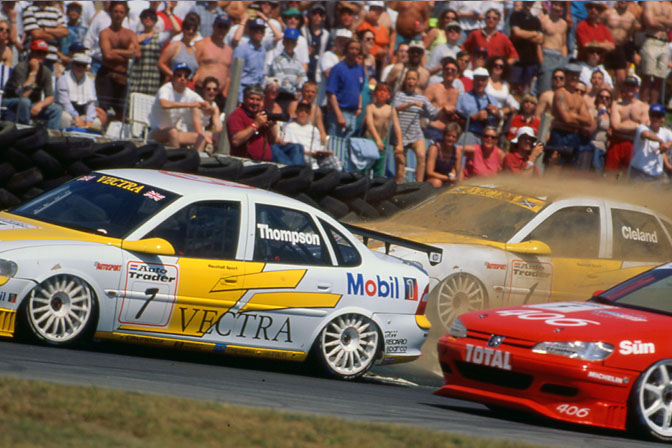 James Thompson joined John Clelend at Vauxhall with the new Vauxhall Vectra.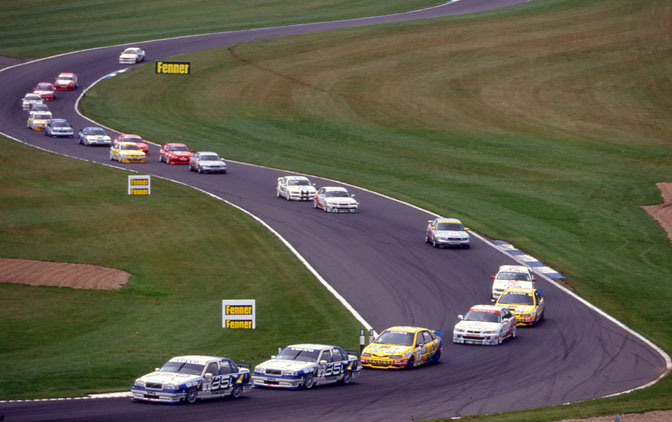 As you can see above, close racing.
Volvo, Volvo,  Renault, Honda, Renault, BMW, Audi, Honda, BMW, Audi, Peugeot, Vauxhall, Peugeot, Ford, Vauxhall, Vauxhall, BMW, Ford, Toyota and BMW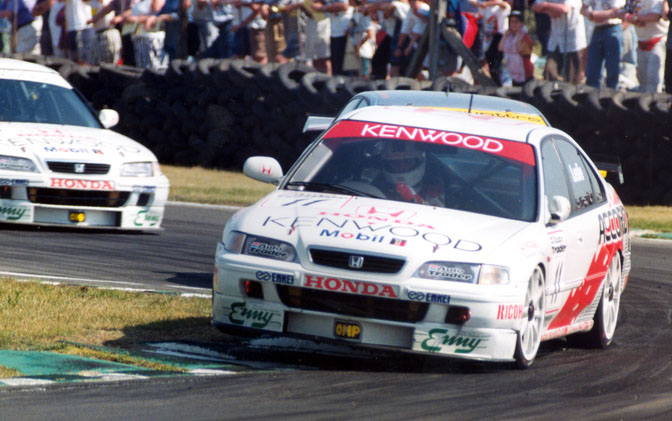 The racing was getting more exciting mid-pack as Honda, Ford, Vauxhall, BMW and Volvo were all trying to catch up with the Audi and Renault drivers. Here, David Leslie, defends his position from Frank Biela.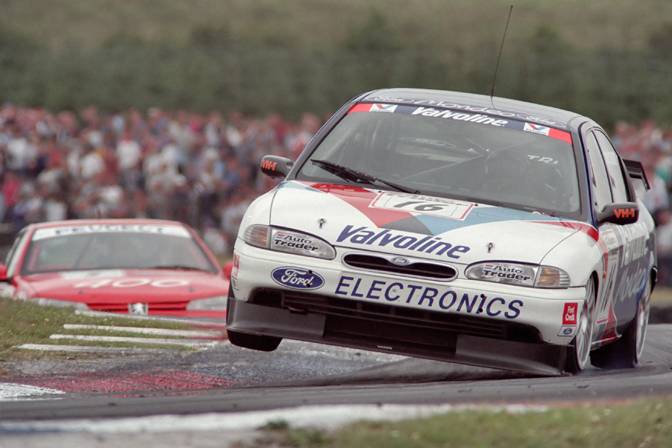 Ex-Formula 3 champion and future Manager for Kimi Raikkonen, Steve Robertston, had a single season in the works Ford Mondeo.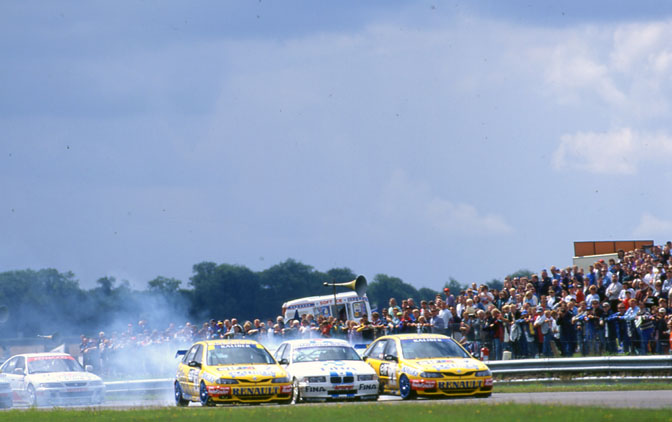 Thruxton hosted the final round and carnage was the order of the day!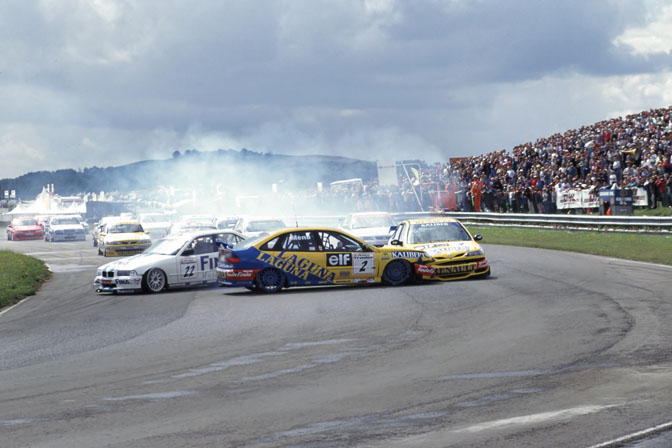 As the leaders approached 'The Complex' on lap one, Winklehock decided to be the filling in a Renault sandwich, resulting in all three crashing out.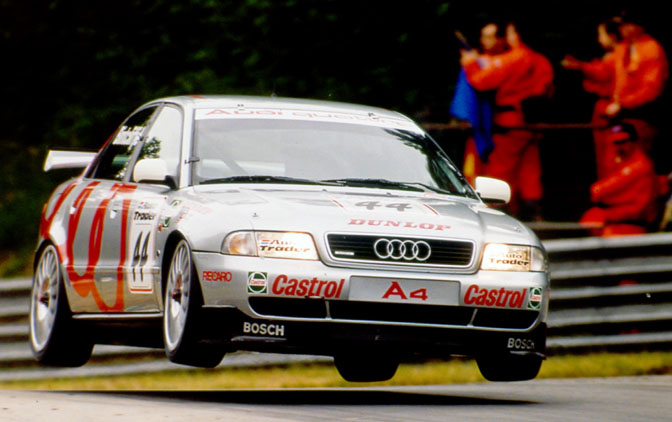 Audi's Frank Biela took the championship from Alain Menu and Rydell. One of the best looking tin-tops IMHO (I'm baised!)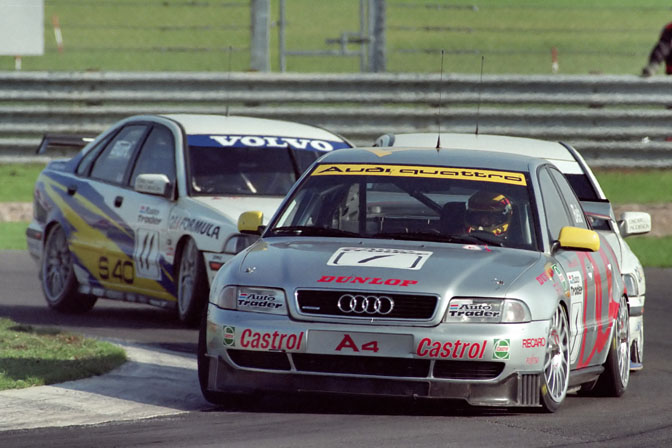 Audi's lost their advantage for the 1997 Season when four wheel drive was banned, but carried on with 'quattro' branding. Frank Biela remained with the team.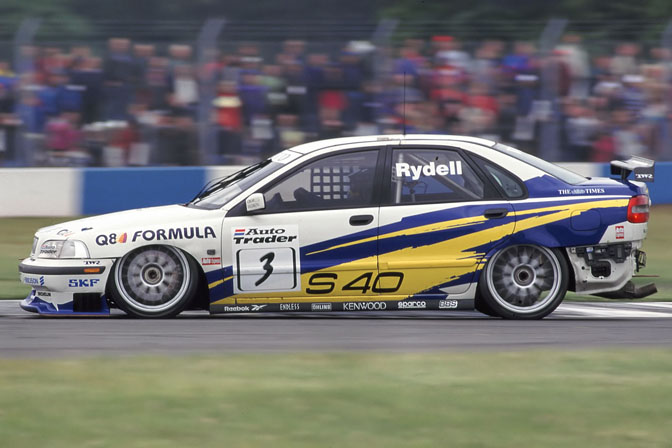 Audi remained, using their front wheel drive variant. Volvo replaced their heavy 850 with the smaller S40.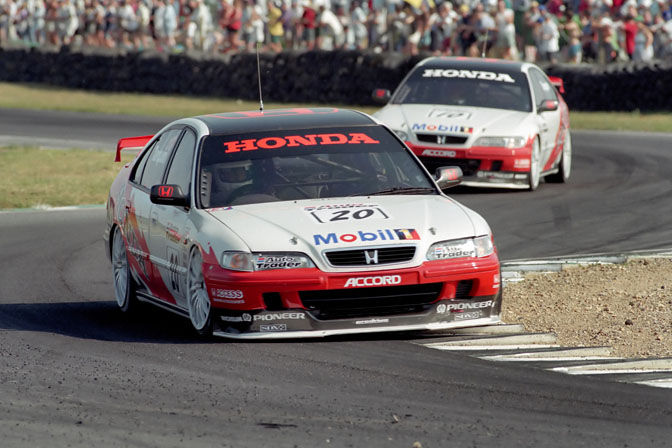 Gabriele Tarquini signed with the Prodrive Honda team.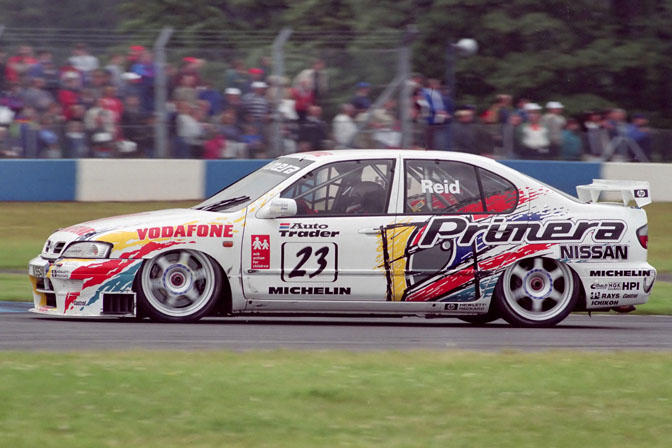 RML, who had successfully ran the Vauxhall team in previous years ran the new Nissan Primera team for Anthony Reid and RML regular David Leslie.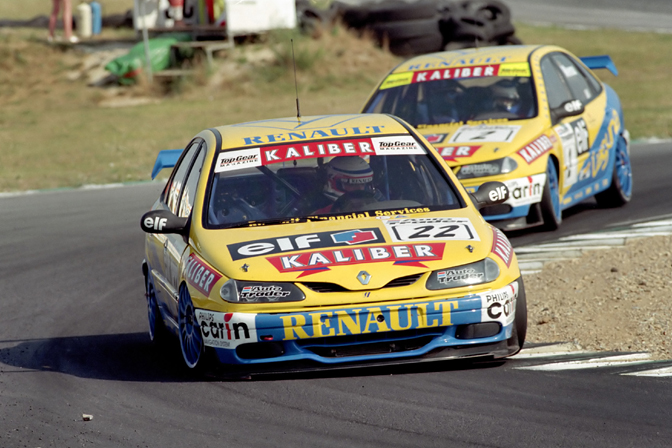 The Renault team dominated the season with Alain Menu winning 12 races, a new record for a driver in one season. Team mate, Plato would also take the first two wins of his career.
Audi's Frank Biela and team mate, John Bintcliffe also took wins, but Menu ultimately took the championship from Biela and Plato.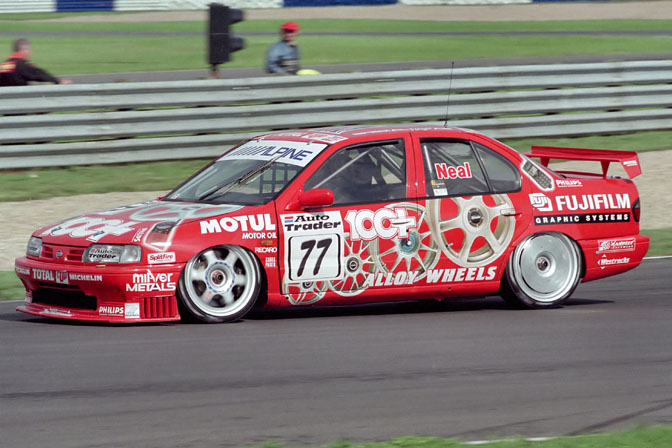 The independents cup was won by Rob Gravett in a Honda Accord, beating Matt Neal in the Team Dynamics Nissan Primera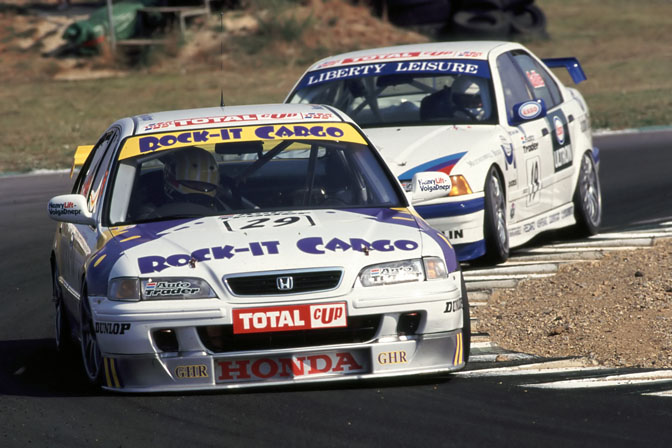 Race formats were tweaked for 1998. Double header racing would now take the form of a Sprint race followed by a feature race.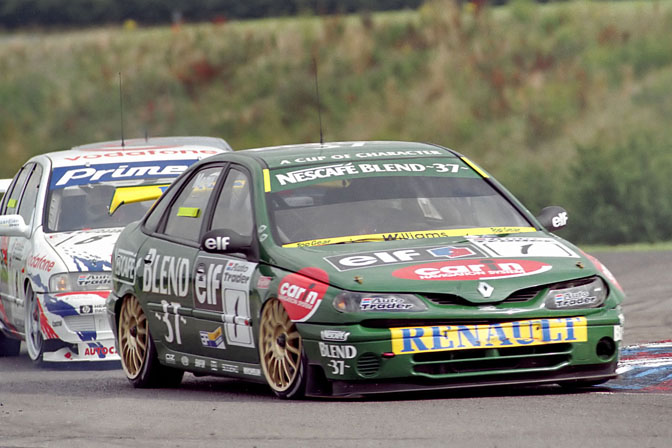 Pit stops would be compulsory and yellow Velcro strips, located on the rear side window would be removed during the stop, providing a visual aid to the public.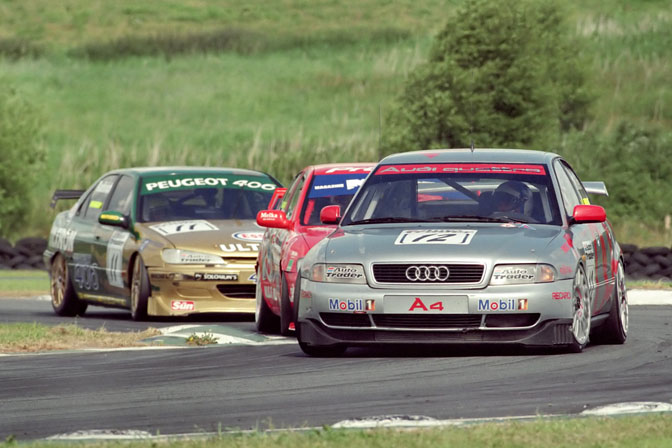 Frank Biela left the series, his drive was taken by British Formula 2 champion Yvan Muller. He's done quite well since!
The season was very close with nine different race winners. Renault, Volvo, Ford, Vauxhall, Honda and Nissan all won rounds.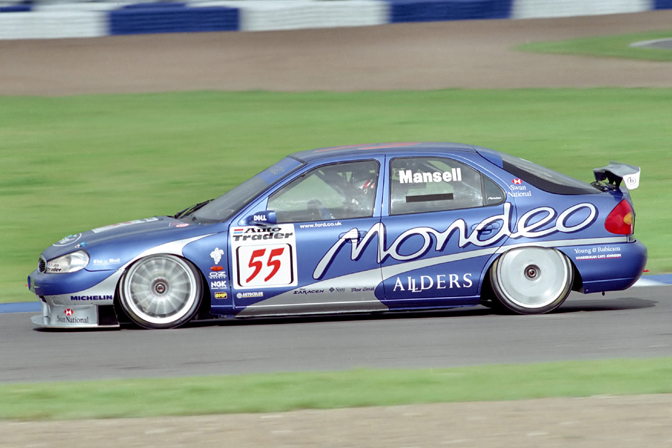 Nigel Mansell entered selected rounds in a Ford Mondeo. Mansell started at Donington in a wet race, but crashed very early on.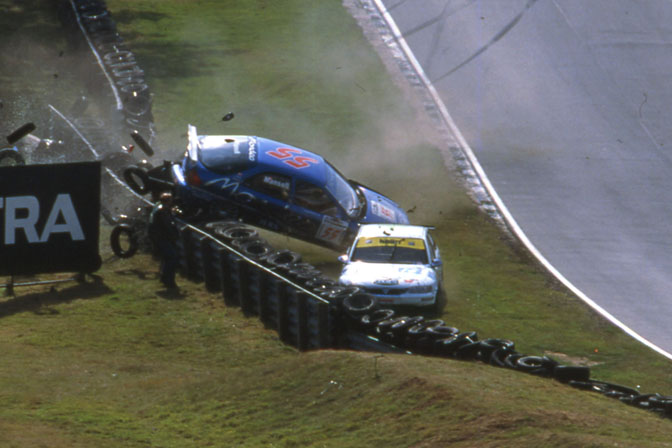 Mansell didn't get the hang of BTCC and left quickly, blaming Tiff Needell for a big accident in the TOcA world cup event along the way. In reality, only Nigel and his mum really thought it was Tiff's fault!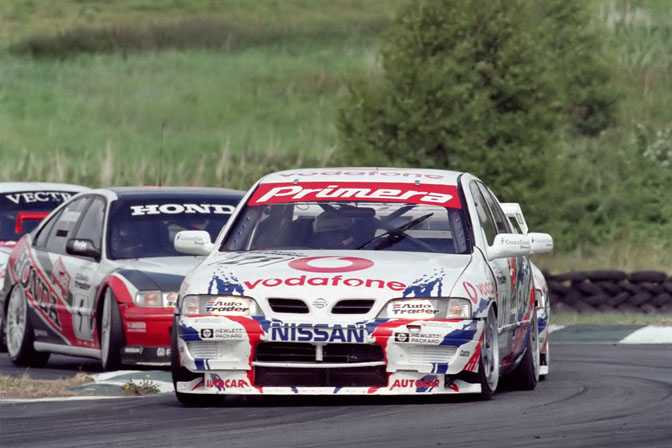 Anthony Reid won his first BTCC race at the same event. Reid would be very impressive during the season and would end up as the main challenger to Rydell for the championship.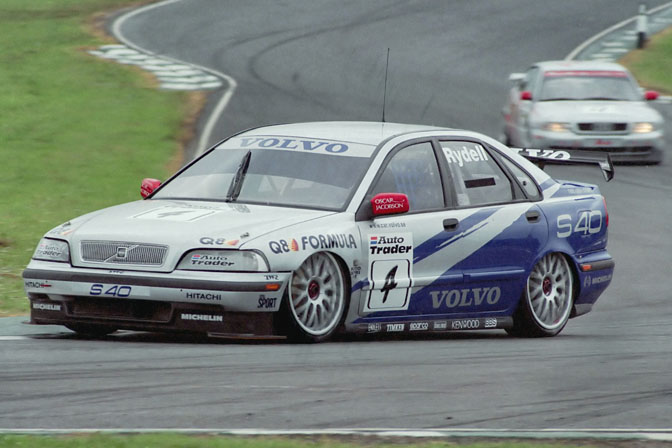 Rydell took the championship in his TWR Volvo S40, closely followed by Reid and James Thompson in the Honda Accord.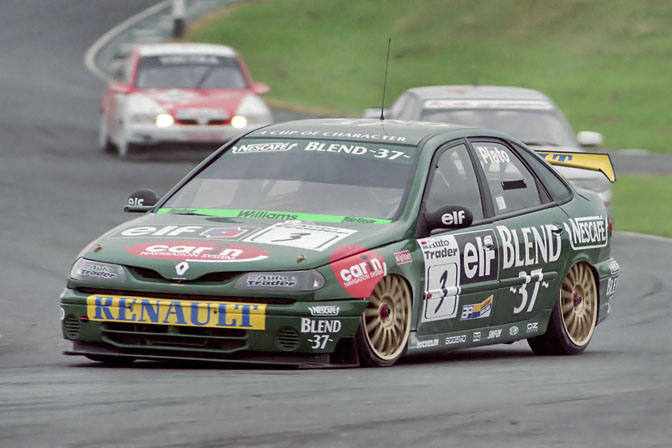 Stars of the future included Jason Plato (above), 5th, Yvan Muller in 7th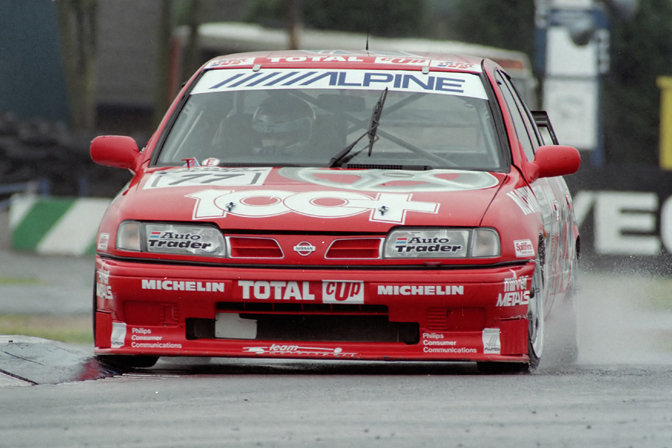 ….and Matt Neal (below), 13th in his privateer Nissan.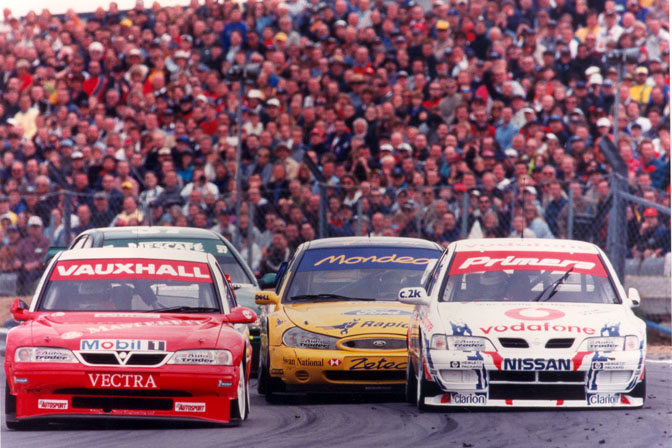 There were signs that the series was in trouble in 1999 when Renault, Volvo and Nissan announced this would be their final season citing costs. (Edit- this announcement was at the end of the season)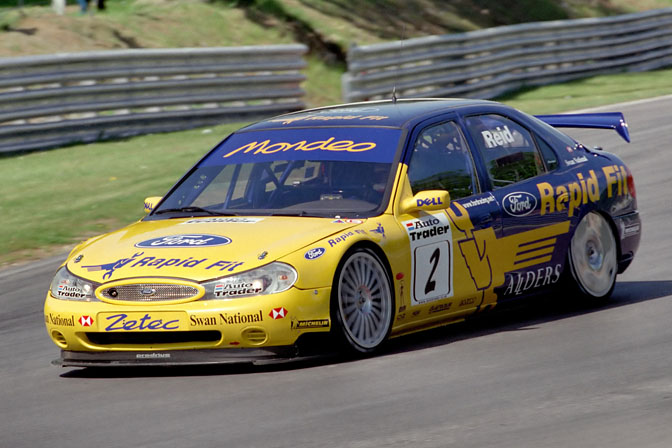 Anthony Reid moved from Nissan to Ford……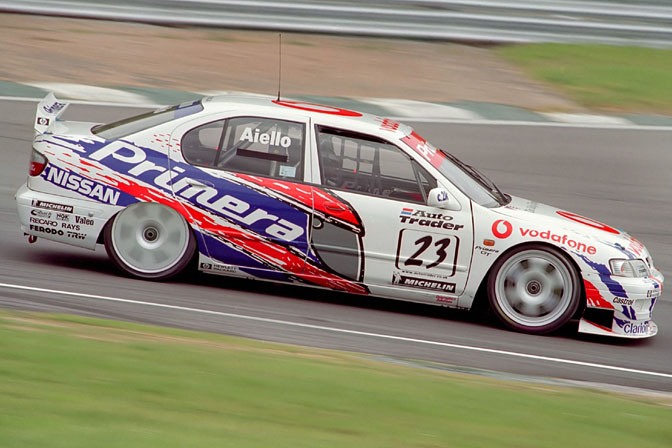 with relative unkown, Laurent Aiello replacing him at Nissan. He would make sure everyone knew who he was during the season.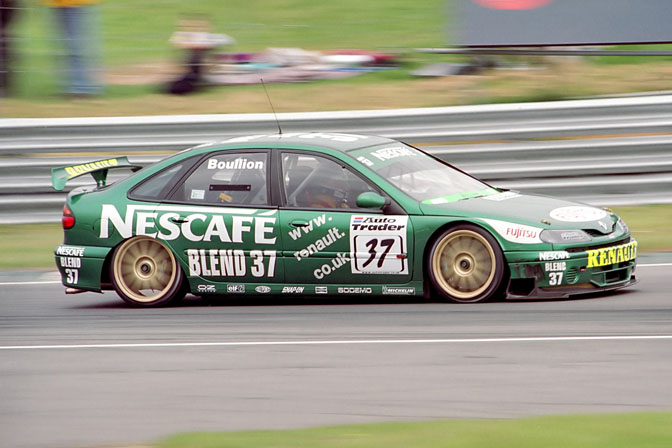 Alain Menu also moved to Ford, with Jean-Christophe Bullion taking his seat at Williams Renault, alongside Plato. Meanwhile Yvan Muller had been snapped up by Vauxhall.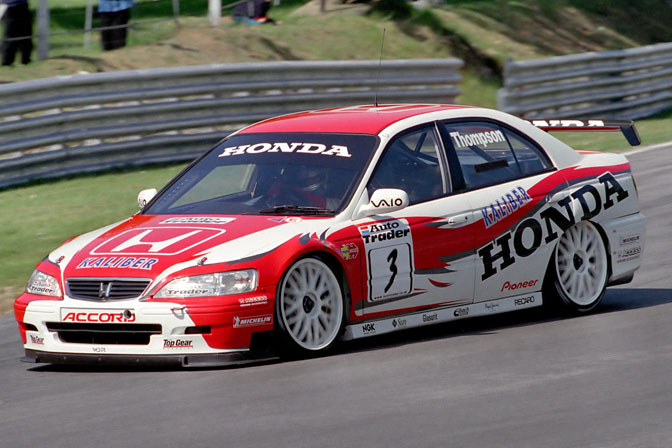 Car preparation also changed hands. Honda signed up with WSR (who now run the RAC BMW team). Ford moved from WSR to Prodrive.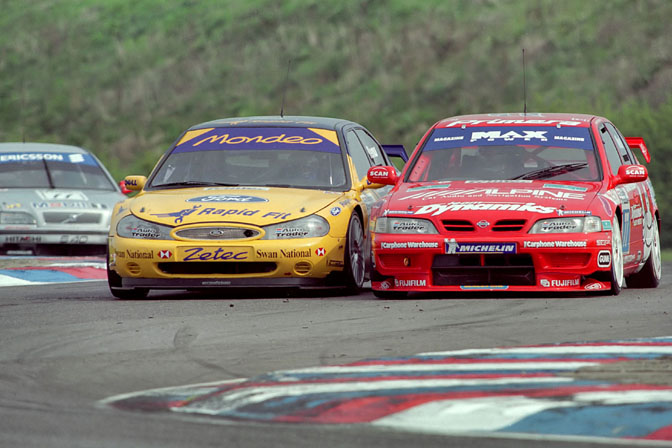 The season started well for Matt Neal, who became the first ever overall race winner in a Independent car with his Team Dynamics Nissan Primera at round 2.
In addition to the win, he took home a one-off £250,000 prize as the first Independent winner. The family run Team Dynamics team would be a powerful force in BTCC for years to come.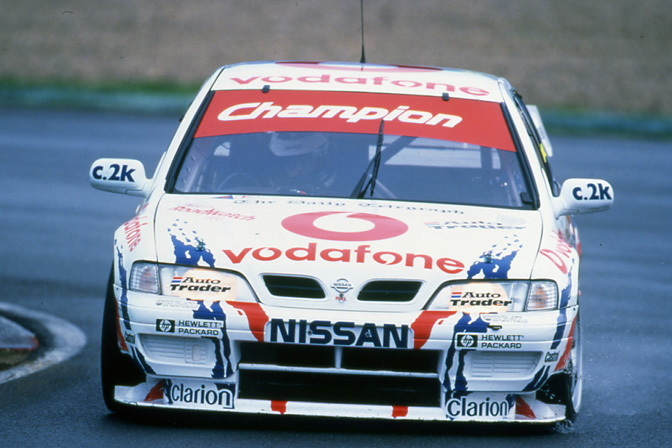 The rest of the season would see the works Nissan take the share of the wins, Aiello taking 10 wins and the title, while team mate, Leslie, took three more making it a Nissan RML 1-2 BTCC Championship.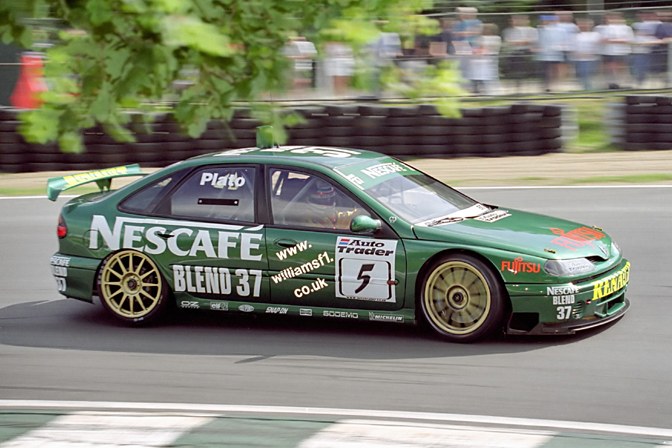 Volvo driver Rydell would finish third, followed by Jason Plato, James Thompson and Yvan Muller. All current racers.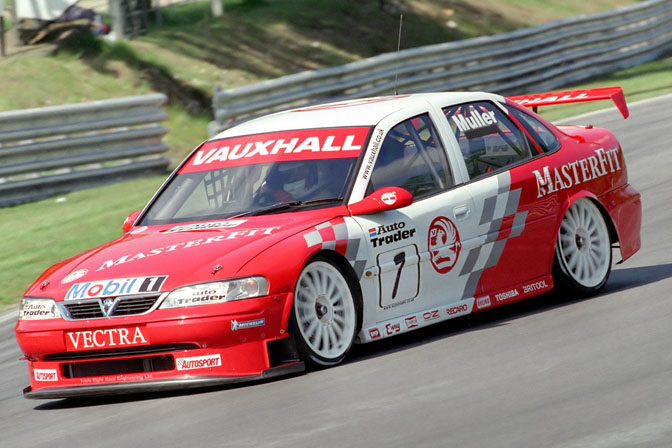 Muller, The 2008 World Touring Car Champion, took his first BTCC win for Vauxhall. The first of many for the GM manufacture in the British series.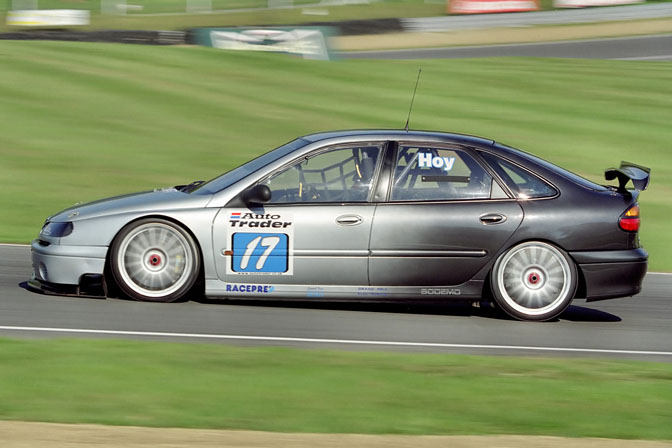 1999 would also see the last BTCC outing for the late Will Hoy in the Arena International Renault Laguna. Arena would later run Honda Civic Type-R in the BTCC and will be back in 2009 with a couple of Ford Focus'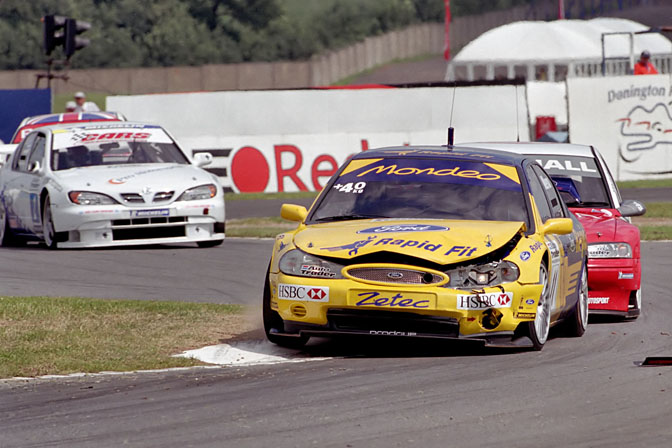 The 2000 season started with a depleted 'ST' field. With many manufacutures departing, just Ford, Vauxhall and Honda were left as works entries. 
Despite this it was a very close season with all three (Rydell, Reid and Menu) Ford drivers battling with Vauxhall (Plato, Muller) for the championship.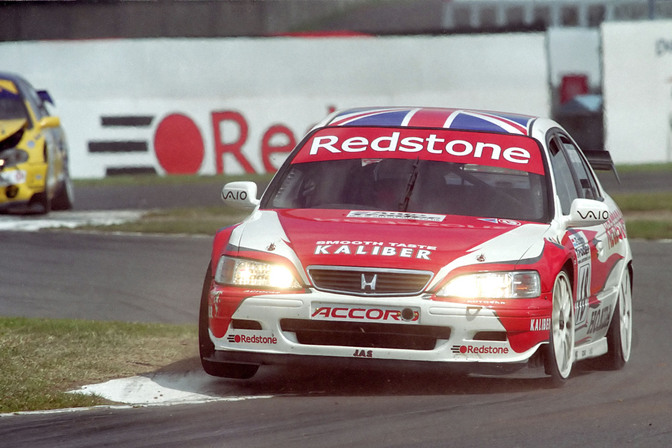 Nissan left the series, 1999 champion, Aiello to moved to the DTM, while his '99 team-mate, Leslie did a part season with a works Honda Accord, and then a privateer Nissan Primeria.
Leslie deserved so much more. Leslie was cruelly taken from us last year in a Helicopter accident with Audi Sport BTCC team owner Richard Lloyd.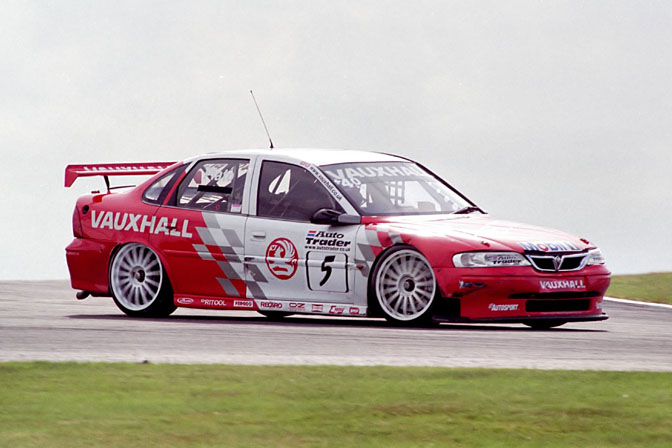 Renault also departed, so Jason Plato moved to Vauxhall following the retirement of John Cleland.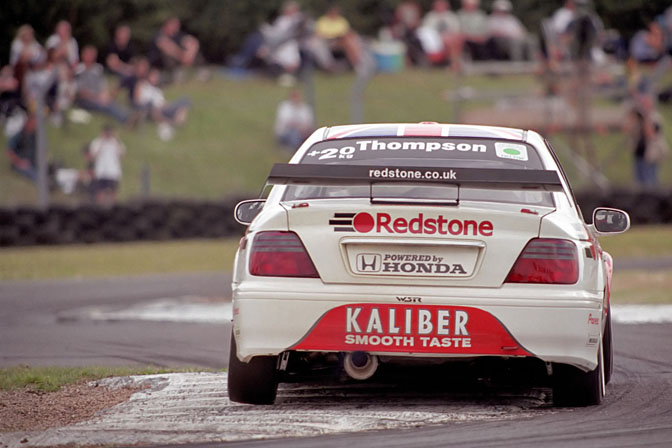 Honda would be a very strong team with Tom Kristensen, Peter Kox, James Thompson and Gabriele Tarquini.
The organisers, ToCA, introduced a production based class (B) to fill up the grids and this had some close racing. ToCA also announced this would be the final year for Super Tourers, with a new cheaper formula making its debut in 2001. Other series in Europe would take the new FiA S200 regulations, which are used to this day.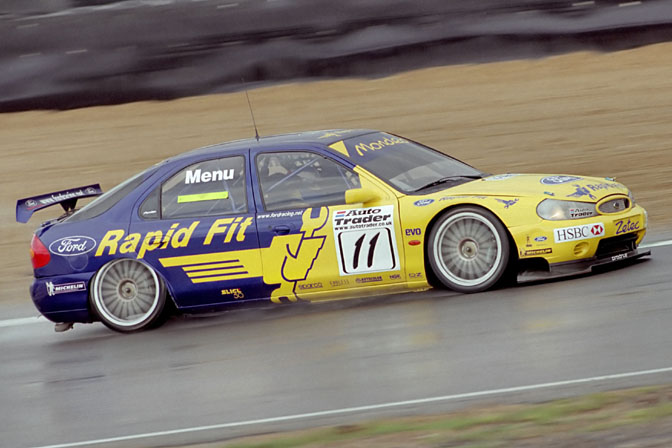 The championship battle went to the end of the season with Ford's Alain Menu take the title by two points from team mate Anthony Reid and Ford's third driver, Rydell would finis thired, with Muller and Plato close behind. An impressive performance for the Prodrive run Ford team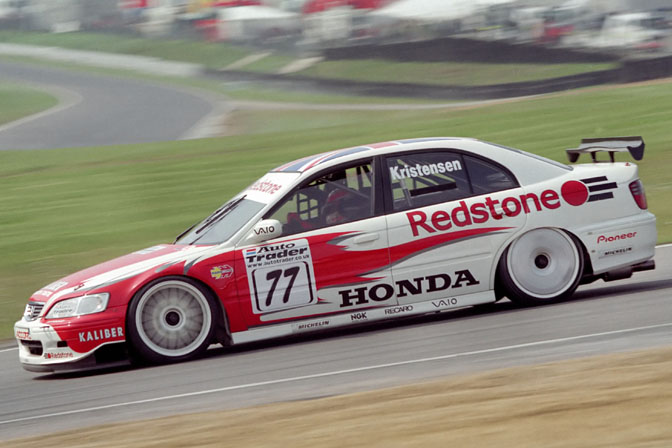 The Honda season was a little disappointing with Tarquini in 6th and  Kristensen in 7th. Thompson, who didn't do the whole season was 9th. However, Kristensen took the last ever BTCC Super touring win, a night race at Silverstone.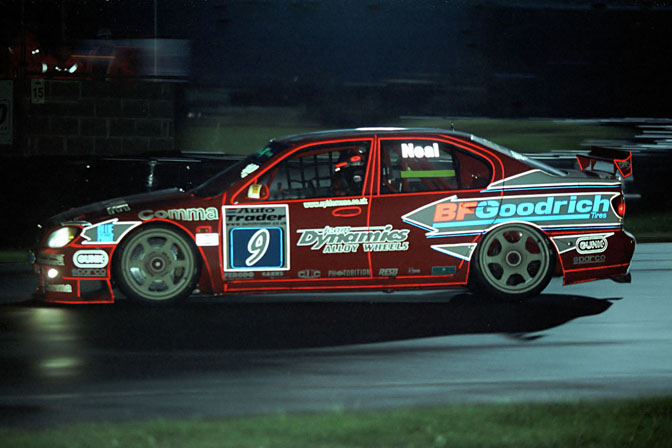 Supertouring was a great era for the sport, but as with most works involvment, finding loop holes in regulations, pushes costs up out of reach of many teams and the series ends up in crisis. To give you an example, using an example from Wikipedia. When Superturing started, a race prepared Vauxhall Cavailer was £60,000. Ten years later, a similar Vauxhall would be $250,000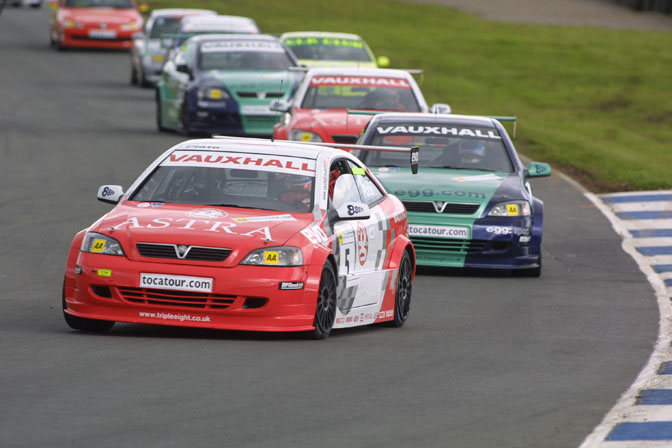 The BTCC continued with new cheaper class, known as 'BTC' and the Production class. This class was unique to the BTCC, while the rest of the world ran the new FiA S2000 class. In  2004, The BTCC was opened up to S2000 class cars and recent years has seen a return towards the racing seen in the Supertouring era….even if the cars aren't as exciting.
If you are interested in Super Touring, there is a good DVD available, called 'BTCC – Tales from the Tarmac'. Its a few years old and probably hard to get hold off (its on Amazon.co.uk) and it features the BTCC from 1991-2002, presented by BTCC driver and Top Gear Australia presenter Charlie Cox. We will have some more tin-top coverage on Speedhunters very soon!
- Andy Blackmore
 Images – BTCC.net/Peter Still Photographic
Retrospective>>BTCC Super Touring Years Part 1