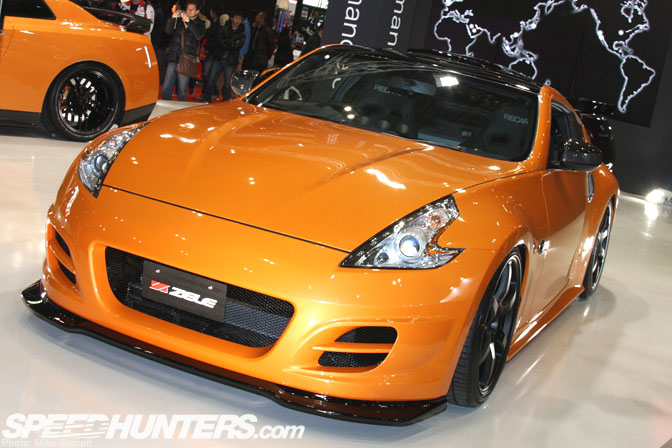 Instead of just mashing everything together in a series of posts, I'm going to divide my TAS coverage up into separate stories that cover the various styles or types of cars. I thought I'd start off with the Nissan Z, since the new Z34 was one of the most anticipated cars at this year's show. The new Z has only been on sale for around month in Japan, but the aftermarket has already jumped all over it, and there were a number on display at Auto Salon. The Z33 has been one of Japan's most popular platforms over the past several years, and it looks like the Z34 will be continuing the tradition.
Also, after spending two days at Auto Salon, I can say that I have officially "accepted" the headlight and taillight treatment on the Z34. I'm not sure if I grown to like it yet, but it no longer stands out to me like it did when the first photos of the car surfaced.
Alright, on with the Z's-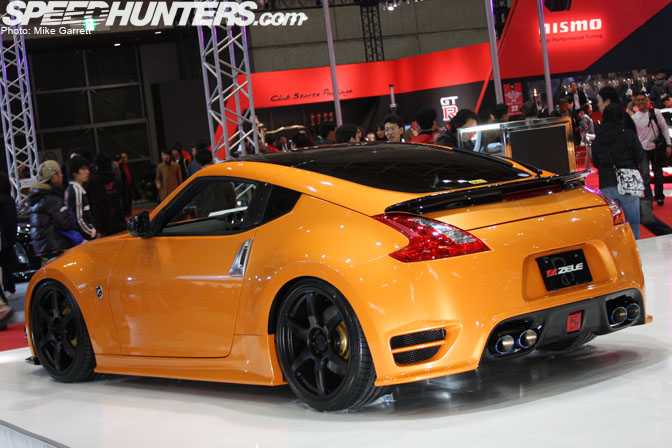 One of the most popular (and one of my personal favorite) Z34's at TAS was the Zele International complete model. Painted in the same orange color as Zele's R35 GT-R, the Z is sporting full aero, wheels, exhaust, suspension etc. Like the Zele GT-R, this Z will also be sold in limited numbers as a complete, pre-tuned machine.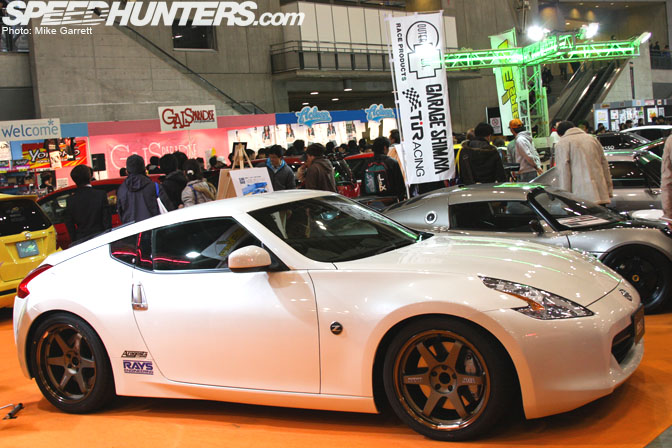 A bit simpler was this white Z34 in the Revspeed Magazine booth equipped with "original style" Volk TE37's. You can bet this car will be tuned for some serious circuit action, in true Revspeed fashion.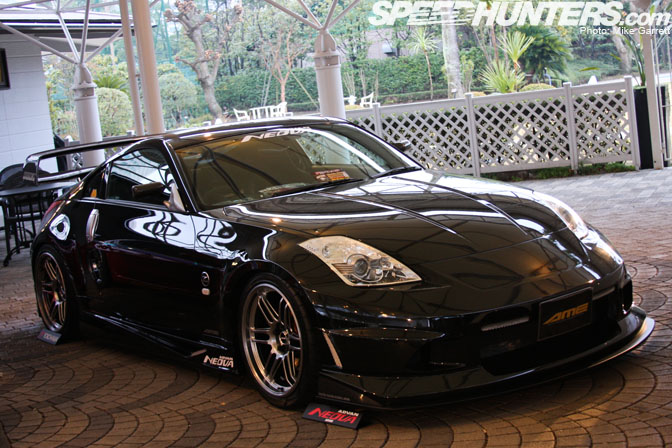 The Z34 may have been the big story at this year's show, but the Z33 isn't to be forgotten. Voltex has shown how great the "old" Z33 can look with the release of its new aero kit. This car wasn't on display at Auto Salon itself, but next door at the special Kyoho exhibition on Friday.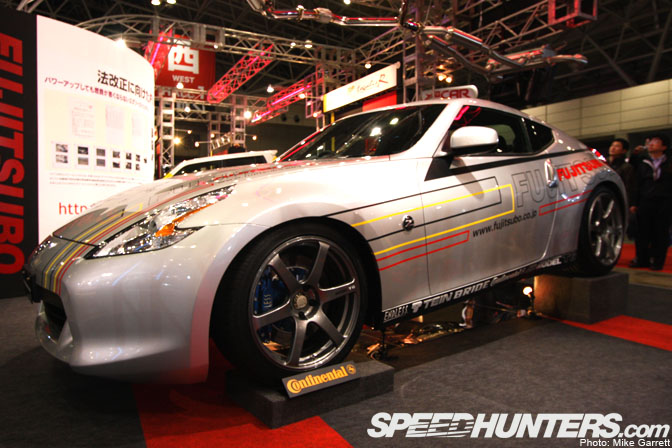 On display in the Fujitsubo booth was this Z34 equipped with Advan T6's, Endless brakes, TEIN coilovers, and an exhaust from….Fujitsubo! The Advan T6 wheels were an interesting choice for the car being an older design, but I think they look great.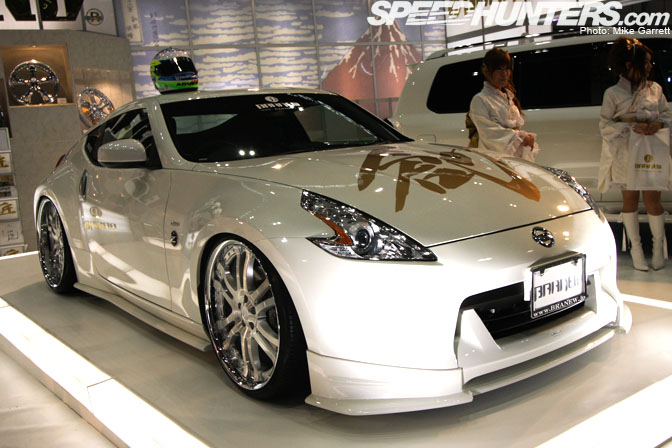 Seemingly, the newer a car gets, the larger wheels it will take. Branew's Z34 demo car is rolling on 22's and it doesn't even look that strange. The car is also equipped with Branew's complete Z34 aero kit that just debuted.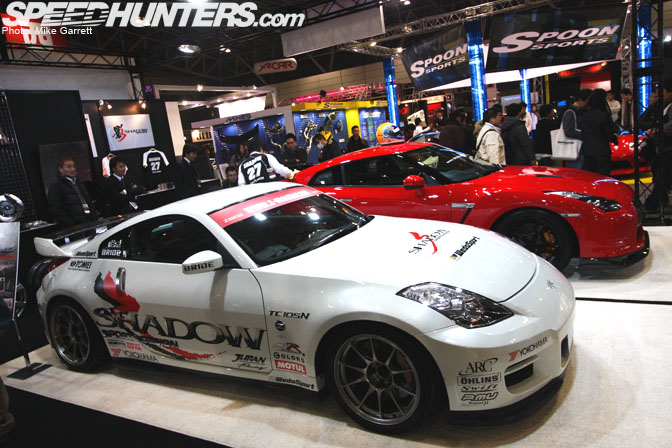 Another shot for those feeling nostalgic for the ole' Z33. This car was on display in the Shadow booth alongside their R35 GT-R. This car competes in the popular Z-Master race series.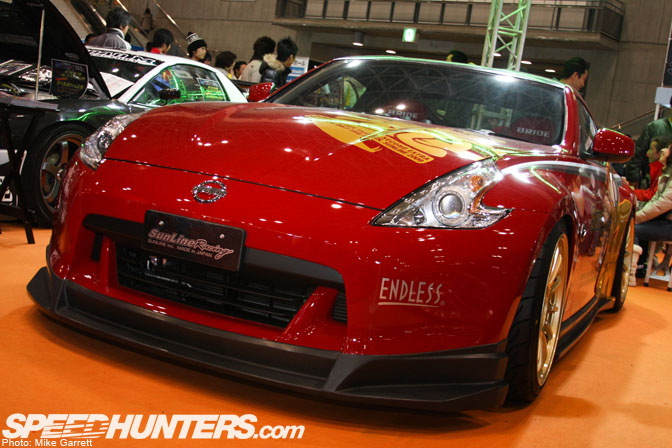 Also quick to jump into the Z34 tuning fray is Sunline Racing from Okayama. Their Z34 is already sporting an original aero kit (which looks quite good IMO), an exhaust system, full suspension, brakes, and all the other "light tuning" goods. The wheels are 19" SSR Type F's.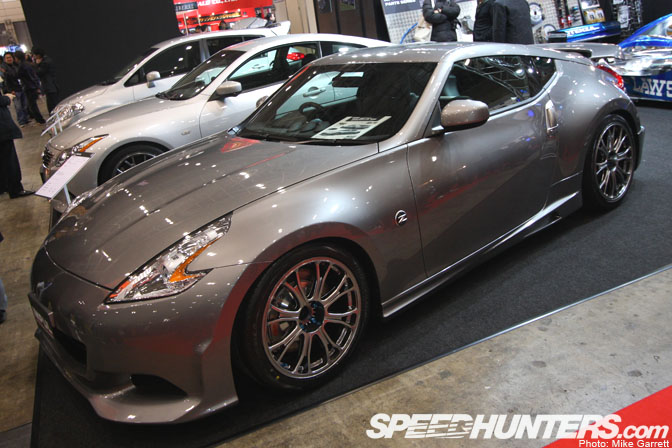 Impul has always been a "second Nismo" of sorts, working closely with Nissan and offering tuning parts for all of their models. Here's their take on the Z34.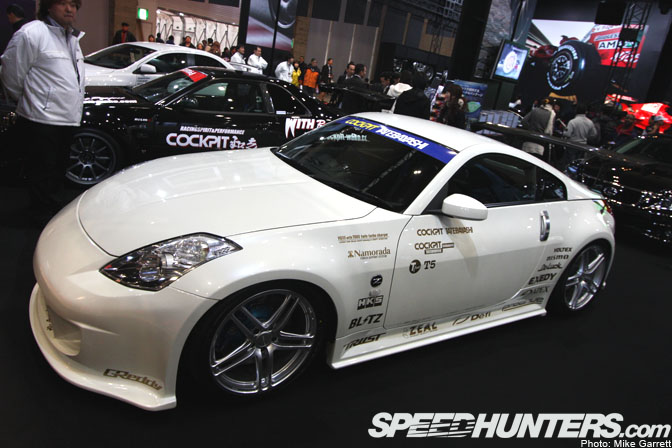 This Cockpit-tuned Z33 was on display in the Bridgestone booth.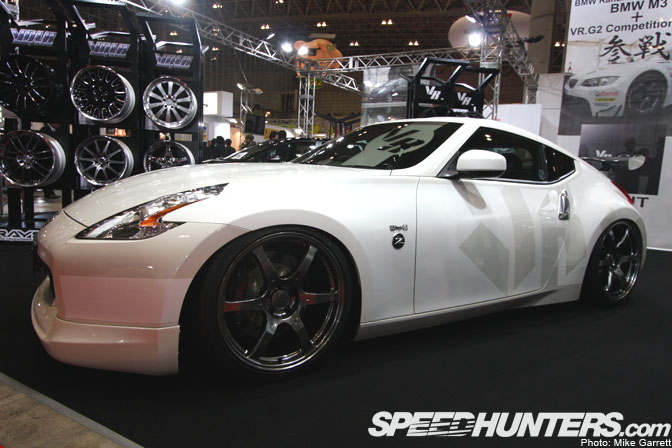 Finally, the Z34 in the Ray's Engineering booth. If you saw it from one side it looked like this…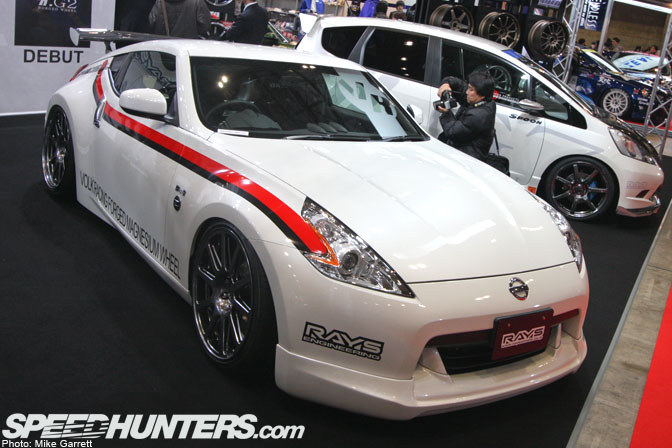 …and if you saw it from the other side it looked like this. Completely different wheels and graphics on side. This is actually a pretty good idea for demo car and I wonder how it'd be on a street car?
So what do you guys think of the new Z tuning so far? I was pretty impressed with what I saw at Auto Salon.
-Mike Garrett