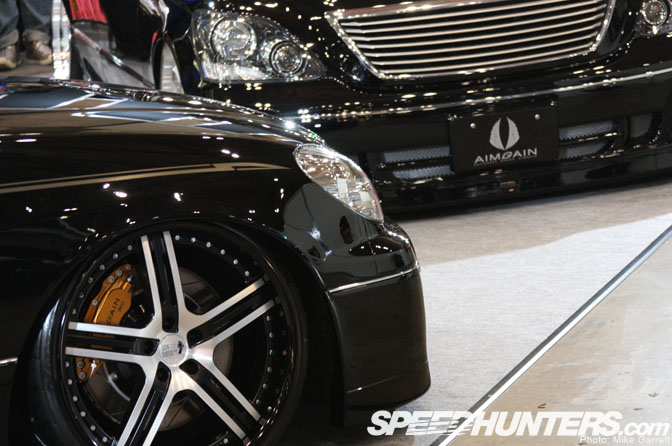 The Auto Salon coverage just keeps on coming. Now it's time for a look at some of the VIP sedans from this year's show. Although it seems that fixed up vans and wagons are now outnumbering traditional luxury sedans by a fair amount, there were still a number of VIP style sedans at Tokyo Auto Salon 2009. All in all, it was a mix of old favorites like the Celsior and Aristo along with newer models like the Lexus LS460 and the redesigned Toyota Crown. VIP style itself is also evolving, and the current batch of cars look a lot different than the ones seen at Auto Salon a few years ago.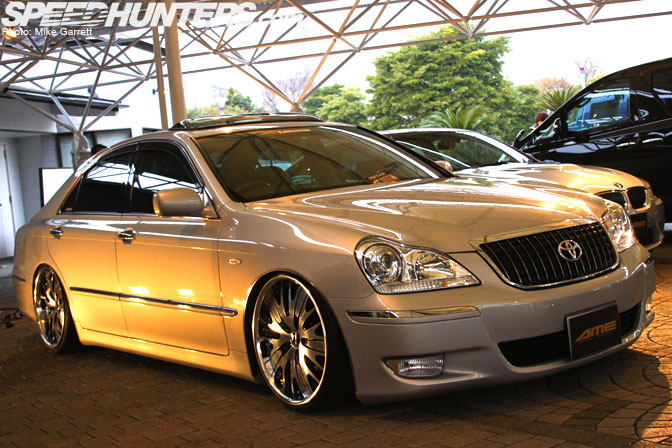 This Toyota Crown Majesta was part of the AME special exhibition on Friday. It seems like the Crown and Majesta are becoming more popular among VIP builders after the Celsior and Aristo were replaced with the upmarket Lexus models in Japan. I think I counted almost as many Crowns as I did Lexi (?) at the show.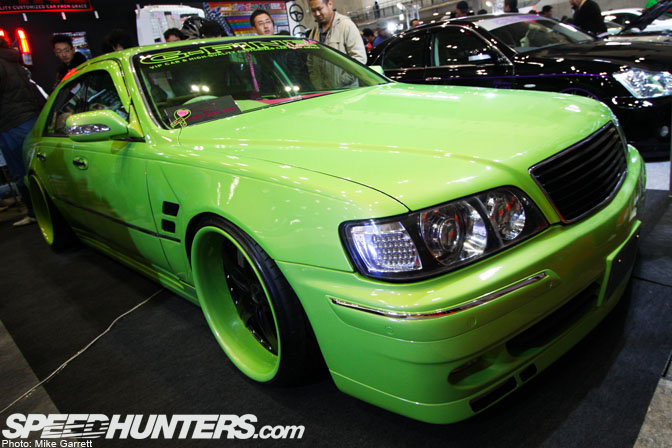 G-Fine's Gachapin-themed Y33 Nissan Cima was one of the most popular VIP cars at the show. Gachapin is a popular character from a Japanese children's show, and the pink and green theme was also carried into the interior. This car was also featured on the cover of Japan's VIP Style magazine recently. The most eye-catching thing on this Cima (besides the green body) are the color-matched lips on the AME Shallen FX wheels.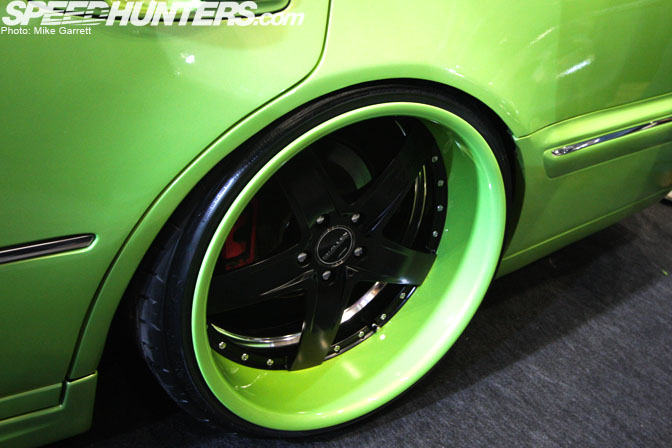 Generally I'm not a big fan of painted lips (especially "time attack"
style), but I think it can look really good on big-lipped wheels like
these. You'll also notice that the fenders have been radiused to fit these wheels, an increasingly popular thing in the VIP world.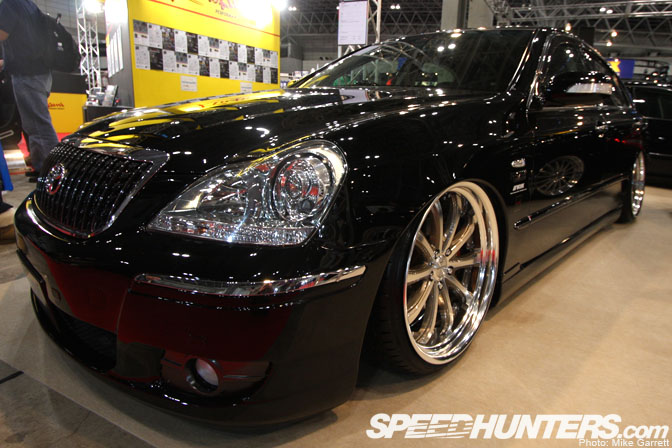 This is a fine example of a properly done "Zero Crown". This car was displayed by a company called VLENE that also had a couple other tastefully done Crowns in their booth.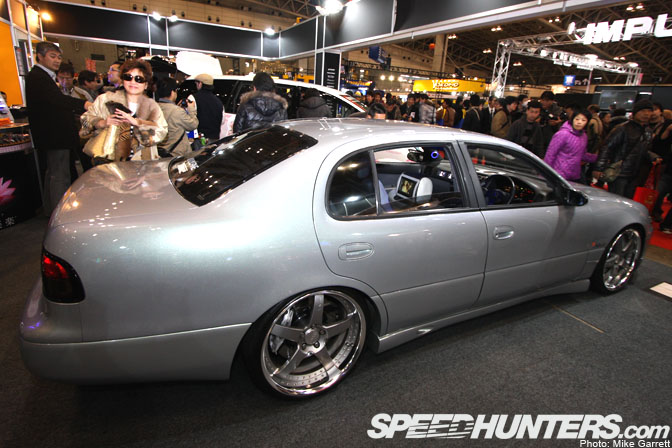 I was surprised to see this lcd screen-packed JZS147 Aristo on display. After I uploaded this pic to the computer, I noticed the VIP style lady in the background.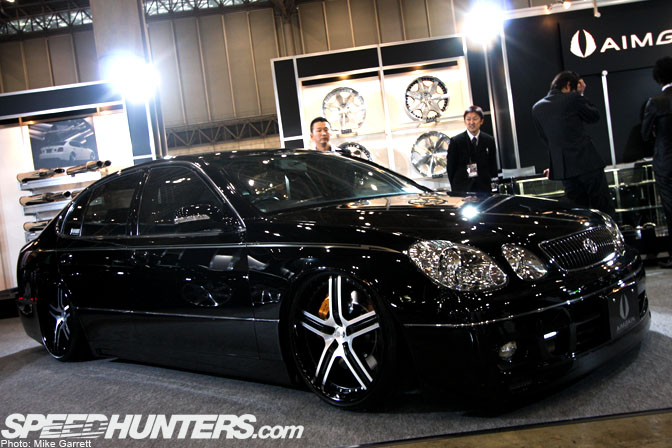 Aimgain has become one of the biggest names among Japan's VIP car builders. They had several cars on display at Auto Salon, including this JZS161 Aristo. Looking at these photos, I'm sure you'll notice that the wheel tastes of Japanese VIP tuners have been changing. Old designs like the Work Euroline and SSR Vienna have been left behind for more contemporary wheels like these. It's taken a while, but I'm slowly warming up to some of these newer wheel designs, especially when combined with proper fitment and stance.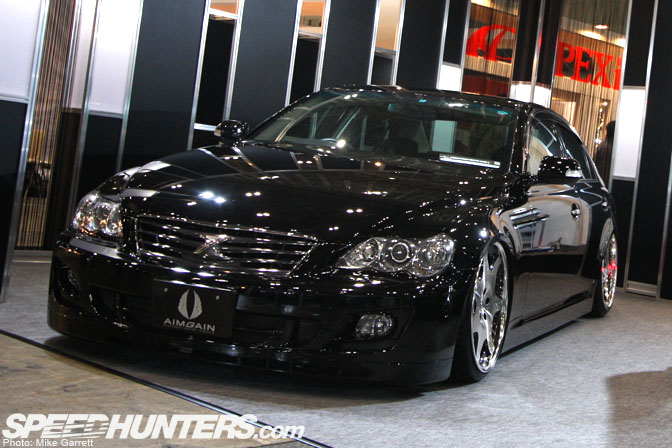 The Toyota Mark X is one the more uncommon VIP platforms, but there are some nice ones out there. This Aimgain-tuned version is one of them.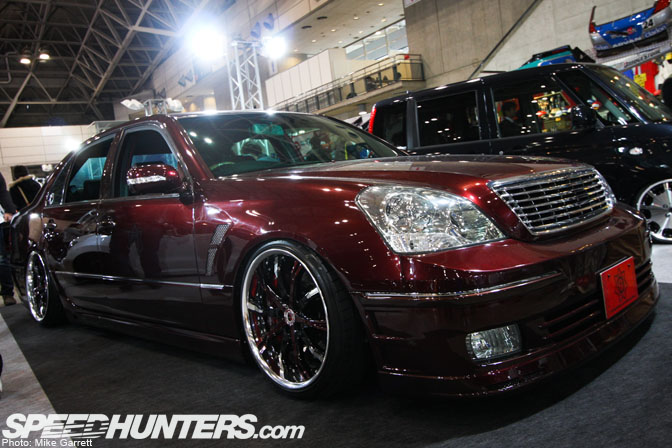 I really liked this maroon UCF30 Celsior. Note the contemporary Work wheels with color-matched accents. Another example of this growing trend.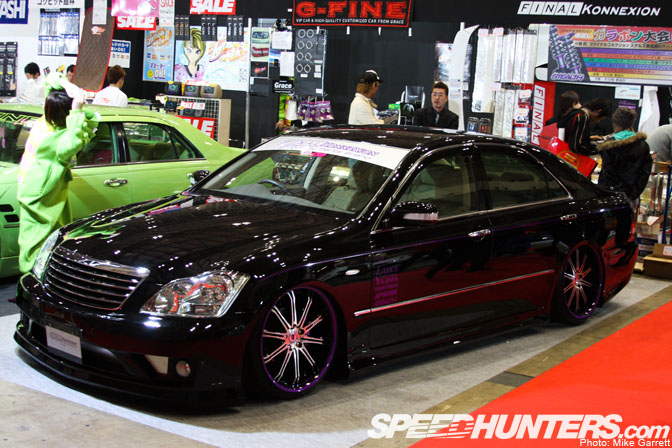 Another example of a sexy Crown on display in the Final Konnexion booth. More color-matching here, this time with the wheel lips and the decals on the door.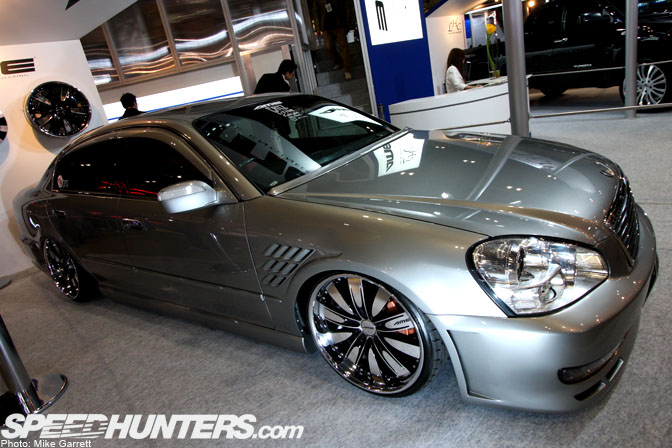 Another shot of the F50 Cima on display in the AME booth. I don't recall seeing another one of these cars at the show.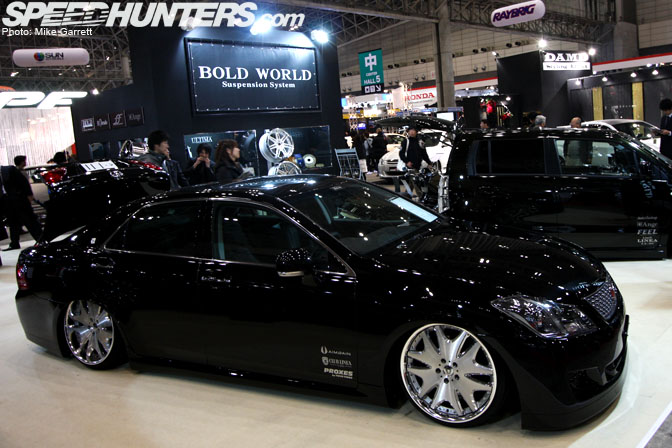 Here's an example of the new body style Toyota Crown slammed to the ground on Bold World air suspension.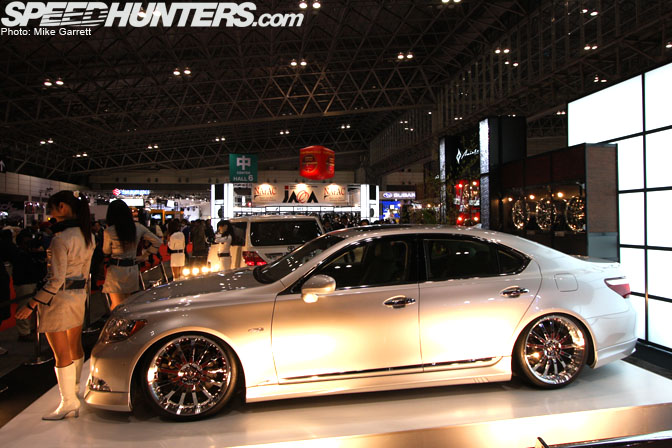 There were a lot of new Lexus LS460's on display, but they are generally a lot less aggressive than the older VIP cars. For some reason I can't get that excited about the newer Lexus models. They seem to have bit less creativity than the older models, and also I think it's because they are still WELL out of the range of affordability for chaps like myself. Anyone else agree?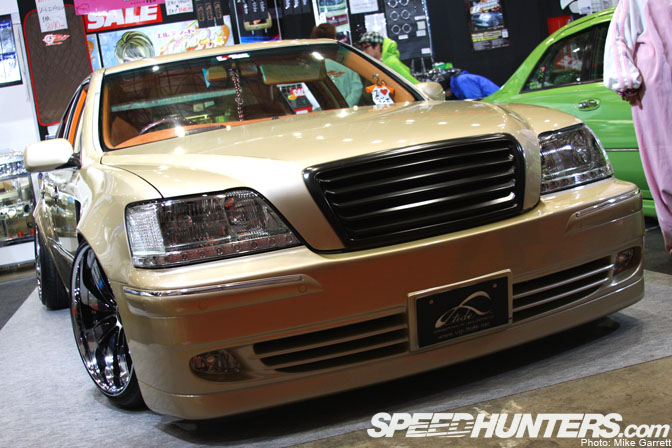 Lastly, another one of my favorites, the heavily modified Crown Majesta complete car from L-Tide.
So, what do you guys think about the 2009 selection of TAS VIP machines?
-Mike Garrett