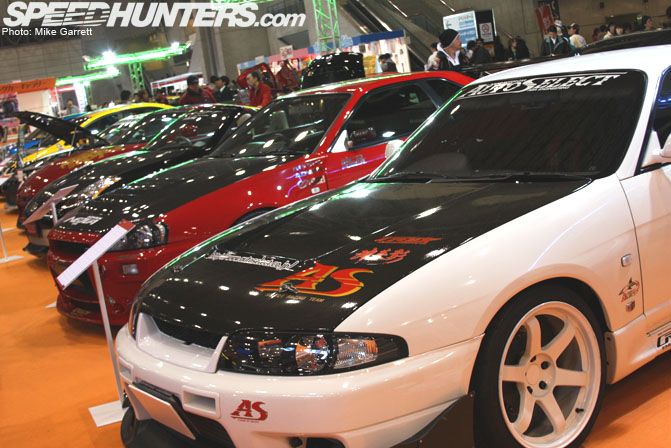 Nissan had a lot going for them at Tokyo Auto Salon this year with all the hype surrounding the Fairlady Z34 and the continued interest in the R35 GT-R. The Skyline has taken a backseat to those new models in attention, but there were still some nice examples carrying the torch for fans of the "original" Skyline GT-R's ,as well as the rear-drive Skyline models.
I wont be including the R35's in this post because as you know, the new GT-R has become a totally separate model from the Skyline.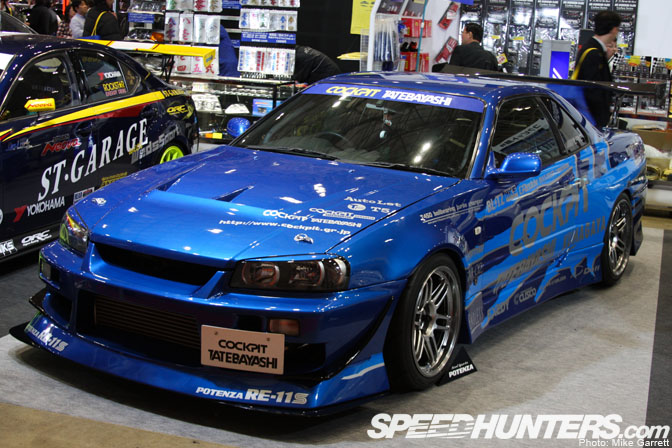 First up, here's the ER34 Skyline coupe displayed by Cockpit Tatebayashi. According to Tatebayashi, the car is designed for both street and circuit use in mind. Maybe it's just me, but it seems there's been a renewed interest in the ER34 models among Japanese tuners lately.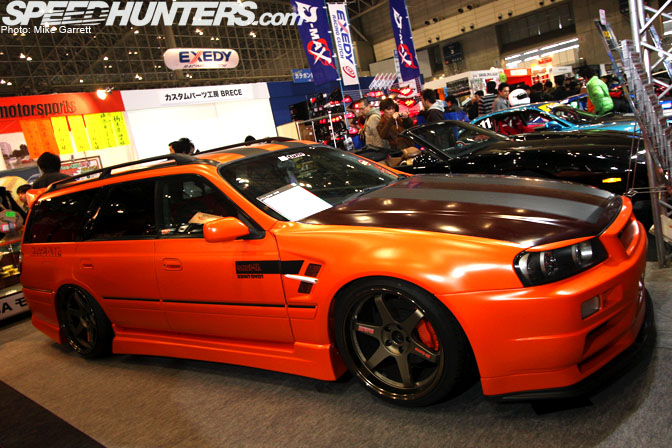 OK, so this isn't a Skyline, but it'll look like one coming up in your rearview. Yep, it's Masa Motorsports delivering their signature R34-converted Nissan Stagea goodness. This car is their latest creation, finished just a few days before the show opened. Another example of semi-gloss paint and color-matching lettering on the 19" TE37's.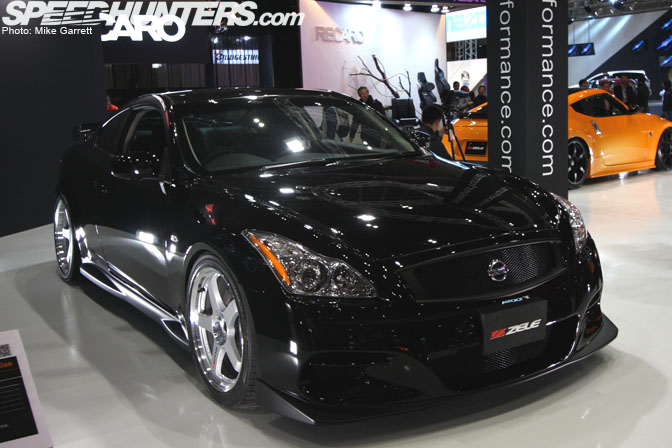 The V36 Skyline (Infiniti G37) is a car that's been regrettably overshadowed by the GT-R, and now the Z34. Parked alongside the orange Z and R35 in the Zele International booth was this gorgeous V36 Coupe. Just like the other Zele cars, the whole package is very tasteful and understated.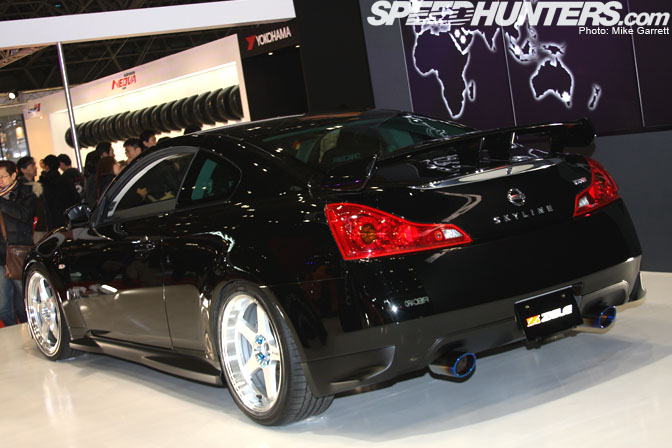 It looks great from the rear as well. One of the best "sleeper" cars from this year's show I'd say.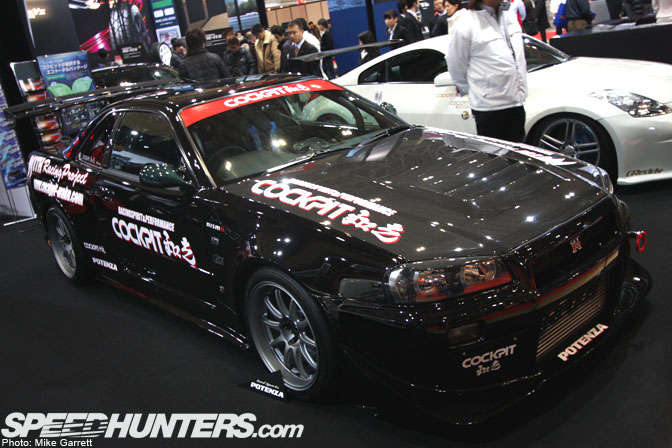 This BNR34 seen in the Bridgestone Tire booth is another Cockpit-tuned machine. By now you can probably tell which tuners have relationships with which tire companies. HKS and  Advan, Blitz and Dunlop, Cockpit and Bridgestone, and so on.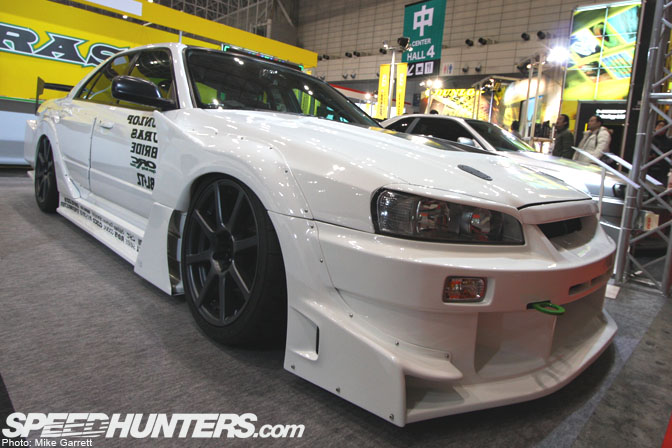 The URAS booth is always as a popular place at Auto Salon as Nomuken's wife slings goods and accessories to showgoers. URAS aero has never been particularly subtle, and the ER34 sedan Type-GT wide-body is no exception.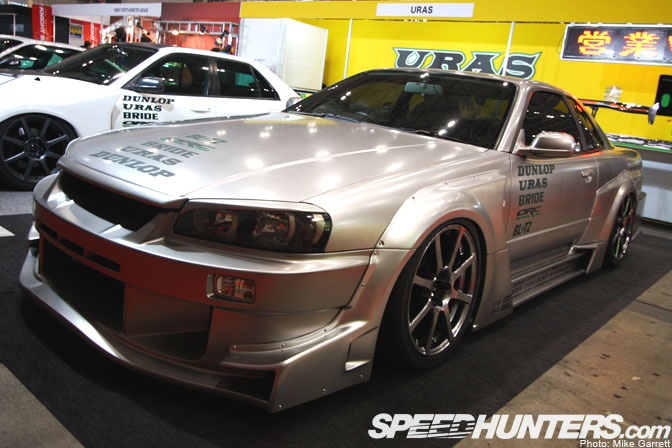 Also shown by URAS was the "Type-GT ER34 ECO". The concept for this stock-engined two-door Skyline is "good fuel economy with GT looks". Hey, why not?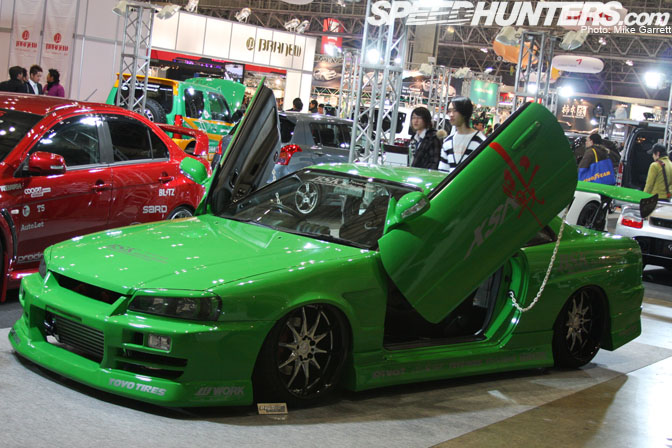 Here's BSK Factory showing that the Spocom look isn't dead yet with their slammed and lambo-doored ER34. Is it bad that I actually kinda liked this thing?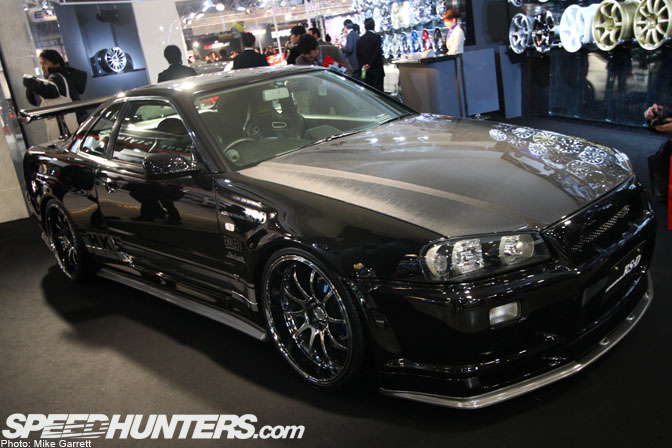 Last but not least, the HKS Driving Performer BNR34 in the Advan Wheel booth. HKS may not have had a booth at this year's show, but I'd say this car repped pretty well for them. Beautiful.
OK, I hope you guys are ready for some vanning action, 'cause that's where I'm going next.
-Mike Garrett