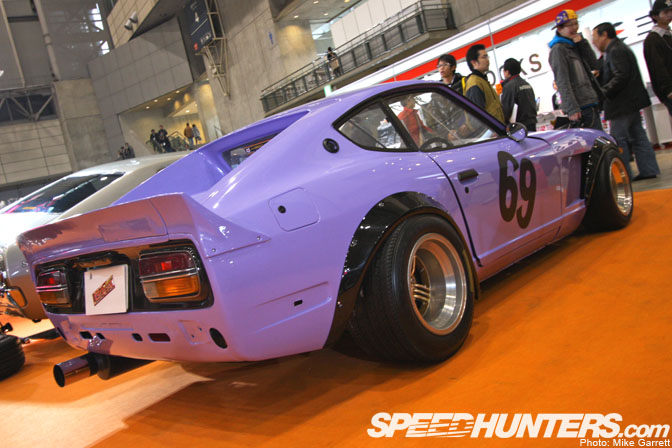 Tokyo Auto Salon isn't really known a great place to see classic cars. If vintage is your goal, you'd be better off waiting a couple weeks and going to the JCCA New Year Meeting in Odaiba instead. Nonetheless, there are always a handful of modified vintage machines at TAS, and this year's offerings were pretty remarkable. This year's classic car presence was lead primarily by G-Works Magazine, who had several examples in their booth. Let's take a look at some of the vintage machines from Tokyo Auto Salon 2009.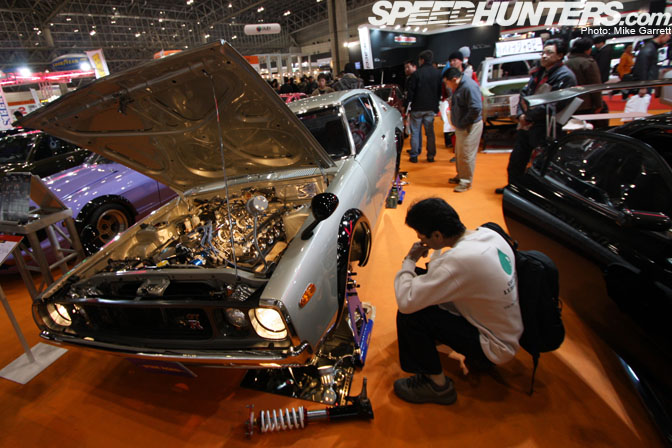 Star Road is a well known restoration and parts shop in Tokyo, and this year they brought out their fully restored L-powered Kenmeri Skyline. The entire car was spotless, and they even removed the wheels and jacked it up so people could get a look underneath. This guy seems to pretty pleased.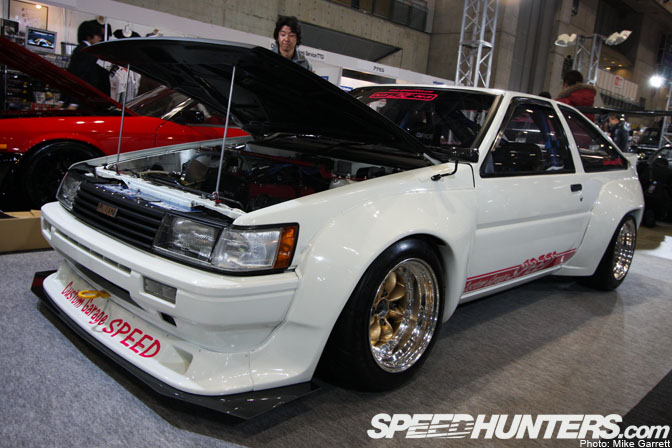 There were just a couple of AE86's in the whole show, and the most impressive would have to be this N2-spec car from Custom Garage SPEED. Typically these race cars are pretty beat up from lots of track use, but this car was incredibly clean, inside and out. I dig the Panasport wheels tucked under the N2 flares and also the graphic stripes on the bottom of the doors.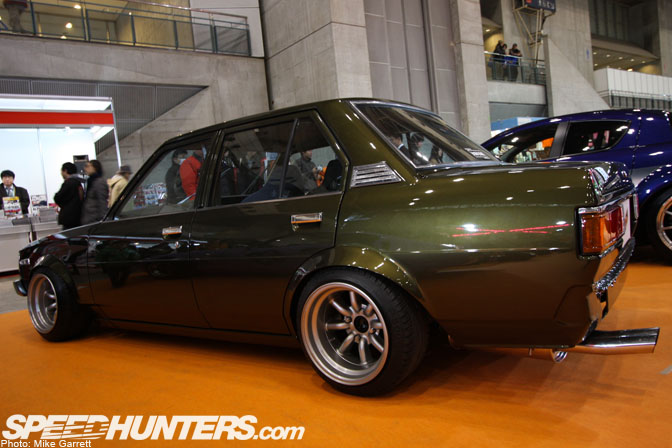 Now for more on the sexy AE70 Corolla sedan on display in the G-Works booth.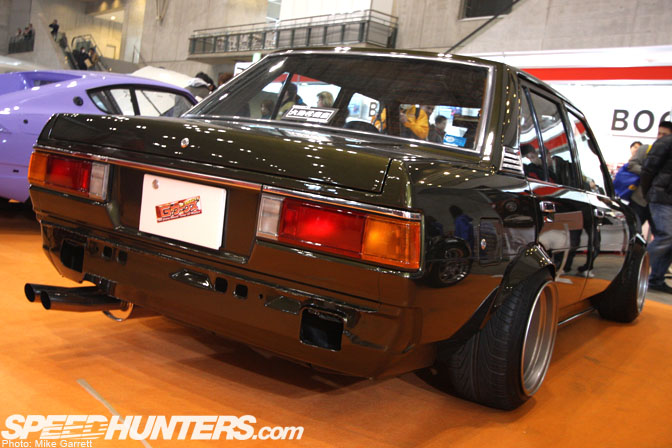 The rear bumper has been removed both for a smoother look, and to better showcase the one-off exhaust system from Garage Morimura. The rest of the body is stock except for the fender flares and lip spoiler in the front. The paint is a nice mixture of dark green with gold pearl.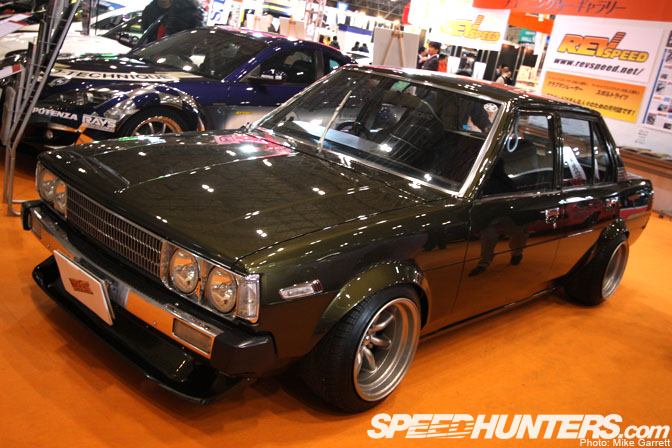 The hood wasn't open, but there's a carb'd twin cam 4AGE swap sitting under there.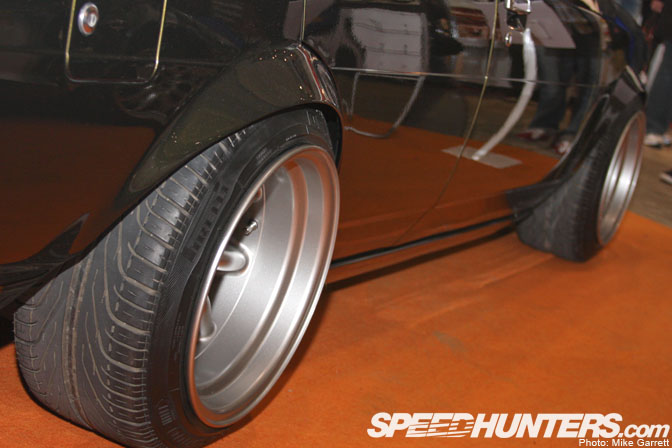 And of course the RS Watanabe wheels. Sizes are 14"x9J in the front with 195/45 Pirelli tires and 14"x9.5J in the rear, also with 195/45's. Damn.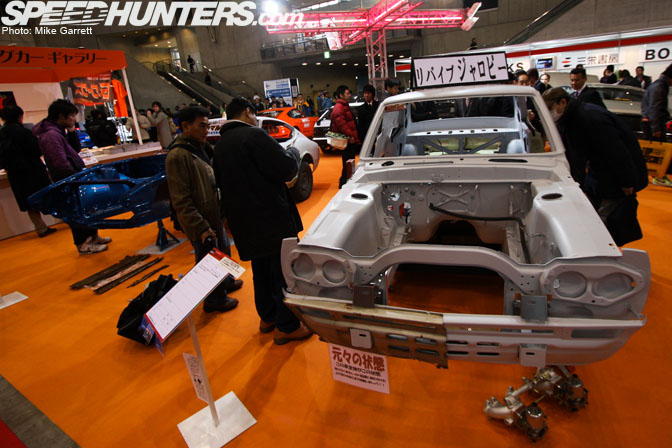 There were S30Z and a Hakosuka restoration projects on display in the G-Works booth. These displays seemed to quite popular among showgoers.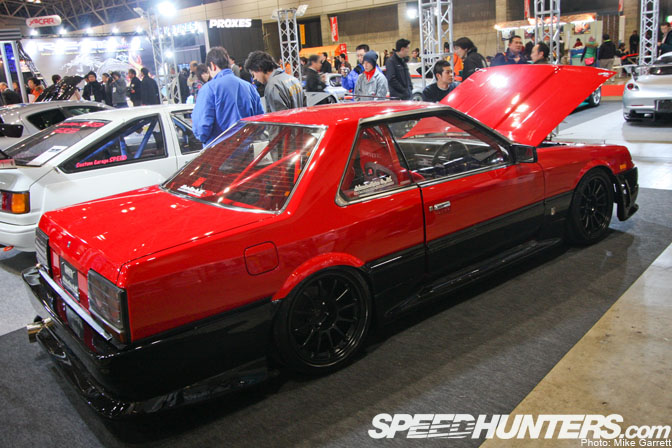 Sakamoto Motors brought this DR30 Skyline RS equipped with full aero and a modern set of black SSR Type F's. I was glad they stuck with the DR30's trademark red and black two tone paint.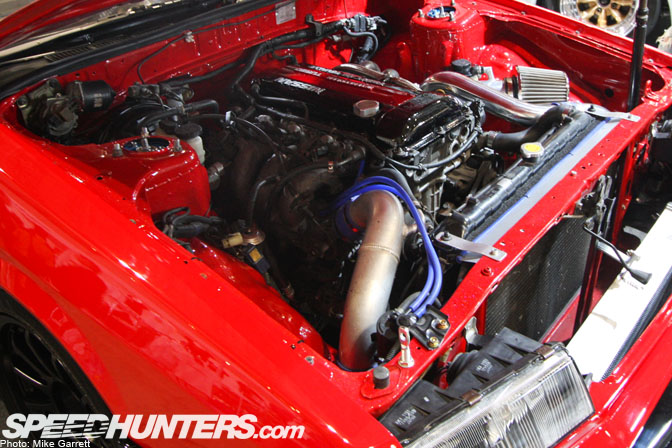 Under the hood is an SR20DET swap.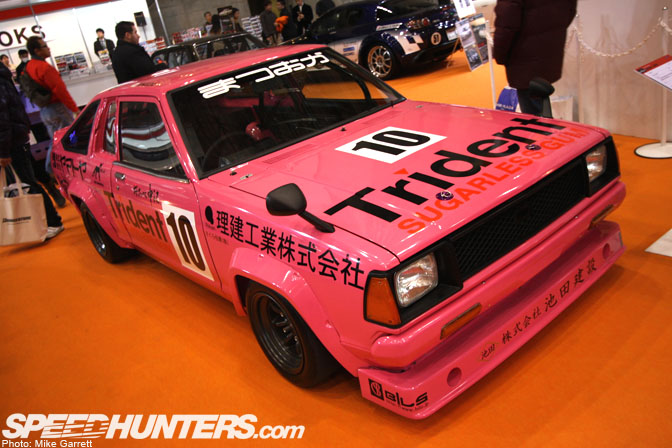 This TS-spec B310 Nissan Sunny was another classic on display in the G-Works booth. I've been fortunate enough to see cars like this in action a few times while in Japan. I'm sure you've seen the photos I've posted in the past.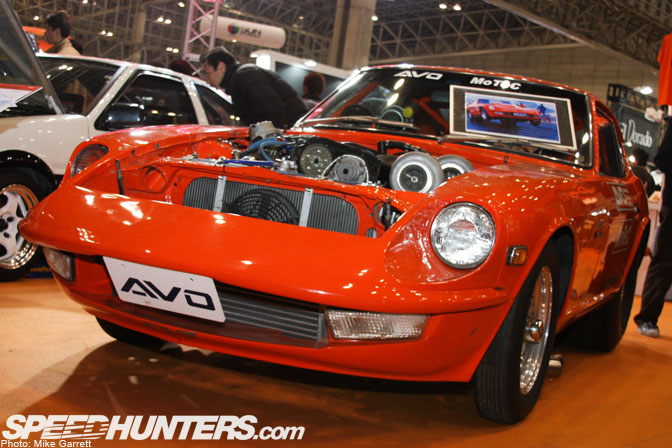 Drag racing is a big part of the "G-Works style", so this RB26-powered S30Z drag car from AVO was representing in the booth.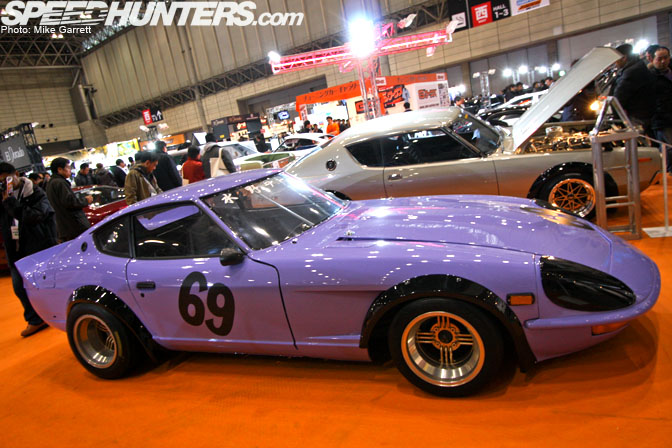 Lastly, another G-Works car, the Mizuno Works 240ZG done in complete retro street racer style.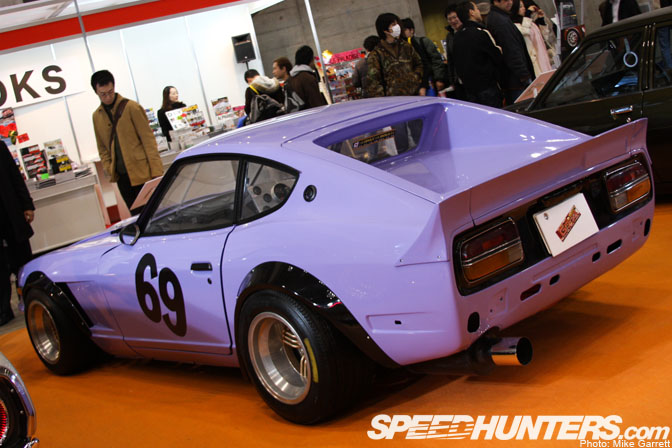 Body modifications include custom front fenders with Mizuno Works original flares, a 3-piece rear spoiler, and a custom FRP rear hatch.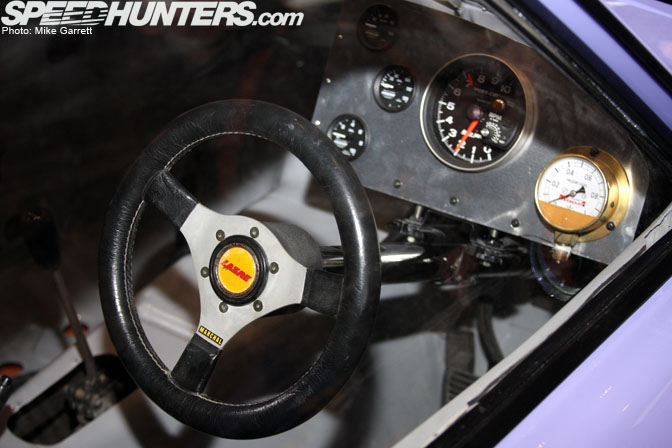 The cockpit of the car is bare-bones race style with almost no remnants of the original Z interior. I love that vintage racing steering wheel complete with Marchal decal. Under the hood of this car is a fully built 3.1L L28 loaded with parts from Kameari Engine Works.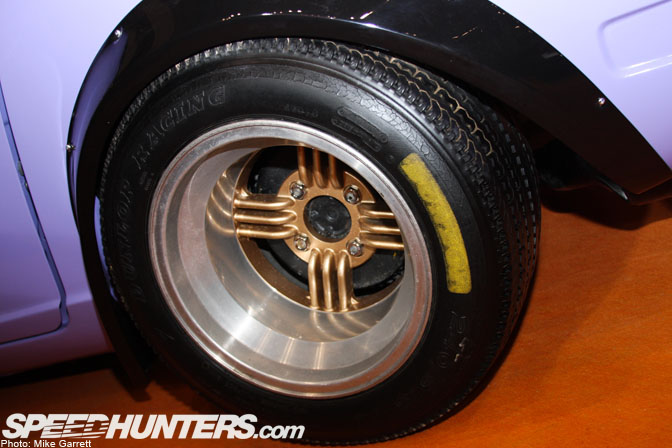 Stance comes from a complete coilover set-up with HTS and Nismo shocks. The wheels are an extremely rare set of Techno Shadows, sized 14"x9J -27 in the front and 14"x10J -38 in the rear. Also, check out the vintage Dunlop tires. Stretched tires are cool, but this shows that you don't always need a ridiculous stretch or tons of negative camber to get the right look on a classic car.
OK then, on the the next post!
-Mike Garrett