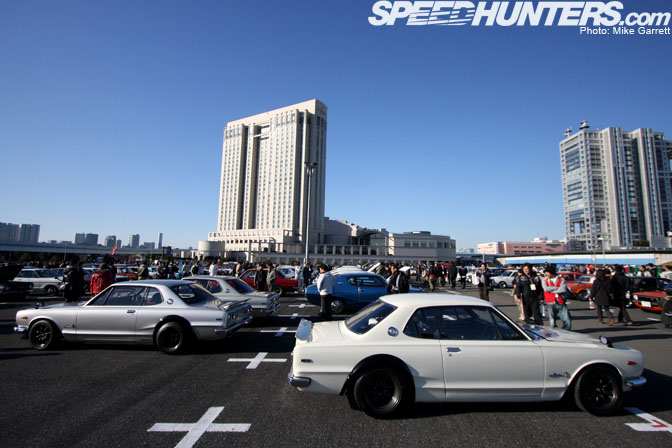 I guess I'm one of those people that's easily influenced when it comes to cars. When I'm shooting a drift event I'll think about how nice it would be to build a cool a 180SX or Soarer, and when I'm at the circuit I dream of a properly done Honda S2000. Nothing though, is more influential than spending a day shooting classic Japanese cars. Seeing (and hearing) the waves of Skylines, Sunnys, Celicas, Z's, and others had me scrounging around Craigslist looking for possible projects for when I return to the states. I bet there's no one who could spend a day at JCCA New Year Meeting and NOT be thinking about starting a vintage car project.
Anyways, for this post I'll start off with some photos from inside the actual show before moving on to the cars outside.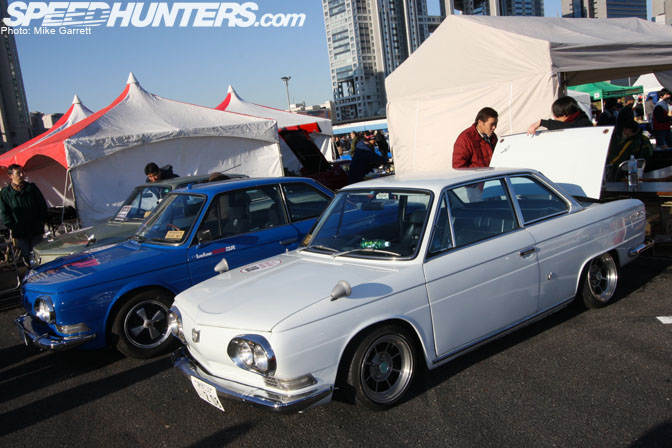 I apologize for not mentioning it in the first post, but this year's featured brand(s) were Hino and Isuzu, two of Japan's smaller automakers that now specialize in commercial trucks, but made passenger cars in earlier.times. The car in the this photo, the Contessa Coupe, is Hino's most famous automobile. Those guys aren't looking in the trunk, but at the engine. The Contessa uses an RR layout and borrows a lot from Renault (though I see a little Chevy Corvair in there as well).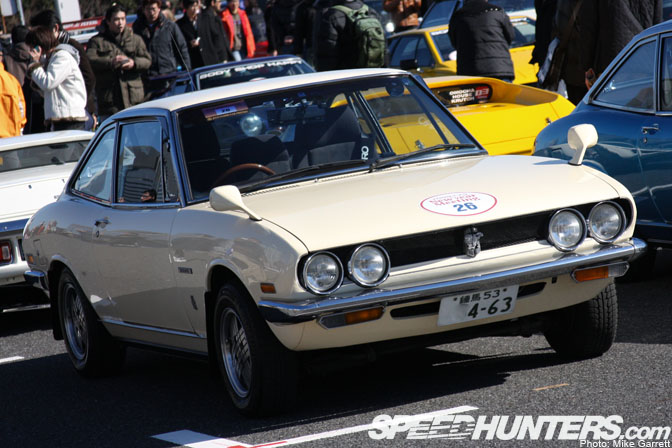 Isuzu's presence included several 117 Coupes, Bellett GT's, and the occasional Gemini. It's strange to think that a company that makes boxy commercial trucks once made stylish coupes like the 117, done by the famous Italian designer Giorgetto Giugiaro.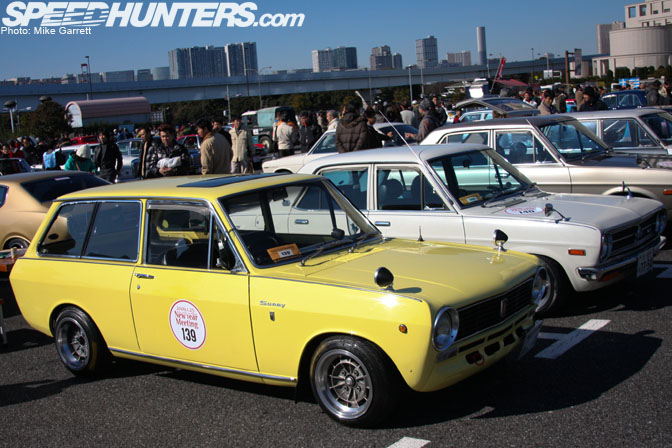 Another one of the cars that caught my eye while walking around the show was this B10 Nissan Sunny two-door wagon. Ever since seeing my first Chevy Nomad when I was a kid, I've always thought two-door station wagons were some of the coolest things in the world.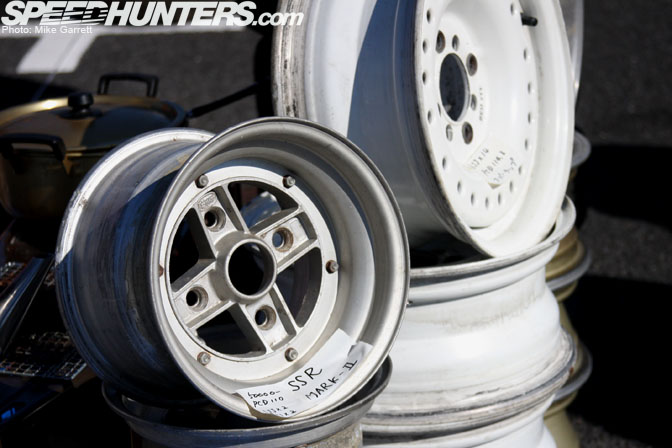 A set of SSR Mark-II's in Mini Cooper fitment. The guy selling them said, "they're cute aren't they?".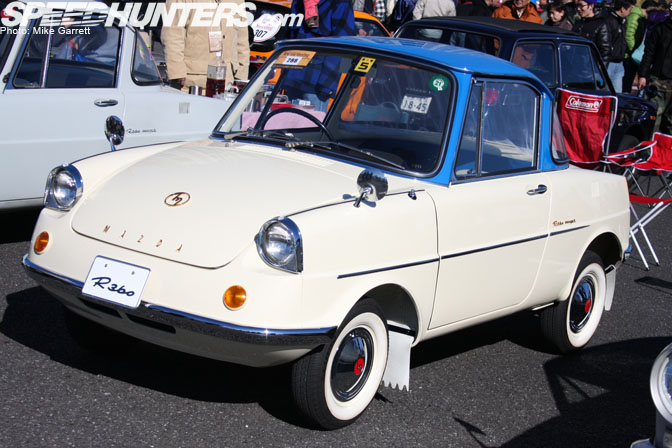 Here's a Mazda we haven't covered yet this month, the R360, which was one the company's first cars. Unlike most Mazdas, I can't say that I've seen one of these with a 13B swap yet.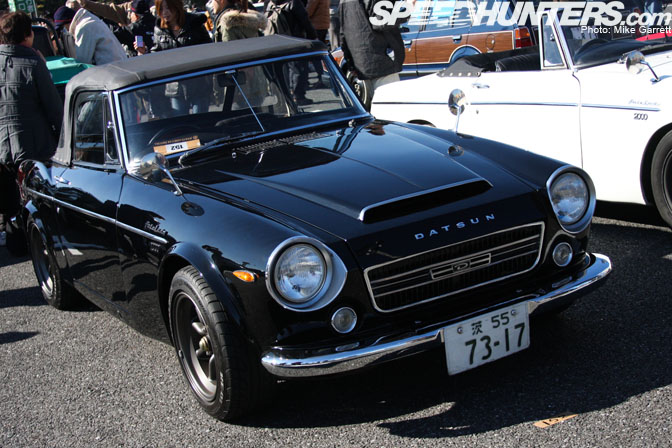 Black on black Datsun Fairlady Roadster with RS Watanabe wheels. It's not uncommon to see old cars running period correct license plates like this one from Ibaraki.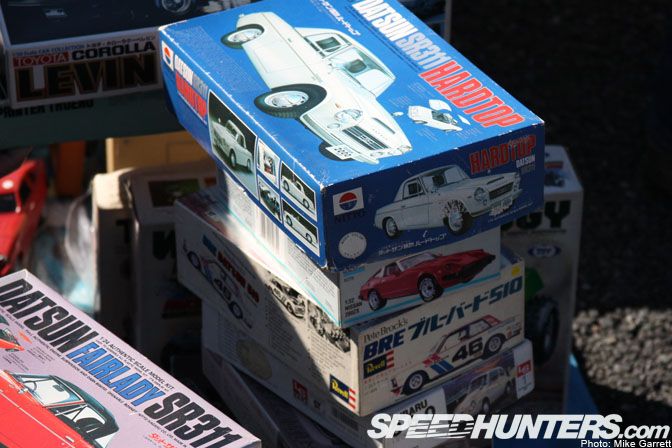 Vintage model kits abound in the flea market area. I'm digging that BRE 510.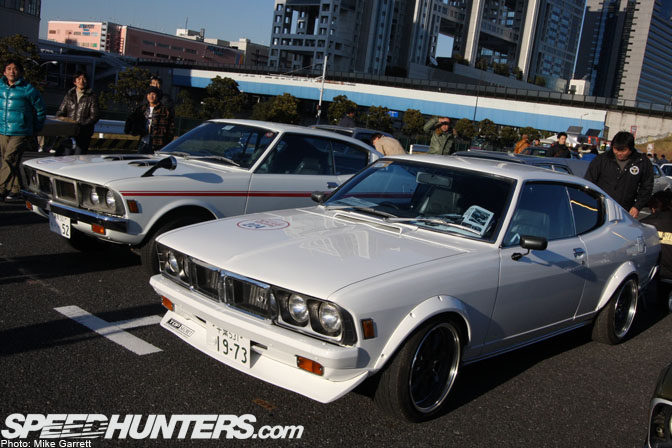 This Mitsubishi Galant GTO was done by a little shop in Chiba-ken by the name of "Top Secret". Perhaps you have heard of it? I'm not sure of this is Smokey's car or not, but he was there taking a break from the hustle and bustle of the tuning world.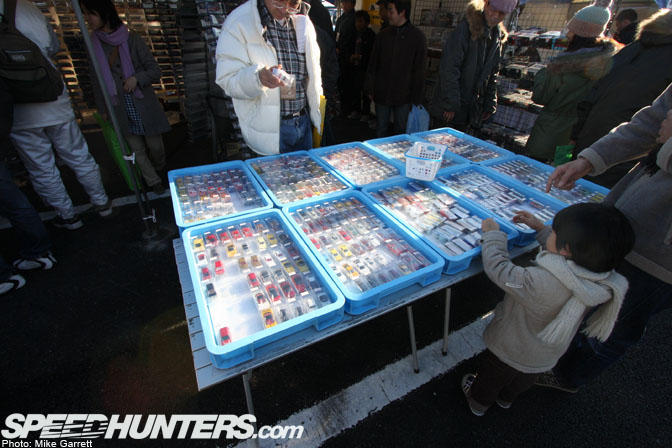 Diecasts, or "mini cars"  as they're known in Japan, were a hit among the young and old alike in the vendor area.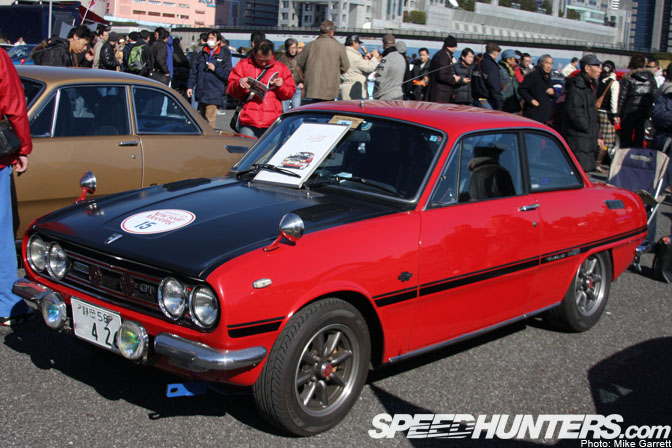 The Isuzu Bellett 1600 GT-R. This is one of Isuzu's most famous cars, especially the rare twin cam GT-R version like this one.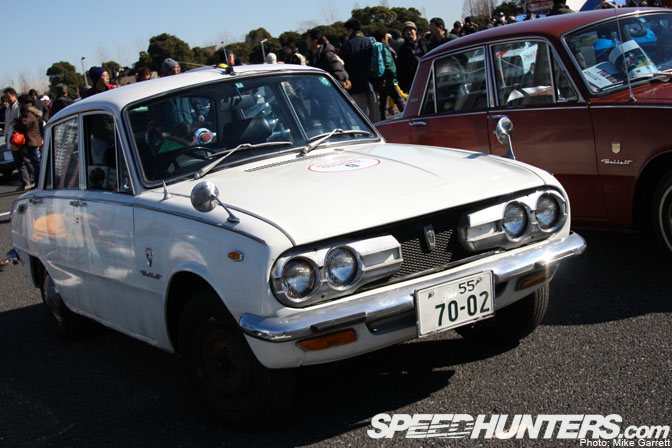 Another Bellett, this one a sedan and obviously unrestored.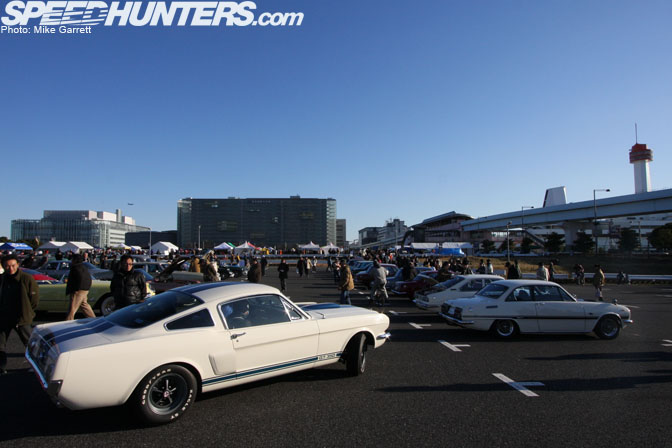 Late in the day, I stood among a small crowd and watched this Shelby GT350 Mustang head home, sounding as good as ever. Nothing like a little taste of Americana every now and then.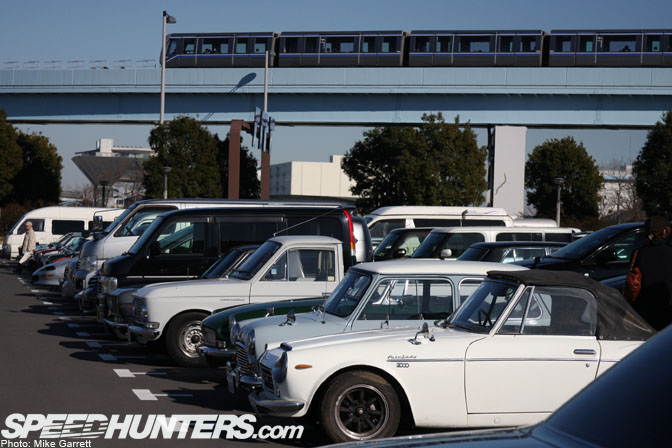 Now for some more parking lot finds. How many interesting cars can you spot in this photo?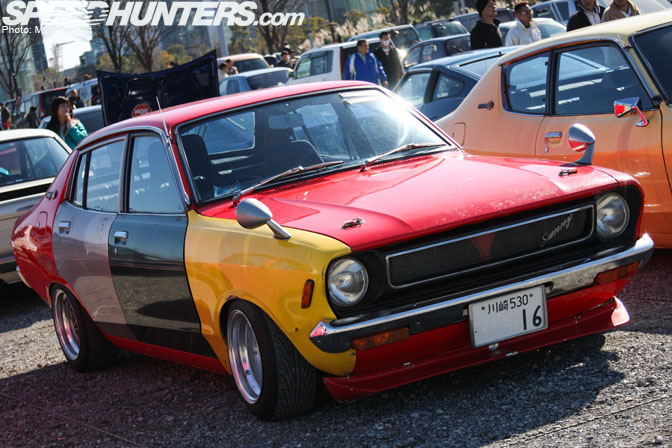 How about this multi-colored B210 Nissan Sunny? At first I was thinking the owner did this on purpose, but a look at the passenger side showed that the rest of the car was red. Maybe it was involved in an accident and the replacement panels haven't been repainted yet? Looks a bit like the infamous Volkswagen Golf Harlequin.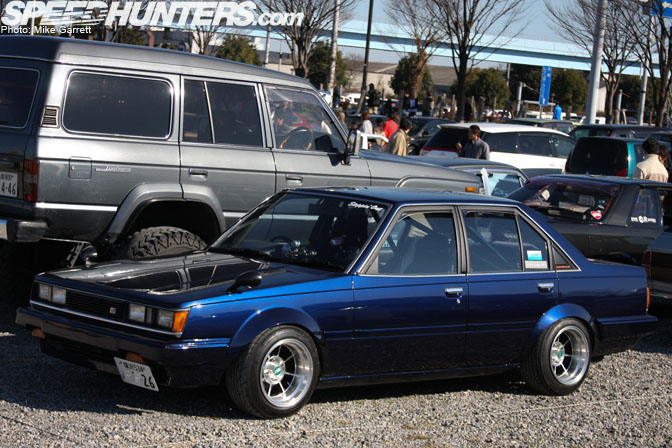 Gorgeous Toyota Carina on Hayashi Street CR's. This should make Banpei happy.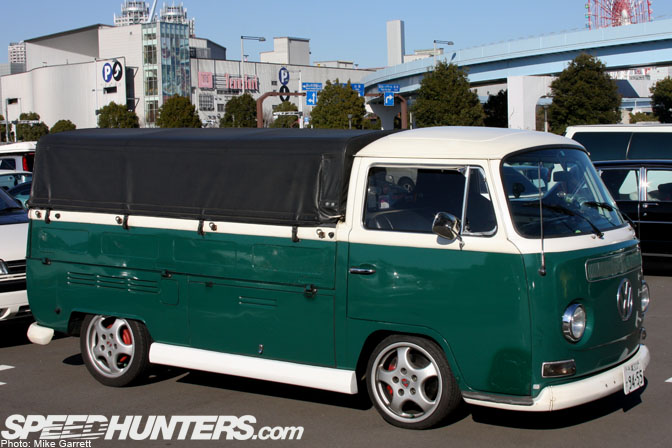 Lots of non-Japanese cars to be found in the parking lot as well. For example, this Volkswagen Transporter pickup with Porsche wheels.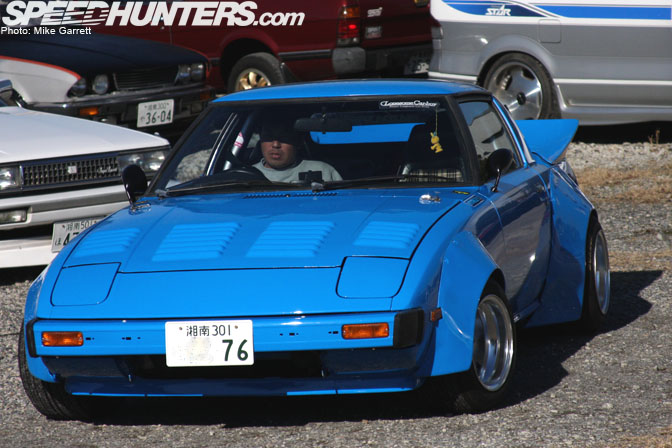 SA22C RX7 with "works" overfenders and wide 14" SSR Mark I's. Took this shot as he was rolling out with some of his teammates.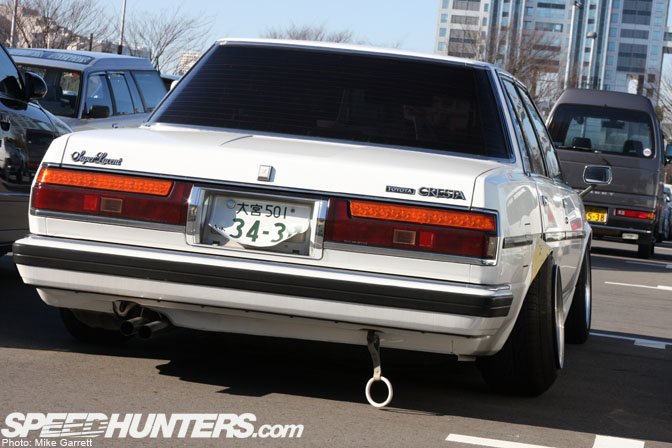 GX71 Cresta with the "stretch 'n pull" , lots of camber, and the signature subway handle hanging from the bumper. Seems like he's getting the rear wheel situation straightened away before starting on the front.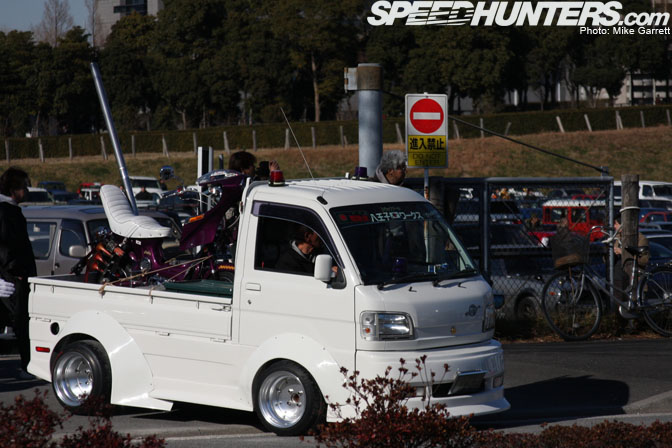 This flared and SSR-equipped kei truck from a team called Hachioji Works should generate some response. Check the boso bike loaded up in the bed.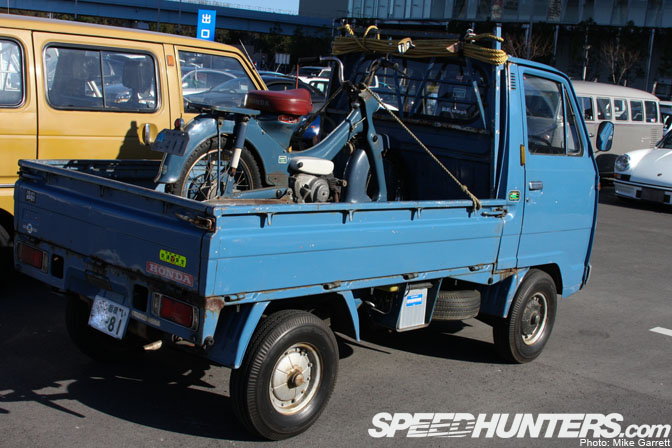 Another take on the "bike in a truck" theme with this old Honda kei loaded up with a matching Honda Super Cub. You'd think stuff like this would be found inside the show, but this was found in the parking lot parked alongside some other classic Hondas. So cool.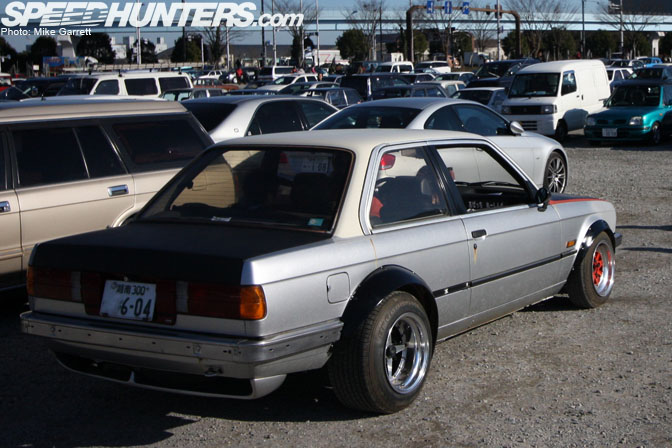 Someone asked for more pics of the kyusha-kai style BMW E30, so here it is. SSR Mark III's in the front with Work Equips in the rear. Also, the "upside-down trunk spoiler" mounted under the rear bumper. Believe it or not, there was a whole family packed into this thing.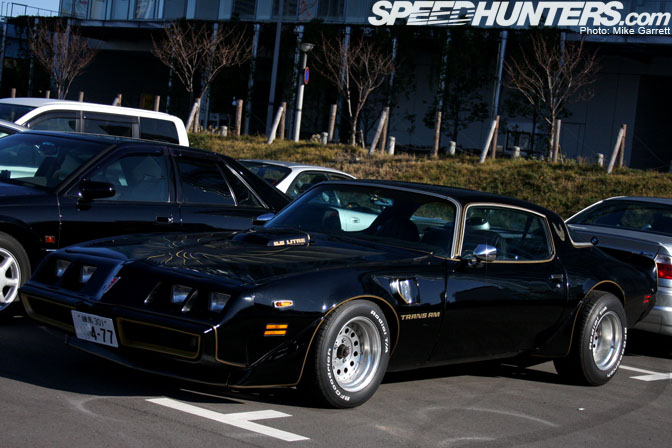 Burt Reynolds and the Bandit made it out this year as well.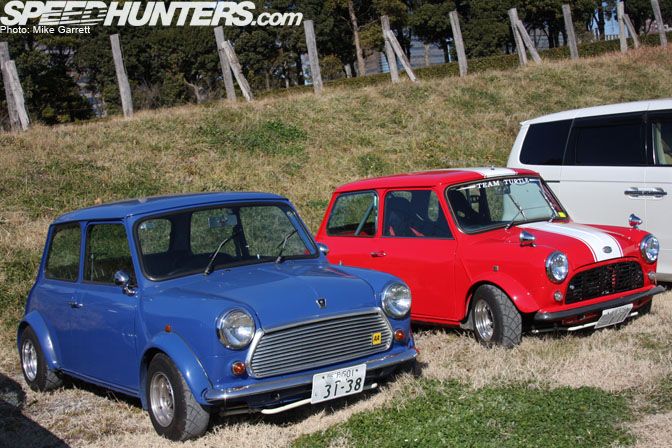 Also bringing some silver screen resemblance were these Mini Coopers from the aptly named "Team Turtle".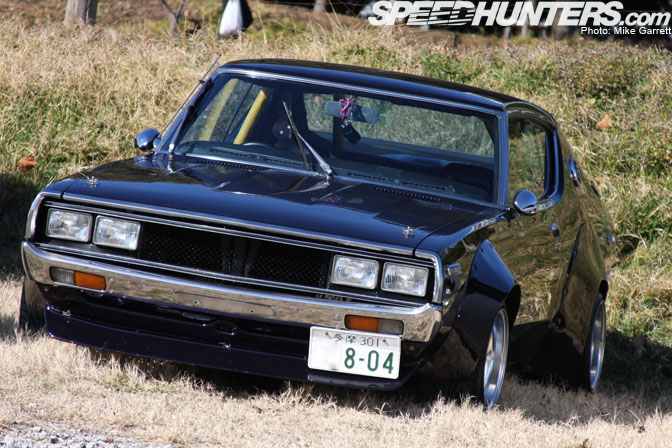 I've seen this purple KGC110 kenmeri Skyline many times at events over the past few years, but it seems to look even better each time I see it.
Even more from the New Year Meeting coming soon.
-Mike Garrett