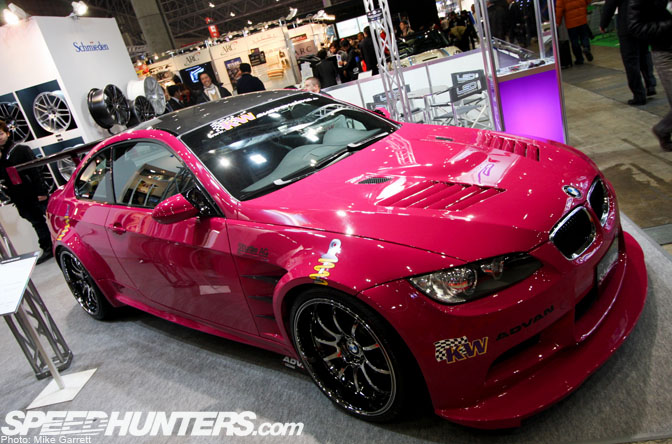 If you come from somewhere like the USA, if someone says "import", you probably picture a fixed up Japanese compact in your head. Battle of the Imports, Hot Import Nights, Import Tuner… I've always thought the term was a bit funny. Is a Ferrari not classified as an "import"? How about a BMW? Also, many so-called "imports" these days are built right in the US! Anyways, in Japan the term "import" of course refers to cars from Europe or the United States, and tuning foreign cars is getting more and more popular here, even with the poor economy.
This year's Tokyo Auto Salon featured an "Import Auto Salon", a totally separate building dedicated to non-Japanese cars (although a few high end "domestics" also made their way in). These cars ranged from the functional and the understated to the completely over the top. For this post  I'll be sticking to the imports found inside the the three main halls at TAS, saving  the Import Auto Salon for a later story. First up, we have the pink Studie-tuned E92 M3 found in the KW Suspension booth. KW has been taking the global tuning world by storm over the past couple years, and they must be enjoying the Euro-tuning boom happening in Japan right now.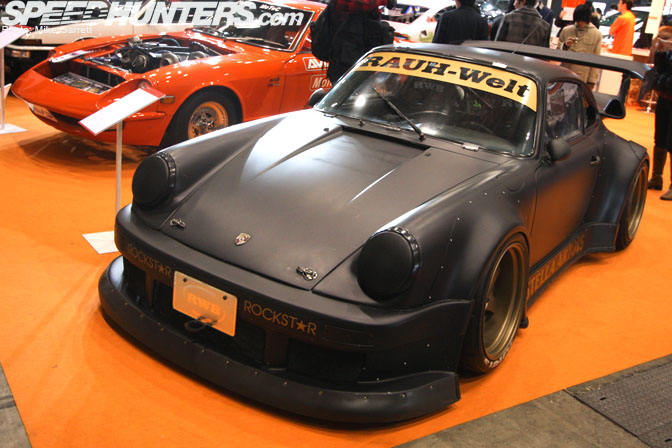 Nakai-san from Rauh Welt held nothing back when he told us that he doesn't like shows or show cars, but somehow the guys at G-Works got him to display his Porsche 930 in their booth. Even after seeing this car countless times and shooting a feature, it still stops me in my tracks.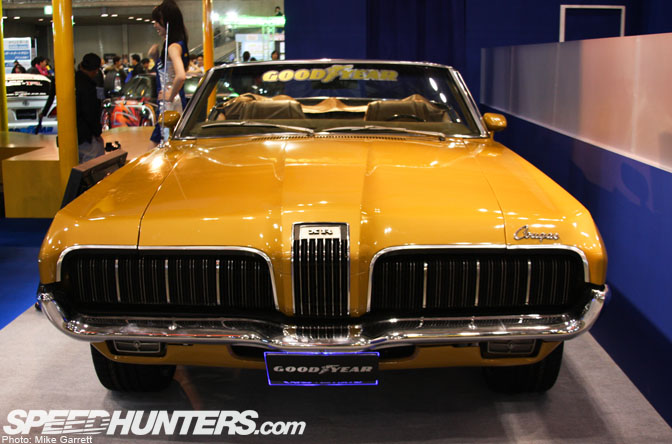 Goodyear Tire brought some classic American flavor to their booth with this drop top Mercury Cougar.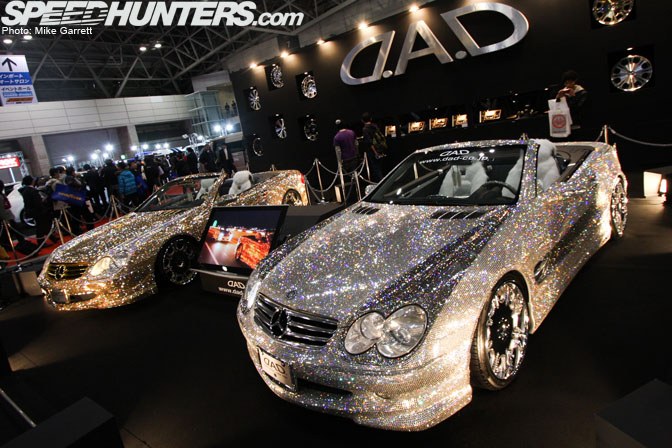 In case just one diamond-encrusted Benz SL was too restrained for you, D.A.D brought two of them. Despite being a few years old now, this concept still grabbed a ton of attention. It may have been because the cars literally blinded people as they walked by.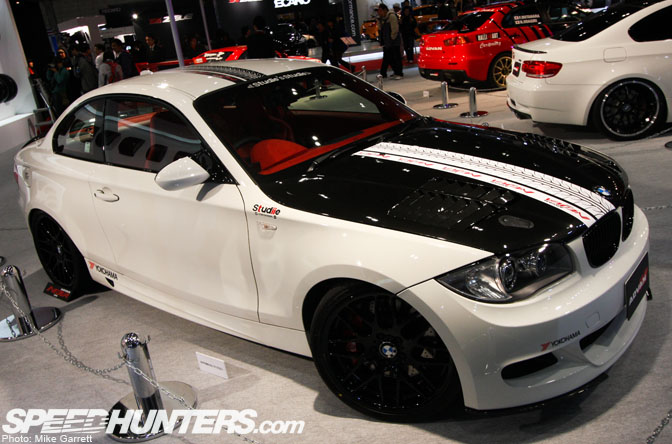 The BMW 135i is another popular platform among Japan's Euro specialists. This car in the Yokohama Tire booth is also tuned by Studie. I love the red interior.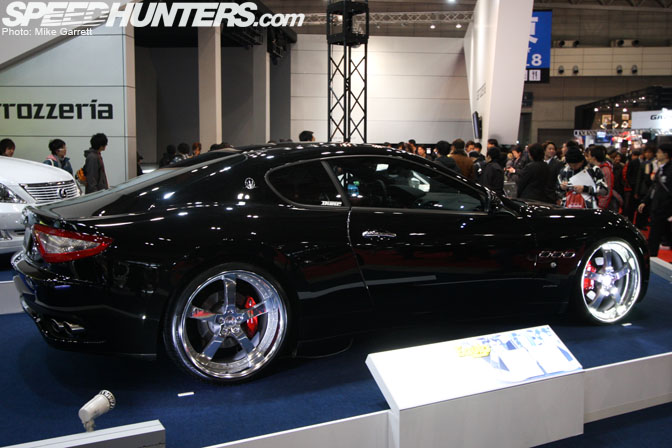 Sometimes it can be hard to improve on the looks of OEM exotic car wheels, but this Maserati Granturismo looks good sitting on Work Equips. The whole Work Wheels booth his year was very "luxury" themed.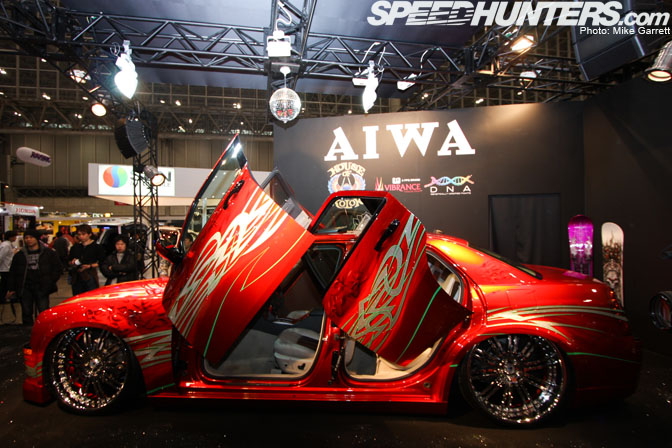 Throughout the weekend there was a HUGE crowd of people gathered around the Aiwa booth to watch a guy paint stuff on the bodies of campaign girls. This Chrysler 300 was also there. These cars are still kind of "exotic" in Japan. For example, you can't get one as a rental car at the airport here….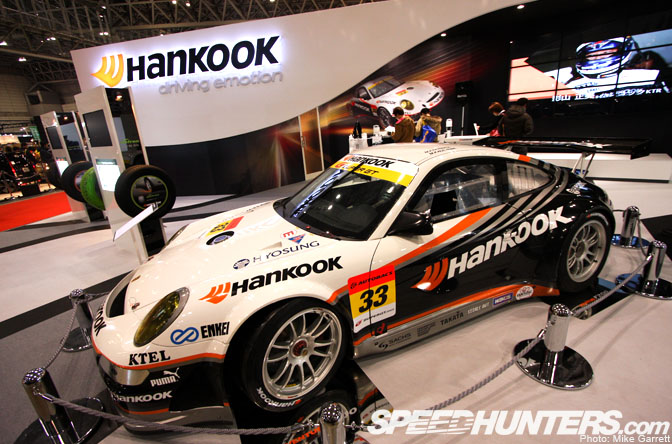 And stepping in a totally different direction, the Hankook Tire Super GT car on display in their booth.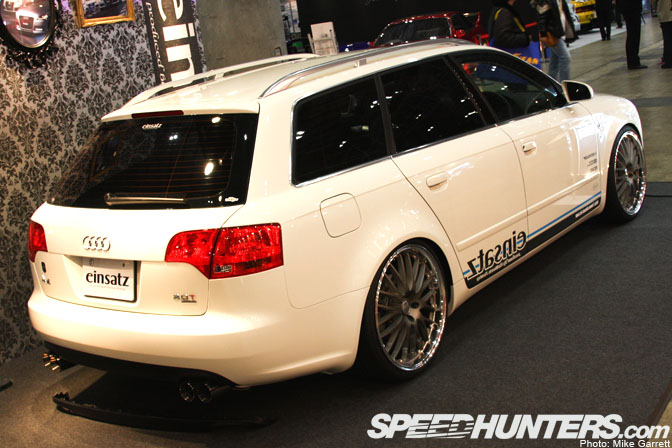 I liked this Audi A4 Wagon shown by einsatz.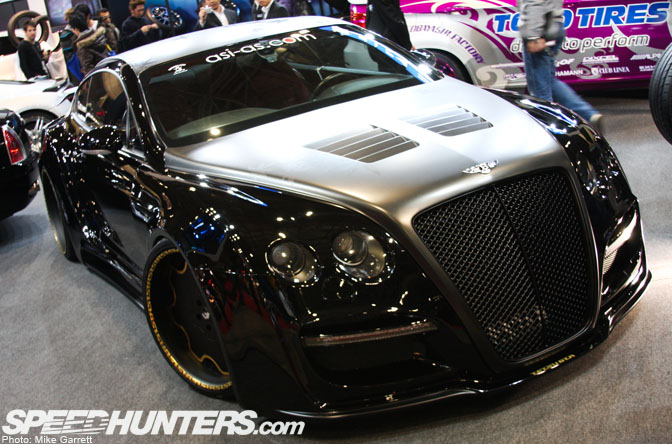 No matter how bad the auto market might be right now, there will always be room for high dollar excess like the ASI-tuned Bentley Continental GT displayed by Toyo Tires.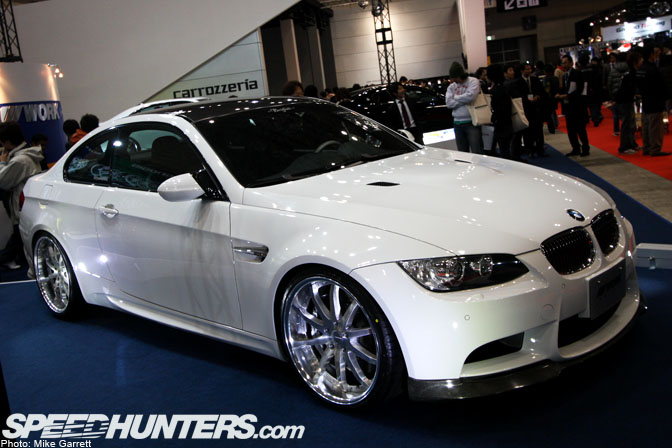 Another E92 M3, this one in the Work Wheels booth.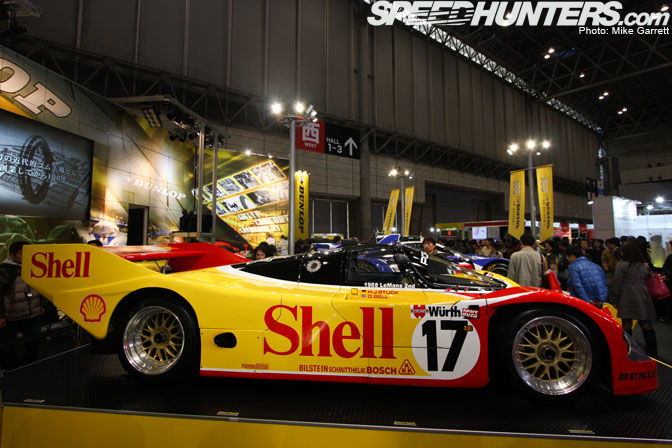 Hmm…I suppose this 1988 Porsche 962C Le Mans machine is classified as an "import" here. This car was found in the Dunlop Tire booth.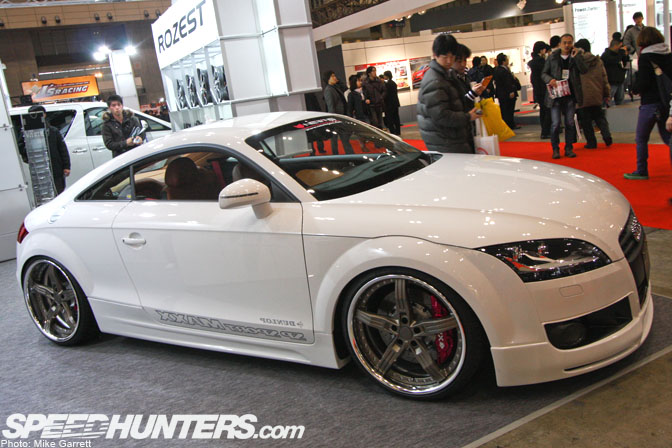 I'm not sure about this particular wheel design, but the Alpil Audi TT certainly has nice stance.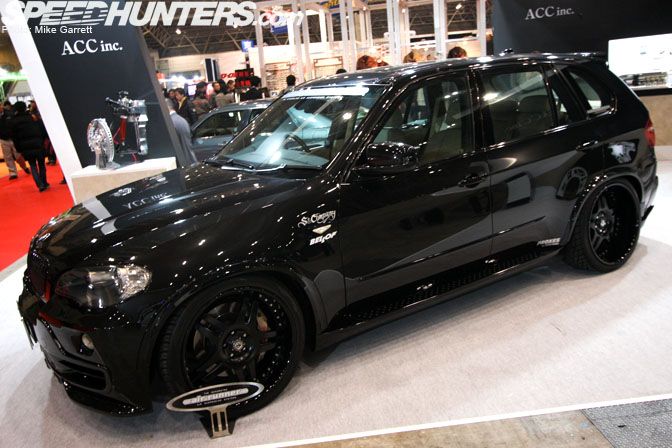 We don't talk much about SUV's here on Speedhunters, but I found myself liking this black on black BMW X5 in the Air Runner booth.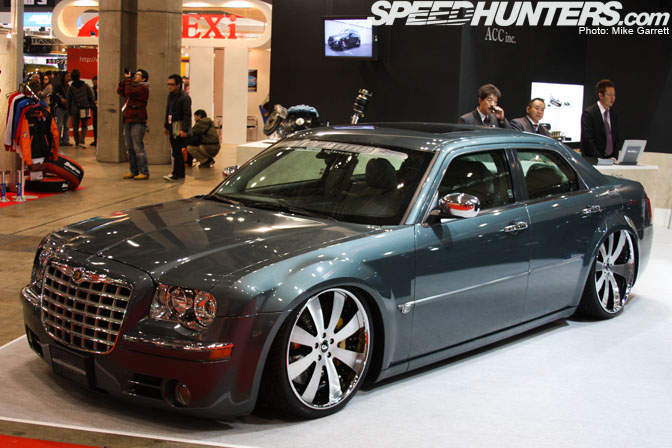 Also in the Air Runner booth was this slammed stock-bodied Chrysler 300C. Five years after they came out I still think these cars can look pretty cool. At least when they are sitting low on wheels that don't blind you when you look at them. There's a TON of ghetto 300's around, so it's nice to see ones done with some restraint.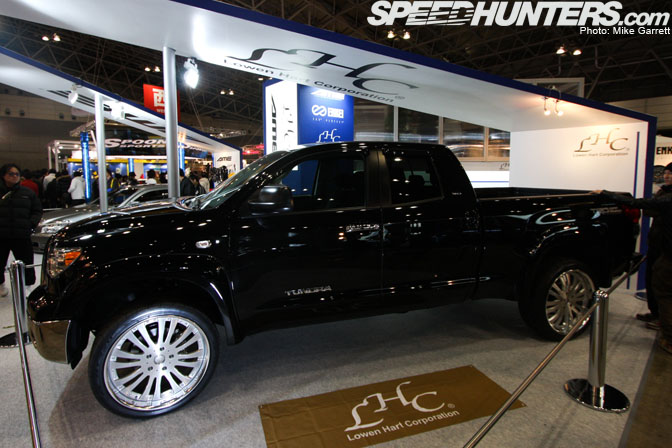 It may be wearing a Toyota badge, but this giant USDM Tundra pickup is about as foreign as it gets in Japan. Surprisingly, I have actually seen a few of these rolling around on the streets here. Toyota Japan doesn't sell them, so if people want one they have to go through a private importer.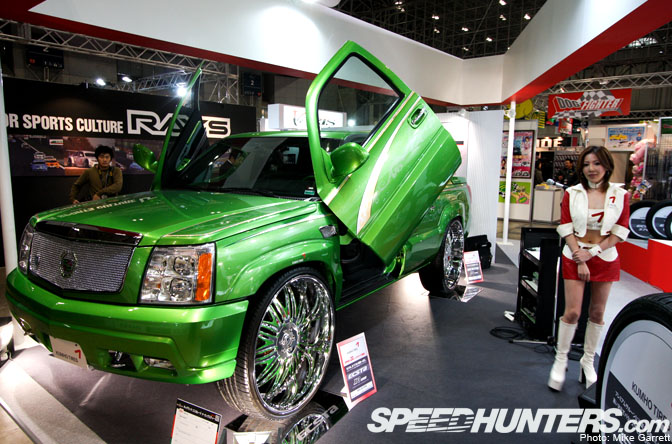 Continuing with the pickup trucks, I thought a made a wrong turn and wound up at SEMA when I saw this Escalade in the Kumho booth. Then I saw the campaign girl and remembered I was still in Japan. I have a bunch of big-rimmed Escalade features coming up on Speedhunters, so stay tuned.
Just kidding, I wanted to see if you're still paying attention!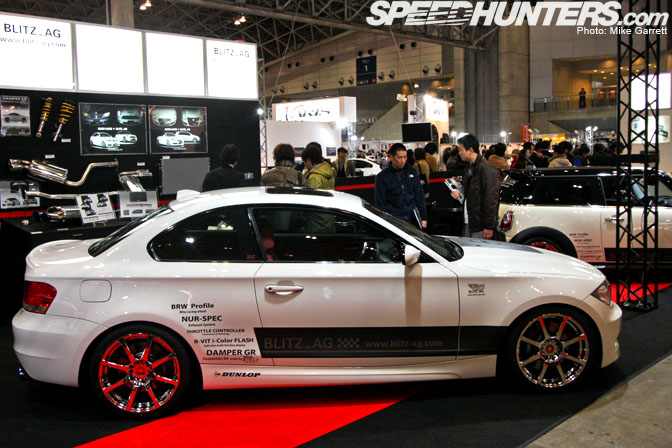 Another nice looking 135i here. This car is representing Blitz's AG line of Euro-specific tuning parts. Just another one of Japan's big names moving into the import market.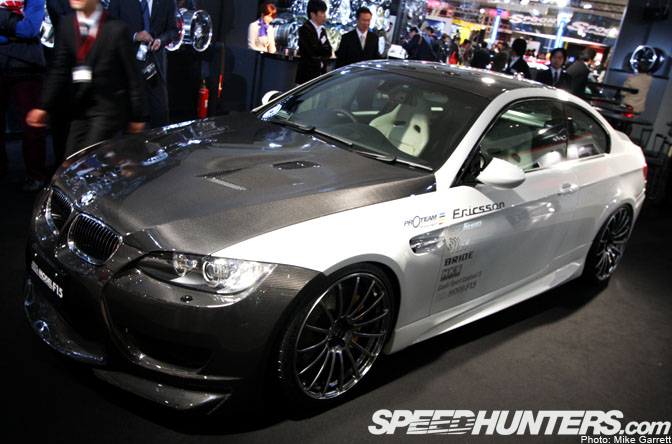 And finally, one of the coolest Bimmers at Auto Salon this year, the E92 M3 in the Advan Wheel booth. About half of the car's body panels are made from carbon fiber, but aesthetically,I thought the front bumper might look a bit better in white. Either way, the car still looks awesome.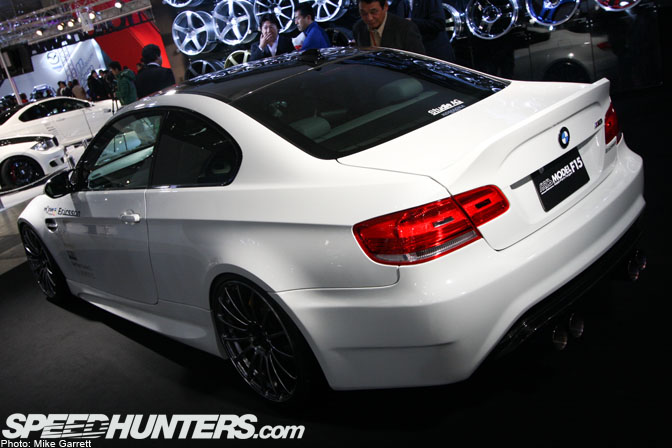 It looks great from the rear as well. The wheels are AVS Model 15's, one of Advan's new models for the year.
OK, that's it for now, I'll have a lot more foreign machines from Auto Salon very soon.
-Mike Garrett