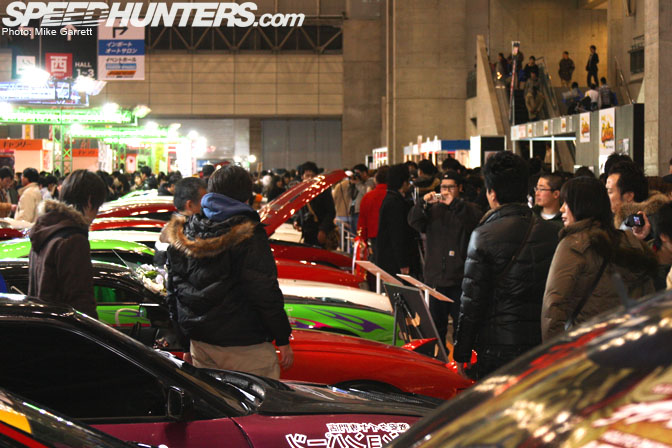 When it comes to covering the Japanese auto scene on the internet, you generally have a bit more "exclusivity" compared to US or European content. This is of course due the fact that Japan is located quite far from those areas, and that Japanese online auto media is pretty limited. Tokyo Auto Salon is a whole different ballgame though. Media from all over the world diverge on the Makuhari Messe to cover the show every year, and people who can't be there in person anxiously await for coverage to pop up online. Looking around the net a bit, there was Auto Salon coverage popping up before the event officially opened its doors!
I just got back from spending two full days at the show, and instead of trying to rush in and post up every "newsworthy" item from the show, I figured I'd start with some of my general impressions and some other random bits from this year's. I have about 2000 photos to sort through, and you can expect tons of depth coverage here on Speedhunters over the next few days. In fact, TAS coverage will likely dominate my posts for most of the next week.
Anyways, there is a LOT to cover so I'll jump right into it.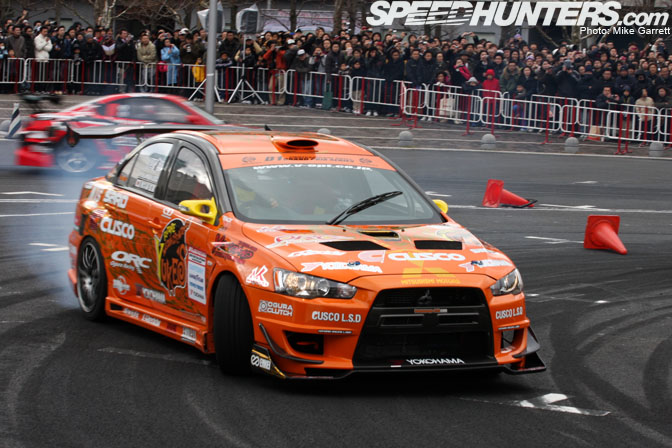 There were several highly anticipated cars that made their debut at TAS 2009. An early version of Nobushige Kumakubo's Evolution X drift car appeared at last year's show, but this year the completed car made its debut. The new car wasn't found under the lights inside the Makuhari Messe, but outside where Kumakubo drove it in the "D1GP Kickoff Demo Run". The car looked great for still being in shakedown mode.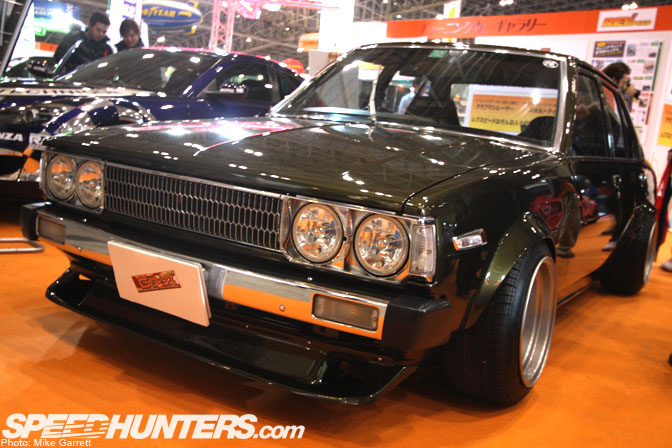 Their couldn't be a better example of the "simple Is best" train of thought than this nana maru Corolla that was part of the G-Works Magazine display. I found myself coming back to this car over and over to admire its immaculate finish, perfect stance, and of course its RS Watanabe wheels that write the book on fitment. This is "Works" style at its best. More on this car later.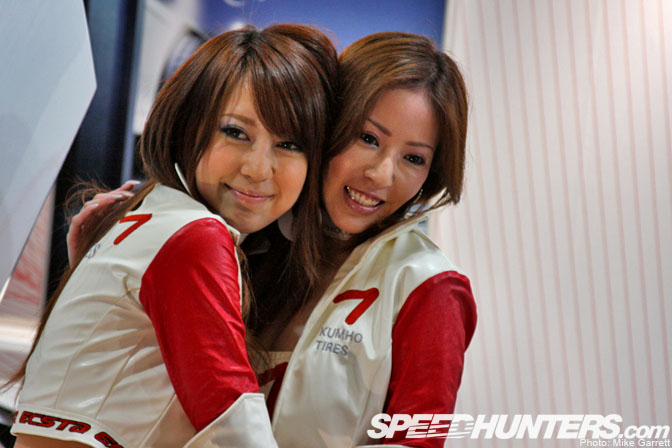 For better or for worse, there are a lot of people that come to Tokyo Auto Salon JUST for this. A little strange, but I guess sometimes you can't blame them…
I should have a couple posts worth of just girls from TAS. Just hope that the wife doesn't read them…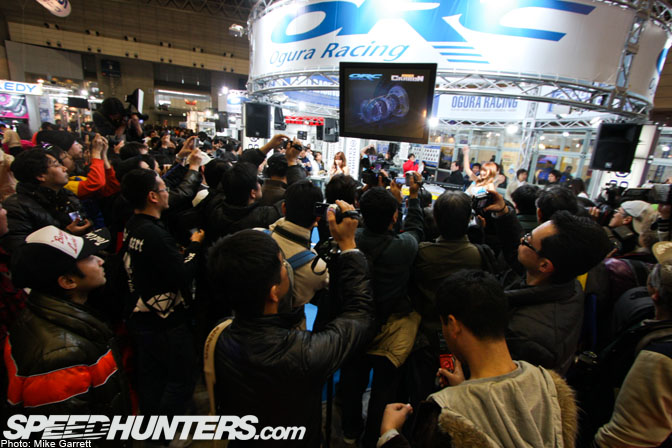 If you want to take photos of the campaign girls on Saturday and Sunday, you'd better be prepared to stand REALLY close to a bunch of other guys who are trying to do the same. You'll see them using everything from cheap cell phones to SLR cameras that have full studio lighting attached to them. It's a bit ridiculous when you think about it.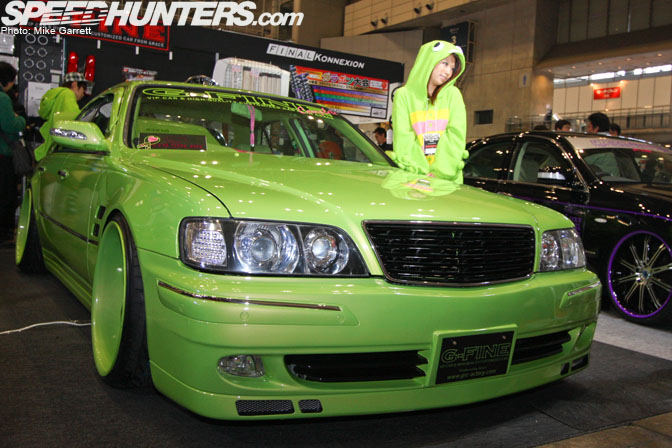 Speaking of campaign gals, my award for "best outfits" goes to G-Fine. More on the girls, and the matching Y33 Cima soon.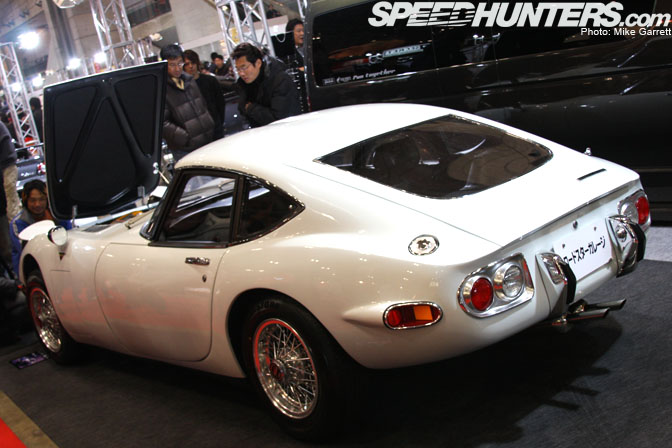 The look on people's faces was pretty funny when they saw what looked to be a Toyota 2000GT powered by a Nissan RB26. Turns out the car is not a real 2000GT, but a conversion kit built on an S30 Nissan Z chassis. While on the subject of conversions, this year's show seemed to have a larger number of them than normal.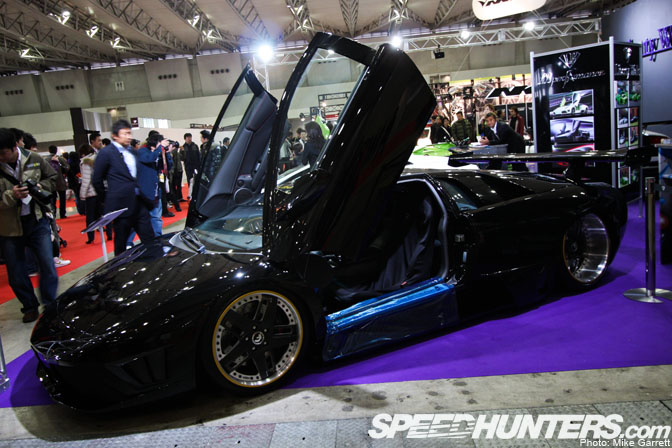 I consider my personal automotive tastes to be rather traditional and simple, but sometimes I can't help but like the over-the-top, extravagant stuff. For example, this airbagged Lamborghini Murcielago in the Liberty Walk booth. One of the new additions to this year's Auto Salon was a separate hall just from import car displays like this one.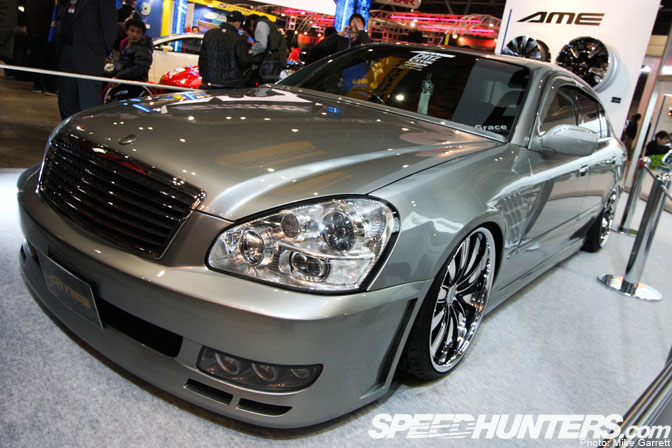 Tokyo Auto Salon wouldn't be complete without  VIP sedans like this F50 Nissan Cima in the AME booth. I'll be highlighting this year's VIP offerings in a separate post.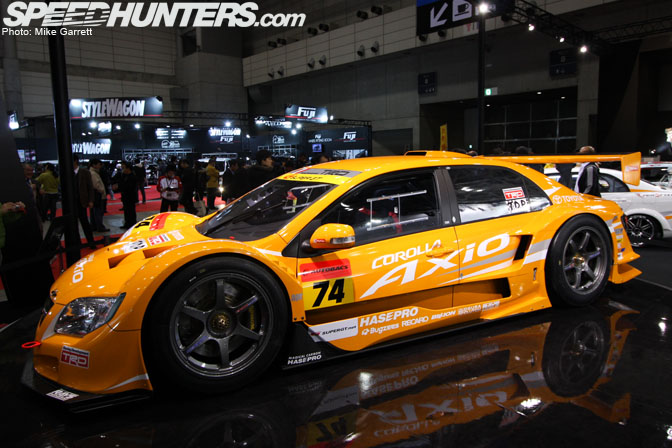 I wasn't expecting much from Toyota's booth at the show, but I was pleased to find this 2009 Super GT-spec Corolla Axio on display. It seems that as each year passes, Super GT cars become even more separated from their street-going counterparts. Actually, to even call the normal Axio a "counterpart" to this race car is a pretty big stretch.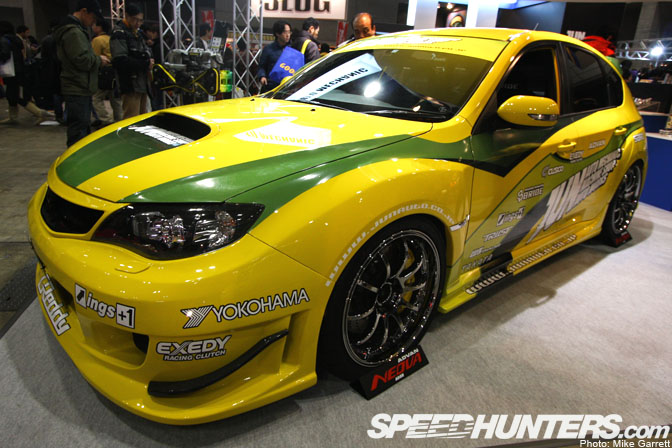 One of the big parts of Tokyo Auto Salon is seeing the tuned versions of all the new model cars. 2009 wasn't this first TAS with new Imprezas on display, but this JUN-tuned version really caught my eye. There were tons of tuned Z34 Fairlady's, GT-R's, Evo X's, IS-F's and other recent models at this year's show.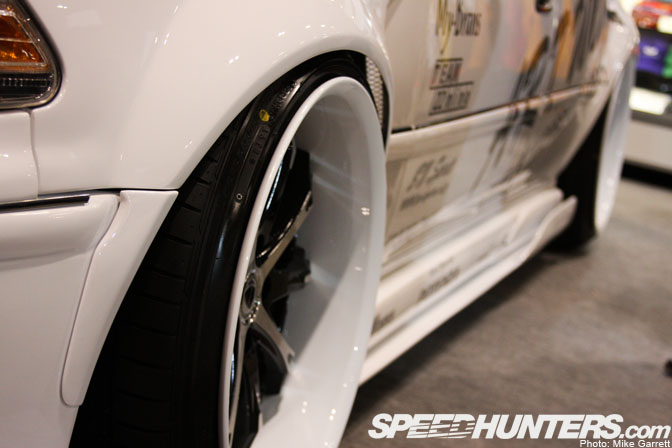 And lastly, the obligatory aggressive wheel fitment shot. Yep, that's the front wheel in the foreground.
Alright, time to start going through the rest of my TAS '09 photos. Stay tuned for LOTS more very soon.
-Mike Garrett