Last night after waiting in line for an hour at The Boiling Crab in Alhambra CA (extremely worth the wait, BTW), I decided to meet up with my friends to check out this Miata meet in the City of Industry. My friend Paul from OC (the owner of a super cool white Miata with excellent stance) told me I should go, as there were all sorts of people talking on the Miata forum about how they'd be slamming their cars super low just for this meet. Low cars? I'm in. After all, it's Mazda Month… let's check it out.
When we arrived at the parking lot of Krispy Kreme on Azusa Ave, there were quite a few Miatas there… but to be honest, only the lowest, best stance-having cars caught my eye. I decided not to post pictures of those ones, as I've arranged to shoot photos of them for a future car spotlight on Speedhunters. I suppose when there are so many Miatas in one place, it's survival of the fittest – only the meanest ones stand out. While I honestly didn't care for every single car I saw, I'll point out some of the things I liked.
I liked the styling on this red Miata above. The silver Momo Prototipo steering wheel, black hardtop and front chin spoiler looked cool. I also think the aftermarket mirrors and the bumper vent are nice accessories. I think it might look nice to color coordinate these items though, I think black vents might look cooler on this Miata, since it would match the chin spoiler and hardtop, but the red looks nice enough. I like the addition of the round Japanese sidemarker on the fender, and the "Roadster Club of Japan" sticker. All in all, this car has all the makings of a very stylish Miata. Don't you guys think so? Ah, if only those were RS Watanabe wheels…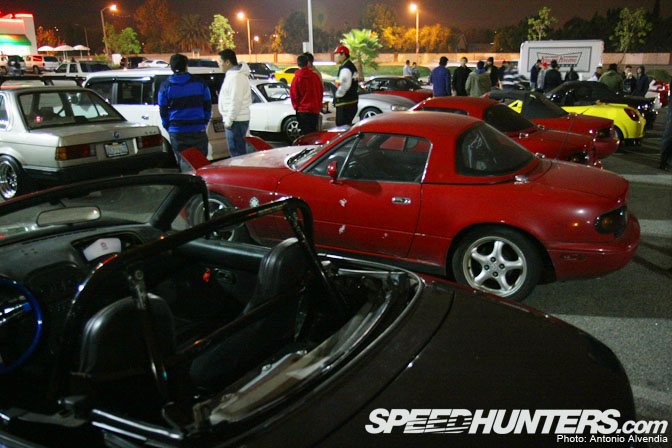 There was a good amount of Miatas gathered in the parking lot. It was cool to see so many of them out at the meet. In fact, some of the friends I came with began thinking of cool wheels and other accessories that we'd like to put on a Miata if we owned one… and we even began thinking, "hey, Miatas are kinda cheap now. Maybe one of us should get one just to put cool 4×100 wheels on it and have fun autocrossing or something…" But then reality set in, and we realized that we all have too many personal project cars as it is. Maybe someday…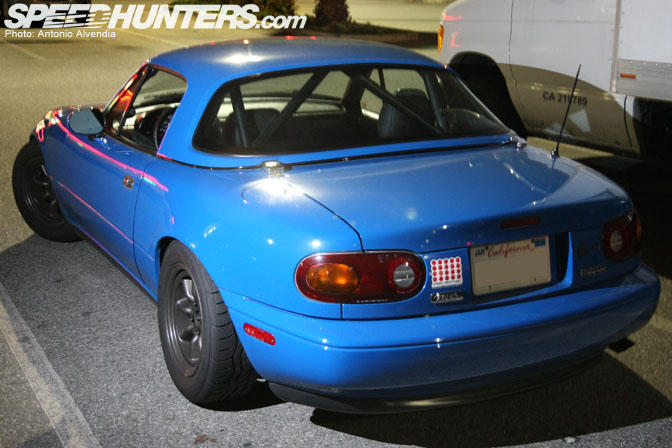 I liked this "Nos blue" Miata. Sure, it didn't have ridiculous offset wheels, but what I admire about this car is the fact that it's functional, clean, and track ready. I see the Speed Ventures sticker on the back of the car… that combined with the rollbar and the Falken Azenis tires makes me think that this car sees a good amount of racetrack action. That's great! That's exactly what makes Miatas fun…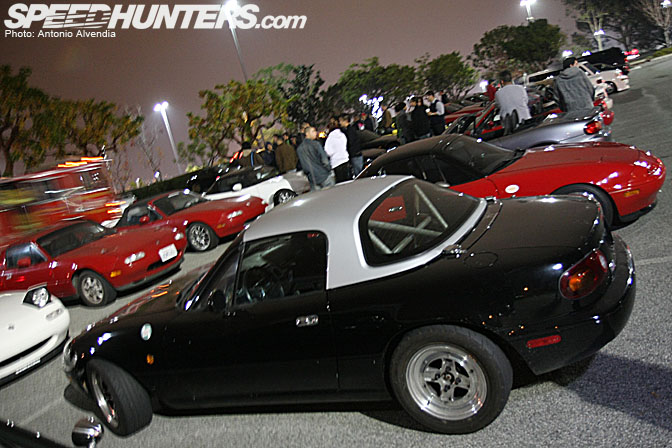 I appreciated the SSR Mark II wheels and the matching silver hardtop and rollcage on this Miata. I think if I owned a Miata, mine would look a bit closer to this one, in terms of styling.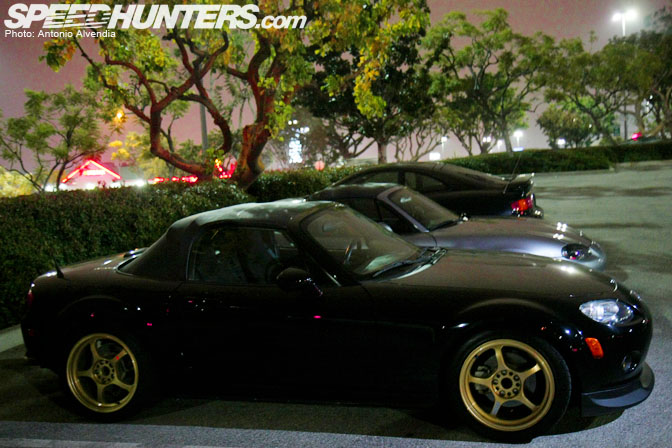 Here's a new MX-5, with what looks to be Rays Gram Lights wheels on it. I haven't really looked at the new MX-5s closely, but they look to be a very nicely done rendition of the original MX-5 Miata, but of course with updated suspension, brakes and engine. I'd love to test drive one of these cars sometime! I bet it would be great for autocross. Isn't that what Miatas are made for, anyway?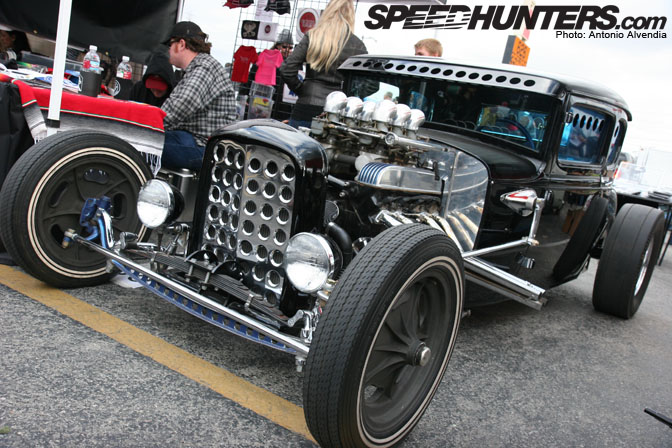 Here's an NB Miata, just to see some of the different generations that were there at the meet.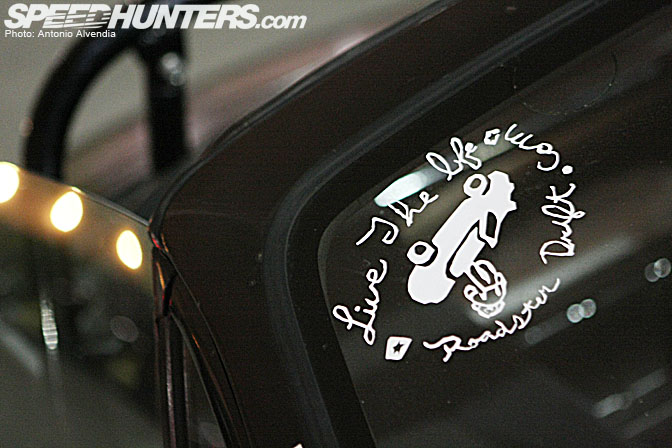 I liked this sticker on the upper corner of one of the Miatas' windshields. This is just a small glimpse into Miata lifestyle…
-Antonio Alvendia