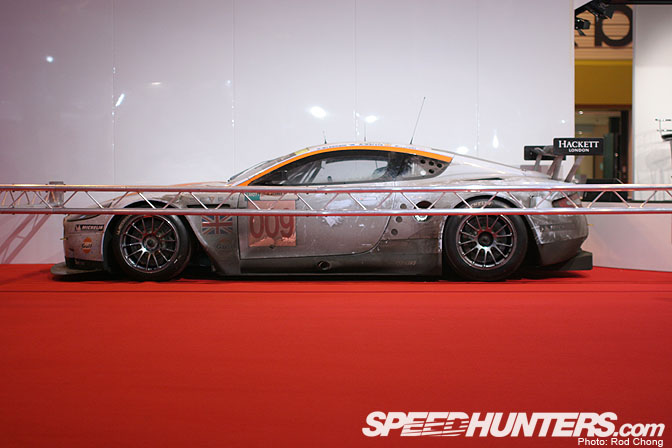 I was planning to spend the day out in London, to do a bit of car spotting with my camera, but it was just too cold to contemplate staying outdoors… So I'm back at my lodgings wrapped up under a blanket banging out some blog posts. Let's get started….
Aston Martin 009 is the car that took the 2008 GT1 class victory at Le Mans, and Pro Drive appears to have left the grime from the race on the car…. even six months after the fact! I wonder if they sprayed some sealant on the car to maintain this look… :>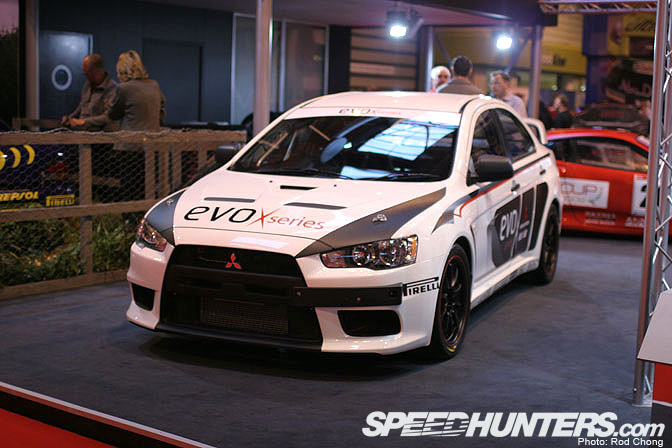 On the Pirelli stand was this EvoX spec series race car…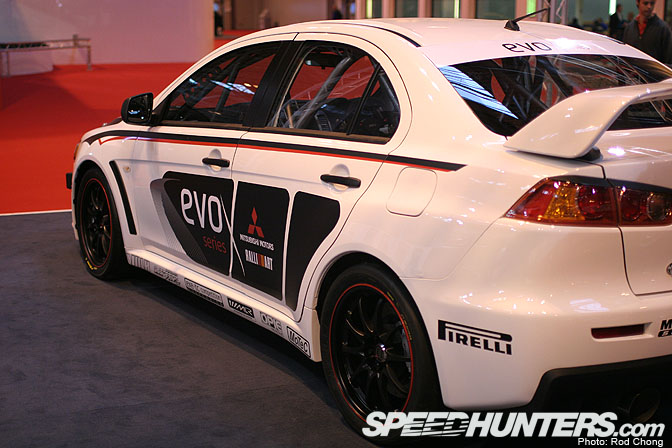 Mitsubishi seem to be quite serious about getting the EvoX into motorsports in various capacities…. It will be interesting to see if this series captures the imagination of Japanese car fans in the UK.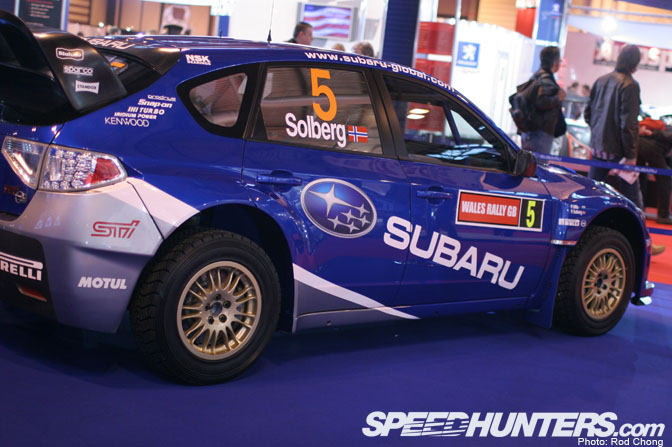 Although they just pulled out of the WRC, Subaru had a large Rally presence at the show. I'm not totally sure what they were trying to achieve with this though… Not the less, it was great to see Solberg's car in the flesh. I like the body kit quite a lot.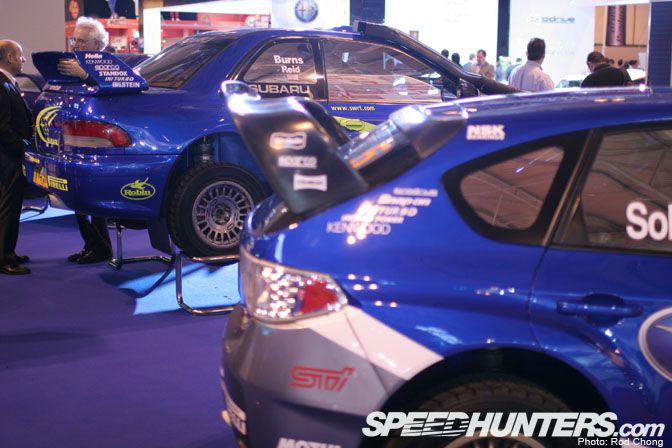 Subaru were also showing this Richard Burns WRC machine too…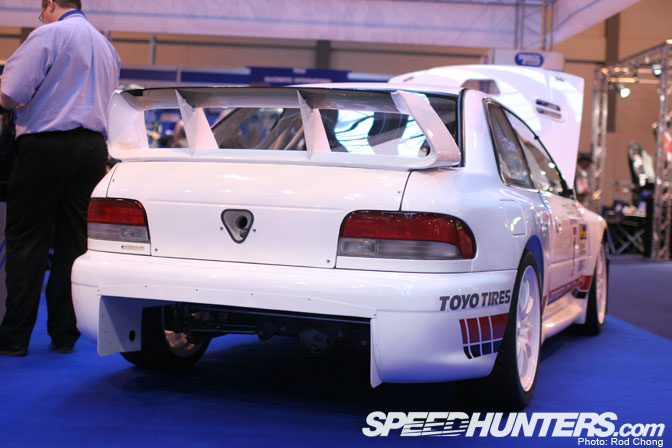 …It was interesting to compare this car to the Time Attack Series winning Roger Clark Imprezza…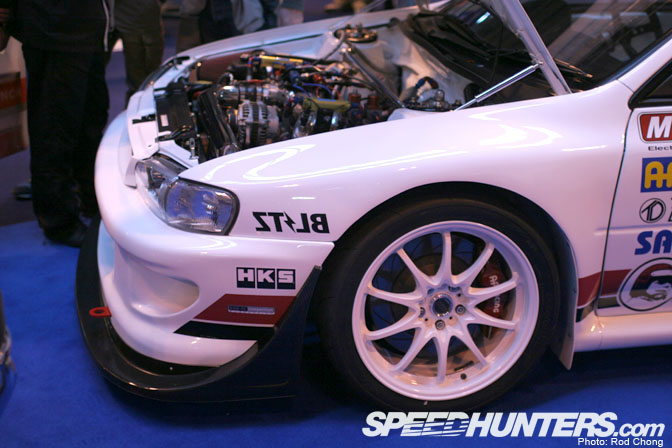 It's amazing just how clean and purposeful this car is…. If you compare to the fastest Japanese Time attack cars there isn't much focus on downforce. I'm told that the driver, Ollie Clark likes the car to move around a lot….  We'll see how if this works for them next year.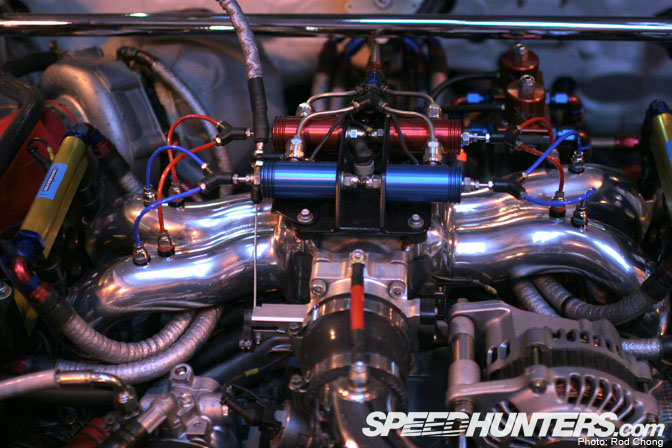 The engine is absolutely pristine…. This is UK racing tech at it's best!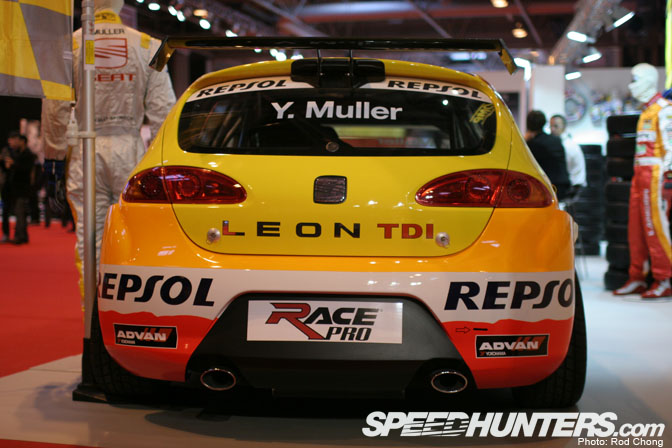 For those who think that Demon Camber has no benefit, other than to increase tire sales, check the angle on Yvan Mullers WTCC Championship winning Seat. I highly doubt the team has done this for style purposes!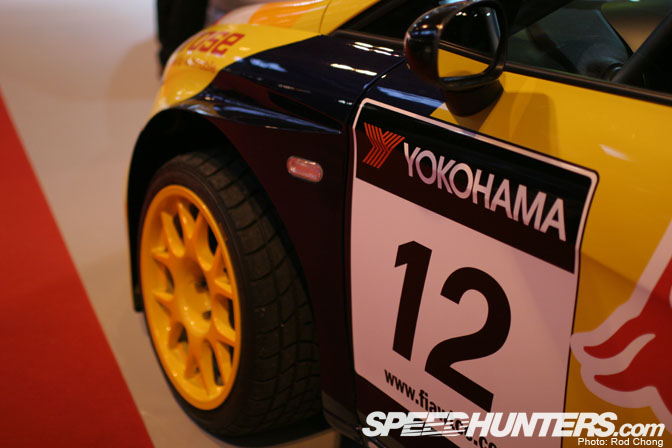 Bonus points have to be subtracted for wheel fitment though. For some reason, all the current crop of touring cars have a lot of air between the top of the tire and the wheel arch. Why I don't know… Perhaps it's a technique to extract the air from the wheel arches.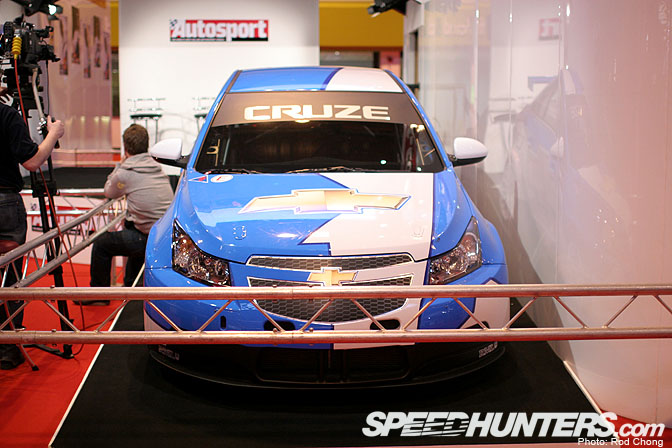 The Autosport show was the first time I laid eyes on the new Chevrolet world touring car: the Cruze… The car looks almost NASCAR-esque with its painted on grill.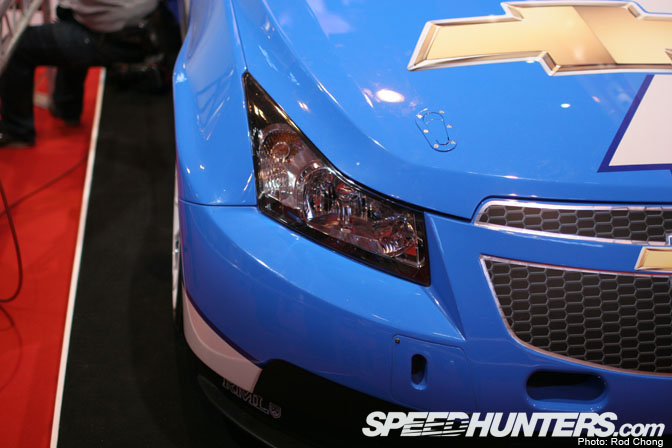 …. but still there is a certain aggression to the front of the car which you have to appreciate…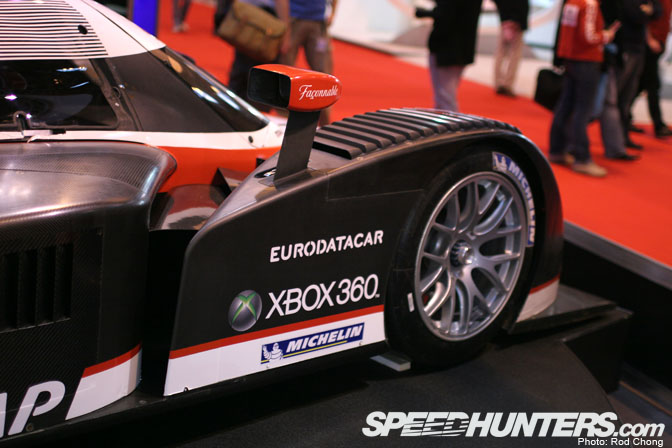 Ahh yeeesss…. some Le Mans Prototype action….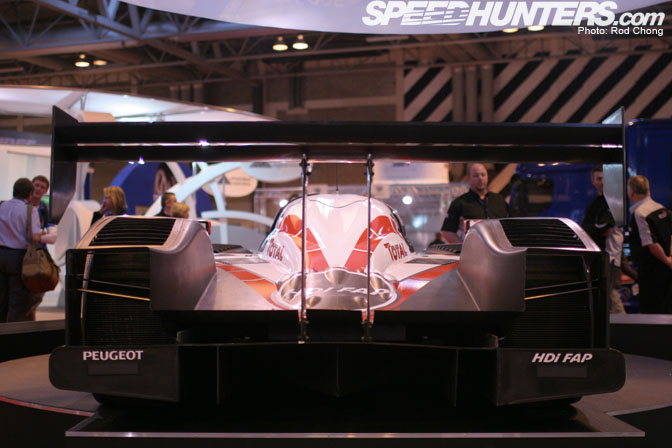 I have a soft spot for these spectacular cars…… Anything super low and super wide gets my vote!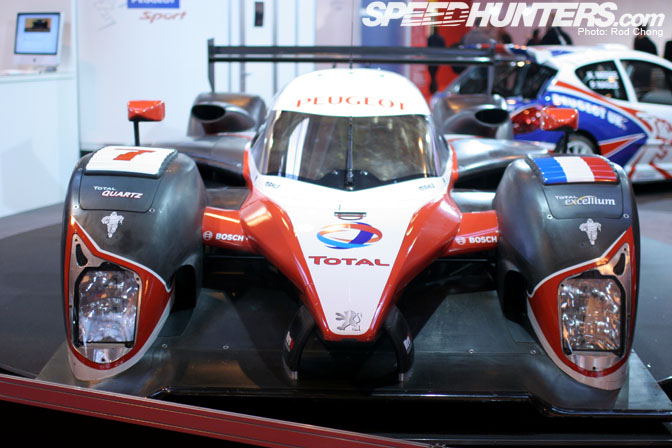 With each passing year, Formula 1 seems to be getting closer and closer to becoming a spec series, so it's sports cars that are flying the mantle for high tech, design innovation in racing these days….. this thing looks like a fighter jet.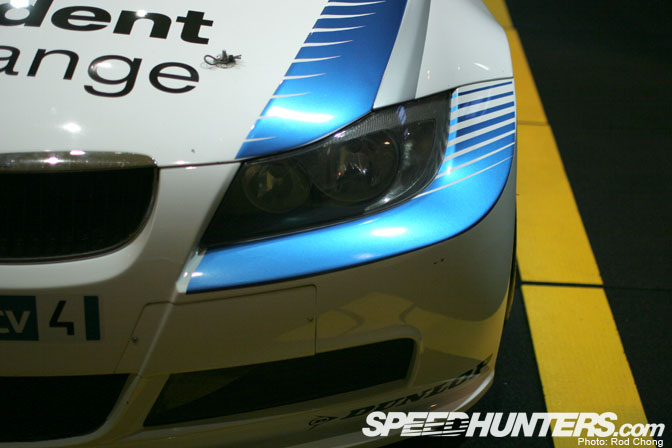 The wide body addition to this BMW WTCC car has a great effect.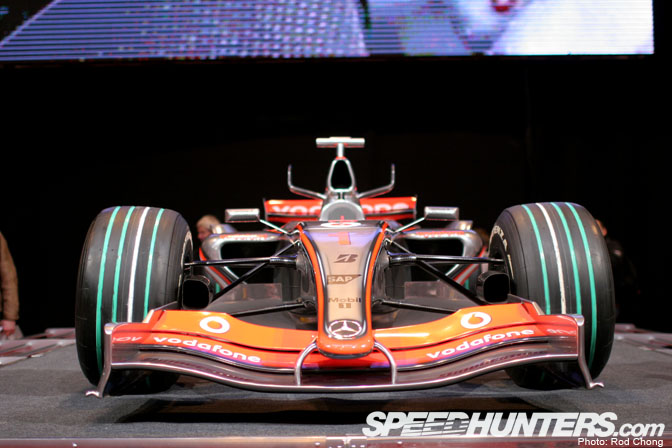 Lewis Hamilton's McLaren was shown on a raised platform which allowed people to really get up close and personal with the car. I'll show a complete photographic essay soon…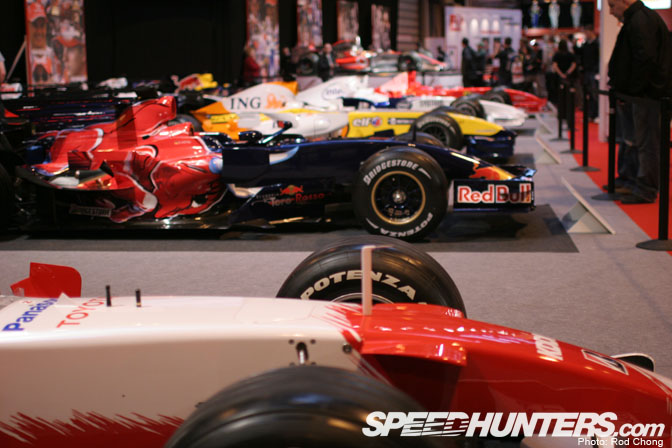 This is the edge of all human aerodynamic knowledge as we know it….. an interesting thought….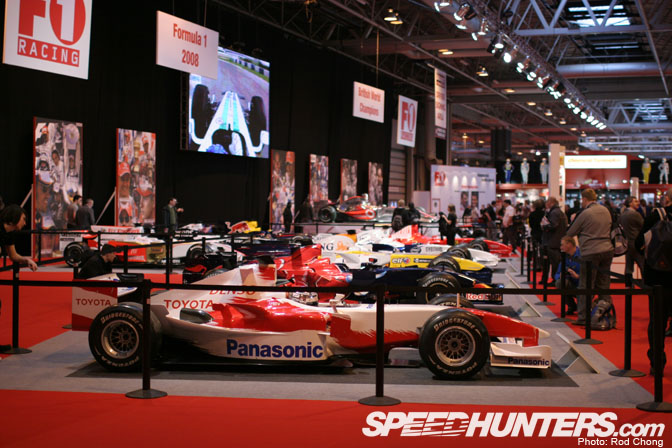 I'm glad I was at the show during the industry only days… I highly doubt it would have been possible to take this shot on the two public weekend days.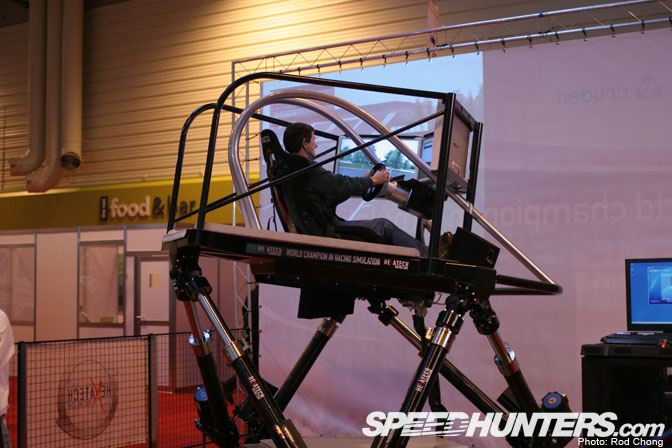 Check out this crazy gaming rig….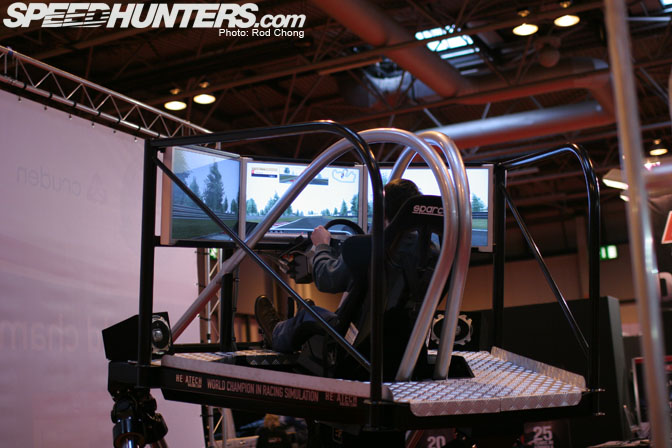 I didn't recognize the simulation software but it looked to be F1 based.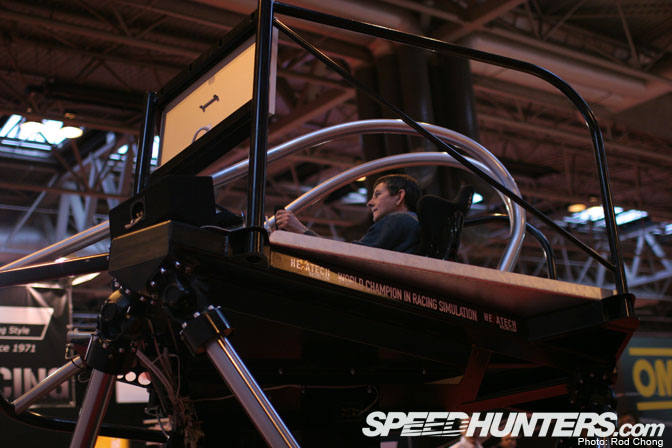 It's probably the closest thing to a g-force replication of a virtual driving experience….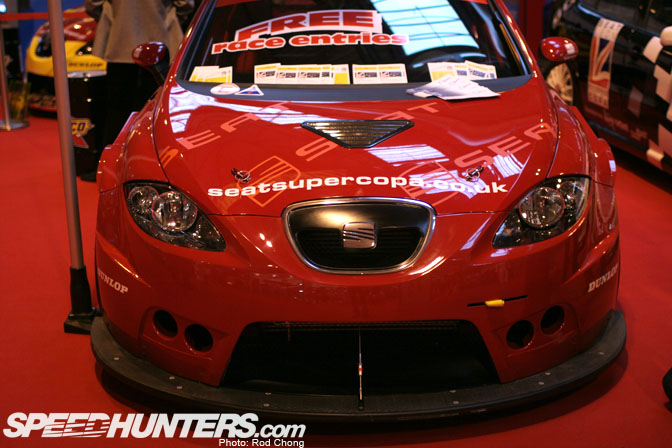 I like the style of this Seat spec racer…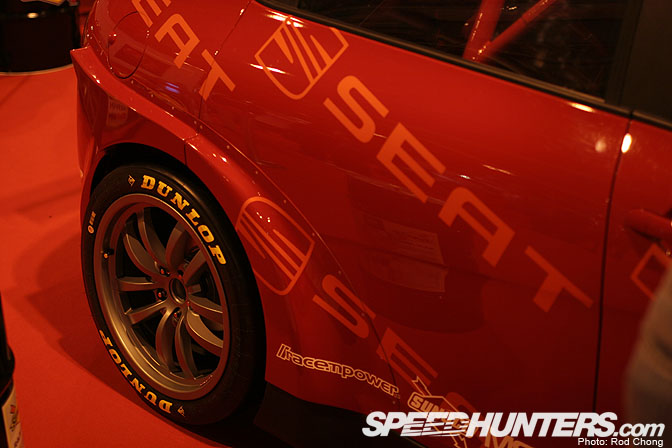 It had some interesting body kit ideas…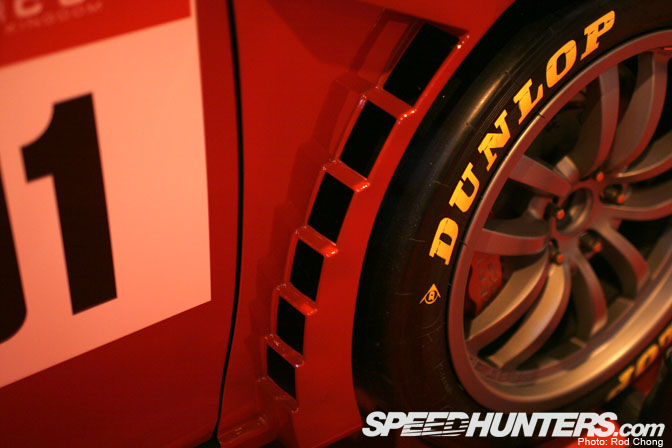 … look at the details on the front fender flares. Tres froid.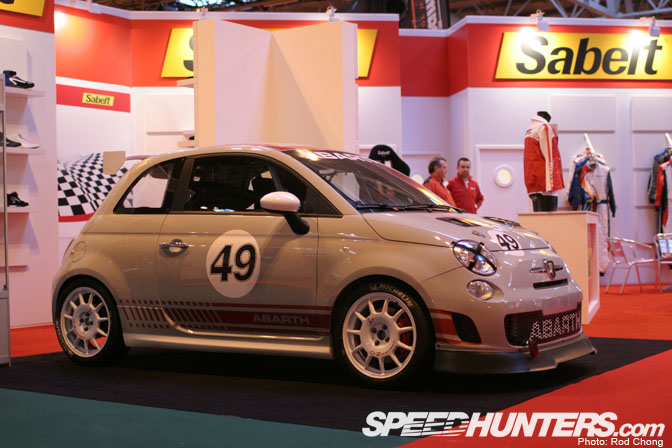 I've noticed quite a few of these new Fiat 500s driving around London… I absolutely love them!… the Abarth version is double-plus good.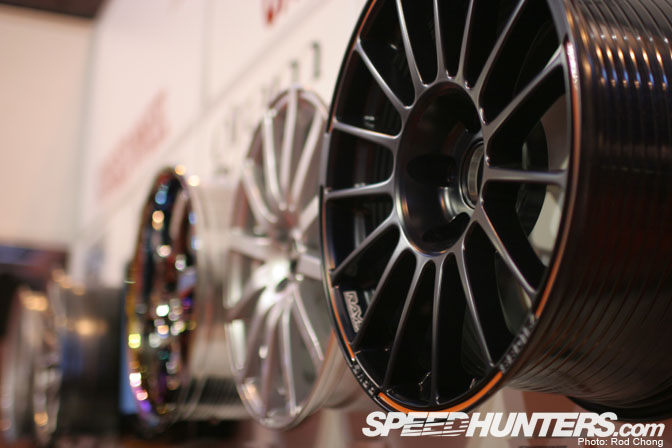 Rays had a big selection of rims on display.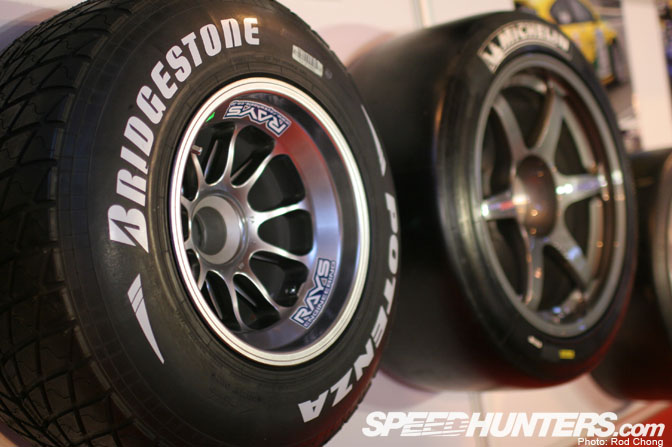 Except of course they also had their F1 wheels on show too…. Cool tie from JDM culture to European racing…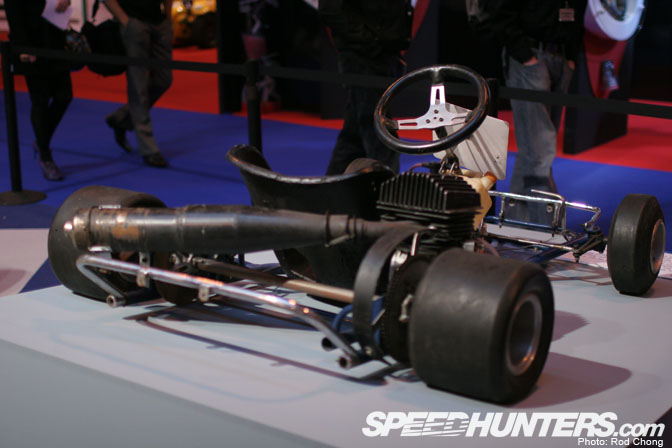 This is David Couthard's first gocart…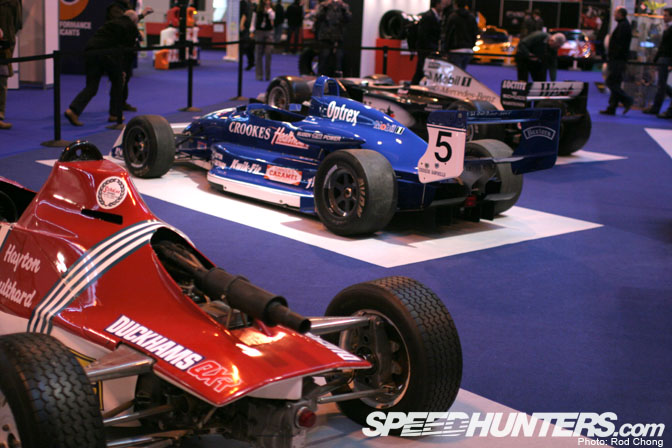 …It formed part of a special display of the various race cars he piloted in his career.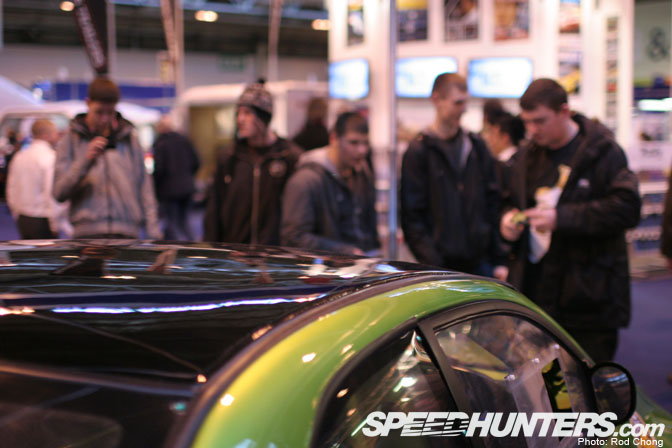 Meanwhile back at the Time Attack/EDC booth, people were staring in disbelief at the Norris Designs SWB Evo9. It was fun watching people's reaction to the car…. There were a lot of motorsports/engineering students at the show and these young guys seemed attracted to the turbo like a moths to light…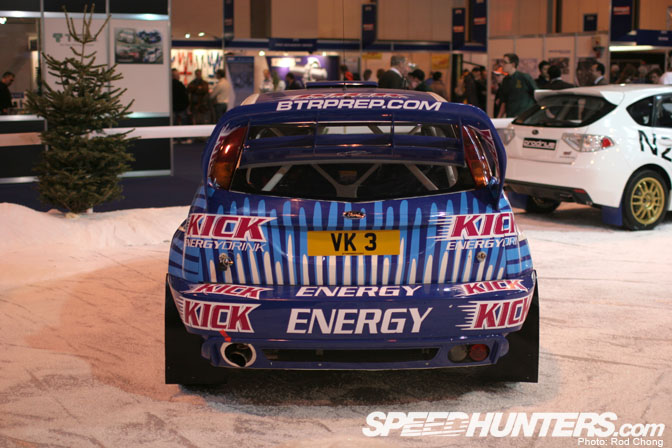 The Autosport organizers also put together a special display of rally cars…. this first gen Ford Focus WRC was cool enough…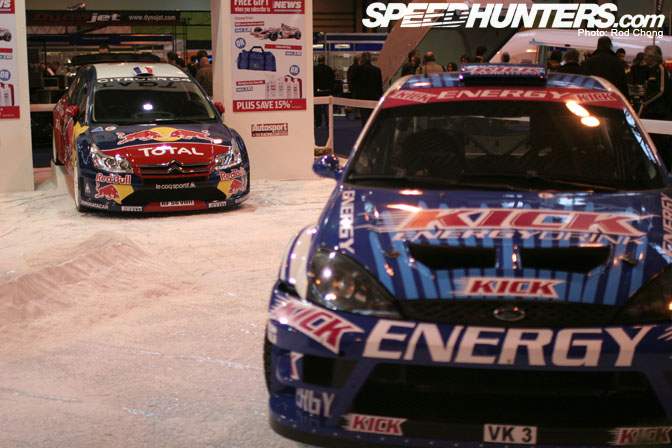 ….but it didn't have the star quality of Sebastian Loeb's C4 WRC Championship winner.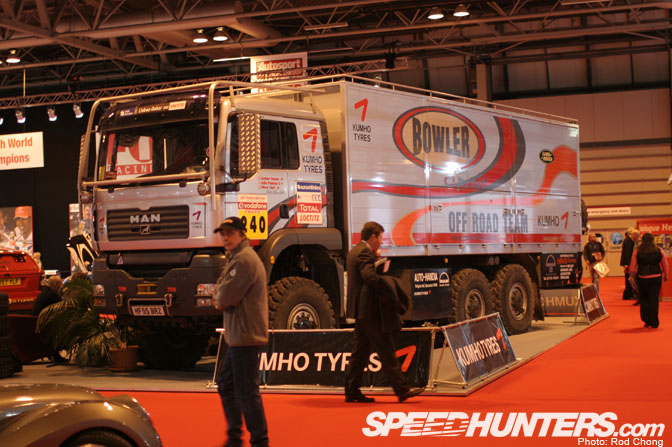 Are you guys all following the Dakar rally?…  This Dakar spec truck seemed to take up half the hall… I had to stand well back to get it all in shot…. I can't imagine what it would be like to see one of these monstrous machines scaling a sand dune!
Ok back to drooling at Mike's Tokyo Auto Salon photos…. :>
:R