This past Sunday, I visited the 60th Grand National Roadster Show, which was held at Pomona Fairplex. I thought it was really interesting to revisit the famous Fairplex for a hot rod show. I'm a total newbie to hot rod shows, as this was only the second hot rod show I've ever been to (the first one being the 2008 Mooneyes Christmas Party at Irwindale). That may sound funny to most of you; to be honest, I kind of felt like a fish out of water. I've spent the past 10 years of my life (sheesh! gettin old!) going to racing events and car shows in several countries that focused on Japanese cars. I've had the pleasure of meeting so many people at car events over the years – no wonder I know almost everyone at Japanese car events.
Going to the GNR show this past weekend was a very cool experience. It gave me the opportunity to reset myself; it put me in a new realm where I didn't know everyone. Instead, I was able to just walk around the show by myself and stop to examine any car that captured my attention. I have to admit, I greatly underestimated the size of this show! Rod told me that it was one of the oldest and most respected hot rod shows around, but for some reason it just didn't sink in – stupid me! The GNR hot rod show was held over the course of three days, however I attended the show on Sunday only because I was tied up with other work. (Thanks to Thom Taylor for approving my last minute credential request, and thanks to Christian and Alex at Socal Speedshop for texting me his contact info after the show's Google link went bad!)
There were sooo many cars in the halls of the Grand National Roadster show; much more than I expected. I think there were five or six halls filled with cars, and I only made it through TWO of the halls because there was so much to look at! No wonder it's a three day show! You need to keep going back every day so that you can see all the different sections!
In our leader photo, this roadster stood out to me, perched above some incredible looking pieces of machined metal. I normally don't like roadsters, hot rods or muscle cars that are built up with "new technology parts," but I really liked this one. Perhaps it's the styling of the car – I definitely love the look of the wheel faces and the knockoffs; I like the silver stripe going down one side of the hood; I like the quality of that glimmering black paint job, and I love the leather belt straps holding down the hood down. It almost makes me overlook the modern technology tires (Bonus points – Can any of you readers name the tire brand and model of these tires, just by looking at the tread?), threaded coilover suspension, and big brakes. I'm sure these things make the car a hell of a lot safer, and easier to drive at high speeds! I'd just prefer the older, period correct look if I personally owned a roadster. What do you guys think?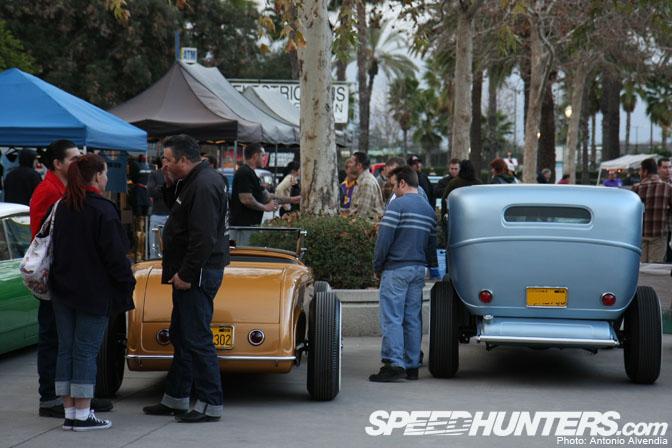 See the amber metallic-colored roadster in this picture, with the old school white wall tires? I absolutely LOVE this style, but I'd want the car to sit a lot lower if it were my car – so low and inconvenient that I'd need to plan out a driving route to avoid speedbumps and steep driveways. The more exagerrated and difficult it is to drive in real life, the cooler the car looks! Of course, I wouldn't dare drive something like this on the daily. So damn cool though.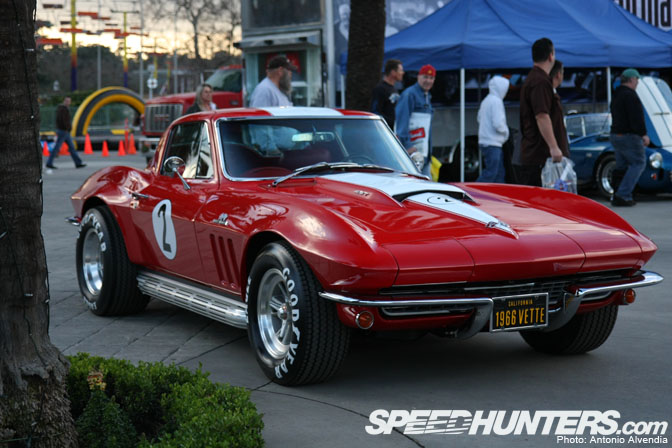 I was jocking the hell out of this 1966 Corvette!!! Damn it! I think a car like this would be soo incredibly awesome to drive on city streets! I don't even need to prove its might at a racetrack; I'd be perfectly content just driving it to In-n-Out or Mel's Diner or something. Or just imagine cruising PCH (Pacific Coast Highway) with this Vette!!! Damn it! So gorgeous! I hope to meet this car again.
Speaking of meetings, while I was admiring this Vette, I had the pleasure of meeting photographer Jae Bueno and his wife. Here I go name dropping again, haha. I don't care. It was really cool to meet people from this side of the industry. He somehow spotted me (don't even know how he knew what I looked like) and came up to say hi. Jae has been shooting hot rods and lowriders for a while, but he insists his wife shoots better than he does! Anyway, check out his recent shoot in the newest issue of Lowrider Magazine. I love meeting good peeps like them.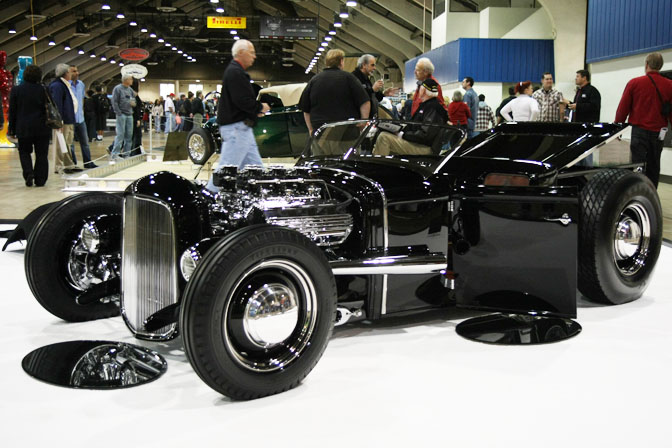 Now THAT is a paint job! Look how insanely glossy this roadster looks! This car's super wet look, mirror glazed finish is crazy! I hope he's sponsored by a car care company or something. I'd definitely buy whatever this guy is using to keep his paint looking ridiculously gorgeous.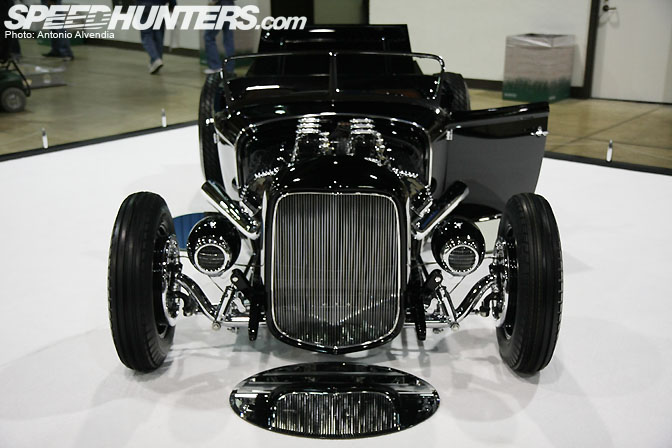 Seriously, I don't know who detailed this car, but I'm sold. You could lick this car, it's so clean. I would do it, too. I wonder if this car ever gets driven on the street.
On another note, look at those headlights – they looks very interesting!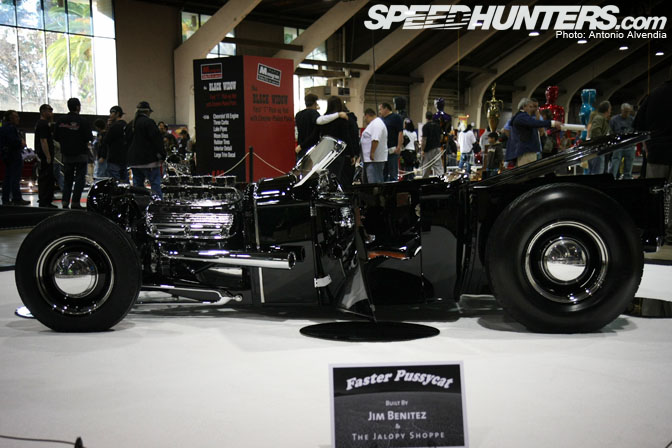 Here's a side view of the same roadster, so you can see just how low it is. Cool name too… Faster Pussycat.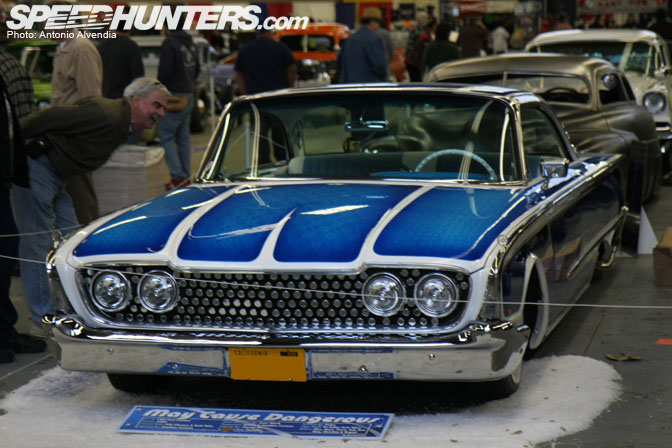 Can you imagine just how much blocking and masking work went into this intricate paint job? Just check the details on the blue paint, and how cleanly the blue and white blocked off areas were done.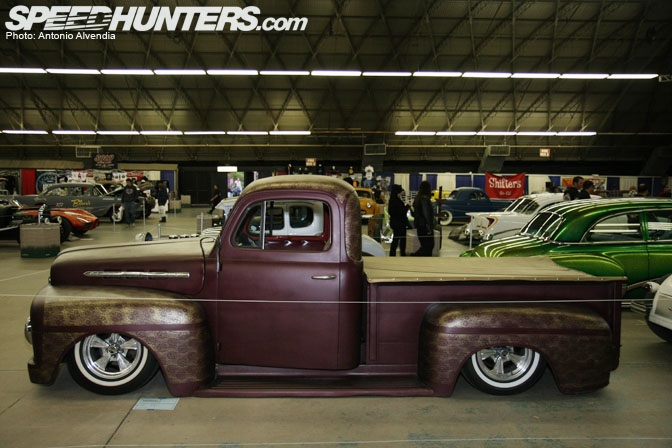 This may look familiar to some people. I shot photos of this exact same truck at the Mooneyes Christmas Party in December. This time, I'd like to point out the wheels and tires. Pretty cool don't you think? It's like a real life Hot Wheels truck, in full size.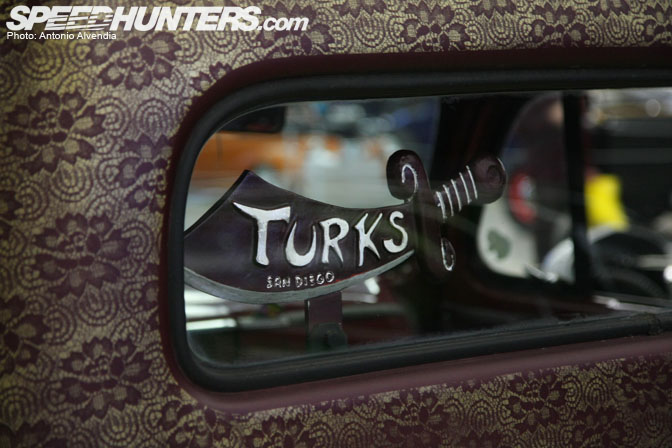 Last time I posted pics of this truck, I admired the detailed "stencil look" of this paint job, and our friend Christian Mejia from Socal Speedshop explained (in the comments section) that people take a lace dress/fabric and spray over it to get this effect. (Hm, I wonder if anyone is gonna try this technique on a drift car? All Star Bash drivers, anyone interested? I think it would look interesting!) However, I just wanted to point out how cleanly the window area was masked off, with the burgundy border going around the whole window. Skill.
On another note, there were lots of cars from the Turks car crew in the show… and I think this name plaque shaped like a scimitar (sword) is cool as hell!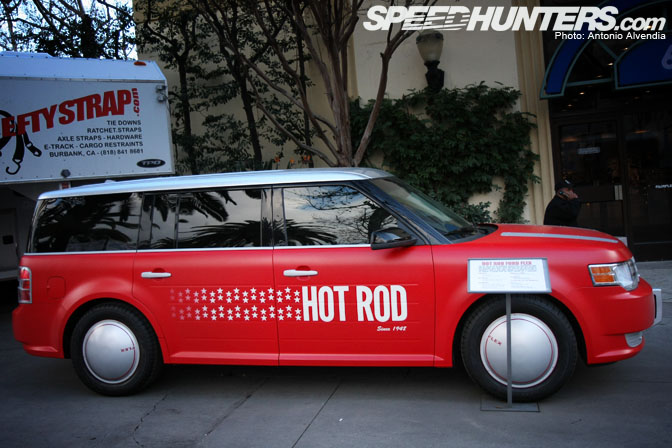 Ya know, I had to rewrite this entire blog post because just as I finished it, for some reason my browser went dead when I hit "save" and none of the updates were saved. Sigh. Anyway, I just wanted to point out this Ford Flex suv/car/crossover. While the Flex might not be a car you'd normally expect to see on Speedhunters, I saw one in person a few months back, and I think it's pretty interesting.
The outside looks Range Rover-esque, but it's more like a car than a SUV… maybe Ford's answer to the newest generation Scion XB. However, in my opinion, the Flex has cooler interior fabric than the XB, and it's cool that there's an optional drink cooler available in the back seat! (Well, don't be too impressed… Toyota Hi Ace vans had optional icemakers even way back in 1983 or 1984. Toyota FTW!)
Anyway, here's Hot Rod Magazine's take on a Flex. While I'm rapidly getting tired of seeing flat paint on new cars, I really dig their theme. It's reminiscent of the Hot Rod Magazine project cars in the days of old, and I absolutely love the side panel graphics. Classy and well done! Interesting also is the Moon disc style hubcaps, which give it a sort of Bonneville look… I thought it was cool to see a Flex done up like this, as most people who would customize a Flex would most likely put Dubs on it.
Stay tuned to Speedhunters for more photos from the Grand National Roadster hot rod Show!
-Antonio Alvendia