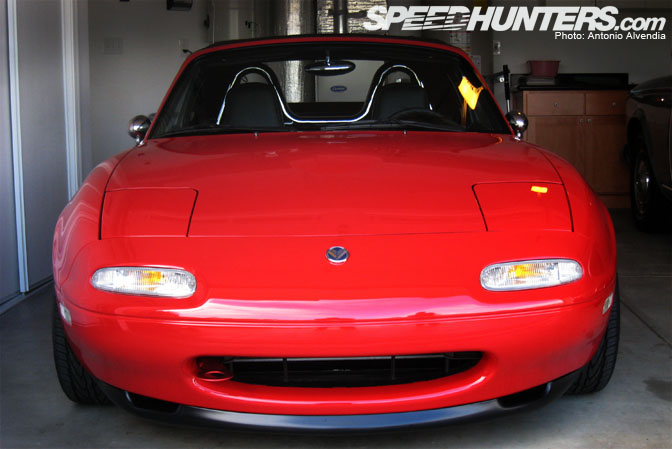 Over the past few weeks, we've been featuring a lot of Miatas on Speedhunters… A LOT. In fact, I personally have been featuring a lot more Miatas than I originally thought I would. Since our Mazda month is approaching its end, I just wanted to put these photos up for everyone to see. These photos aren't what one might expect out of one of my normal photo shoots – I didn't shoot it them with my digital SLR, I just shot these snapshots real quick several years ago with my Canon SD800 IS pocket camera; these pics were just taken so I'd remember what the car looked like. I really wanted to do a proper shoot with this car, since I've been admiring the style and cleanliness of this same exact car since 1995… but I just couldn't reach the owner of the car this month unfortunately.
The NA6 Miata in the above photo belongs to a guy named Ricky Silverio. Ricky is the original owner of this gorgeous, mint condition NA6 Miata, and a die hard Miata enthusiast (the word enthusiast is an understatement, trust me) from the San Francisco Bay Area. Old schoolers from the Bay Area might know Ricky from some of the other cars he's owned… TA21 Toyota Celica, TE27 Corolla Levin, SW20 Mr2 Turbo, FC3S RX7, EG6 Civic Si, Toyota 2000GT, Lexus IS300, Toyota Tacoma… oh wait. Did you catch that? Yup, you read it correctly. I said Toyota 2000GT – nowadays, it sleeps in a museum; but let's not get sidetracked though. Back to the Miata…
Look how clean it looks as it sits in the garage. Ladies and gentlemen, that is ORIGINAL PAINT you're looking at. Yet it's shinier than the forehead on the guy who cooks the french fries at your local McDonald's. Yup, the name Silverio is pretty much synonymous with the words CLEAN CAR.
I think this Miata looks great. From the overall look to the details, it's classy yet not too blingy. It reminds me of a near-original Eunos Roadster that one may see cruising the streets of Japan… but I've never seen an MX-5 Roadster in Japan that is as cleanly detailed as Ricky's Miata. Those who know him personally will agree… this car is always, always kept extremely clean. It has gone through many phases over the past 10 or more years – it went from having white racing stripes, a Greddy turbo kit, Sparco seats and Racing Sparco NS-II Speeder wheels when Rodney Wills featured it in TMR Magazine… to all red with chrome accents trims when RJ De Vera featured it in Super Street. Then it underwent some style transformations again, going all Mazdaspeed, with Mazdaspeed seats, steering wheel, and lap timer… then all RS Watanabe, with 3-piece Watanabe wheels and then one piece Watanabe wheels later on. In the past, this car has been like a rotating fashion display that you'd see in a department store. It always had the coolest wheels –  RS Watanabe, SSR Mk3 R, Heroes Racing, SSR Schumachers, you name it. If the wheels were super cool and 4×100, chances are, Ricky bought them for his car at some point. I think it really is so cool that the car has evolved in accordance to automotive fashion over the years, but still remains as clean and unscathed as if it were new from the dealer showroom. This is all due to the extremely meticulous nature of the car's owner.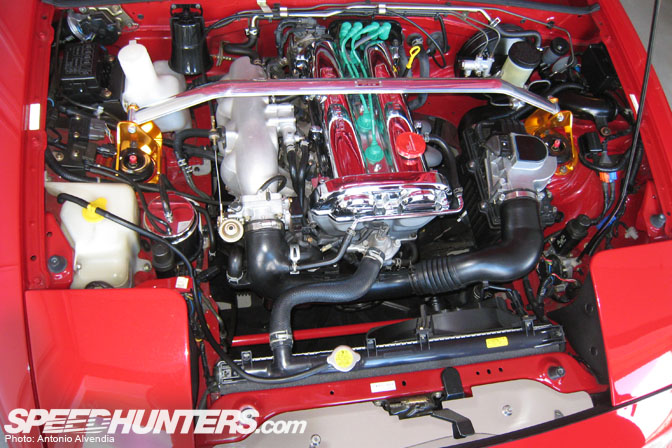 Want to see meticulous? Check out the cleanliness of the engine bay. Mind you, this is a car that is driven as well. Sure, it doesn't get driven on rainy days anymore, but let me assure you that this Miata isn't just sitting on a trailer or whatnot. Just look at how deep and rich the red paint is in the engine bay! That's original paint! Crazy! This Miata certainly lived a good life. I also like the small details… from the spark plug wires to the header to the Mazdaspeed oil cap, to the chromed canister to the left of the intake manifold, to the radiator plate and the cleanliness of the aluminum pieces in the engine bay! Just look at that intake manifold, MAF, and head! Crazy – I wish my AE86 was still that clean. It will get there…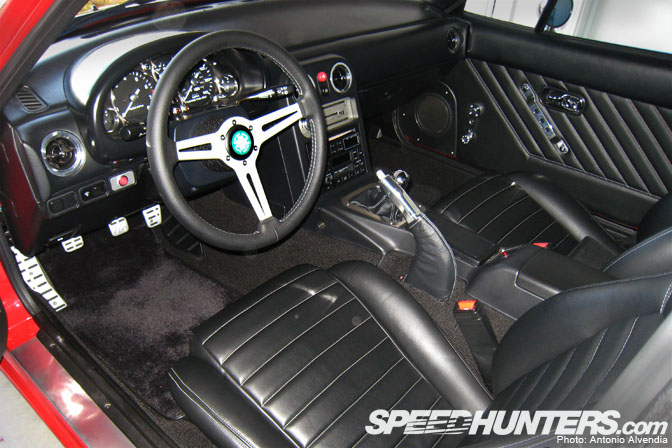 The interior of this Miata is sooo damn cool, if you ask me. Look at the subtle polished accents in the car… from the aluminum bezel surrounding the dash gauges (so money!!!), the aluminum bezels surrounding the air vents and shifter, speakers… the doorhandles and door locks, and the matching e-brake handle and shift knob. So clean and precise. Just look at that leatherwork! Jeez!!! I think that hands down, this is the best looking Miata interior I've ever seen. Even this interior has gone through many different stages… it had some high end Japanese interior kit (I forgot the name, sorry guys, can you refresh my memory?), and has gone through several different rear view mirrors, AC vents, and steering wheels, I can't even keep count.
Oh and by the way, check out that Nardi Classic 360 steering wheel on the car. Or wait. That's not a Nardi Classic! Any steering wheel enthusiasts know what that is? Let's see who's schooled and who's not.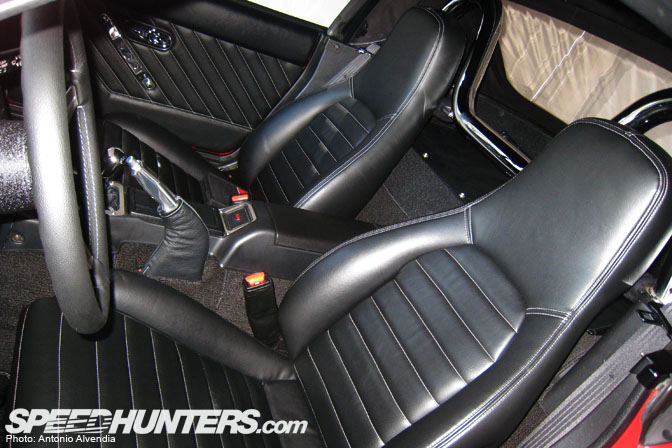 Again, just look at the detailed stitching in the seats and doorpanels of this car. I think it looks amazing.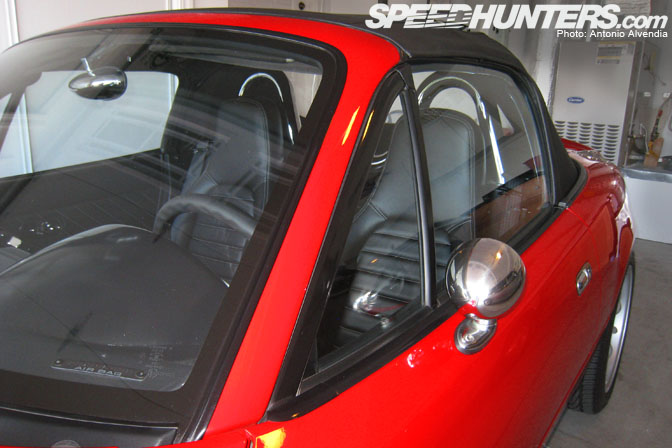 Let's not forget the stainless bullet side mirrors and rear view mirror…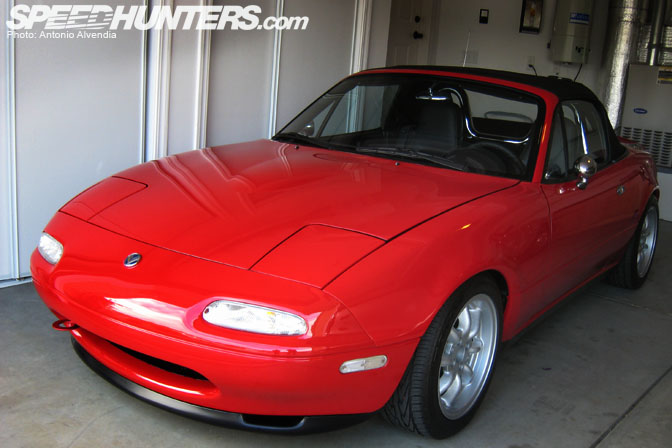 This car has gone through so many sets of RS Watanabes, it's not even funny. Ricky keeps changing the color, width, offset, and the style of the wheels based on his mood that month.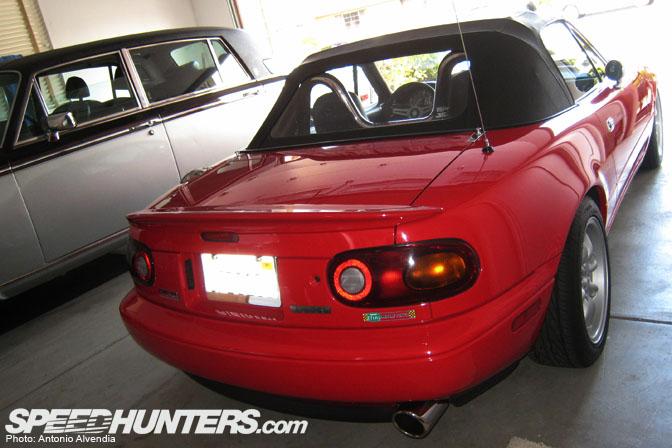 Here's the rear view of the car. Peep the Efini Tokyo dealer sticker, and the Eunos badges. Now that's super cool. This car had cool accents and accessories like that even before the term "JDM" was coined in magazines and online. Those who know Ricky Silverio will definitely tell you that this guy stays ahead of the style curve. He's always a couple years ahead.
Maybe sometime in the future we'll actually get to set up a real photo shoot on his car instead of posting these snapshots in the garage. By then, I have no doubt that the car will look completely different again anyway.
-Antonio Alvendia