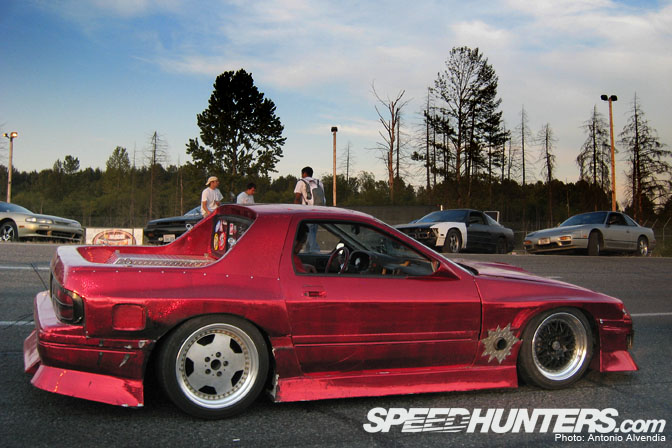 I took these photos with my Canon SD800IS point n shoot camera when we were filming the Birth of Pro Street film for Spike TV at Formula D Seattle in 2007. This FC "truck" belongs to a guy named Earl, who I met on the practice day before Formula D. His FC stuck out so much from the lineup of normal drift cars! Anyway, I think anyone who builds a car this daring, this flashy, and this cool has got to be cool themselves. Earl is kinda out there, but that's definitely what drifting style is about. The Pacific Northwest is definitely putting it down! I think that Seattle and Portland are some of the most "slept on" areas of the USA… there are a lot of super cool cars there, but people just don't realize it. Check out the side exit exhaust, with the "pow!" style heat shield surrounding it! Cool!
Check out the red metallic paint job! By the way… that's actually VINYL!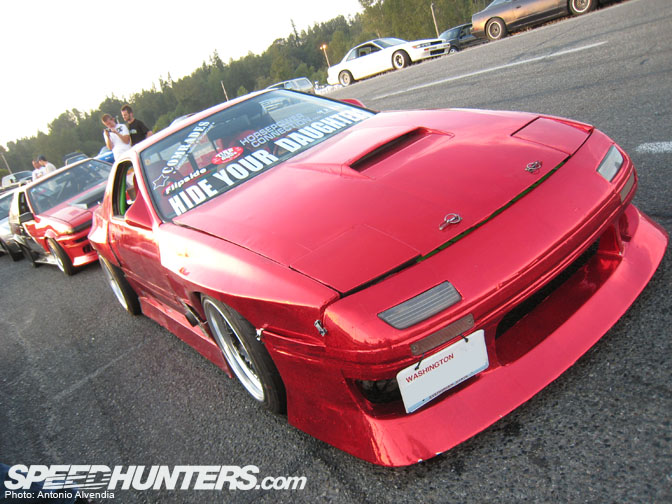 Nice and aggressive. "Hide your Daughters!" hahaha that's dope. Earl has more aggressive wheels now, but I haven't been up to Seattle since this event, so unfortunately, I don't have brand new pics of the car that I've taken myself. Check out Ziptied.com for more pics! That should send you a nice spike of traffic and new membership requests, Ziptied…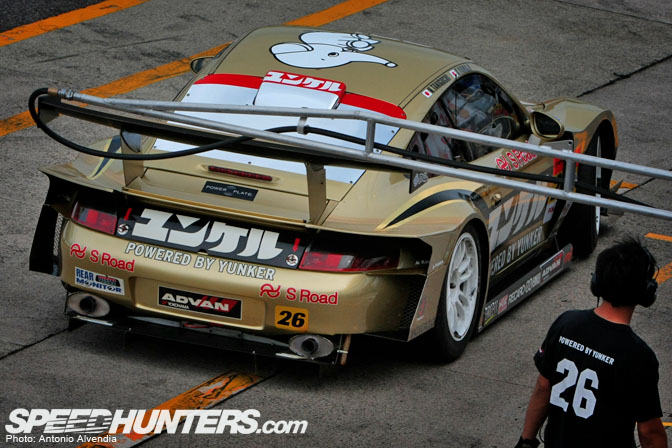 Cool stickers on the back of the truck! The diamond plate truck bed is kind of reminiscent of Kumakubo's K-Truck S13 (RIP K-Truck). Just look at how hard that aero kit sticks out! Haha! And the broken taillight, rear bumper stitched up with tons of zipties (many of which are uncut of course)… drift car style elements.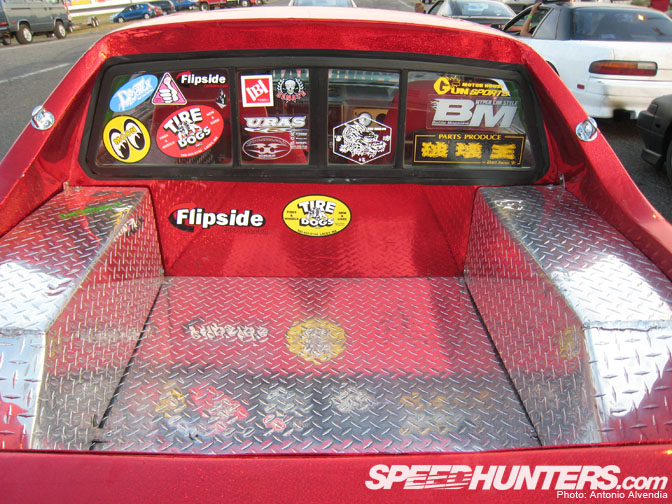 Lastly, I just want to give Earl props for his cool stickers! My favorites are the "Parts Produce Hakaioh" sticker from Dart Izumi Jr and the Battle Magazine sticker (definitely late 1990s Japanese drifting style right there). He also has a couple Dori Ten (Drift Tengoku Magazine) stickers from Tokyo Auto Salon 2005, Uras, and others! Either way, I think this FC looks really cool. Props to Earl for building a cool car.
Stay tuned to Speedhunters for more about this car in the future. I'll be posting up a video…
-Antonio Alvendia