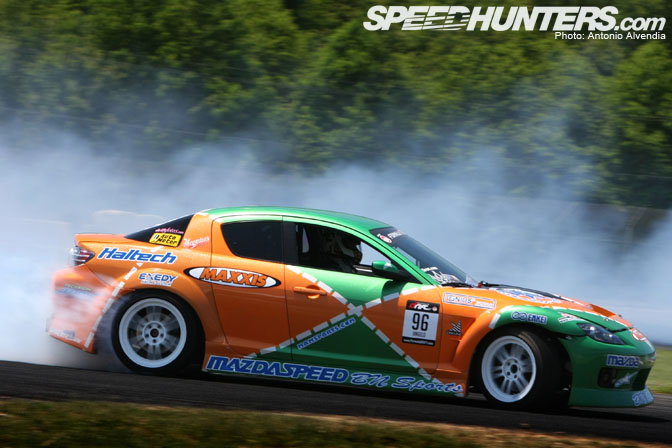 It's funny to think some Speedhunters readers were concerned that we had gone through our Mazda lineup of cars and forgotten about about Tony Angelo's RX8. Don't worry, we didn't. How could we forget?
Everyone knows that Tony has been a devoted Mazda fan for a long time… does anyone remember his article in Wired Magazine that describes him running his local mountain roads in his home state of Pennsylvania? Tony represents his beloved PA pretty hard, which is probably why he always has flocks of rock and rollers rallying around him, his crew, and his pit at events.
Tony Angelo is the heart and soul of the East Coast Drift Alliance, and the DA crew's style bringer, with his "don't give a damn" rock-and-roller attitude… whether he's standing on top of his car or on top of the bar… screaming at the top of his lungs, Tony is the cool rebel driver that all the east coast drift kids want to be like, bringing danger to stacks of tires, golf carts and rental cars… always ready to rock you (and the hotel you're staying at) like a hurricane.  As we were putting together a list of feature cars for this month, you can rest assured that we couldn't forget Tony "T-Bone" Angelo's. In fact, his car is always paramount in my mind when I think of RX8s, because it's simply one of the best looking RX8s I've seen in professional drifting. Just like its driver, this RX8 has style and attitude, which makes it much cooler than your typical "corporate" drift car.
In order to prepare it for drifting, Tony acquired this car and changed pretty much everything. It definitely looks a lot more mean than normal RX8s, due to the aggressive new aero kit and front fenders from BN Sports, and a Seibon carbon hood and trunk… not to mention the car's new paint job, coated in the iconic Renown Mazda orange-and-green livery from the Mazda 787B LeMans car. While the car's first appearance in the new paint job caused quite a controversy, I loved it from the very beginning. In fact, I remember walking up to Tony at Formula D Seattle a few years back, giving him props on the car's then-new paint job. I think it looks sooo good!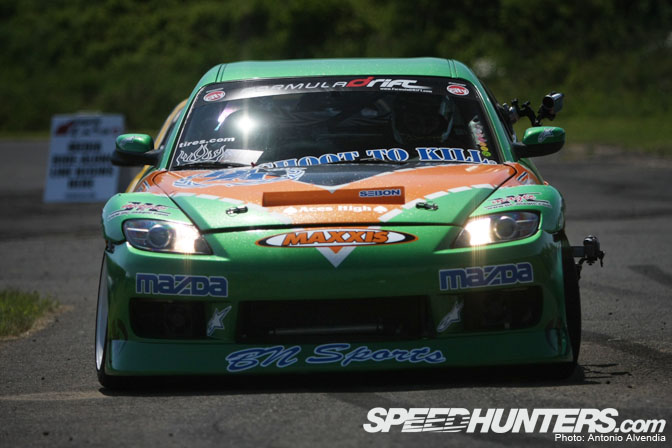 One thing that Tony and his RX8 have in common… neither one of them seem to lack any personality. The brightly painted car (done by Sam's Auto Land in Gardena), stylishly applied sponsor logos, and eye catching slogan on his windshield definitely make this car stand out from others in the Formula D grid.
Mean! I wish all cars in the Formula D series looked half as good as this one.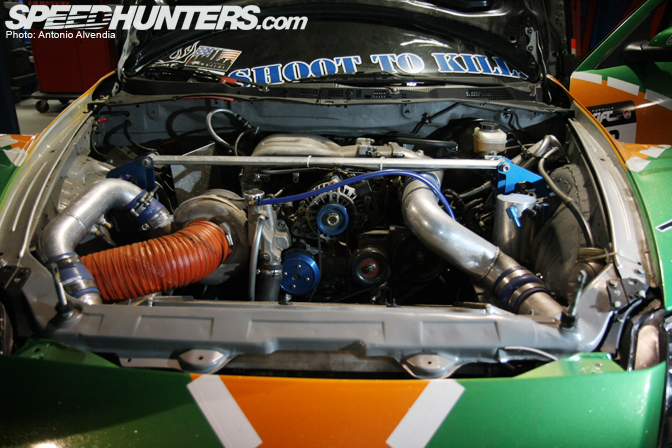 Wait a minute. That's not a normally aspirated Renesis… hell no, this car builds power! What lies in this engine bay is a 9.0 compression street ported 13B-REW 2-rotor turbocharged motor, pushing 394 horsepower at 8600rpm and 322 ft/lbs of torque at 6800rpm. Not bad at all!
The engine builds its power using a Bullseye Power S372 turbo, SARD wastegate, Blitz boost controller, a Haltech E8X unit for management, and GM LS-1 ignition coils, which seem to be fairly popular for rotaries nowadays. Fuel injectors are 1680cc secondary and 850cc for the primary, mated with with a SARD fuel pressure regulator, Walbro in-tank fuel pump, and a KG Parts fuel rail. Air gets sucked in through an HKS Super Flow intake, and pushed out through a customized 13B-REW T3 exhaust manifold, which then routes to a custom 3 inch titanium exhaust. Tony chose to use a custom v-mount setup with a Ron Davis radiator and GReddy intercooler (Skyline core) to keep the engine breathing cold air, with custom piping and end tanks as well.
Aside from a 13B-REW swap, this RX8 also uses a 1995 FD3S transmission, Exedy twin plate clutch, and Tomei Technical Trax LSD.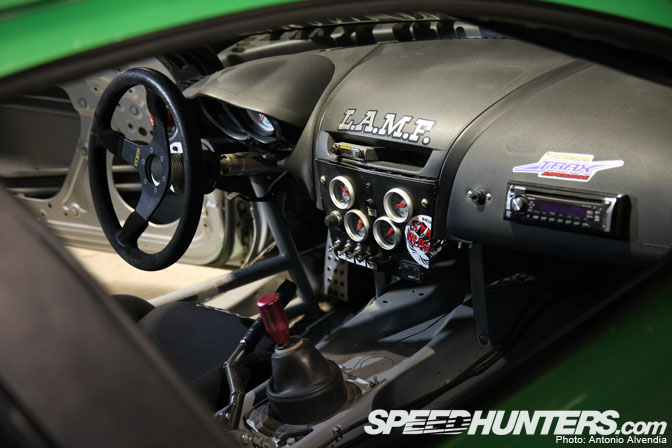 The inside of the car is pretty much gutted out, with the exception of a roll cage, Sparco steering wheel, hub, and Pro 2000 seats. In the center console are a set of Autometer Ultra lite II gauges, a bunch of switches, and a customized e-brake handle.
Wondering what LAMF stands for? You gotta ask Tony next time you see him at an event.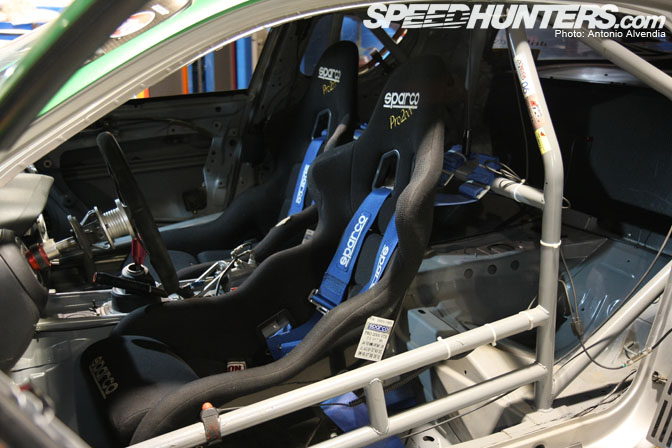 Here's a closer look at the Sparco Pro 2000 seats, seatbelts, steering wheel, and hub. Not to mention the rollcage.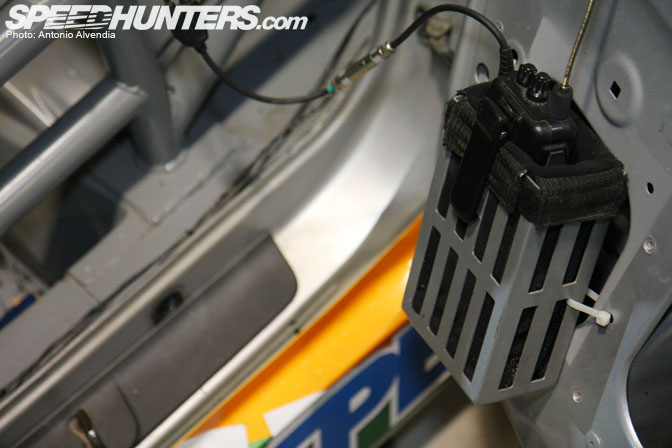 This box ziptied to the rear door of Tony's RX8 holds a radio, which gives him a crucial communications link to his crew chief while he's out at the track.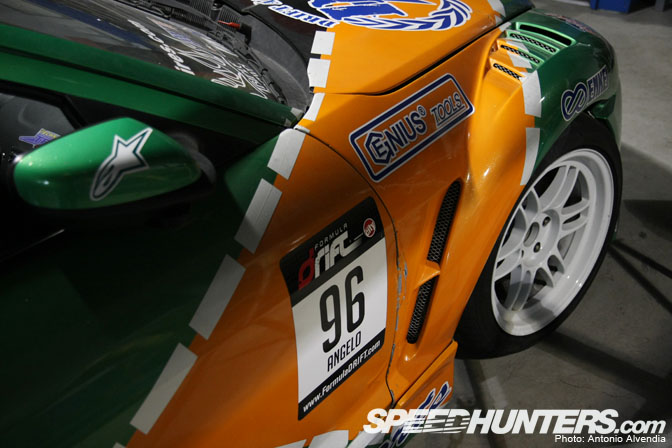 Up front, this RX8 has some very conservative 17×9 Enkei RPF1s with 235/40/17 Maxxis tires, and 18×9.5 RPF1s in the rear, wrapped in 265/35/18s. Behind the wheels, Tony uses factory Mazda brakes, but has replaced some of the parts – the car uses Australian DBA rotors with Hawk pads.
I don't see the logos anywhere on the livery, but Tony's spec sheet says that he's running customized JIC coilovers with Cusco sway bars and strut tower braces, and JIC rear lower arms to help provide traction in the rear. Steering angle has been improved with an FD3S RX7 steering rack.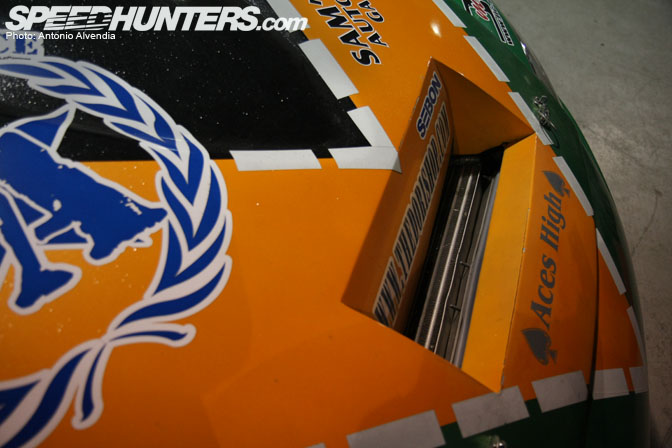 Here's a look at the custom drop vented hood, giving us a peek at the v-mount setup underneath.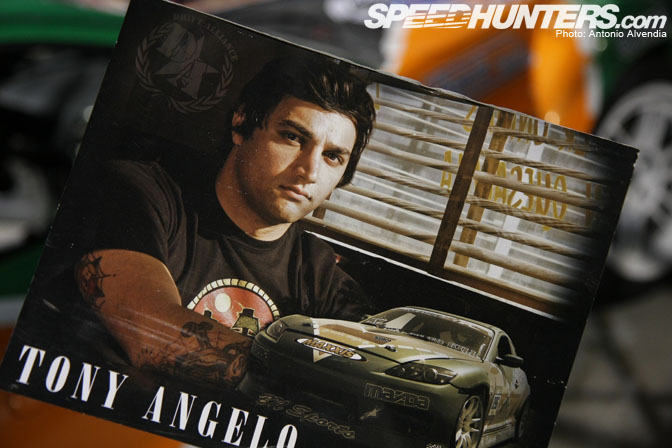 Here comes the hurricane… here's a snapshot of Tony's hero card, which I found sitting in the passenger seat. If that's not anti-establishment, anti-corporate, I don't know what is. It's not the clean cut photo of the driver in his driving suit that you normally see on autograph cards.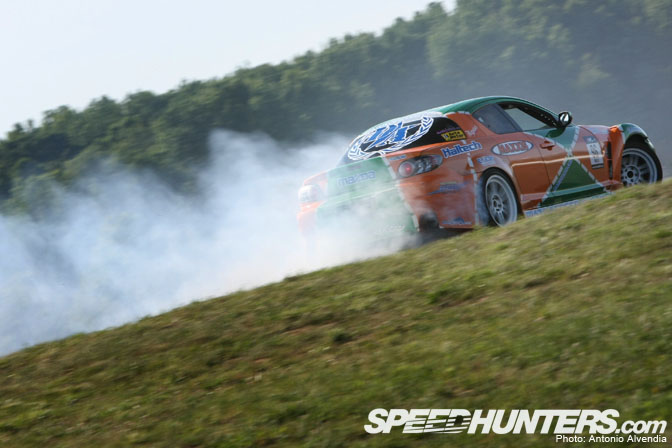 Here's Tony ripping it at Formula D New Jersey. Since this car is one of the first RX8s to be campaigned in professional drifting, there wasn't a ton of proven data on the car. Tony and his team went through a lot of issues in developing this car during the past season, having engine and transmission problems unfortunately. However, look out for this car next year, because they seem to have found a stable engine setup that's pushing reliable power now.
Add in a bulletproof drivetrain, and this car should be a force to be reckoned with. Watch out kids, the hurricane is coming.
-Antonio Alvendia