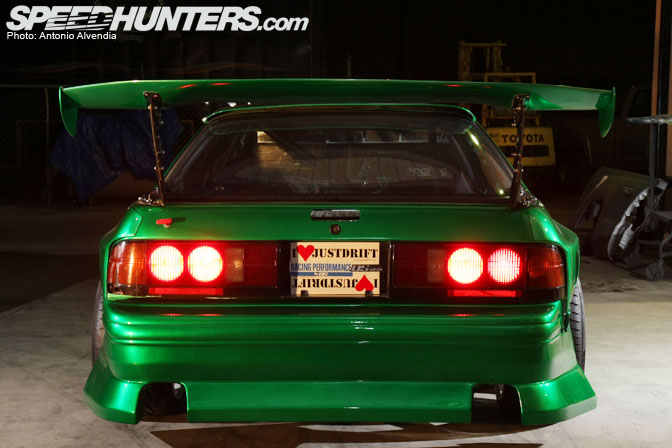 If you follow the Southern California drift scene at all, then it's likely that you know the name Justin Pawlak, aka JTP. Our boy Justin has been making waves in the media recently, as one of the most popular new drivers in the Formula D series; even ending the season strong with a podium finish at Irwindale this year. Before Justin ever became popular in the Formula D circuit, he was popular in the Just Drift/All Star Bash world and a member of the Dori Dori Club from Cerritos, California.
Since many of our readers have already seen photos and/or video of Justin drifting (if not, then check out the videos from www.wreckedmagazine.com), I thought I'd show you all some pics of his newly repainted FC3S RX7. Although it enjoyed a lot of success in Formula D this past year, Justin's FC is now officially retired from competitive professional drifting. Keep your eyes peeled for images of JTP in a new car, with new sponsors! Keep your radio dials… err… browsers locked to Speedhunters for more of that in the future.
However, for now, let's check out the newly repainted FC that made Justin stand out from the crowd so much when he was driving it at events. The car literally just rolled out of the paint shop last weekend. Thanks to the expert painters at Sam's Auto Land in Torrance, Justin's FC is back to green… but now it's a special House of Kolors candy green. I like how the tire tread can be seen, even from behind the aggressively flared out BN Sports rear bumper and the 50mm Origin rear overfenders. I'm normally not a big fan of huge wings… however, I think Justin's FC looks AWESOME with that super tall Garage BB rear wing. It just works on this car, somehow.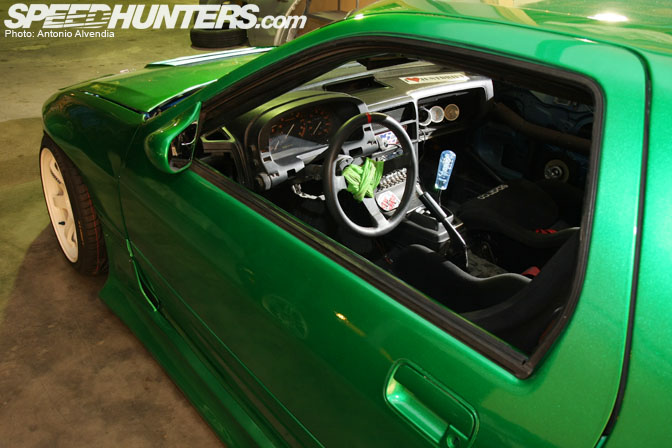 Inside the car, Justin uses a bunch of Sparco stuff… a Champion LE steering wheel, quick release, arm restraints, Pro 2000 seats, and six point harnesses. Aside from that, he also has a bunch of GReddy gauges shoved into the glovebox to monitor the boost, oil temp, and water temperature. Also mounted inside the car is an AEM Uego gauge (interesting trivia: Justin used to work at AEM, and worked on building Tanner Foust's 350Z), and let's not forget… a blue bubble shift knob.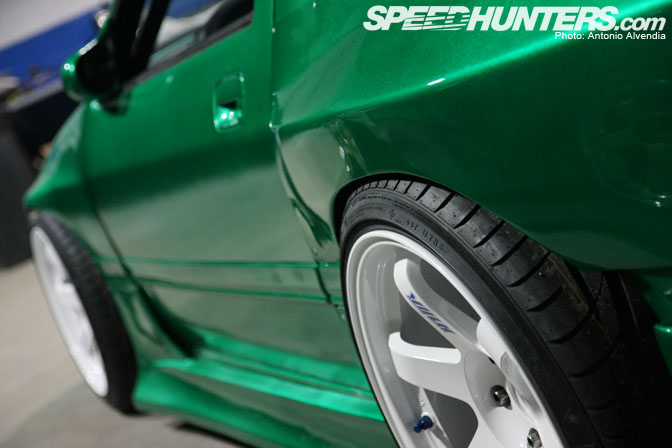 Nice wide white TE37s. And slightly stretched Maxxis Tires. I think white has to be my absolute favorite color for TE37s. Sooooooo cool!
Want specifics? Volk Racing TE37 17x10J F, 18×10.5J rear, with 235/40/17 F and 255/35/18 R Maxxis MA-Z1 Drift tires mounted on them.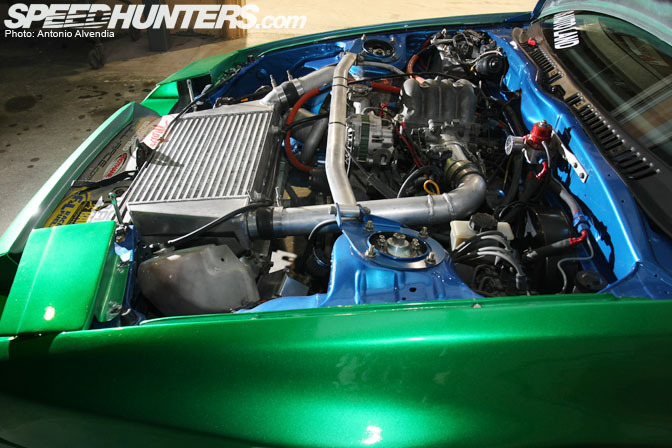 Check out the engine setup on Justin's FC. This engine is obviously well tuned to withstand all the abuse he puts it through at drift events, and it uses a lot of aftermarket parts to help build power and reliability.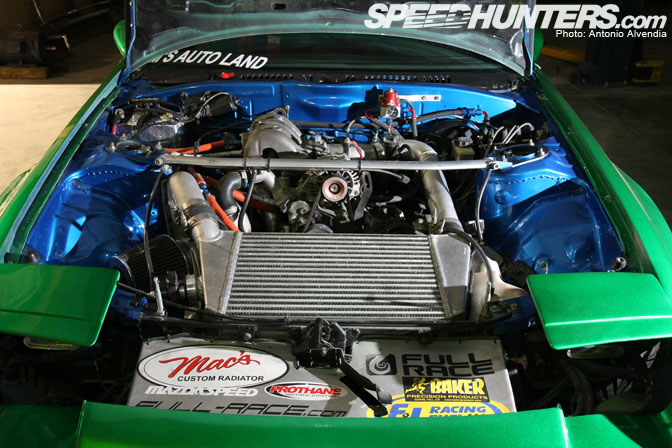 Let's have a look at the spec list: S5 ported 13BT, Full Race
Twinscroll turbo manifold, Borg Warner AirWerks S300 T4 divided-journal
bearing turbo, Tial 44mm wastegates, JPR 4inch intake, JPR shaved and
ported lower intake manifold, JPR 3.5 inch full V-band exhaust, Burn's
Stainless shorty muffler, Walbro 255 in-tank fuel pump, Aeromotive
Tsunami in-line pump, GM LS1 ignition coil packs, Earl's 625 oil
coolers, Spal 7.5″ fans, Blitz SBC i-D boost controller, JPR v-mount
and shroud, Mac's dual pass radiator, Spal C&R 16inch fan
(3350cfm), Baker Precision power steering cooler, Neo Synthetic 20w50
engine oil, Haltech E8 engine management, Baker Precision battery, OS
Giken twin disc clutch, OS Giken super lock 1.5way LSD, S5 TII
transmission, Neo Synthetic transmission and differential fluid.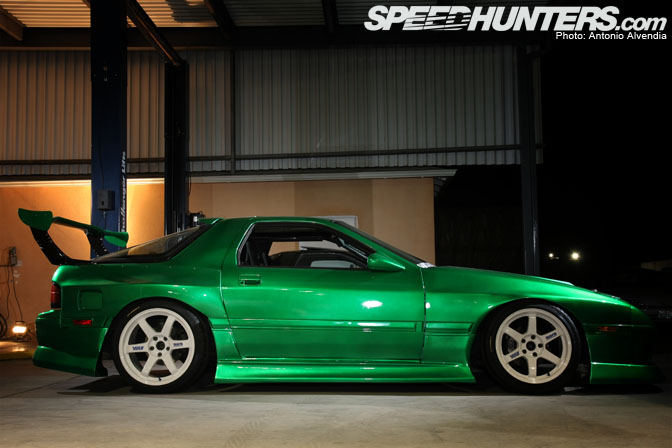 Justin only wanted the best parts for his FC, so he chose to use DG-5 coilovers from Driftspeed, with Swift 8kg front and 6kg rear springs. However, it doesn't stop there; Justin's FC has quite a lot of suspension work put into it. Just check out the list:
DG5 coilovers/Swift Springs, JPR modified front coilover sleeves for increased camber, GP Sports Super Angle kit, JPR steering spacer kit, Prothane bushings, AWR dual camber kit, Mazdaspeed center camber link, Mazdaspeed DTTS elimination kit, 20mm longer wheel studs (front and rear), Cusco front upper strut tower bar, stock S5 TII brake rotors/calipers/pads, Project Kics R40 lug nuts, Project Kics wheel spacers, Racing Beat SS brake lines, Neo Synthetic Brake fluid.
All these parts on a car mean nothing if the car isn't set up right… so Justin tuned the suspension himself and had the expertly car corner weighted by Kevin Wells of LS Automotive – the crew chief for Chris Forsberg's 350Z.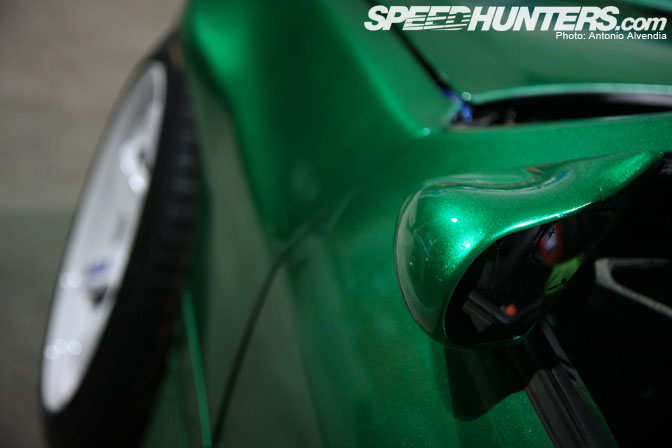 I like the aero mirrors. If you look past the mirror though, you'll notice that the Shine Auto 30mm Foresight fenders look a bit different. That's right, they were reworked to become 45mm fenders for more offset and more clearance. Brilliant.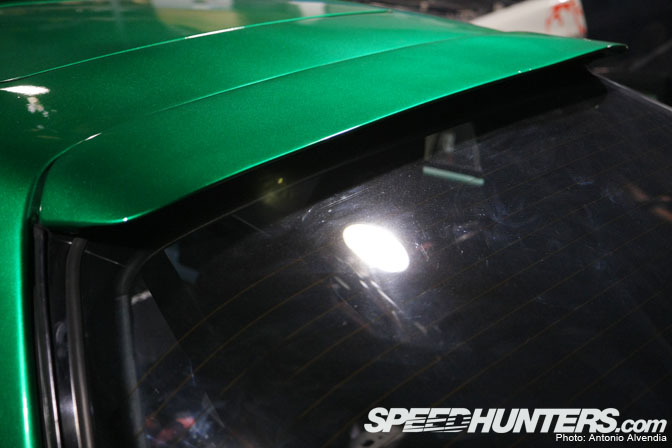 This is a Shine Auto rear roof spoiler. Not too expensive, not a big deal, but it's just a small detail that makes FCs look cool.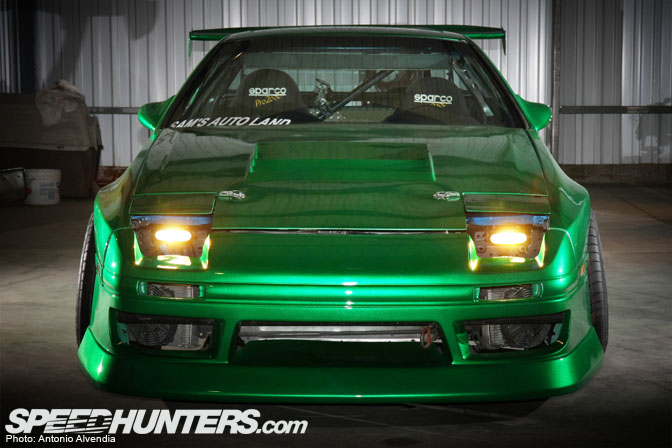 I think Justin's FC looks so menacing from the front… especially because of that low-to-the-ground BN Sports aero kit, the Shine Auto "Sexy Style" hood, and the way you can see the rear wing from the front of the car.
I wish all people could make their FCs look this cool.
-Antonio Alvendia