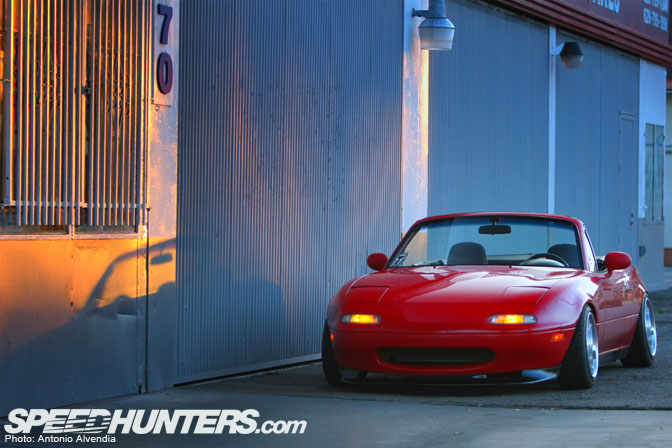 Few
dare to rock a super low, chassis scraping car with aggressive fitting wheels in the streets
of Los Angeles, but even fewer can pull it off with such style in a Mazda
Miata.  No stranger to putting together aggressive-stanced Miatas, Peter Li bought this diamond in the rough for only $200 and proceeded to massage his style into it. In case you don't know who Peter Li is, he is a local celebrity in the ranks of the Southern Cali Miata owners that attend the "KINOD" car meets. These guys look up to Peter, holding meets in his honor, excitedly posting photos of him on their online forums; they even hold him in such high regard that they organize Miata meets and look towards the sky to try to guess which airplane he's on when he's traveling back to China for work.
I chose to do a feature on Peter's car because it has got to be the lowest stanced Miata I've
seen in a long time – it scrapes going up driveways, speedbumps, and the like. Peter's Miata is so low that even when he's just cruising down the street, his car strikes fear into the hearts of squirrels, cats, and other small animals randomly crossing the street. There's no way in hell that any small animals could clear the super low Miata, especially since it has an aggressive front chin spoiler that makes it even lower! The super stylish Garage Vary front lip definitely adds to the
"lowdown" theme, emphasizing the low ride height and adding a more aggressive look to the front of the car.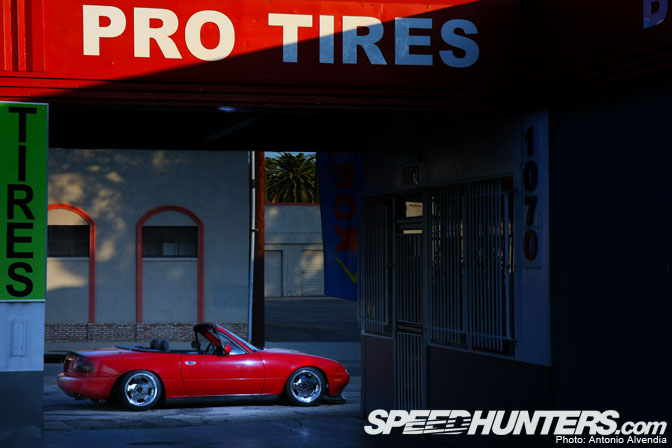 Peter used a set
of Tein Flex coilovers to achieve his desired ride height. According to Peter,
Tein Flex coilovers let Miata owners drop the car lower than other coilover
brands. Peter says the car also rides pretty smoothly, because it still retains
a fair amount of shock travel.  Most cars this low typically have to
sacrifice all the comfort of their ride, but such is not the case in this
little red Miata. Lucky! Although, if I had to choose between a smooth ride and
being low, you know which one I'd choose.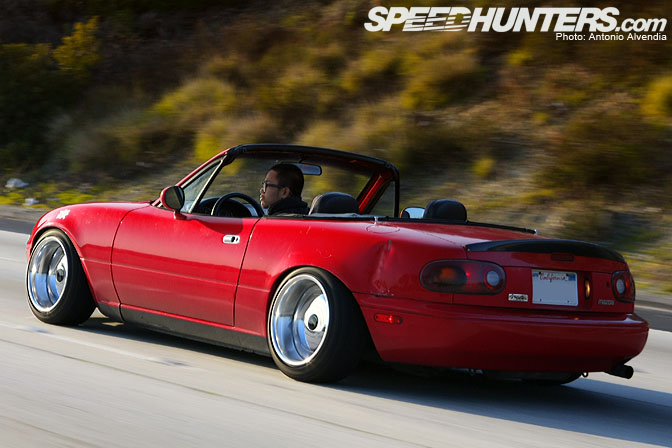 Look how good this Miata's stance is, rolling on this set of 15x8J Work Euroline DH wheels. Looks so good that I don't
even care about the dent in the quarter panel. When I asked Peter what offset his wheels were, he was kind of hesitant to tell me at first. I thought that was interesting, so let me explain that…

For people with good offset wheels on stock fenders, I think that "trying to keep it on the downlow" is a pretty common thing, as they want to keep it exclusive, like "my stock fendered car has deeper lips than your flared car, sucka." I totally understand that school of thought, as I used to try to keep my wheel sizes and offsets secretive before. After all, it takes a lot of HARD WORK and planning to achieve insane wheel fitment on stock steel fenders. However, nowadays, I don't care about keeping my wheel sizes secret as much, I prefer to help more of my fellow AE86ers achieve good stance on their cars so that everytime I see an AE86, it doesn't have to sit on 14×7 OEM Supra wheels.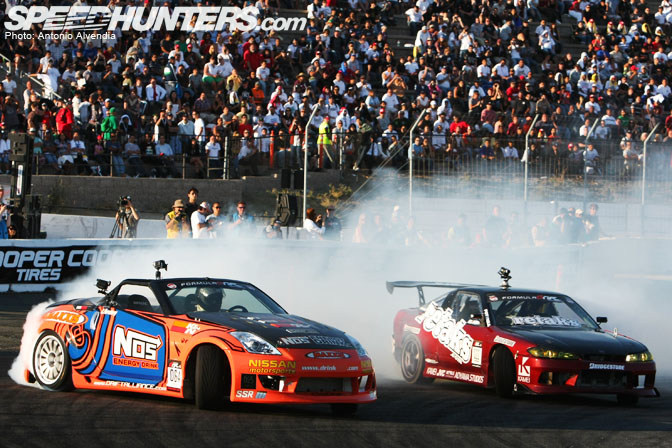 I love how this Miata looks as you drive behind it. It gives
you a new perspective of how much negative camber is in the rear and how close
the frame is to the ground. Like the Public Enemy song says, How low can you go? I
wonder how
often Peter has to change out his Toyo T1R's due to camber wear… even
though he might have to change his tires more often than normal people,
who cares? It's totally worth it when your Miata looks aggressive like
this.
The
only thing that could possibly make the rear view more perfect for me is if the rear wheels were
just a tad wider, even if it meant a shallower offset.  I think a wider wheel would further emphasize
how much negative camber this car has! Seriously, it's like demon camber, but in the back! Also
notice the nice touch that the carbon fiber Auto Konexion trunk spoiler adds to
the rear of the vehicle.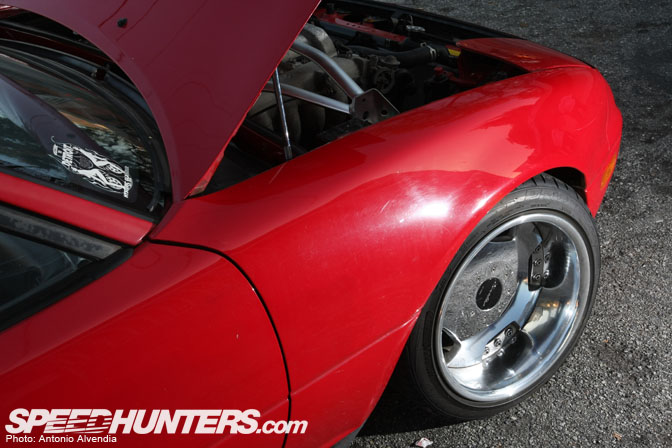 The "VIP dish" styling of the Euroline DH wheels isn't what people typically
put on this type of car, but I feel that this Miata pulls it off very well.  It's not too often you see a wheel with that much lip on the FRONT end of the
car! Imagine how feminine other drivers must feel when they drive up next to Peter's Miata, and his front wheels have more lip than their rear wheels. I love fat lip front wheels. That's  what's up.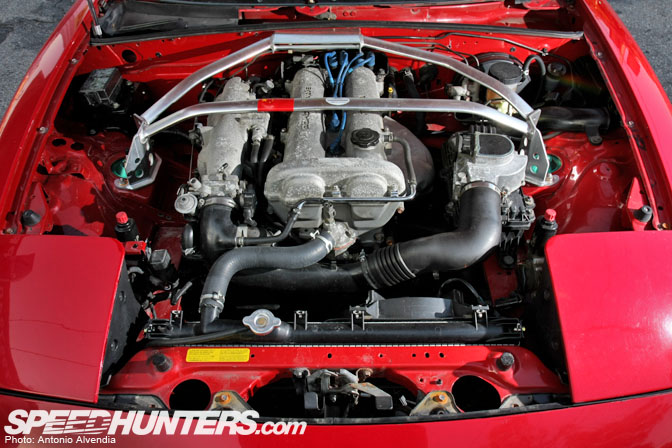 It took me a second to realize why this engine bay looked so
clean.  The majority of the wiring
has been tucked away and hidden from plain view to create such an effect.  Other items such as the air conditioning,
power steering, coolant overflow reservoir and ABS were removed to further this
minimalist theme.  I am such a fan of
this clean wire tuck that I'm thinking about doing it to one of my AE86s as well!  The beefy looking Auto-Exe three point strut
tower brace ties off the engine bay very well while adding a bit of stiffness
to the chassis.
Peter was kind of embarrassed when we looked under the hood… he said all the rough looking debris sticking to the valve cover and AFM were ASHES that got into his engine bay during the Southern Cali wildfires, because he had his car parked outside of his Orange County home. (Red Bull World Championship weekend)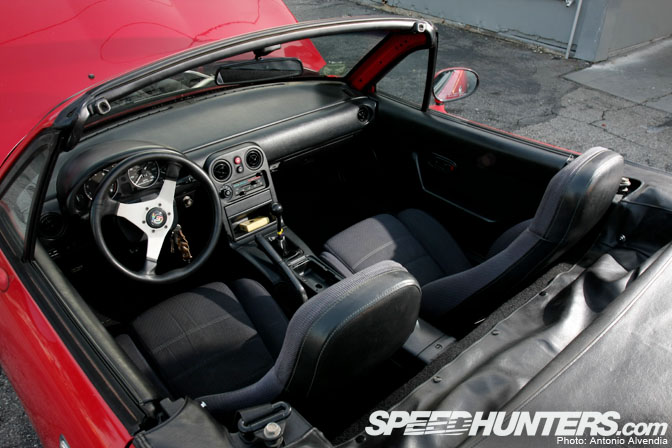 Aside from the Nardi Competition steering wheel, the rest of the interior
remains pretty much stock.  However, I do want
to note the cleanliness of the interior.
There aren't any horrendous stains, or giant cracks in the dash that
one may expect from an older car such as this. This being said, I think this black interior looks very clean for a car of this year!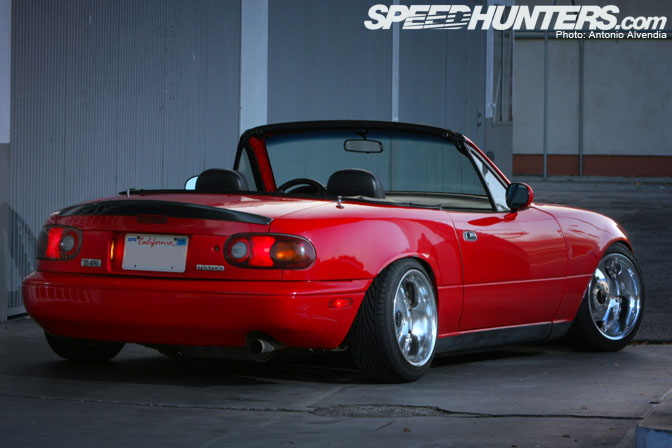 Aside from routine maintenance and the removal of certain
parts, the engine remains pretty much stock for now.I'm sure this is a great idea since a red
convertible with such aggressive stance is sure to be a magnet to the watchful
eyes of the cops.  Even though this Miata is relatively simple, with very few modifications, Peter focused on the modifications that matter and make the most difference first. It's proof that a little ingenuity, good taste and some
hard work can make any normal car look very good. It just goes to show, yet again… Offset is Everything.
-Antonio Alvendia