Since it's currently Mazda Month on Speedhunters, I've been shooting a lot of RX7s and Miatas lately. However, I just realized that I should dig through my massive photo archives and show our readers photos of my good friend Calvin Wan's street version FD3S RX7.
It seems that for anyone who has been following the evolution of the United States drifting scene since the beginning, Calvin Wan has always been known for driving an FD3S RX7. Even though some people know Calvin as the first Falken Tire official works driver – he drove the Discount Tire RPS13 240SX in the 2004 Formula Drift Series and achieved the first Formula D win in a Japanese car (Falken Infiniti G35, Formula D 2005)… those of us who have known Calvin since the start of the Drift Day events always remember his longtime involvement with FDs. He was one of the only people driving an FD3S RX7 at drift events when the rest of the people out there had ghetto looking S13s and faded paint Corollas.
Aside from being known for loving and owning FD3S RX7s, Calvin is also known for representing the hell out of his sponsors and his hometown – San Francisco California. In fact, we still tease him to this day for yelling out "Hell yeah! Friscooo!" from the top of the Formula D podium back when he took top honors at Sonoma. Therefore, I thought it would be only fitting that I shoot his FD3S RX7 right next to San Francisco Bay, and right next to the Golden Gate Bridge, which is possibly the most famous icon of the hometown he is so proud of.
This here is Calvin's personally owned FD3S – the street version. This car was built with the full intent of being able to drive it on the streets of San Francisco… it was perfectly legal *ahem*cough*cough* to drive on the streets to and from the track. At the time I shot this car, he had just finished building the car (with the help of good friend, expert race car builder Henry Chung from Motorsport Dynamics, now known as MD+R).
What gets me so hyped every time I see this photo (and even more so when I was standing right next to the car, shooting it) was the WHEELS! It's always, always, all about the wheels. It's like the automotive version of having fresh sneakers. The fly kicks in question are Speed Star Racing D5R wheels. So gorgeous! Especially when they're NEGATIVE offset! The front wheels are -2 offset and the rears are -0! Incredible to put such aggressive wheels on a car like an FD, which people normally equip with sorry positive offsets (+38 gets no love from me). Of course, the bright SSRs are wrapped in Falken Azenis tires… 225/40/18 and 255/35/18 to be exact.
See the brilliant offset and stance on Calvin's FD? It's no secret that just recently, we've been seeing aggressive offset "big wheel cars" come out of the woodworks. In fact, that's almost exclusively what I choose to feature on Speedhunters, as you all know.
I just want to point out that many of these deep offset cars were just recently built… like in 2008. However, I shot these photos way back in August of 2005. Calvin has been all about offset and stretch for quite a while now. I remember when people used to laugh at us for constantly talking about wheel offset and tire stretch. It took a few years, but people are slowly starting to understand what we've been trying to promote all these years.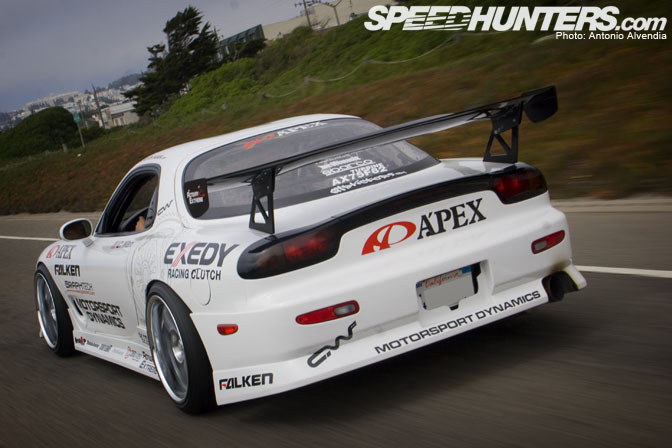 Suspension is what really defines how a car feels on the road. Since Calvin is extremely picky (I'm serious. EXTREMELY picky) about everything dealing with the setup and look of his cars, he carefully researched what parts to use for his car long before he had the means to get them.
The FD is outfitted with an Apex'i N1 Damper Pro coilover setup, as well as lateral links, toe links, and a front sway bar mount, all from Rotary Extreme.
I think it's funny when you read car magazines and the editors write stuff like "stopping duties are handled by 2000 RX7 Type RZ big brake calipers, which clamp down on the bright aqua Project Mu brake pads and rotors, using DOT 4 brake fluid pumped through Goodridge stainless steel brake lines."      Who talks like that? I'm sure you've read that same exact sentence over and over and over again, if you read the magazines I used to read. Haha! Anyway, those are the brake components Calvin has chosen for his FD.
Even though this car was built to be "streetable," it was still obviously important to modify the drivetrain to handle Calvin's addiction to drifting at different race tracks. This being said, the car was fitted with a heavy duty Exedy Hyper Twin Plate clutch, Kaaz 1.5 way LSD with a 4.30 final gear ratio, and Mazdaspeed differential mounts.
Calvin's FD also has an RE Amemiya D1-spec short shifter attached to the transmission. Now that I think of it, I remember Calvin asking me to buy that shifter for him when I went to the 2005 Tokyo Auto Salon. I was sad that even though I walked up to the RE Amemiya booth with Naoto and Masao Suenaga, the RE Amemiya staff didn't hook up the shifter for a lower price. And Masao is the driver of their D1 FD3S for crying out loud! Cmon guys!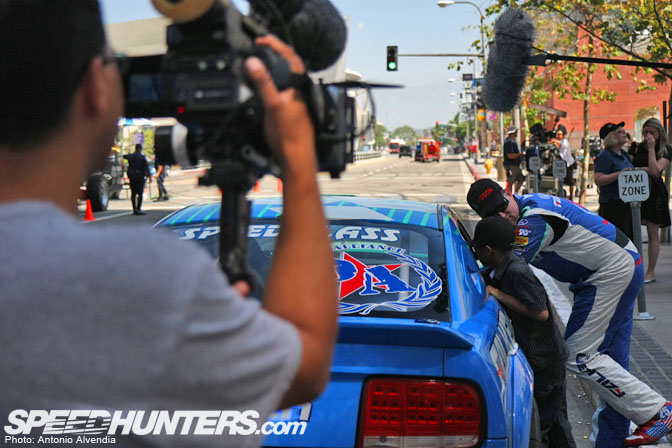 For all the people who doubt the ability of rotary engines, saying they don't last long… Calvin has been drifting with this exact same 13B-REW rotary engine for FOUR years. The engine was taken from a 2000 RX7 Type RZ, and was originally installed in Calvin's famous red FD3S RX7 from the 2003 D1GP at Irwindale.
Built and tuned conservatively (by Calvin's request, so the engine would last longer) by Henry Chung from Motorsport Dynamics in Sacramento CA, this engine has turned out to be one of the most beat on, yet most reliable rotary engine I've every heard of.
With support from good friends at Apex'i USA, this 13B runs strong, with the actual Apex'i AX75F82 single turbo kit that came out of Youichi Imamura's Apex'i D1 competition FD3S. To manage the engine and add power, Calvin added the following mods from Apex'i: Power FC computer and FC Commander, AVCR, GT Spec exhaust, Apex'i modified fuel pump from a BNR33 Skyline, power intake box, air separator tank, grounding kit, and radiator caps.
Just by glancing at the engine, you immediately look at the Rotary Extreme V-mount intercooler and radiator setup, and further inspection leads you to find a Braille Auto lightweight battery, Earl's stainless steel braided lines, Mazdaspeed motor mounts, pulley kit, strut bar, and *ssshhhhh* (don't tell Apex'i)… and HKS Twin Power ignition amp?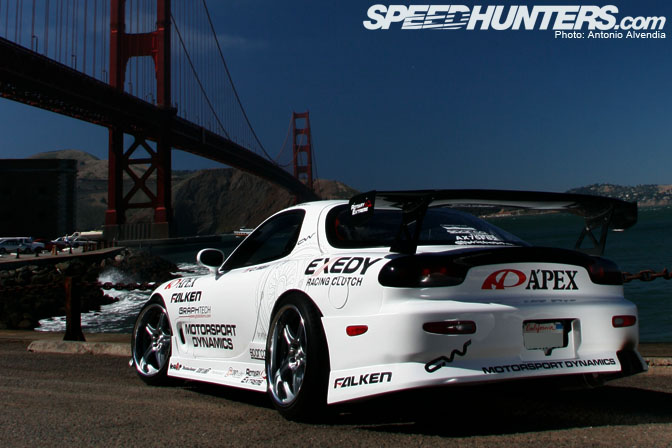 The exterior of the car is kept stylish and aggressive with a Final Konnexion bumpers (and sideskirts) and a Rotary Extreme N1 carbon fiber rear wing. Oh, and let's not forget the dark charcoal metallic flake graphics, which were designed and applied by Calvin himself, courtesy of his favorite sticker shop, Graphtech. ( www.gtstickers.com )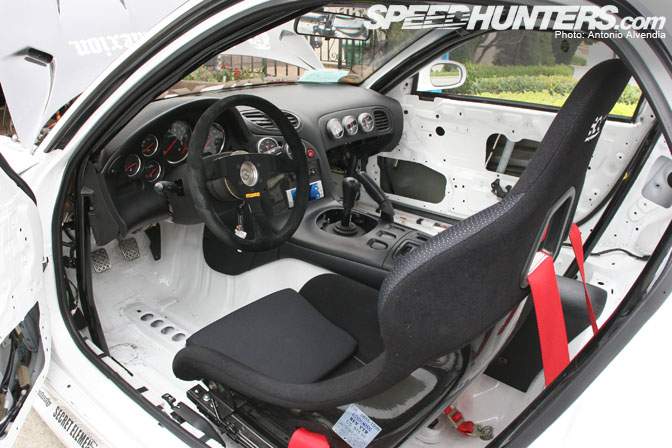 The inside of the car is super clean, don't you think? The glossy white paint is so bright, it really makes the Sparco Rev bucket seat and Sparco 5-point harness stand out. Monitoring the vitals is important, so Calvin installed Apex'i EL2 gauges, which have an awesome looking display font and indicator lights! Very cool! Also check the suede Momo 350mm steering wheel; Calvin has owned that wheel for  pretty long time.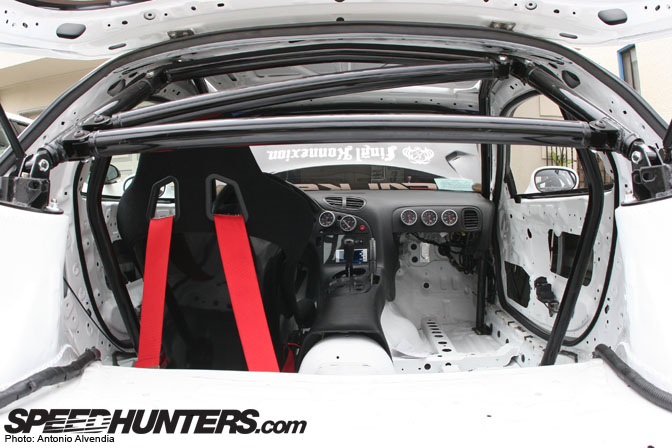 The rear view photo of the interior of the car wil reveal hints of the complete chassis lightening, reinforcement and spot welding done by Henry at Motorsport Dynamics. The super cool looking R-Magic Saito roll cage was hooked up by Toshi Hayama, formerly of Apex'i USA.
Even though this bolt-in rollcage was removed in favor of a welded rollcage with door bars, in accordance to Formula D rules, I still think this R-Magic rollcage looked so cool when it was in the car. If I had an FD3S, I'd definitely want an R-Magic cage.
Inside and out, Calvin's FD has got to be one of the best looking FDs around. Wouldn't you guys agree?
-Antonio Alvendia