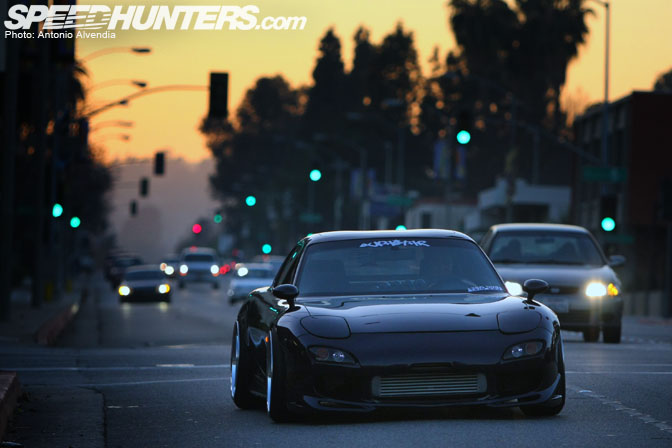 In my opinion, the third generation RX7s look so good from the factory, it's kind of difficult to make them look better than stock. If you're a regular reader of Speedhunters, then you already know that the best way to improve the looks of any car is by improving the stance of the vehicle. It's a fact. Bruce Kress definitely agrees with this theory, and decided to go with a super aggressive stance on his FD3S RX7. He even bought his wheels before he even found a car to put them on! That's dedication to a set of wheels! I love it!
When he finally found an FD that he liked and was in his price range, the car had different colored body panels, so a paint job was in order. Before painting his car a super dark shade of midnight purple (it's so dark that it looks black at some angles unless it's in the right light) Bruce chose to outfit his car with the following aero parts: FEED front bumper, JP side skirts and rear caps, RE fender mirrors and tail light cover, GP Sports mid wing, and a Japanese OEM hood and sidemarkers. If you look closely at the FD, you'll notice that the rear indicator lights have been shaved in order to make the car look closer to the FDs one might see in Japan. Bruce also admits that he likes the sexy, clean shaven style, so the FD's radio antenna, rear wiper and spray nozzle have also been shaved off for cleanliness.
After looking at the super fat lips sticking out of the fenders in the first photo, you all must be thinking what size are those wheels?! This set of Weds Cerberus 2 wheels are 19×10 up front and 19×12 in the rear. Since Bruce doesn't have a tire sponsor, he's using Hankook V4ES 215/35/19 tires up front and Falken FK452 275/30/19s in the rear. Hopefully someone will set this guy up with a decent set of tires so the fronts and backs will match. Hook him up, tire companies!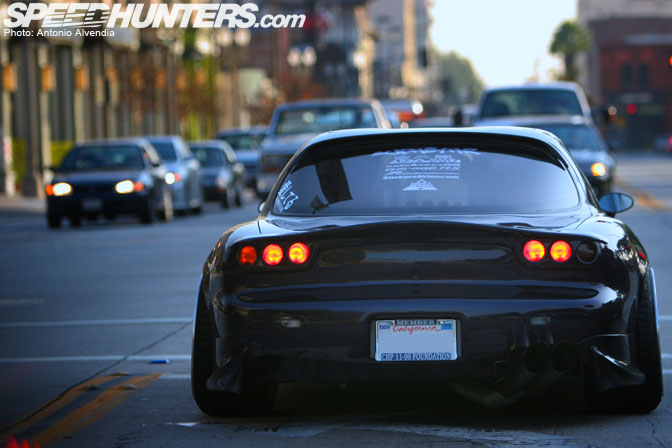 I love it when you're following a car, and you can see the wheel lip protruding from the tires. This is what Bruce's FD looks like on the street. I think it looks pretty mean and dangerous, and as a result, I also think it attracts cops like Half Off sales at Krispy Kreme.
We had to reschedule Bruce's photo shoot, in fact, because he was pulled over as he was on the way to the first shoot, because he forgot to put his new registration sticker on his license plate, and didn't have a copy of his insurance paper inside the FD when he got pulled over! I thought it was a sure-fire recipe for disaster, but luckily the cops didn't impound his car or issue him a referee ticket (like they did to me). I thought it might have been because of Bruce's All American smile, because most people I know would have their cars impounded (especially if the car looks like that and got pulled over with no proof of insurance or registration stickers, come on!), but Bruce says he thinks it's because he has one of those "CHP 11-99 Foundation" license plate frames. Having this plate means that you've contributed financially to the California Highway Patrol, apparently. Does anyone have more info about this?
Bruce admits that the 11-99 license plate frame doesn't look as fashionable as, let's say, a Cipher Garage "Offset is Everything" plate frame, but hell, if it gets you out of tickets, then it MUST be a lot better… because "Offset is Everything" license plate frames sure don't get you out of any tickets or any trouble. CG frames just tell people that you know what's up.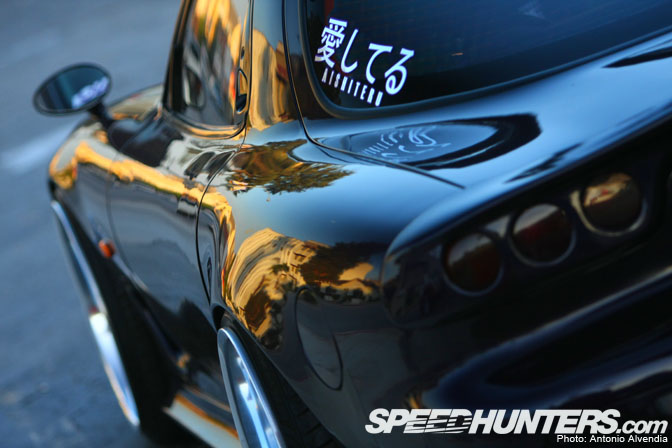 From the back of the car, you get a nice view of the stance and RE Amemiya side mirrors. The sticker on the FD's rear window says "Ai shiteru," which means "I love you" in Japanese. Just when you think Bruce has gotten all romantic on us, he says "that sticker goes out to all my friends that have helped me with the car. They know who they are."
As for me, I just love the stance of the car when you see it on the street. Makes you want to put your two hands together and make a heart shape.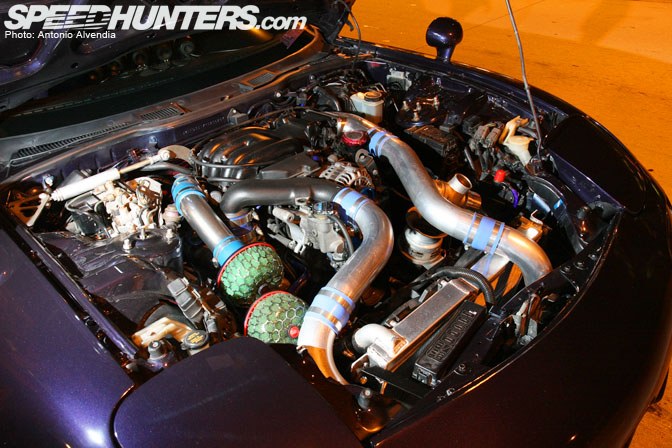 Here's the specs on the purple heart of Bruce's FD:
13B Stage 2 Street Port
Apexi Power FC
Apexi Power FC commander
Greddy elbow
Greddy Pulleys
Greddy type-R BOV     
Greddy Front Mount intercooler
Fluidine Radiator
HKS intakes     
HKS downpipe
Custom Stainlessteel undercarrage plate
Custom mid pipe
Custom exhaust
Spac radiator cap
Juran water temp sensor holder
R Magic Oil cap
Engine torque dampener
Removed power steering
Removed A/C
AST delete
Odyssey dry cell battery
Battery relocation to trunk
Sun Auto Hyper Voltage System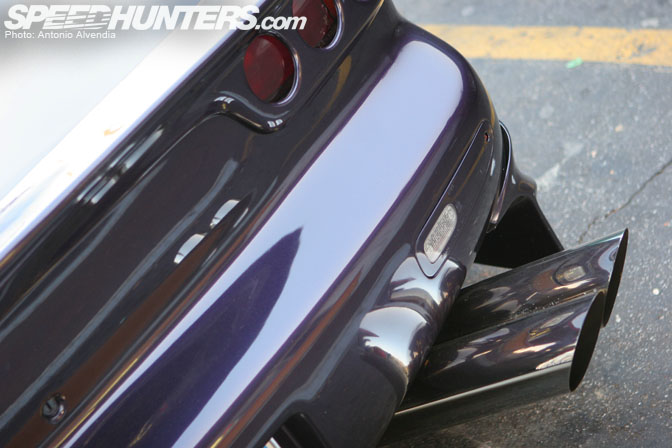 One thing almost impossible not to notice when you're looking at the back of the car are the humongous dual slash tips of the exhaust! I think that huge exaggerated exhausts like this attract cops for sure, so it's a good thing he has that special 11-99 license plate frame! Sheesh!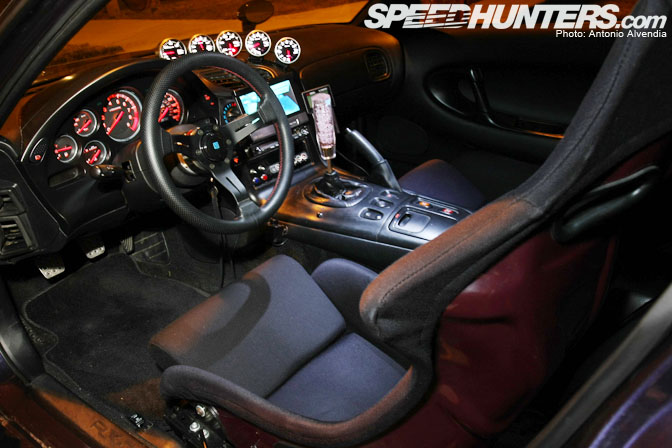 Bruce's FD didn't start with a black interior. He had to convert the whole thing. Lots of work! One thing I'd like to point out is the great looking Bride Zeta 3 bucket seats and Bride super low seat rails, with the maroon-purple backing. I think these seats look PERFECT in his FD, especially because of the color of the seat backs. (In fact, if anyone has one of these seats for sale, pls let me know!)
Other interior appointments include a Nardi 330mm "deep corn" (it's Japanese English, which means deep cone, LOL) steering wheel and a Works Bell quick release and steering wheel hub.
Other interior electronics and accessories include:
Defi controller  
Defi BF boost gauge                
Defi BF water temp gauge
Defi BF oil pressure gauge
Defi BF oil temp gauge            
Defi BF exhaust temp gauge
Custom switch panel
JDM bubble knob
Broadway Mirror
Broadway attachment bubble mirror
Gothum Racing PFC commander holder
Behrman LED cabin lights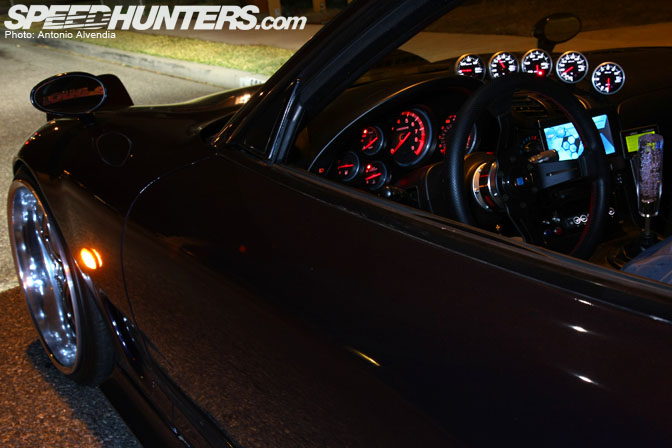 When you see Bruce's FD at night, the car looks so "new school high tech" inside, with its high end Defi gauges all lit up, sitting on the dashboard above the double din LCD screen and Apex FC Commander. Outside the car looks pretty high tech and futuristic also, due to the Xenon Vision 5000k HID headlights, IPF puddle lights, police strobes, LED 99-spec running lights, and LED license plate lights from Behrman.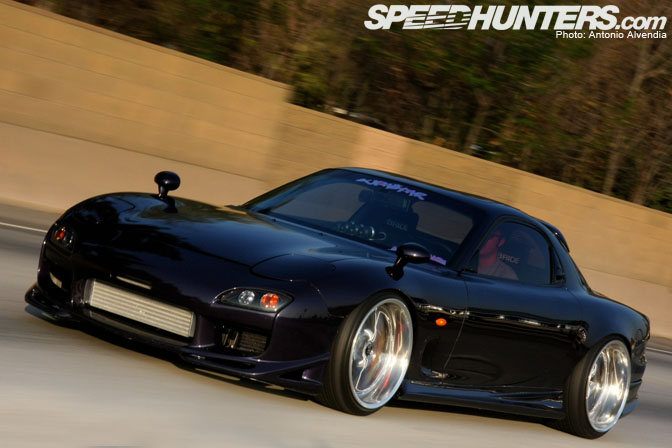 I think the wheels look even better spinning fast than they do when they're sitting still on the side of the road. From the red glimmer on the fat lips of Bruce's Weds wheels, you'll notice the red brake calipers. I like the wingless look of this FD with its big street wheels, but I know that some RX7 owners will argue that the car should have less tire stretch and less camber to maximize performance.
However, owners of aggressive street cars like Bruce's will say that they care more about making the car look cool as it cruises the freeways and city streets, and they don't mind replacing the tires more often, if they could make the stance of the car look good. I understand both viewpoints, and have my own thoughts on the matter, which kind of puts my preferences in the middle. I love aggressively stanced cars, but I like to make sure the cars perform well too. What's more important, in your opinion? Where does your viewpoint lie?
-Antonio Alvendia