I've been reading about the legendary Bergenholtz brothers in magazines since something like 1996 or 1997. Do the math… that was over 10 years ago! When I think about those days, which some consider to be "the glory days" of import drag racing and car shows in the USA, it trips me out. I can't believe it was so long ago; 10 years sounds like such a long period of time. Then again, 10 years isn't that long, when you put it in context with the grand scheme of motorsports in the USA.
When you walk up and attempt to start a conversation with them, it's hard to imagine that Ron and Ed Bergenholtz have been so well known in the import aftermarket industry for so long. They sure don't act like celebrities are supposed to act. They don't walk around with their chests all puffed out, talking above others, boasting and bragging about their accomplishments… that just isn't their style. They don't act like they're "big time" at all, even though I could show you boxes and boxes full of magazine clippings and trophies that suggest otherwise. The funny thing is, even though Ron and Ed Bergenholtz are icons in the import aftermarket industry, they are so down to earth and approachable that they sometimes treat you as if you were one of their old friends from high school.
When I called Ron Bergenholtz to see if I could shoot one of his cars for Mazda month, he said "yeah no problem. Dude, why don't you come over my house so we can chill and I'll show you the cars. When I drove out to Orange County to meet up with Ron, the crew chief of Bergenholtz Racing, I originally planned to meet up with him at his house and then go to his shop to shoot the cars. However, when I was standing in his driveway, I asked, "Hey Ron, so where's your shop? I wanna see where you build your pro drag cars and the drift car…"
Ron looked up at me from behind his silver-rimmed glasses, clicked the garage door opener and laughed, saying "it's right f*cking here, this is IT baby!" Low and behold, sitting in the garage attached to his house, I was staring at not one, but two Mazda Pro drag cars. In his garage at HOME! That's just crazy!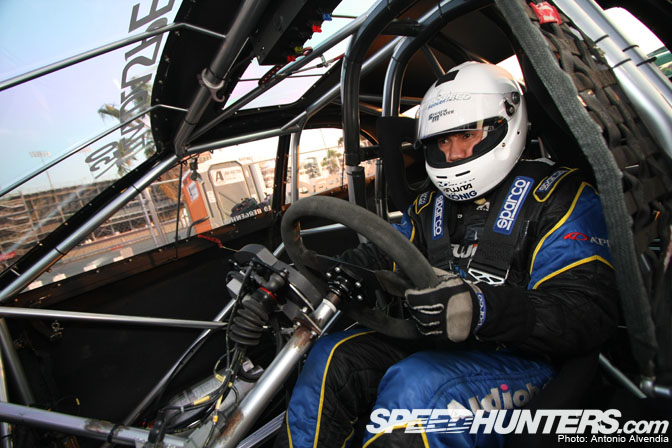 Here's a photo of Ed Bergenholtz, strapped into the cockpit of his Mazda 6 drag car at Battle of the Imports in Las Vegas. Deep concentration right there!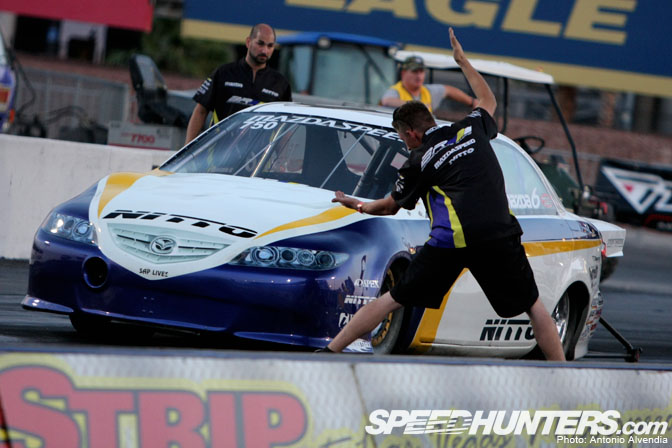 As Ed deep stages, he has his crew help him to make sure he doesn't go too far past the sensor, making the red lights come on. Red lights = fail. That isn't a problem though. Ed's a pro.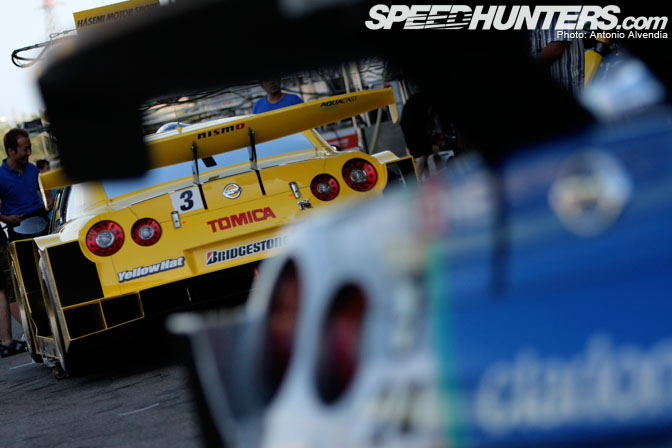 I asked the two brothers if I could just do a non-traditional "Car Builder" post… instead of just showing our readers a snapshot of their garages, I thought it would be cool to show the inside of Ron's house as well, just because it's different and you don't normally see this type of thing in car magazines.
As they screwed around on the piano in the living room of Ron's house, I was just taken aback by how many freakin Wallies (NHRA trophies) they had! That's isn't even all of them! Their dad walked in while I was taking the pictures, telling me he had another trophy or two in his office. It trips me out when I think about the fact that some people drag race their whole lives, and if they're lucky, they might actually win one of these highly coveted trophies, molded and named after the NHRA's founder, Wally Parks.
Just look at how many Wallies Ron and Ed have won. Damn, that's several lifetimes worth of achievements, don't you think?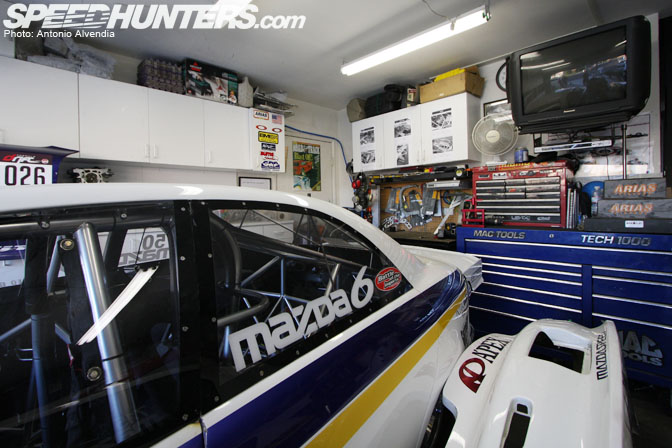 Sure, it's a tight fitting space, but this is where the magic happens. When I was visiting Ron's garage, he had some aero pieces from their Formula D competition RX7 sitting in the garage next to the Mazda 6 pro drag cars and the super expensive Mac Tools toolboxes. Damn, ballers!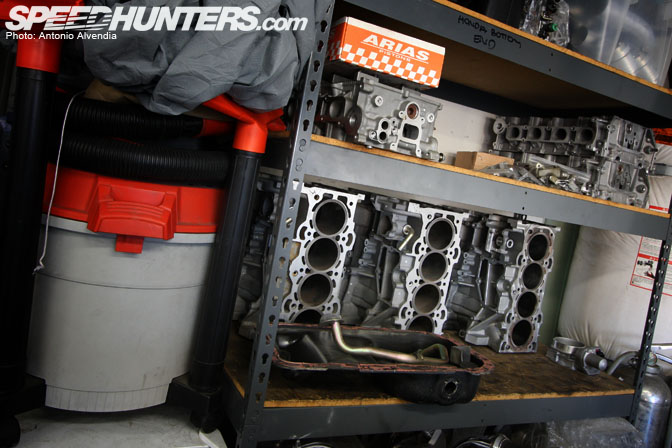 The Bergenholtz Racing garage is extremely tidy, neat and organized. But let's just look at their storage shelves… look at all the extra engine blocks and cylinder heads laying there!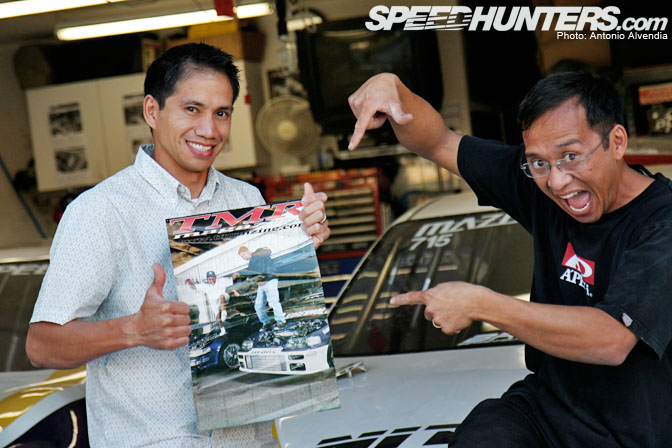 A blast from the past… this is Ed B (left) and his older brother Ron (right) holding an extremely old poster of them in front of their garage, with the cars that made them famous in the 1990s – Ron's blue DA Integra, and Ed's white and blue turbo CRX.
I wonder how many of our Speedhunters readers have this poster, or even remember having it back in the day…? It came with an issue of the super influential, super groundbreaking, super old school TMR Magazine. If there was one magazine in the USA that really represented what I thought was oool back in the 90s, it would have to be TMR. Much respect to TMR and the mag's founder, Rodney Wills. TMR was a cutting edge magazine that was way before its time. In my opinion, the content it featured was years ahead of what the other magazines were printing at the time.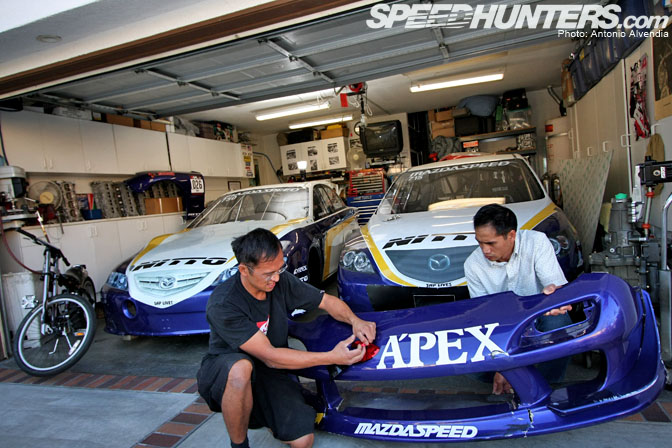 "But… you guys don't look like your last name would be Bergenholtz…" They're Filipino! Keep guessing!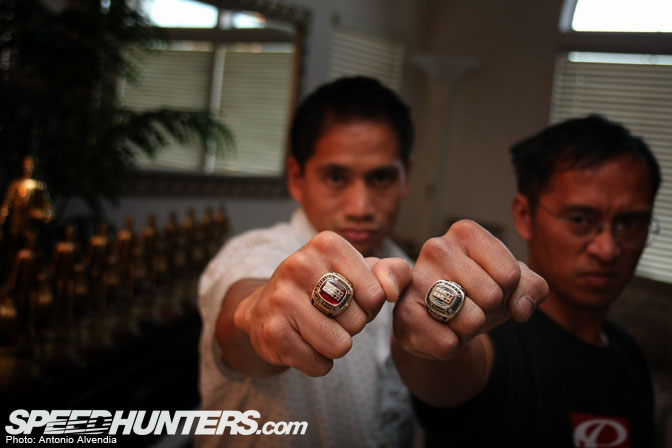 Ron and Ed's NHRA Drag Racing Championship rings are a lot cooler than your class ring from high school.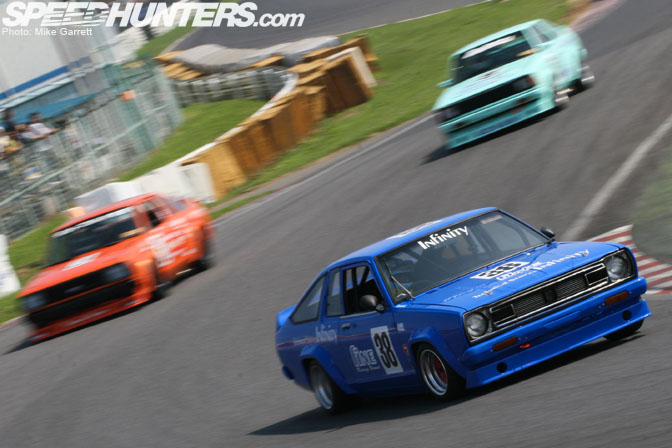 While we were shooting, I asked if they still have any of their old photos, and Ron replied, "hell yeah! I have everything. I save EVERYTHING! Old photos, timeslips, ticket stubs, flyers, you name it!" He and Ed then proceeded to bust out a huge plastic container full of photos, and began showing me some of their old pics…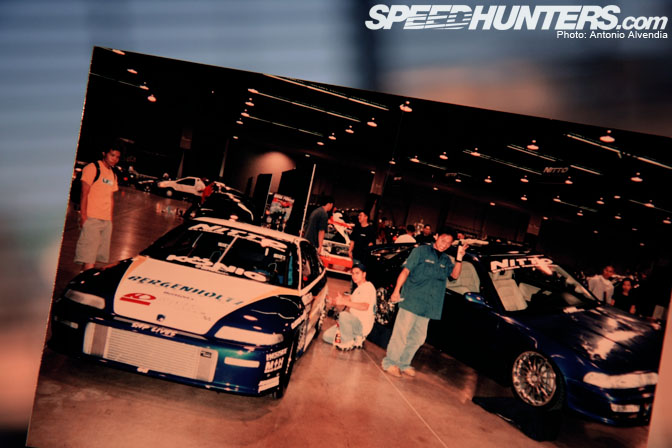 Speaking of old school, check out this snapshot of their old cars, at one of the Import Showoff events back in the day! Showoff was the best car show to go to – that's where you always saw the best cars! That's Ed's CRX on the left, and Ron with his baggy shirt and his blue DA Integra on the right.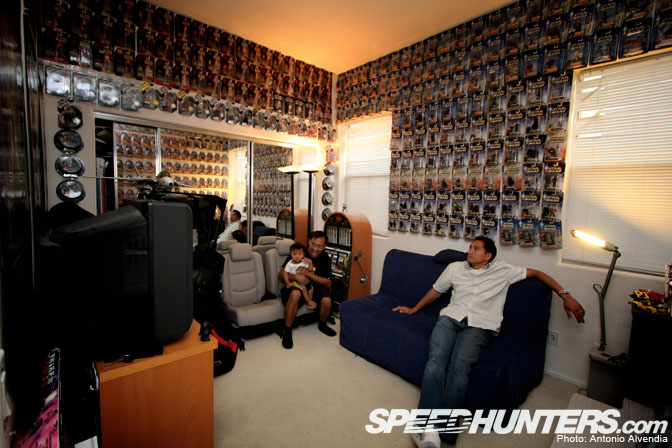 Oh… but that's not all they collect. These guys are like grown up kids. They still have ALL their toys from when they were growing up… they began busting them out of this spare room in Ron's house… they had all sorts of dope toys that I always wanted (but my mom was never down to buy for me)… like certain rare and expensive Transformers, GI Joe vehicles, Star Wars toys, you name it…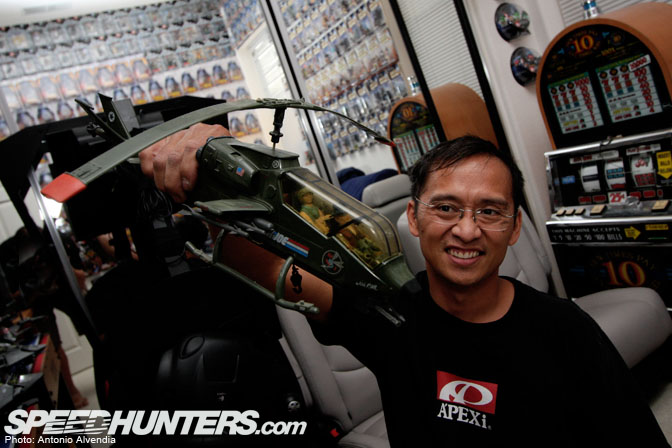 For instance, I remember that as a kid, I wanted this GI Joe "Huey Cobra" combat helicopter sooo bad! It was "Wild Bill" and his chopper, "Dragonfly." I can't believe I still know the name, and I still kind of want it even now. And Ron has it, just chillin out in his spare room. Among other things.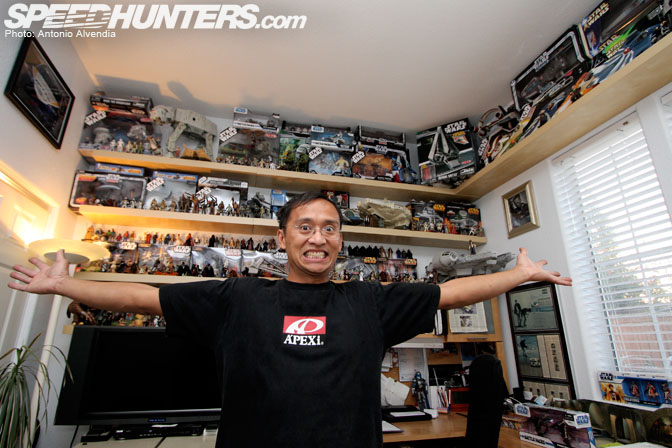 And here are even more toys, in the "office." This room has so many Star Wars toys in and out of packaging, it wouldeven  make the 40 Year Old Virgin go crazy with excitement.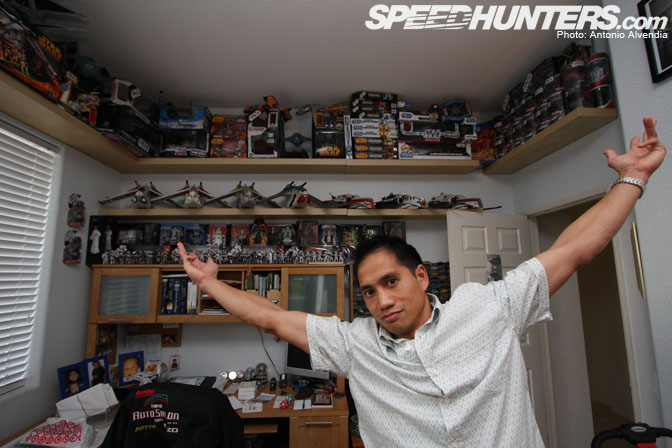 This is Ed's stuff right here. Notice the old school Tokyo Auto Salon tour jacket (I have mine somewhere) on the chair, and all those Star Wars spaceships on the shelves… Damn, these guys do have everything!
They said they would invite me back to the house again to take photos of the next evolution of their RX7 drift car and their new Mazda RX8 time attack car in the near future… but I think after I shoot pics of the progress on their cars for next season, I want to spend some quality time checking out their toy collection! I think some part of me still wants to have fun checking out some of the rarer, more expensive toys I didn't get to play with when I was a kid!
-Antonio Alvendia