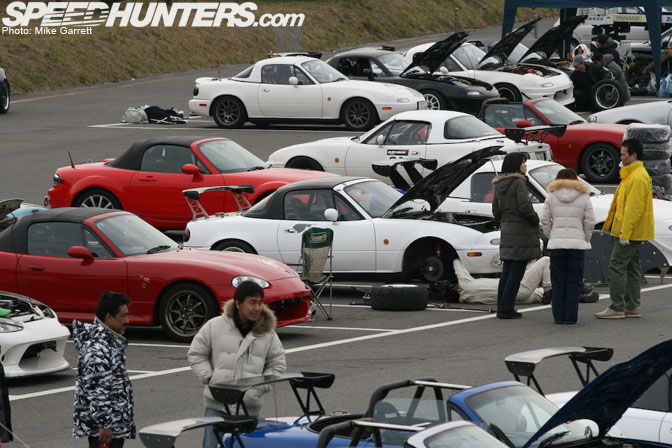 Hopefully you guys have been pleased with all the Roadster/Miata content we have been posting over the past couple weeks. I know I've been enjoying it (though maybe I'm a bit worried that the prices for used Miatas and parts is going to go up!). Anyways, this time I wanted to go through my archive and post up some Roadster photos that I've taken in Japan over the past year. I've always thought the Mazda Roadster was the ideal car for driving around Japan. It's small, nimble, and incredibly fun to drive – a perfect match for Japan's narrow and winding roads. There have been countless times when I've been driving our Honda Fit here thinking to myself, "damn, if only I was in one of my old Roadsters right now".
For a car with a relatively limited scope (it IS a two seat convertible after all), it's pretty interesting to see the variety of tuned Roadsters in Japan. Some people are into converting their Roadsters to replicate the vintage European sportscars that inspired Mazda to build the Roadster in the first place, others are into all=out circuit racing, and some keep their cars nice and mild for those Sunday drives on Japan's wonderful back roads.
You'll see a bit of everything in these photos.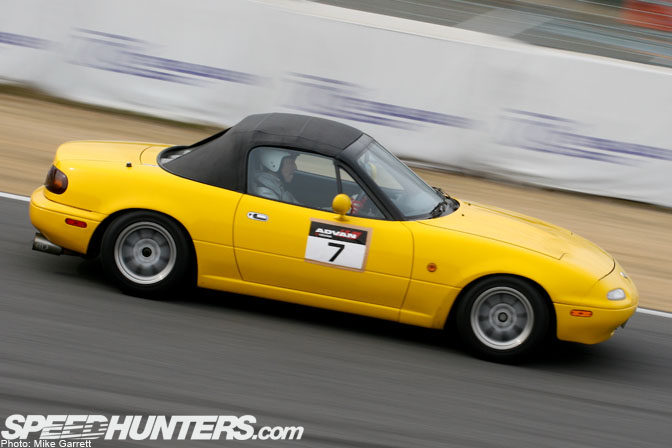 I'll start off with this simple-looking NA spotted at Tsukuba Circuit last spring. Unless it was repainted, this car looks to be one of the limited production "J-Limited" models sold on the Japanese market with yellow paint. The exterior of this car is almost entirely stock, with the only visible changes being a lowered stance, 14" RS Watanabe wheels, and a Kakimoto exhaust. The Roadster is one of those cars that needs very little in the looks department.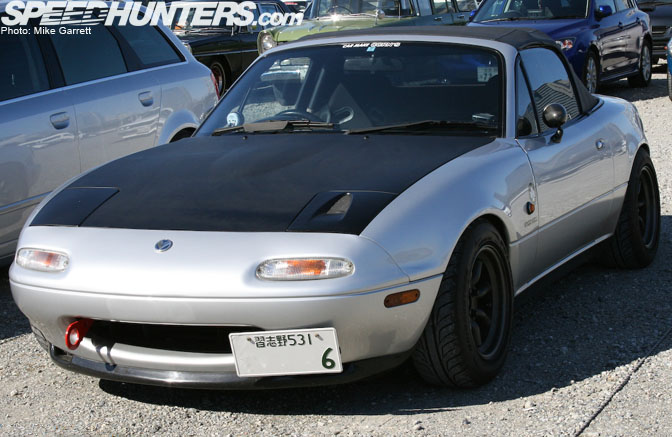 This NA6 is similar, but with slightly wider wheels and a few exterior upgrades like the mirrors, headlight vent, and OEM front spoiler. This car was spotted at the JCCA New Year Meeting last year. As you can see, the Roadster guys in Japan like RS Watanabe wheels almost as much as the AE86 guys. Really, the AE86 the NA6CE are quite similar since they are both light weight FR cars powered by 1.6L twin cam engines. It's no wonder a lot of AE86 guys have or have had Miatas (and vice versa).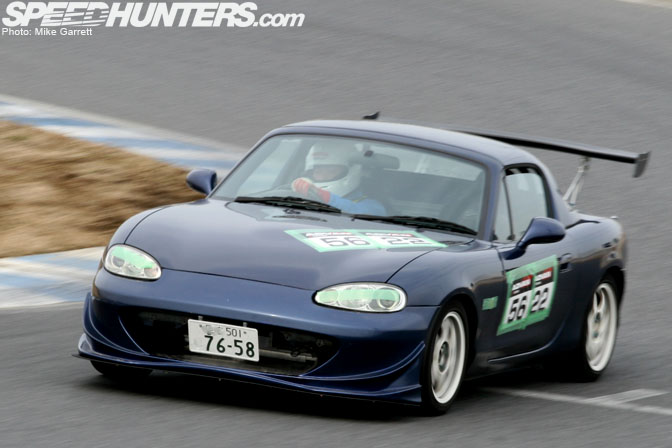 The second generation NB Roadsters are popular as well, but typically they are done in a bit more contemporary fashion than the throwback-happy NA's. This 2001+ model is sporting a Garage Vary Type-N front bumper, a GT wing, and lightweight SSR Type-C wheels. This photo, like a lot of the ones in the this post, was taken at the Miki Project R-1 Grand Prix all-Roadster meeting held every year at the Tsukuba 1000 course.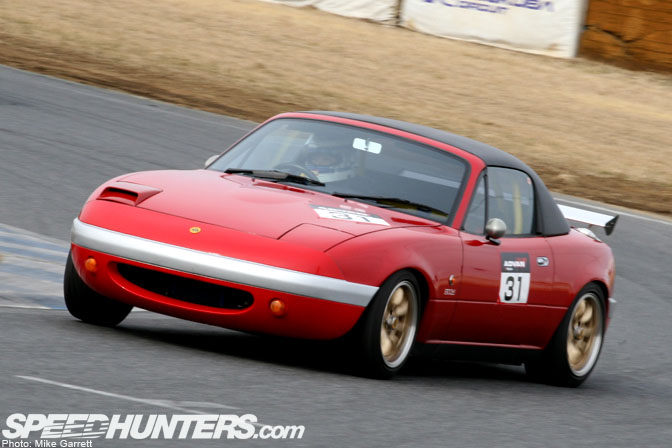 The original Lotus Elan was one the of the cars that Mazda looked at when developing the original Roadster, and  a company called Zoom Engineering takes it even further with their Elan-inspired conversion kit. The Zoom front bumper relocates the front marker lights to the bottom of the bumper and adds an Elan style strip. For the rear, they have short bumper and retro tail lamp conversion. Pit Crew Racing also offers a front-end that totally transforms the car into a 60's style clubman racer.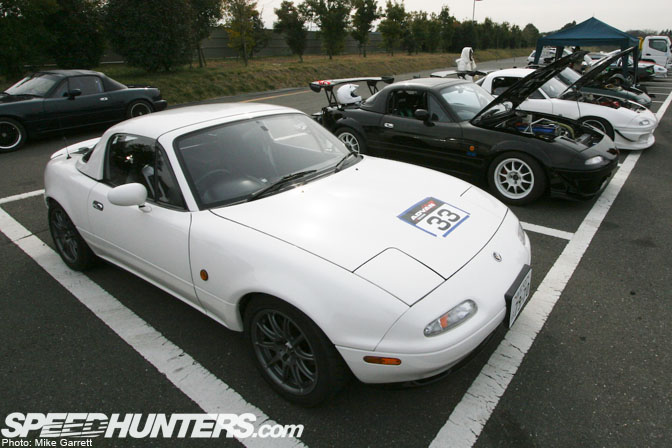 Some variety in the paddock at the R-1 Grand Prix.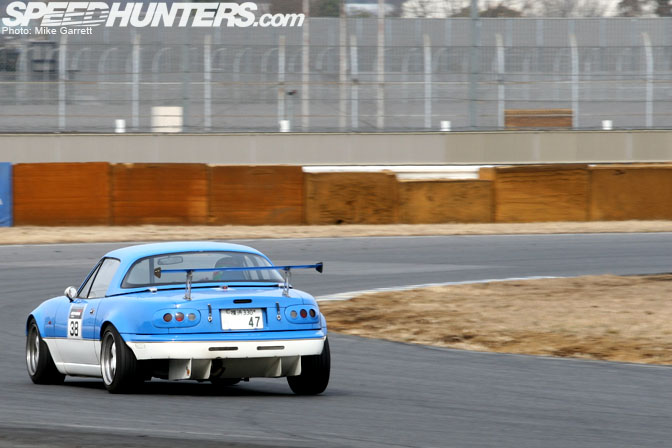 This NA combines some of the retro bits while being a focused track car (that retains its number plates). The two-tone paint, mirrors, and tail lamps come from the "nostalgic" style, but the diffuser and GT wing are all function. Even more impressive was watching this car fly around the Tskuba 1000 course (which is well-suited to these cars).
Now for some more of the "hardcore" NA roadsters I've seen-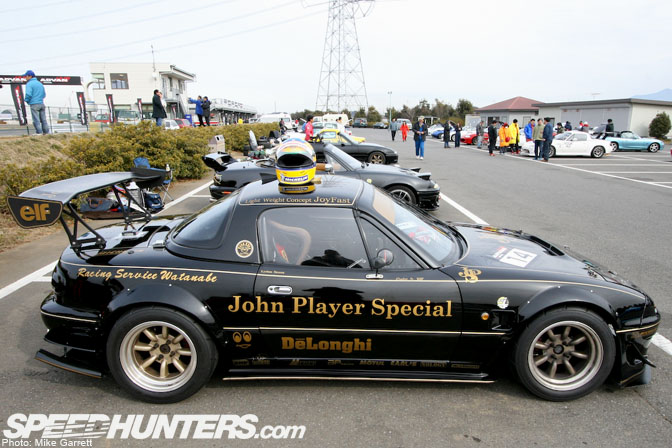 You've probably seen me post this car before, but there was no way I could leave it out here. For JDM Roadster buffs, the Frog Eyes JPS car is like what a Koguchi-built 180 is to S13 guys. Actually, I remember hearing that this thing was for sale recently…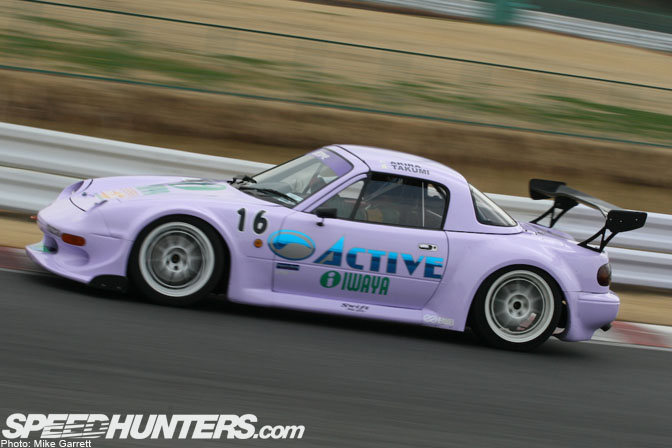 The RS Active NA forgoes the retro stuff completely, with more of a GT feel. This car is capable of lapping Tsukuba Circuit in 1:03 range and competes in the Idlers Club Super Cup. This car reminds me a bit of Nopro Rotary-powered NA that used to run in JGTC. I'll have to dig up a photo of that car…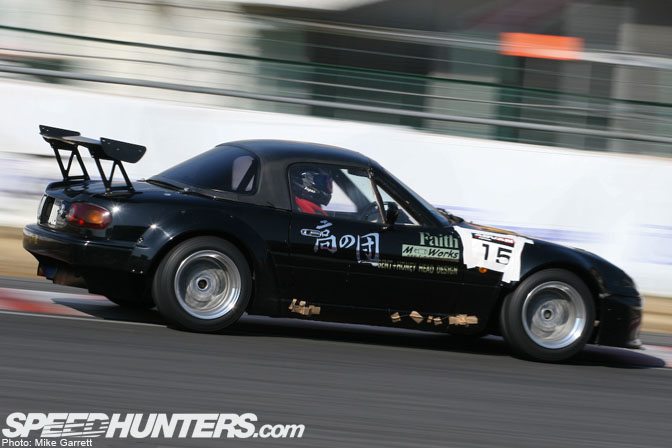 Here's another worked-over NA race car that runs in the GTCC race series at Tsukuba Circuit. The Roadster may be loved by those who favor the jinba-ittai (horse and rider together as one) concept over outright performance numbers, but that doesn't mean the cars can't be built into monster machines.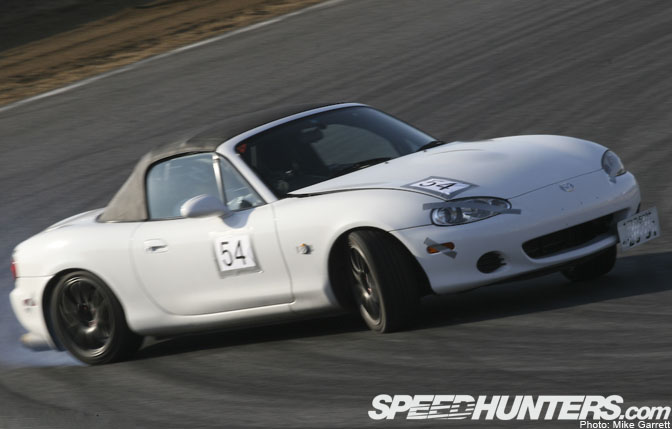 A growing number of people are using Roadsters for drifting in Japan and around the world. Over the past year, Drift Tengoku magazine has been running regular stories featuring Roadster drifters from all over Japan, complete with car setup tips and advice for aspiring drop-top sliders.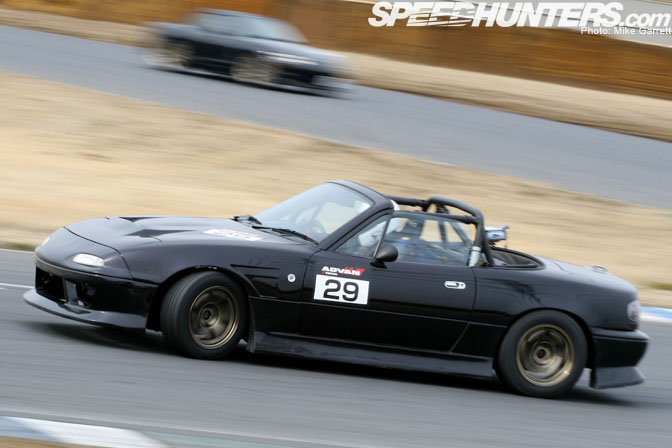 When it comes to the Roadster drifting movement in Japan, there are few names are bigger than Arios. You might remember seeing their rotary-powered NA demo car in videos or magazines. The owner of this Arios-equipped Roadster couldn't help engaging some drifting even though the R1-Grand Prix is a grip event.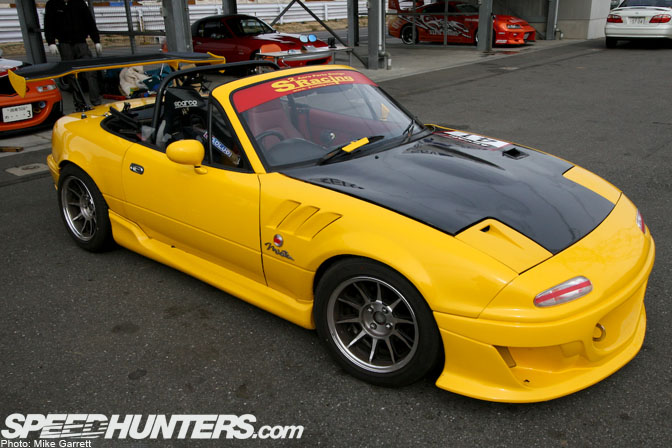 This is one of S2 Racing's demo cars, equipped with a rare set of Enkei Barrel wheels. A lot of S2's demo cars have recently found themselves in the hands of lucky buyers. Note that this car is sporting USDM "Miata" badges on the fenders. The grass is always greener…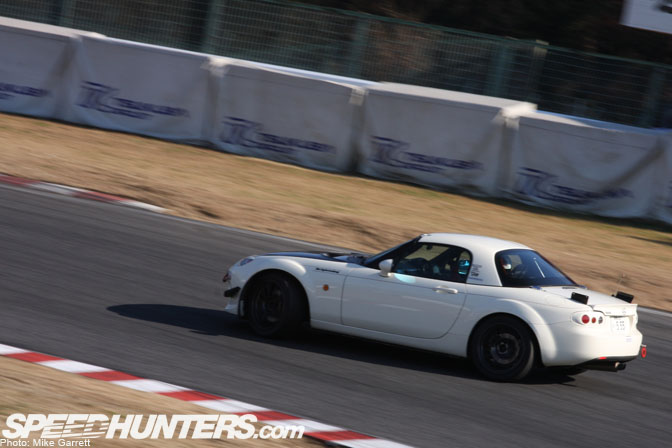 I couldn't leave out the NC Roadster here.I can't believe that these cars have almost been out for four years now. Now that the NC has been around for a bit, more and more are being tuned. There are a lots of tuning parts available for the NC, such as Cosworth's awesome supercharger kit, which is used on the Brightning time attack NC seen above.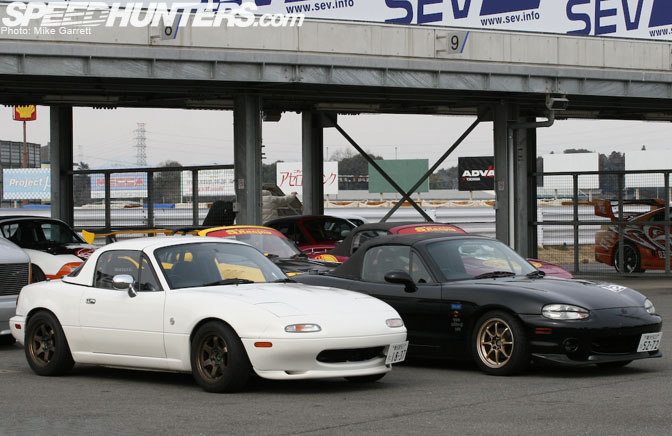 And finally, I thought this photo of a white NA sitting alongside a black NB would be a good way to close out this post.
Man, I can't wait to get behind the wheel of one of these cars again…
-Mike Garrett