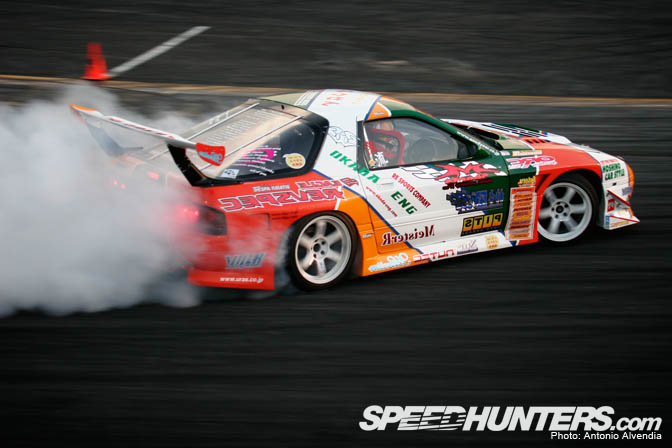 Let's rewind things for a bit. I was digging through my massive photo archive for these pics… since it's Mazda month, I definitely had to show this blast from the past. The car in the photos is a FC3S D1 car, owned by my good friend Hirotaka Hoshino. Hoshino is a D1GP driver, and the charismatic leader of Geki Kassou Dan, a group of really cool image-having drifters from the Gunma prefecture of Japan. The FC pictured above has got to be one of my favorite FCs of all time. It just looked so cool when I watched it drift the banking of Irwindale Speedway… this was quite a while ago. I shot this photo in 2005. Wow, it's just about 3.5 years ago, but it already seems like it's so far away…
BTW: See that Meister R sticker on the lower panel of the door? Do you recognize that decal? If not, then search back through the Speedhunters archives to look through our stories related to MSC at Honjyo Circuit.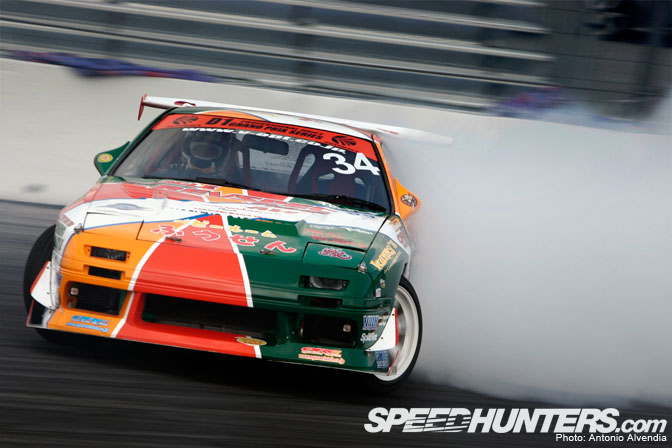 I love the bright, multicolored paint job Hoshino's FC has! I also think the M-Sports aero kit, drop vent hood and the aero mirrors do wonders for the car. They make it looks bad ass.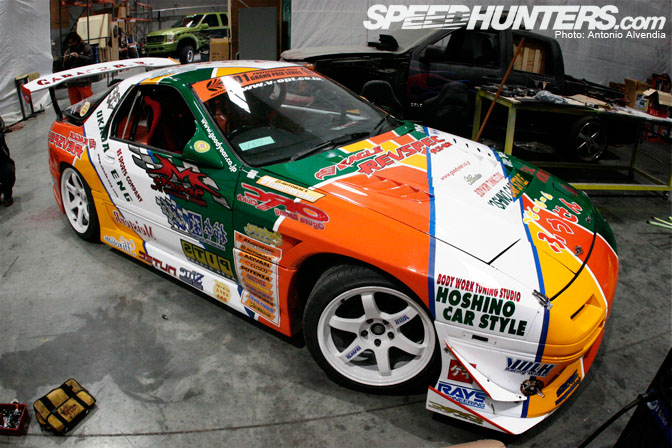 Here's another photo of the car, as it was sitting in the warehouse of a shady ricy parts company who was previously affiliated with some of the top drifting teams.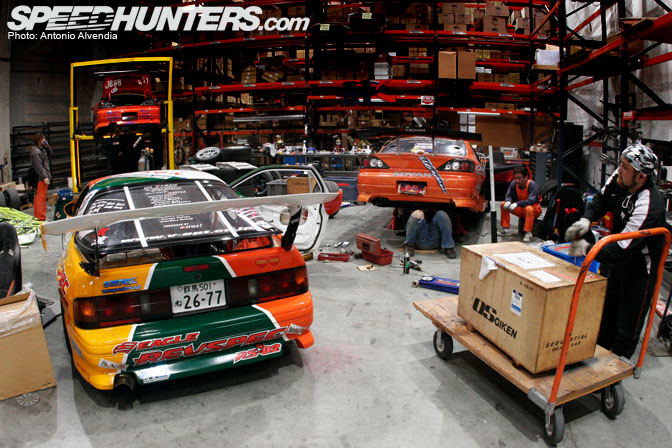 Here's the back of Hoshino's FC, as it sits in a warehouse temporarily converted to Team Orange's garage area. I remember this day well… these are my good friends in the photo! On the right, leaning on the cool OS Giken crate, is my friend Ohki san (the owner of Tex Modify). The guy in the orange jumpsuit behind him is Hide, who is the official D1 "starter." At D1 events, Hide waves the flags at the start line to signal the drivers to GO… but for his every day job, he works at Ebisu Circuit, and is one of Kumakubo's oldest childhood friends. The guy with the ripped pants underneath Kumakubo's S15 is none other than Mitsuteru Igusa, Team Orange's hilarious crew chief, who is a D1 level drifter himself. The guy on the leftmost with the bright orange pants is Kenta Ogawara from Tokyo Drive Productions. Those are some pretty bright pants, man.
The last thing I'll say about this photo is RIP… because the super cool FC3S in the photos we see here is now sitting somewhere in a junkyard in Japan, all rusted out. A few years back, Hoshino got into a crash with this car, and it just sat outside his shop as a parts car, until it finally rusted away and he had it sent to the crusher. So sad. Awesome car.
-Antonio Alvendia