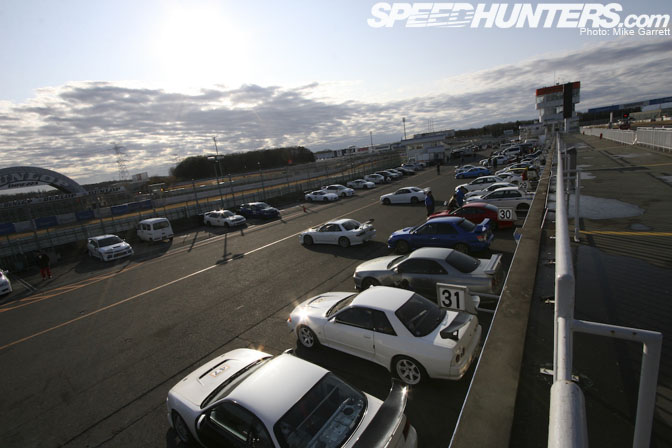 As you probably know, this Wednesday is the annual time attack competition at Tsukuba Circuit hosted by Rev Speed Magazine. It's the single biggest time attack event in Japan and the world. There are no race queens, no huge crowds of spectators, and no distractions. Just the fastest tuner cars in Japan gathered to prove themselves on Tsukuba's 2000 meter course, the holy ground and birthplace of time attack. Before the big event, we wanted to do a quick overview of Tsukuba time attack.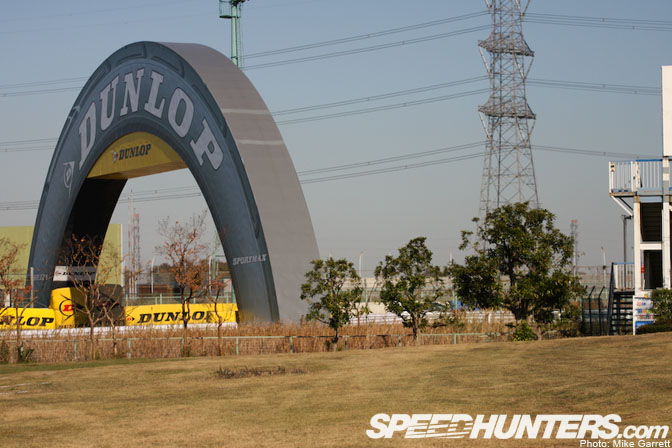 Tsukuba Circuit has long served as the proving ground for both tuned and production cars in Japan, and In May of 1994, Rev Speed Magazine hosted the first ever "Tsukuba Super Battle". Although circuit racing had always been popular in Japan, up until this point, the tuning world was primarily focused on drag racing, highway racing, and occasional touge action. The Rev Speed event helped transform Japan's tuner into the stopwatch junkies they are today. The winner of the very first Tsukuba Super Battle was the Mine's BNR32 Skyline GT-R, which recorded a lap time of 1:00.85. Oh how far we have come…
The events quickly grew in popularity and more tuners and parts companies got in on the action. In 1995 Mine's broke the one minute barrier with their R33 Skyline GT-R. By the end of the decade, Tsukuba time attack was huge, and the fastest cars were running in the low 58 second range. By 2002, Jun Auto had broken the 55 second barrier with their yellow CP9A Lancer Evolution.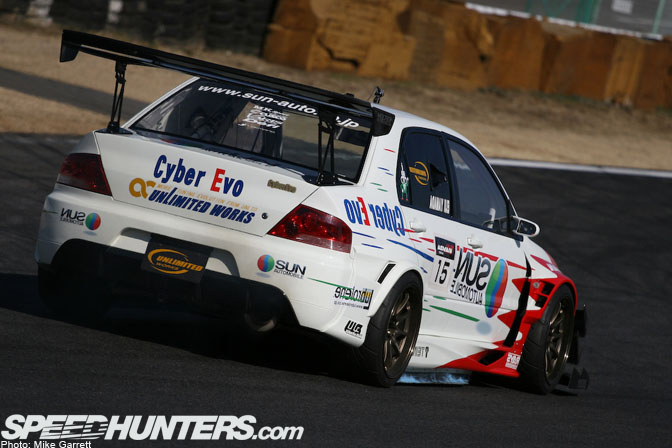 The current record OEM chassis record at Tsukuba Circuit is 53.589 seconds, set by the HKS CT230R Evo in 2007. Although that car doesn't compete in the Rev Speed events, a number of cars are showing potential to come near HKS' record time. Last year, the M-Speed was the fastest car at the event with a 54.481 lap time. The Sun Auto Cyber Evo, seen above is another top contender as is the Top Fuel S2000 turbo which set the Tsukuba FR record earlier this year with a 55.30 lap. The competition is certainly getting stiff.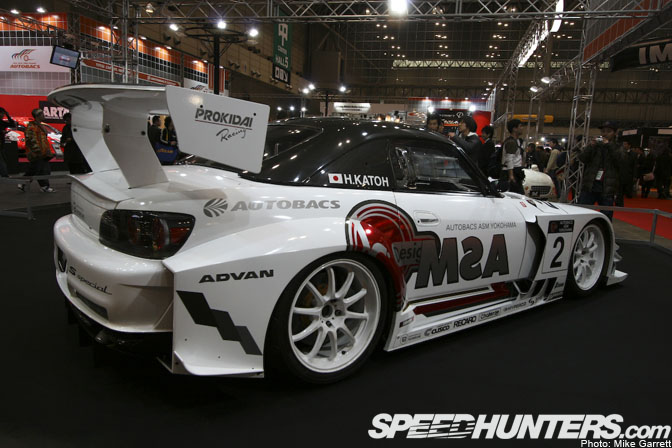 For the Rev Speed event, competitors are broken into Open and Street classes depending on the level of modification and street legality of the car. From there, they are also grouped into categories based on the car itself. Although AWD cars like the Evo and GT-R have always been favorites, lighter FR cars like the S2000 and RX7 also do very well at Tsukuba. I'm sure you recognize the car in this photo as the  ASM Tsukuba Special S2000, an engineering wonder and the NA Tsukuba record holder with lap times in the 57 second range.
Here's a quick overview of the Rev Speed classes.
Open 4WD (M-Speed GT-R, Cyber Evo, etc.)
Open 2WD Turbo (Pan Speed RX7, Top Fuel S2000, etc,)
Open NA (ASM S2000, Tracy Sports NSX, etc.)
Street 4WD (ATTKD BNR34, Original Runduce Evo etc.)
Street 2WD Turbo (Fujita Engineering RX7, ARMS S15, etc.)
Street NA (Arvou S2000, MCR Z33, etc.)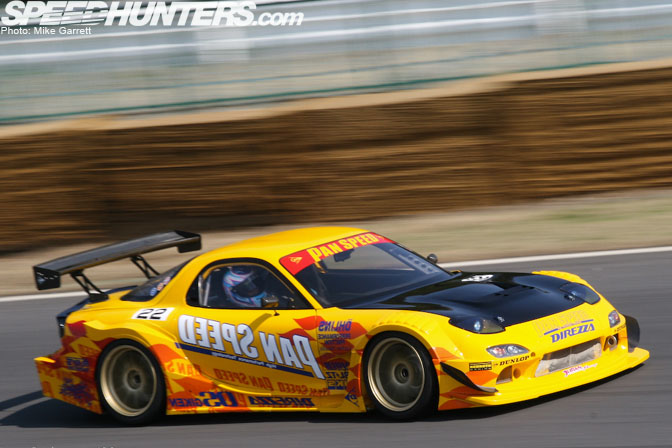 Although not an ultra high speed course like Fuji Speedway,Tsukuba Circuit offers a challenging combination of both tight corners and high speed sections. Grip and cornering power are very important on the infield section and the back straight and final corner require aerodynamics and high speed stability. If everything goes right, you'll have less than 60 seconds or less of automotive magic. The Pan Speed RX7, seen above running down the back straight, is one of the top rotary machines at Tsukuba, running laps in mid 55 second zone.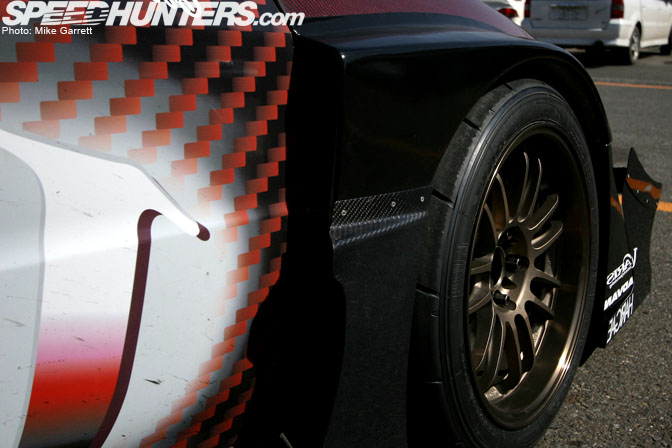 Some of the current front-runners at Tsukuba have exteriors that could rival Super GT cars. This year, a lot of them been seeing time in the wind tunnel to perfect their aero configurations. Every year the competitors seem to get more and more serious about this competition. The Rev Speed event is also growing on the international scale. Last year a number of teams from the UK shipped their cars to Japan to run in the event. Our own Andy Barnes was even there to compete.The Zen Performance GC8 Impreza ran an impressive 58.534 lap at Tsukuba.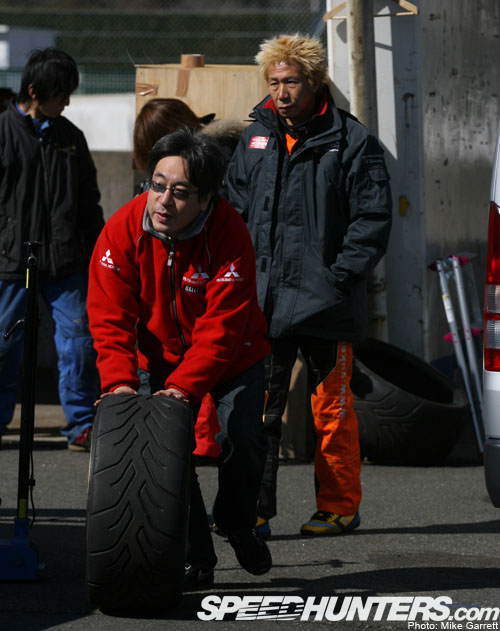 The busiest people at the time attack events are pro drivers like Tarzan Yamada and NOB Taniguchi who spend the day performing driving duty for various tuner cars. It's not only their driving talent that is top level, but their adaptability. These guys can set a lap record of with high power AWD GT-R and five minutes later do the same thing in a naturally aspirated S2000 with totally different handling characteristics. It's really incredible.
Well, there's a little background on the craziness that surrounds beating a stopwatch at a little race track in the countryside of Ibaraki Prefecture.
This year's Tsukuba Super Battle looks like it could be an eventful one. There are a few newcomers that should have impressive showings like Tarzan Yamada's Impreza which ran at Buttonwillow last month. It should also be interesting how the tuned R35 GT-R's stack up in the Street Class. As of now, the weather report is forecasting rain showers for Wednesday, but let's hope things stay dry so we can have the chance to see some real record breaking. I can't wait. Stay tuned for Rev Speed Tsukuba coverage throughout the week.
-Mike Garrett