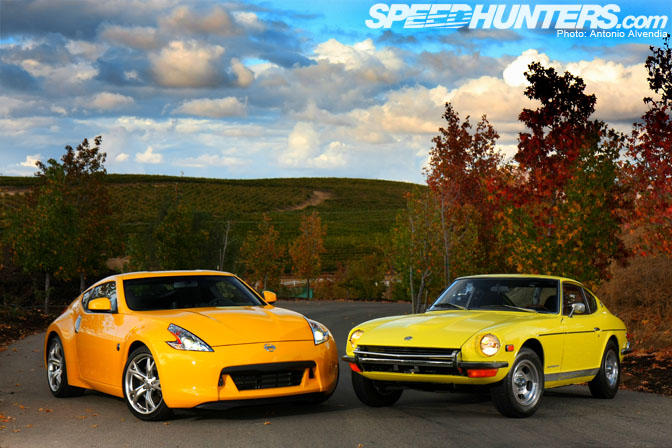 By now, many of our Speedhunters readers have probably already read my "driving impression story" on the new Nissan 370Z. However, I wanted to take a quick look back at the design similarities between the new 370Z and the old school S30-chassis 240Z.
I thought it would be pretty cool to do a photo shoot showing both the new and old Zs together. However, I had a hard time finding a clean yellow Z to shoot; I wanted a yellow 240Z because our 370Z test car would be yellow as well. I called up my friends, Ben and Dan Hsu from Japanese Nostalgic Car Magazine. I said, "listen guys. You guys have a magazine dedicated to old Japanese cars. Please find me a yellow Z!" The next day, Ben Hsu called me up, and sho nuff, he had a yellow 240Z for me to shoot. Awesome! He mentioned that he had some ideas for a story on both Zs, and asked if he could also have his brother Dan shoot photos of the 370Z for a Nostalgic Car story for their magazine. Of course! Friends helping each other; that's what this automotive hobby of ours is about, isn't it?
Anyway, I'd like to thank both Ben and Dan for their help with this photo shoot, and for introducing me to Fred Jordan, the founder of the Datsun Heritage Museum (more on this in a future story) and the Z-Car Club of Inland Valley. Fred was nice enough to allow us to use one of the cars from the museum for our shoot! After scheduling and rescheduling this shoot around Speedhunters deadlines and untimely rain, we finally made it down to the museum, where Fred and his wife were waiting with Kay Milton, the original owner of the 1971 240Z used in our shoot. Thank you to everyone involved for helping out with this project!
We obviously attracted a lot of attention on the road, driving our two bright yellow cars – an unreleased-to-the-public yellow Nissan 370Z and a classic Datsun 240Z, from the museum through Temecula's city streets, to the winery area where we finally did our shoot, thanks to a helpful suggestion from my friend Jeremy Rafanan.
When we had these two cars side by side, I felt that you could definitely notice the similar design DNA in both cars. After all, Nissan's goal in designing the new 370Z was to bring back the 240Z's feeling of high performance and stylish design in a newer body.
Just looking at the photo above, you can easily notice… even though it's a lot smaller than the 350, the 370Z looks huge in comparison to the 240Z, doesn't it?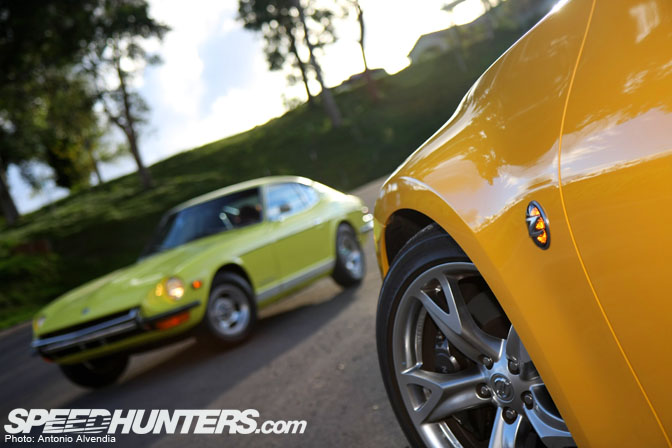 I dig this Z emblem/sidemarker on the front fender of the 370. It looks similar to the Z emblem on the C-pillar of the 240Z.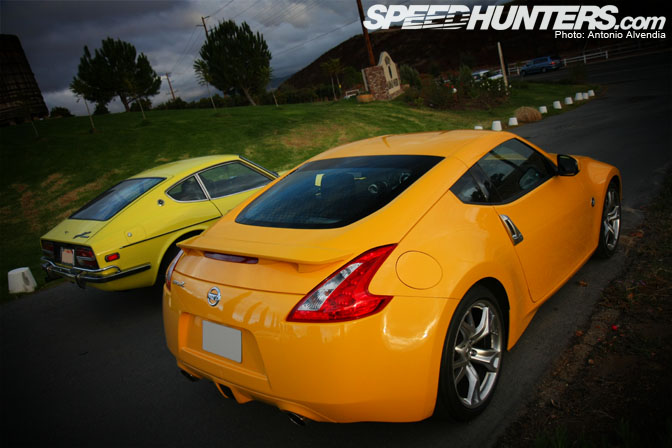 From this pic, again, you can see how much larger the 370Z is compared to the old school 240. However, you can also notice many similarities – the slanted roofline and angled front window… the side and quarter windows also have an almost exactly similar shape. The gas door is also in the same place, more or less. Other than that, the taillights and rear end look completely different of course.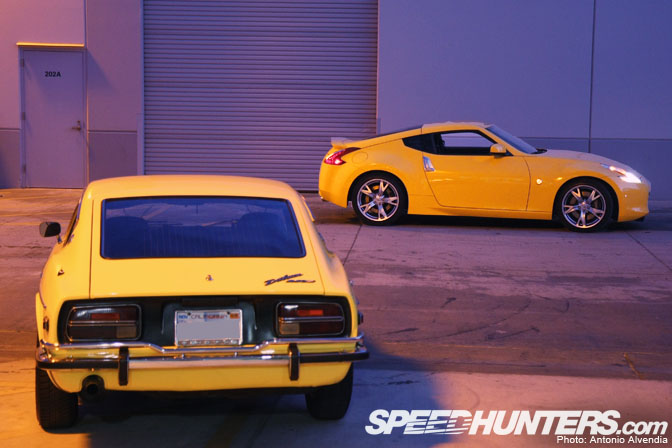 I think these two cars look great together. Wouldn't it be cool to have both of them parked side-by-side in your garage? I think the side profile of the new 370Z is so sexy!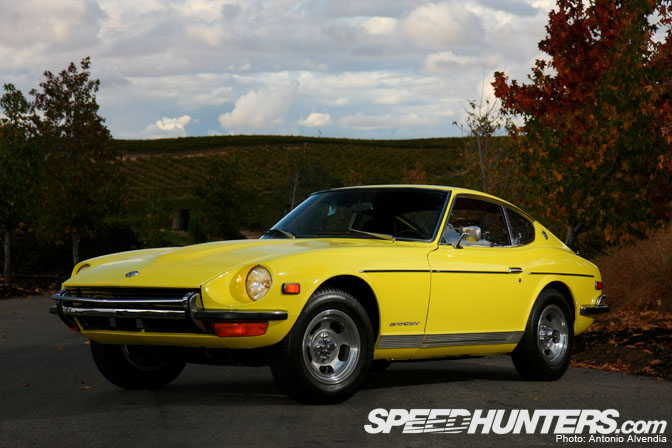 You're not too bad looking yourself, 240Z!
Just to clarify things, this is not a bone stock 240Z. It's *almost* bone stock… however, the owner of the car decided to leave it "period correct 1970s American" style, with the 5 spoke wheels (anyone care to guess who makes them? American Racing? Cragar? I bet one of our Speedhunters readers knows!), side moldings, and bumper guard extensions, which, in my opinion, make the front of the 240Z look like a football player's helmet. Whether or not this appeals to your sense of Japanese car style, this is how typical Zs in the USA looked back in the day.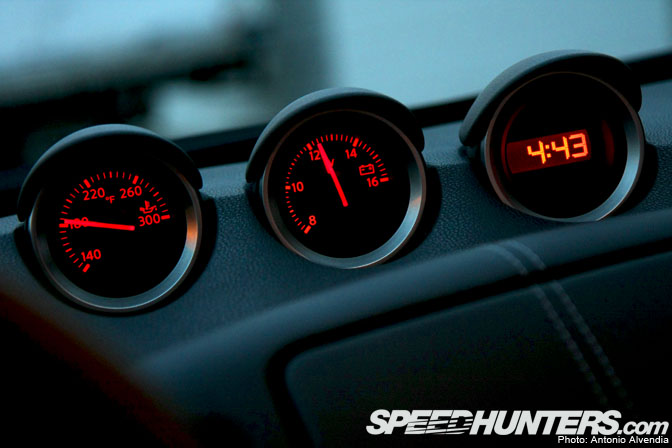 The triple gauges in the middle of the dash also are an homage to the classic Z, which also had 3 gauges in molded dash pods. In my opinion, I think the clock is kind of poorly placed; I'd prefer to have a better, more useful gauge in its place.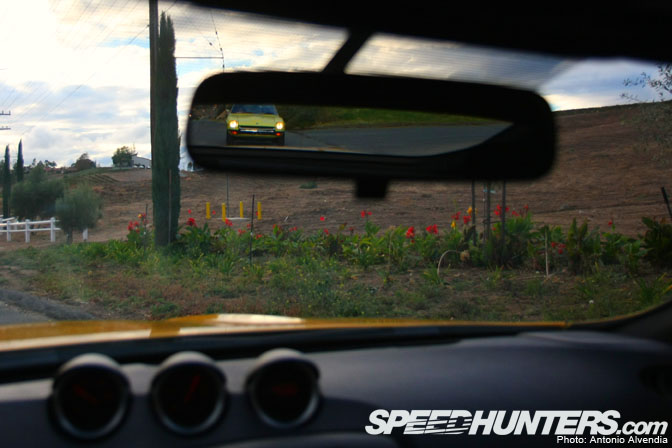 Again, the gauges and the rear view seems reminiscent of the 1970s Z. I think it would have been great to have a taller rear window though (although I'm sure a taller rear window would affect the design/look of the car adversely). The only reason I'm saying it is because I like big visibility in the rear because I like to watch out for cops in the rearview when I'm speeding.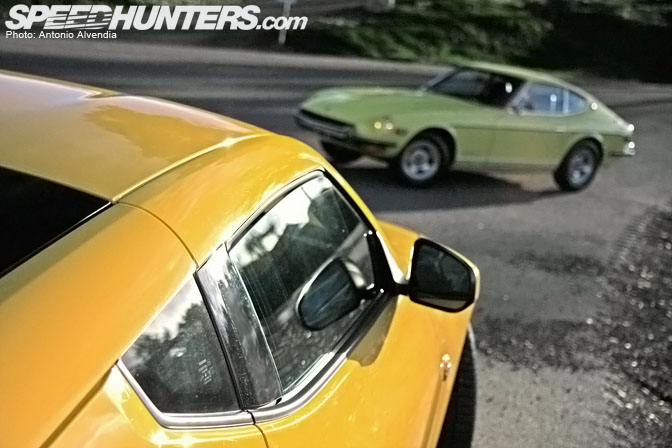 Again, a close up shot of the very similar side window design. This is what reinforces the classic look to me.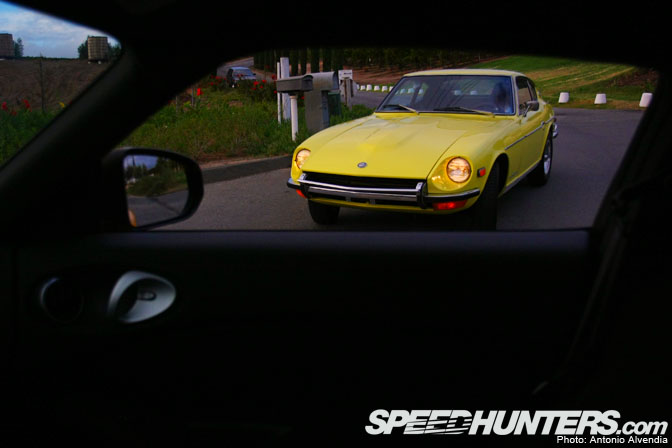 What a great pair of cars to own, especially together! 240Z owners, go buy matching 370s! If I owned a 240Z, I definitely would!
The New Nissan 370Z: Driving Impression on Speedhunters
-Antonio Alvendia