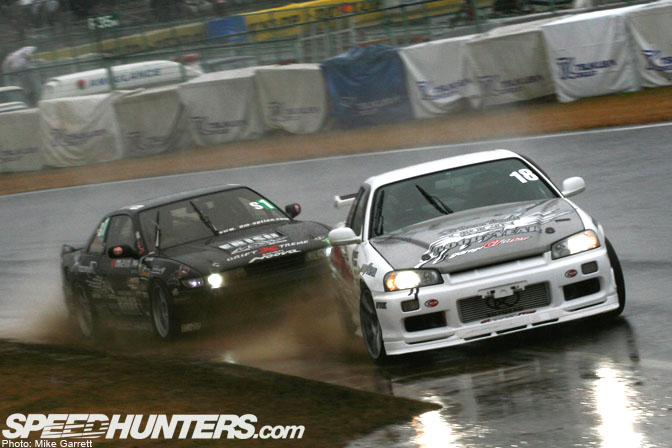 I guess you could say the 2008 drifting season is offically over now that D1 Street Legal has wrapped up its season in Japan. Now that things are slowing down for me event-wise, I'll be putting together some posts looking back at the action from this year, but before that I have more photos from last sunday's D1SL Tsukuba finale to post.
Up above, we have eventual champ Naoto Suenaga driving through the cloud of mud and water kicked up by Tsuyoshi Tezuka's R34 during practice. I felt kind of bad returning my D1 media vest at the end of the day because it was covered in mud and soaking wet…sorry about that! Also, after this event I realized that I need to invest a pair of boots to wear when I'm working so I stop screwing up my sneakers.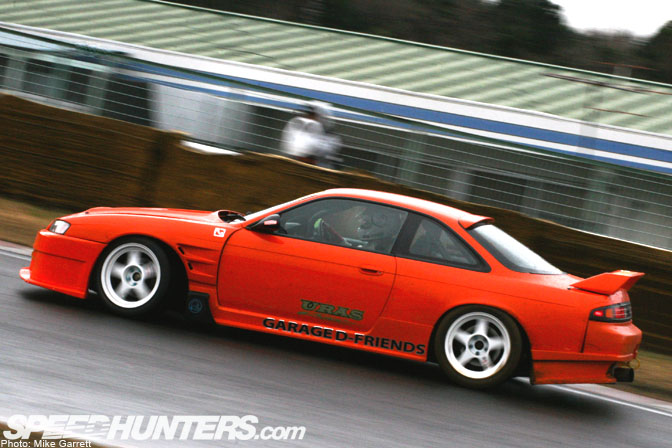 Here's another view of Hirashima's Silvia as he swings it into the hairpin. I'm seriously in love with this car. At one point he was even running Federal tires with white letterin, making the car look even cooler.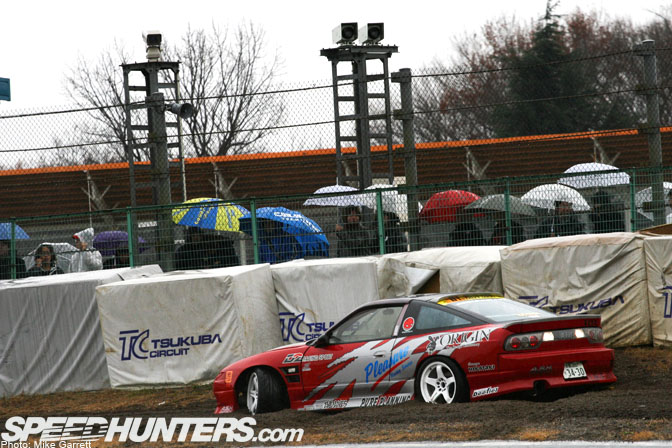 Even with the slick course conditions, this was one of only "crashes" all day. There was'nt anything wrong with the car, except the fact that he had to wait for the two truck to pull him ouf of the mud. I was expecting there to be a lot more carnage with broken bumpers all over the place, but I guess this shows the talent of the D1SL drivers.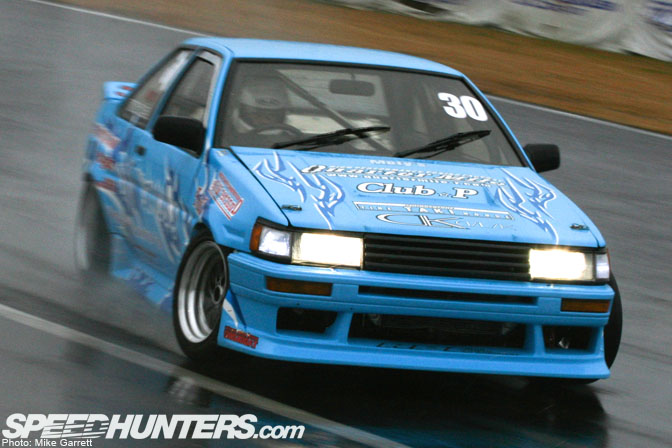 Out of the 32 cars that entered in the competition, the only AE86 was this blue two-door Levin driven by Masaaki Ukita.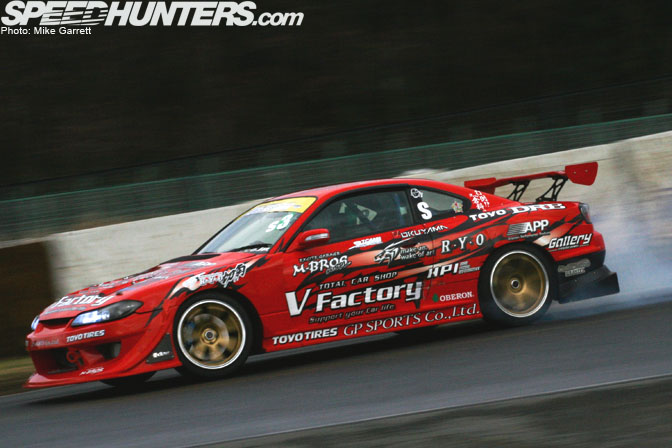 By the final few matches of the tuiso tournament, the course had dried just enough for the cars to start laying little tiresmoke, as shown here by Kiyofumi Jikuya in the V Factory S15. This car could easily be mistaken for a full-on D1GP car with its GP Sports widebody and graphics.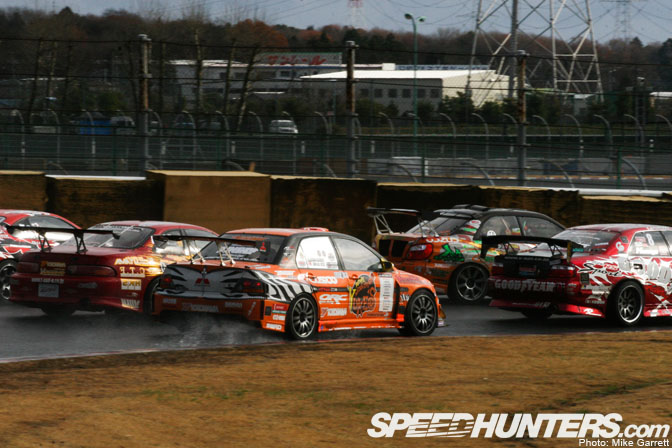 And speaking of D1GP, here's another shot of the opening moments of the chiki-chiki race. Drift cars going three and four-wide on a wet course is some hair-rasing stuff for sure.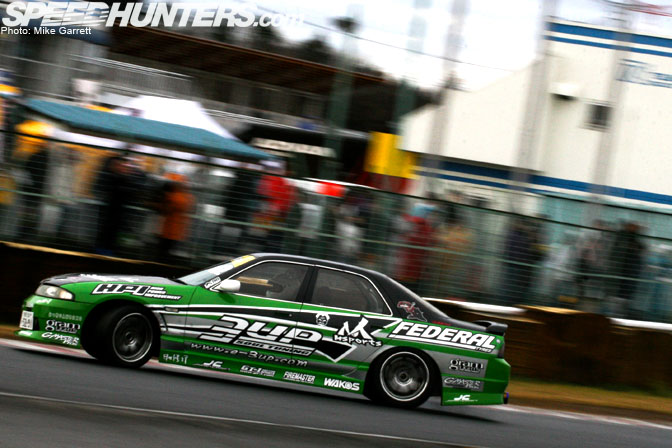 "3-Up" Mitsue-san is always fun to watch in his green ECR33 Skyline sedan. Mitsue is one of several D1SL drivers that are running Federal tires. Just like in the US, Federal is big supporter of the grassroots drift scene in Japan, hosting events and sponsoring drivers all around the country. Mitsue had a great day, making it all the way to the semi-final.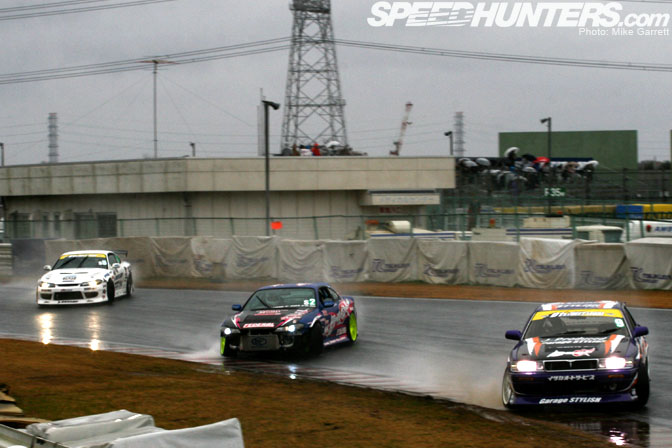 Kiguchi, Nakamura, and Hibino impressing the crowd with some 3-car drifting during morning practice. After watching the event, my impression is that Hibino and Nakamura are the most "aggressive" drivers in D1 Street Legal.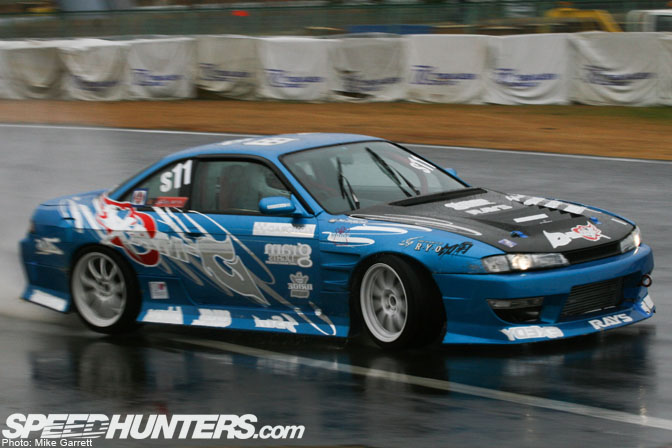 Seimi Tanaka's D-MAX-sponsored S14 is another one of the sexier cars in D1SL.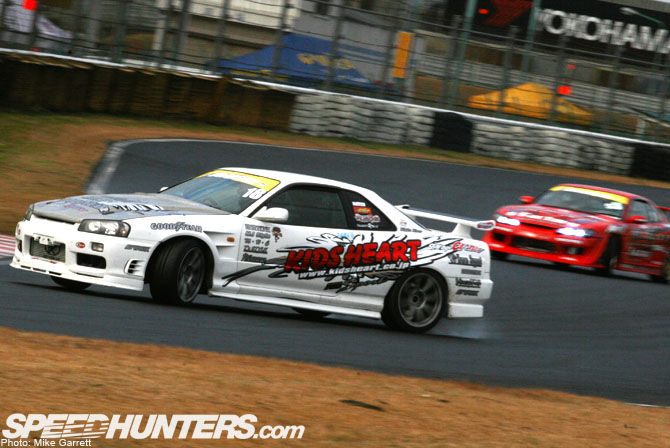 Tezuka has a big lead on V Factory S15 here as they battle during the Best 16. His luck would change when he spun during the next run, allowing Jikuya to advance to the Best 8.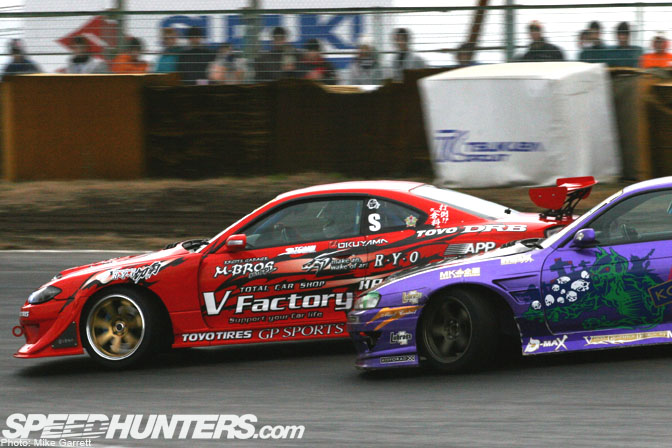 Here's Masashi Yokoi demonstrating his talent by putting the nose of his S14 right up to the door of the V Factory car during the Best 8. This guy will be one to keep an eye on in the future.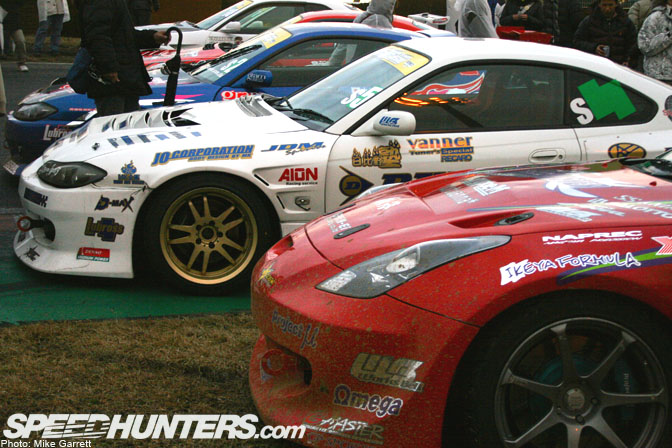 I'm guessing that Yukio Matsui's JZA80 Supra will be shown at Tokyo Auto Salon in a few weeks, but before then someone has a lot of cleaning to do…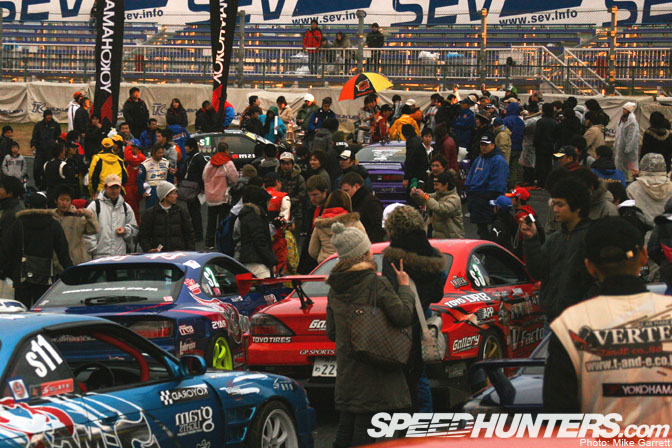 One of the coolest parts of any D1 event is the finale. Before Mana P and Tsuchiya announce the winner, everyone brings their cars out on to the track and It feels like the end of a movie. I keep thinking it'll fade to black and credits will start rolling. Check out the girls there doing the famous Japanese "peace" pose…
-Mike Garrett