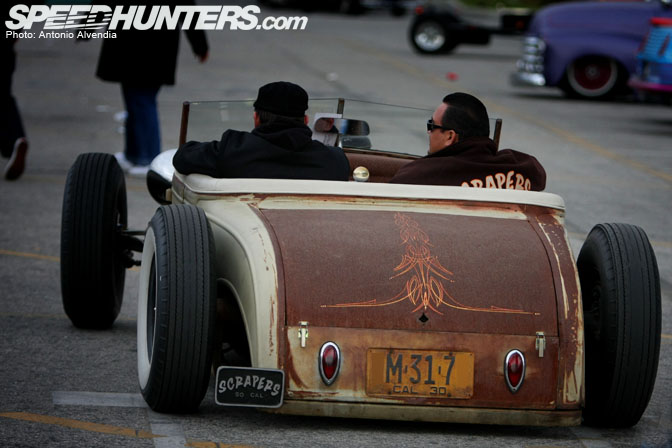 As promised, here are more photos from the Mooneyes Christmas Party at Irwindale… it has been tough trying to process these photos quickly, because every day since the Mooneyes event at Irwindale, I've had all day photo shoots. Today I have another car to shoot while we have a short break from the rain! Whew things are busy right now!
I absolutely love the style and patina of the super low suicide rod above… from the cream colored paint to the combination of surface rust and cool pinstriping on the rear trunk lid; to the upside-down teardrop shaped taillights; to the small aluminum trunk latches; to the old school rusty yellow license plate; to the low cut "straight glass" front window and dash-mounted rearview mirror; to the fully exposed wheels and whitewall tires; to the "Scrapers So Cal" plaque, which proudly represents the owner's car crew… but the best thing I love about this car is how effing low to the ground this thing is!!! SICK!!!!!! Big respect to the owner of this car, and the rest of the Scrapers crew… what an awesome name for a car club! Look at the passenger's Scrapers jacket! Sick! If that's not gangster, I don't know what is!
I can totally imagine myself cruising around in Southern Cali with a car like this. I just don't know where I could drive it! This thing definitely won't clear speedbumps! Haha, I love it.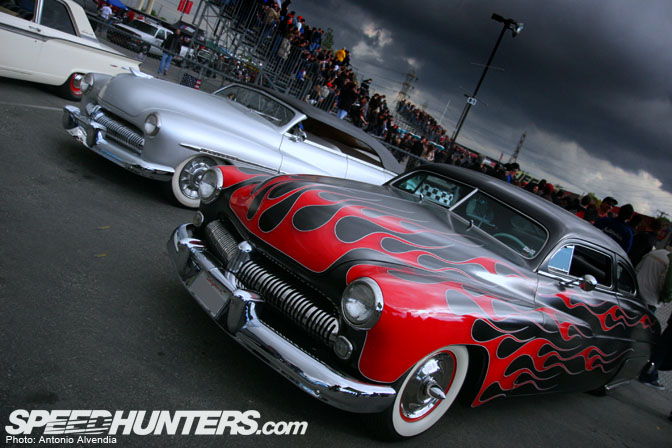 During the day of the event, showgoers were treated to a deep ominous sky, and deep sinhy paint jobs on cars like these Mercury lead sleds. While I don't honestly know too much about these cars, I'd love to learn more about them. I remember seeing a cool chop top Mercury in the Gone in 60 Seconds movie (the second one; the Nicolas Cage version), and that initially sparked my interest. I'm sure a lot of people enjoyed seeing flames jump out of the tailpipes of the car. While I'm a big fan of flames coming out of car exhausts, I'm honeslty not a huge fan of flames painted on to cars. However, I think the red/white pinstriped flames on this satin black Merc look outstanding! Super cool, especially with the matching red trim around the wheels. This car looks awesome. Just try not to drive one of these Mercs with one of those button up polyester collar shirts with flames on the bottom, LOL!
So… while talking to Rod (the Speedhunters team's number one hot rod enthusiast) on the phone today, I asked him, "so why do they call them lead sleds, anyway?" Rod said that back in the day, when people used to do bodywork on these cars, they didn't use bondo to fill-in and smooth the bodywork, they used lead. Ohhhh. It all makes sense now. These cars are low to the ground and filled with lead! No wonder they call them lead sleds!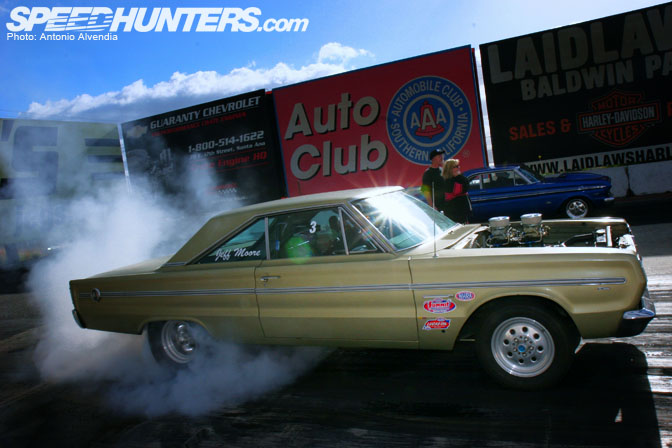 Although I didn't like the styling of every single car going down the dragstrip (like I said, the majority of the cool custom and/or rat rods were found in the parking lot), I thought this car looked super cool, with its vintage hued paint and sparse sticker placement – of course, laying down big smoke at the drag strip doesn't hurt the cool look of the car! I'm not exactly sure what kind of car it is, maybe some of our readers might be able to help me verify the make of this vehicle… Dodge Coronet maybe? (Mike G is a Mopar fan, I'm sure he can tell me if it's a Dodge or not) The only think I'm sure of is the wheels – Weld Drag Lites.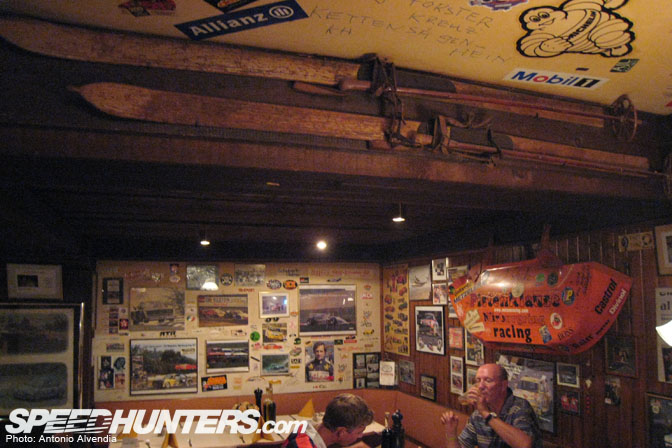 I have no idea what kind of car this is either – let's just talk about the style real quickly. I like the fact that the exhaust pipes are sticking up so high; it looks pretty cool. However, I personally think the big red front grill is a bit of overkill. The nicely done pinstriping on the front (and the red trim on the front wheels) would stick out more noticeably if that grill wasn't so in-your-face red.
Come to think about it… what do you guys think about running negative cambered front wheels on rat rods? Do people do that? I didn't notice it on any of the cars I saw at the show, so maybe it's not the "in thing" to do in this scene.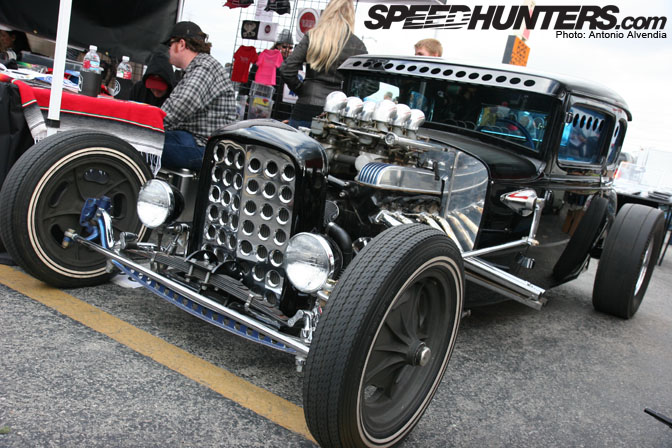 I really love the vintage wheels on this car. Don't they look soo cool? Looks like they're just attached by a center lug – I don't see any lugnuts there. Or front brakes! Old school vintage draggers didn't use front brakes, says Rod… man, that sounds pretty dangerous, especially if you like to drive with your foot to the floor!
Not too sure if I like the grill on this car either  – the chrome and the holes look like a bit too much for my personal taste. However, I can understand why the owner of the car did it –  to tie together the theme, which also includes these "lightening holes" on the sunvisor to the front of the windshield and the side windows. Speaking of side windows, notice they're blue? Apparently it was a styling cue from the 1960s… back then, it was considered super cool to run colored windows on your car. Back in those days, people used to replace their windows with colored plexiglas! BTW, Rod mentioned that this car has a nailhead engine from a Buick, which is noticeable because of the vertically oriented valve covers. I'm learning something new every day over here!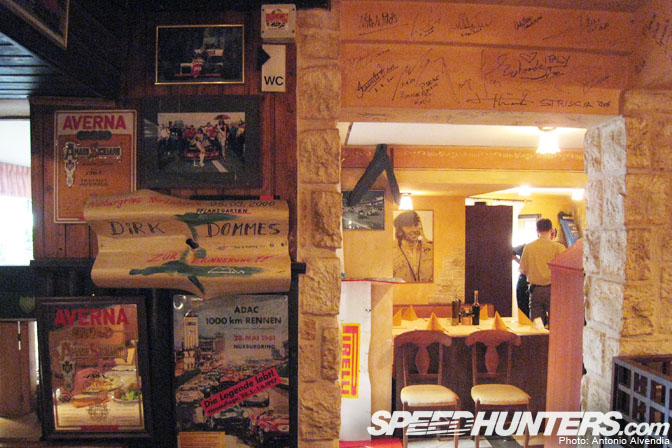 Anyone know what this burgundy pickup truck this is? (Damn it, I'm sorry I don't have info on all the cars – my specialty is Japanese cars! However, I'm very interested in leanring about this scene now… this event has definitely piqued my interest in super low rat rods and custom cars!)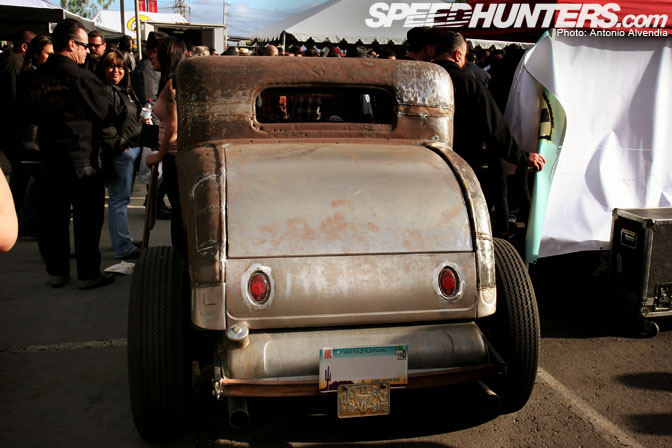 Rat rod from Arizona… looks super narrow and tall. Apparently this is a high boy? Speaking to my friend Christian from So Cal Speedshop, he was pointing out some cars at the show when I walked with him briefly… high boy refers to cars with bodies that sit above the frame, and low boys are cars that sit BELOW the frame. Hell yeah, let's find us some more lowboy rat rods! Love those!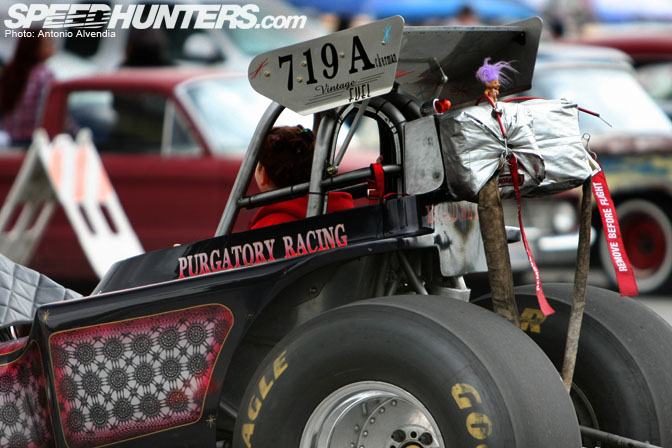 I thought this vintage dragster looked pretty cool – Rod mentioned that it looked like an "altered," which refers to dragsters that have their wheelbases altered. Back in the day, people would move the wheelbases of the cars forward for more traction. Well it sure as hell doesn't look like a normal wheel base car to me! Dig the huge Goodyear slicks!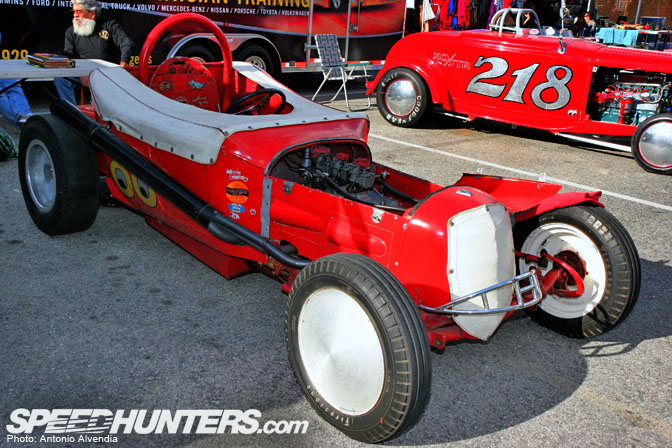 This "proper" period correct looking vintage dragster apparently has a track style bumper. It looks like a Jabbawockee wearing a football helmet to me, makes me think of the NFL Sunday Report! You can also spot the period-style of this vintage dragster by noticing the single hoop rollcage! I don't think that thing offers much protection at all! My favorite part of this car was the flat, wooden "racing seat" with vintage stickers all over it. More on that later.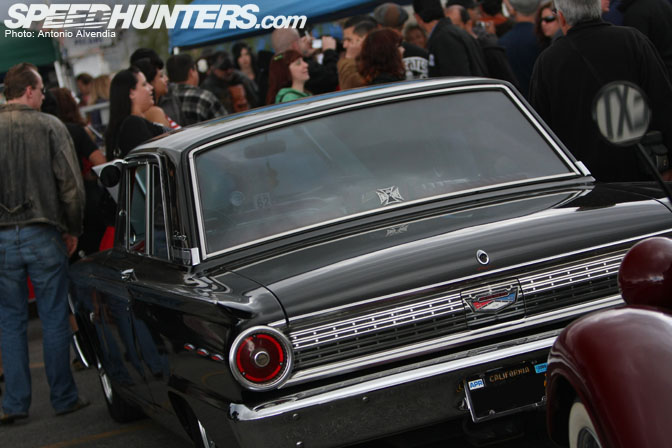 I don't know what this last car is, it looked really cool though… can someone help out here? Excuse my ignorance! LOL This must have been my least "information filled" story on Speedhunters for the entire year! I admit I still don't know much about these cars, but now that I've experienced how cool events like this can be, I'm looking forward to going to more events like the Mooneyes Christmas Party and learning a LOT more about the cars over here! Especially the super slammed, low to the ground rat rods!!! Hell yea!
-Antonio Alvendia