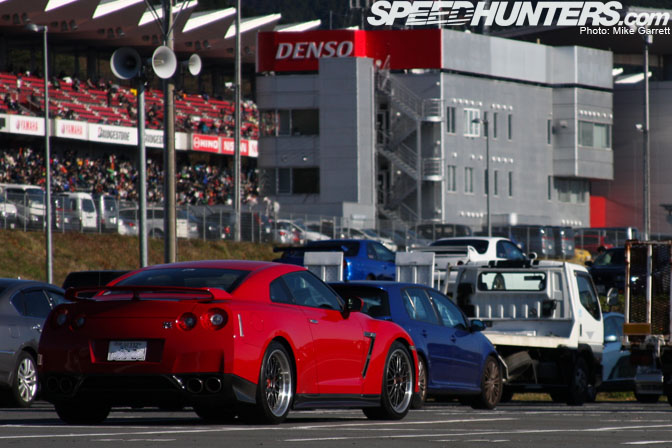 I never really thought I could be "sick" of seeing Skyline GT-R's, but after spending all day yesterday at the 2008 Nismo Festival (and sitting in traffic jams on the way home), that's how I'm feeling…OK, so I'm not really sick of seeing them, but that shows just how big the Nismo Festival is. The auto industry isn't in good shape right now, but you wouldn't know it after being at this event. In fact, from an enthusiast's standpoint, things are actually looking pretty good for Nissan. One year later the GT-R is considered to be one of the world's best performance cars, the new and improved Z34 Fairlady is about to hit, and Nissan race teams were dominant in Super GT this year. It's a good time to be a Nissan fan.
The Nismo Festival started in 1997, and has been held every year since then as a celebration of Nissan's motorsport history and a way to give back to the company's hardcore supporters. Just looking around the parking lot, I saw Z's, Skylines, and Silvias with license plates representing every corner of Japan. The highlights of the event are the exhibition races that include both current Nissan race cars, and select cars from Nissan's huge collection of historic machines. The company obviously takes its heritage very seriously, and the vintage race cars are kept in top running order by the mechanics at the Nismo Omori Factory in Tokyo.
This was my first time covering the Nismo Festival, and from that perspective I have to say that it's pretty overwhelming. There are so many different things going on, and it was tough to shoot everything by myself. The racing course at Fuji Speedway is huge, and it took a lot of time just to getting to the spots where I wanted to shoot from. I am happy with the results, although it would've been nice to spend more time absorbing everything. Maybe Nissan should consider making this a two-day event?
Anyways, there's a lot to cover, so let's get started.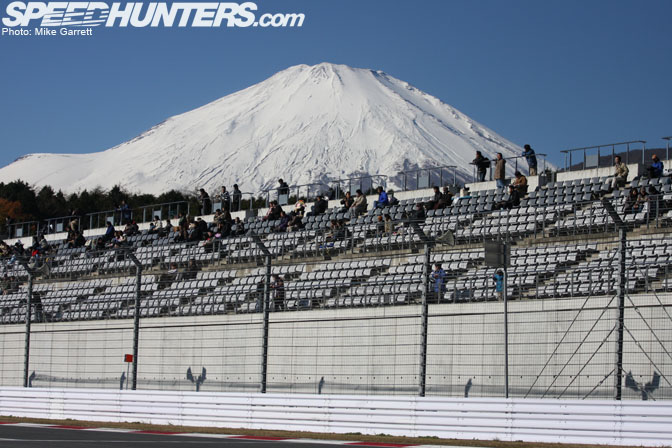 The weather for the Nismo Festival was about as perfect as it could get for late November in Japan. Cool temps with crystal blue skies, and a snow-covered Mt. Fuji towering over the track. If every day could look like this, I'd be a happy man.
The day's first big event was the historic car race, where a full grid
of 28 vintage race cars took to the track for a six-lap battle. The
majority of the cars were TS-spec 110 and 310 Sunny's, but there were
also a few KPGC10 Skyline GT-R's and 240Z's like the one seen above.
This was probably my favorite race of the day.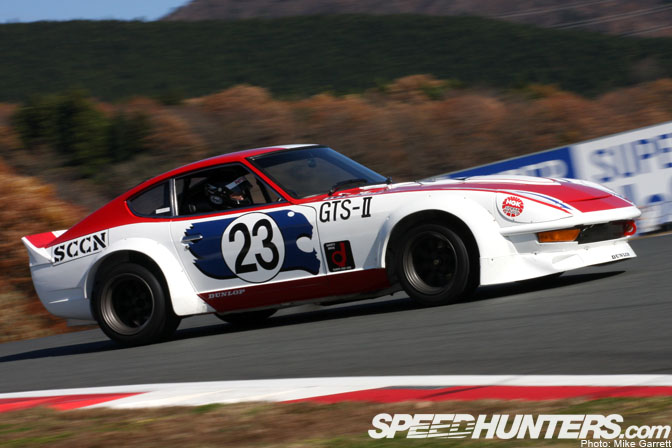 A few of the cars in this race were owned by Nissan, but the majority came from private teams that are supported by classic car shops from all around Japan. This 300hp 240ZG race machine is one the cars from Nissan's collection.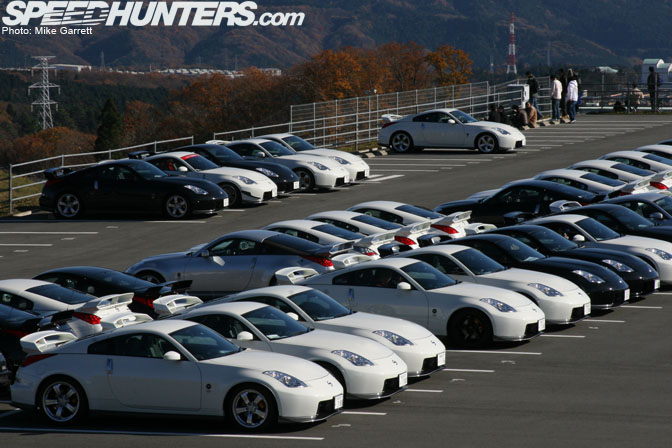 The event had a special gathering for owners of Nismo vehicles. It seems like almost every Nismo 380RS owner in Japan brought their car out to the event. This ultra rare 380RS is essentially the highest spec Z33 ever made and is powered by a Nismo-tuned 3.8L VQ that makes 360ps.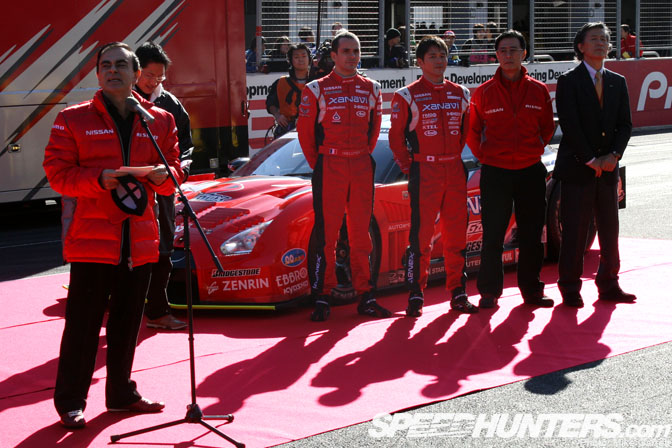 Nissan CEO Carlos Ghosn made a surprise appearance ,appearing alongside the championship-winning Nismo Xanavi GT-R team. Ghosn is like a celebrity in Japan so it was pretty cool to see him there. He even gave a speech to the fans in his best Japanese. It's nice to see carmakers doing so much to support enthusiasts and race fans.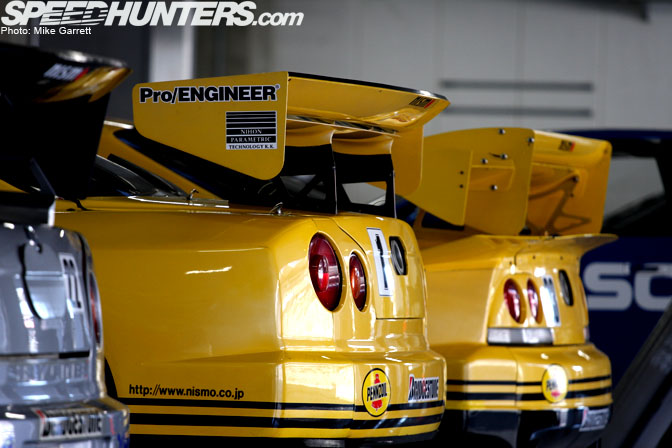 Nismo put a strong emphasis on JGTC GT-R's with their car selection this year. Here are a couple of the old Penzoil GT-R's from JGTC sitting in the garage before their track session. Most of these cars and kept in storage all year, and are only brought out for the Nismo festival. They are serviced for the sole purpose of running at this event. Very cool…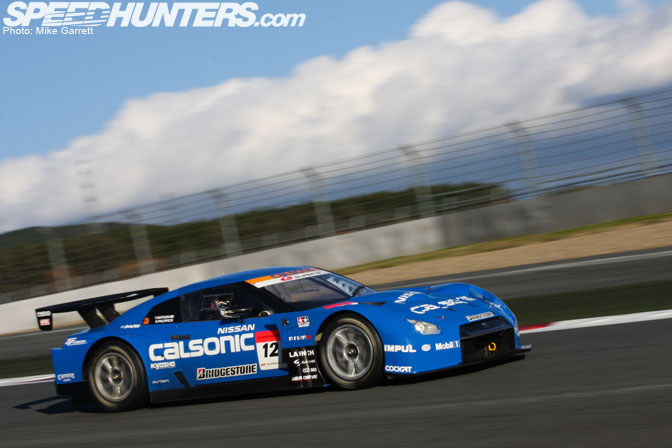 All of the 2008 Super GT GT-R teams were there to compete in the 10-lap "GT-R Special Battle". The line-up for this race included all the current Super GT cars, the JGTC R34 and R33 GT-R's of the past, three R32's from Group A, and the Falken Super Taikyu R34 GT-R. Unfortunatley, the Falken car had some machine trouble and wasn't able to run. Nonetheless, its was awesome seeing the GT cars running alongside to the Group A Skylines.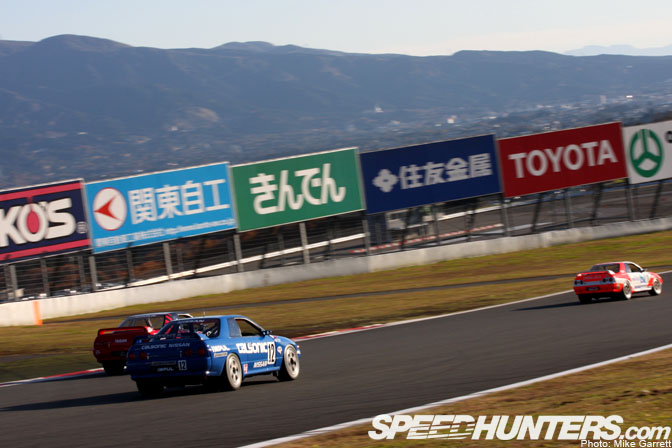 Obviously, the early '90s-era Group A machines couldn't keep up with the modern GT500 cars, but they still had a competitive battle amongst themselves at the rear of the field. The blue Calsonic R32 was driven by its original driver, Kazuyoshi Hoshino.  He's one of Nissan's most well known racing drivers and a participant every year in the Nismo Festival. The Group A racers aren't as radical as the GT or Group C cars, but they just look so mean with their period-correct oversized wheels and race tires.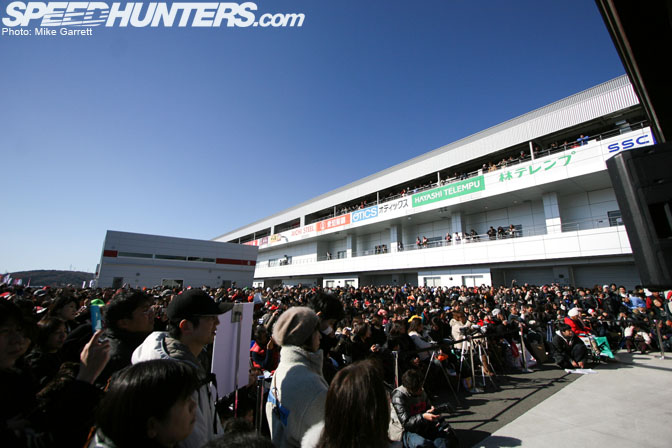 If you go to any large car enthusiast event in Japan, chances are there will be a "talk show" where racing drivers take questions on stage. As you can see, these are pretty popular among the fans…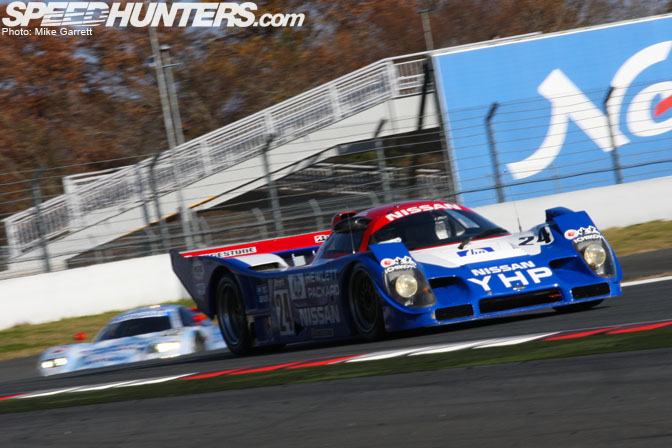 The event wouldn't be complete without a few of Nissan's Group C cars. This is the 800hp R92CP from the 1992 Japan Sports Prototype Championship, the same model that took the season championship three years in a row. Drivers like Hoshino-san and Hasemi-san piloted these cars back then, but driving duties were given to Super GT driver Sebastien Philippe during the Nismo Festival.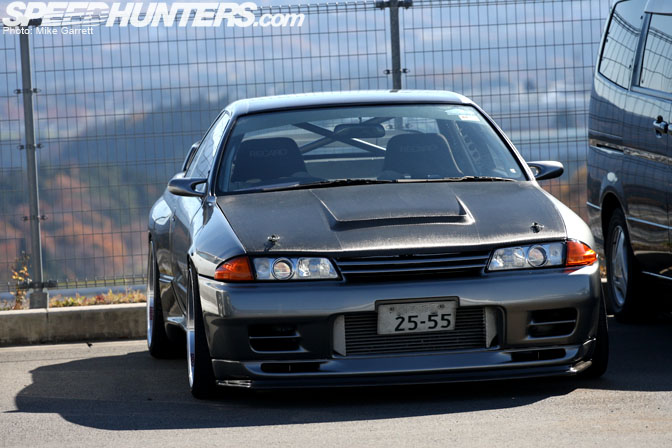 And on the opposite side of the spectrum from the Group C race car, we have one of the most popular street-tuned GT-R's ever, the carbon R32 from Garage Saurus. It wasn't officially part of the event, but it was parked in the paddock looking as bitchin' as ever.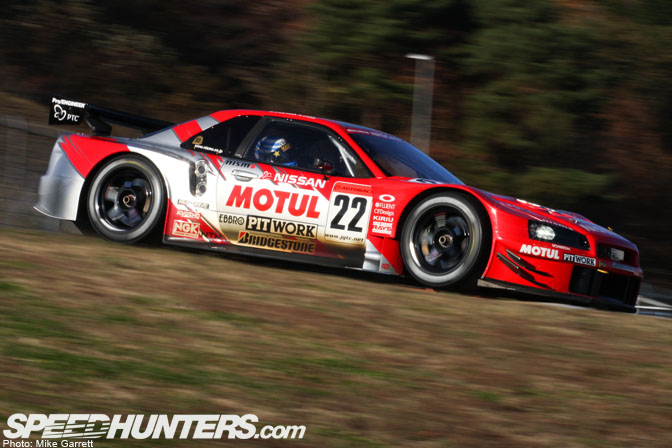 Finally, the 2003 Motul Pitwork R34 GT500 car being driven by none other than Eiji "Tarzan" Yamada, I can recognize his helmet anywhere. The current R35 GT500 cars are nice, but this event reminded me just how impressive the R34's were. They were also doing a commendable job of keeping with the newer cars.
Much more to come from 2008 Nismo Festival at Fuji Speedway.
-Mike Garrett