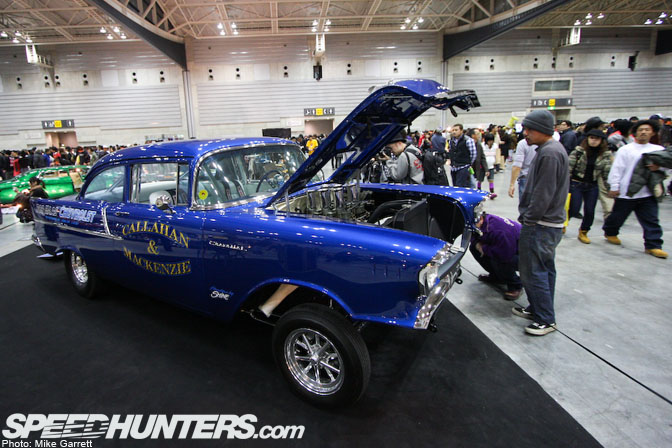 I feel kind of strange right now. One part of me is focused tomorrow's Rev Speed Time Attack at Tsukuba Circuit, but the other part of me is still in "hot rod mode" in the wake of Sunday's Yokohama Hot Rod and Custom Car Show. This kind of variety is what I love about cars.
Anyways, here's another batch of photos from this weekend's show. The car above is the '57 Chevy Gasser built by Jimmy Shine of SoCal Speed Shop. You probably read about him in Rod's features back in October. As you can see, the Chevy was quite the attraction at the show. This was one of several US-built cars and bikes that were shipped to Japan just for this event.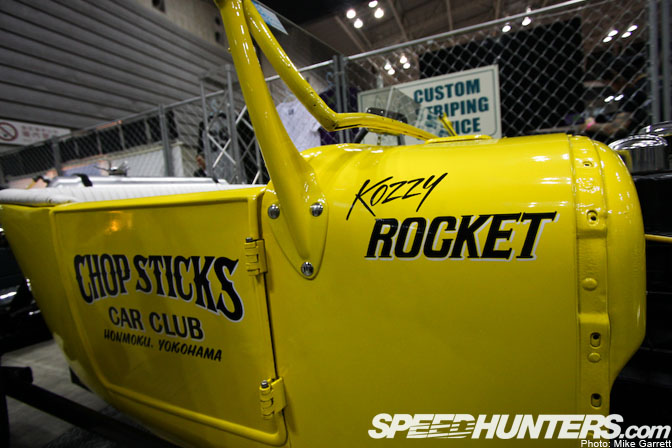 Chop Sticks. Such a cool name for a Japanese hot rod club. Just like in the states, car clubs have a big presence in Japan's rodding scene and a number of the biggest ones in the country had displays at the Yokohama show.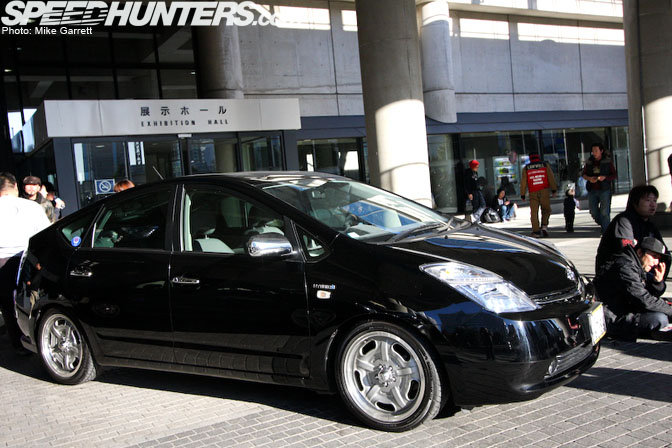 Mooneyes had several of their project cars on display outside the Pacifico. This Toyota Prius is equipped with a set of the Mooneyes' popular Speedmaster wheels. While on the subject of Prius modification, I was at the bookstore the other day when I saw a new Hyper Rev book just for the Prius.
If you are gonna get hybrid car, you might as well try to make it look cool like this one.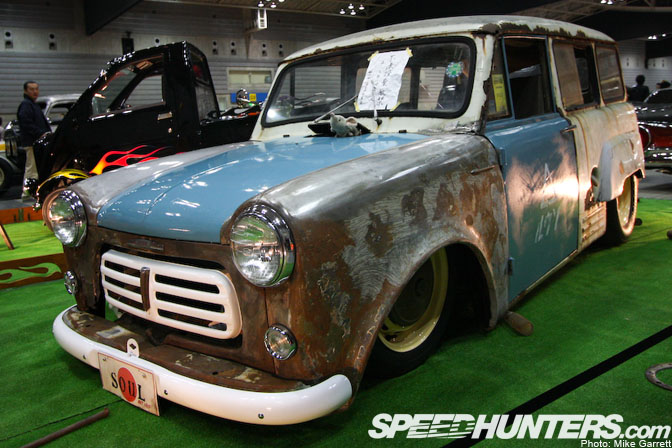 Do you know what kind of car this is? Neither did I. I had to read the info display to find out that it's a 1956 Datsun 120 Van. I think more people were talking about this car than any other car at the show. Just seeing one of these '50s Datsuns at all is rare in itself, but this example is really beyond words. The bare metal and rust theme of the exterior carried into the interior as well.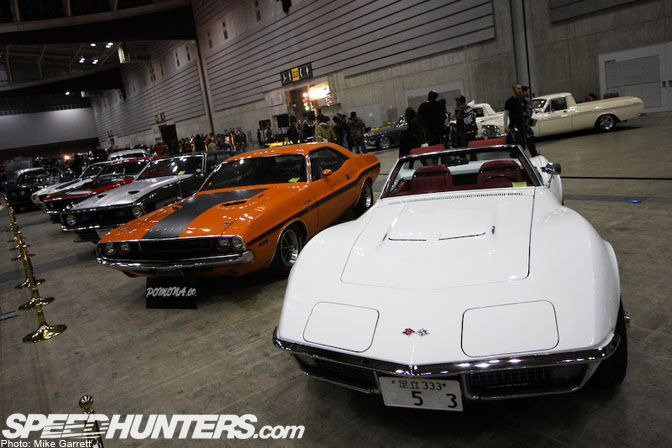 There were a lot of late '60s and early '70s Muscle Cars at the show, like these ones from the aptly named "Pomona Co.". I especially like that orange and black '70 Challenger R/T.
Speaking of Challengers, there was also an '08 Challenger on display at this show. Believe it or not, this was the first time I had ever seen the new Challenger in the flesh. It looks like a few of them are finally starting to pop up here in Japan.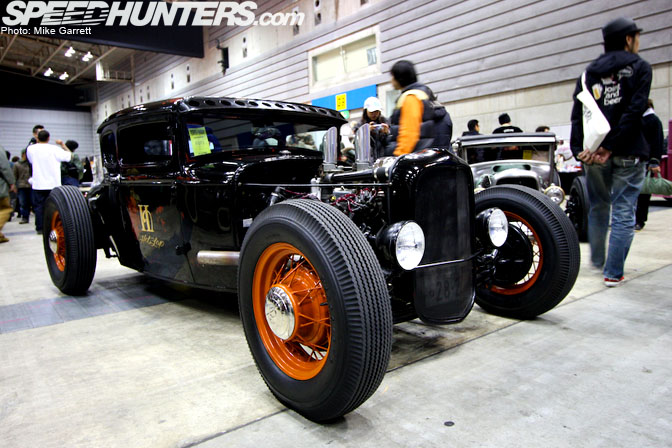 More hot rod goodness here. I like cars like this one which have vintage styling, but at the same time have high quality paint and interiors. I like the bare metal, flat black, and rust stuff too, but there was something that really drew me to this particular car.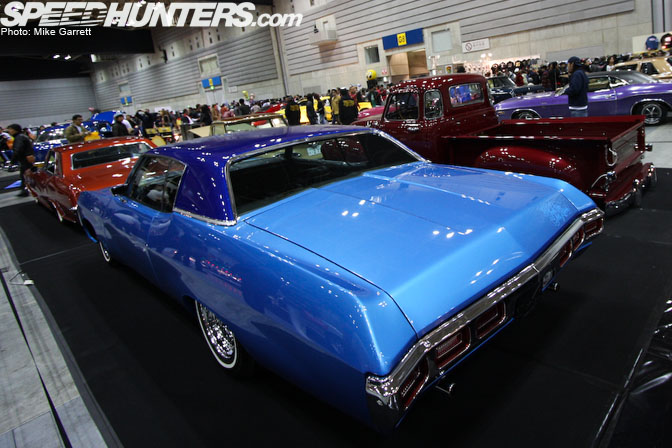 This blue on blue Chevy seems to ride the border between traditional custom style and lowrider. Full size Chevys like this have been popular in Japan for decades.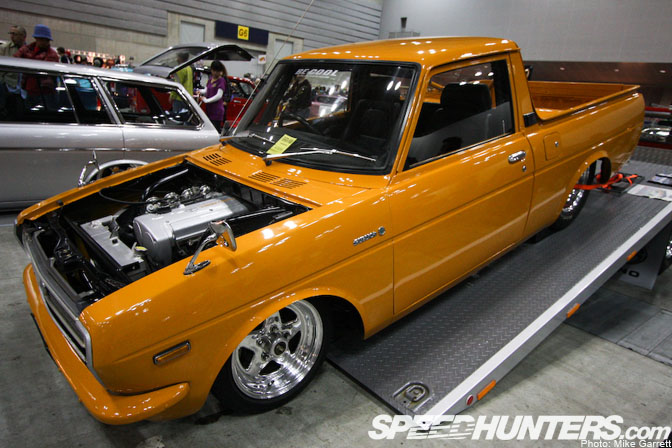 Although not as popular as Nissan's Sunny Truck, Toyota also had its own "mini El Camino" back in the day with the Publica Pickup.I thought this one was a Sunny until I got a closer look at it.
This example is done in the pro street style which was dominated the US scene back in the early '90s. Tubbed rear ends with giant tires are the main component here. As you can see, this Publica is powered by a silvertop 20 Valve 4AGE shoved back into the firewall. Awesome.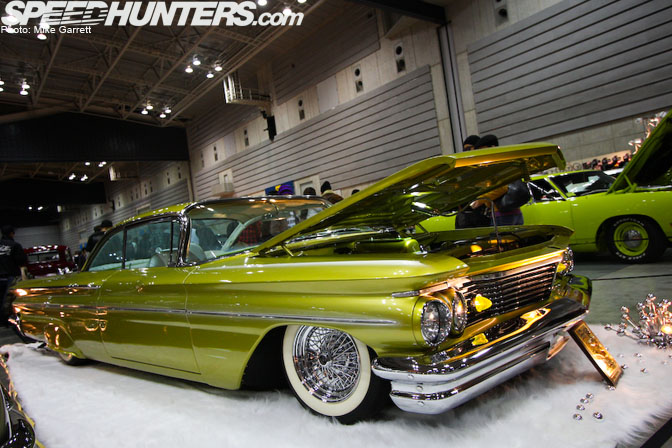 My dad is a vintage Pontiac nut, so I could instantly identify this sleek machine as a '60 Pontiac two door. The entire car was just flawless all around and It also had cool '60s kustom touches like swiveling seats.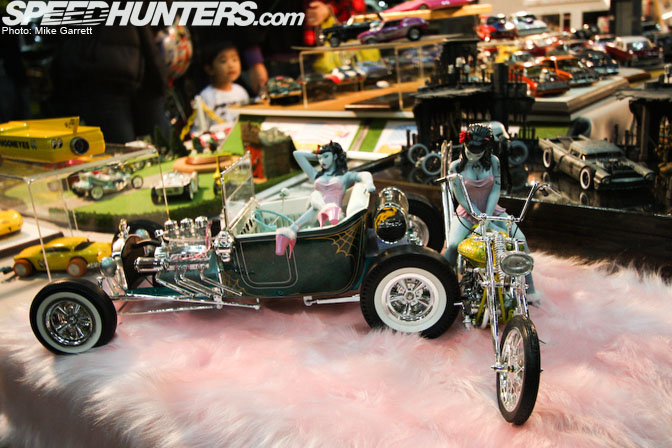 Some more miniature plastic craftsmanship.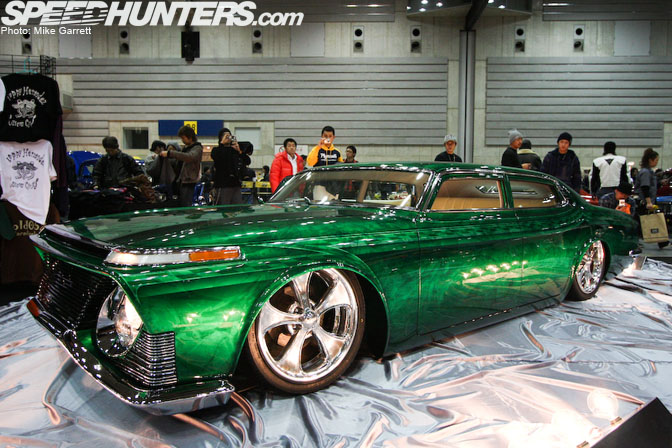 This chopped machine was once an early '70s Toyota Crown. You can tell by the marker lights on the hood. Besides that, there isn't much else that gives away the car's origins. This is one of the most heavily customized Japanese cars I have seen. It's over the top, but an amazing piece of work for sure.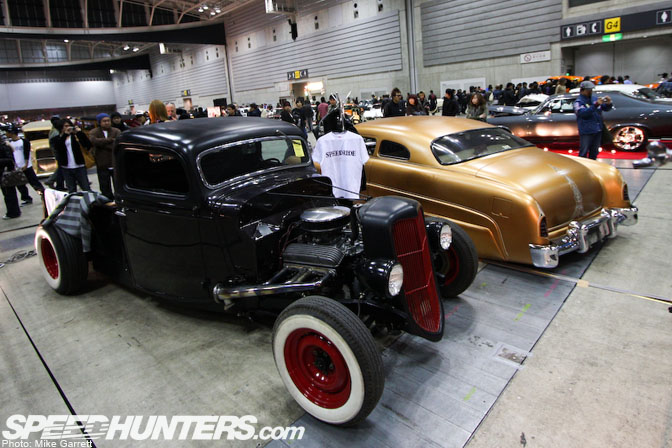 Rod and Custom.
OK, time to get ready for tomorrow's Rev Speed event. More from the Yokohama Hot Rod and Custom Car Show later in the week.
-Mike Garrett