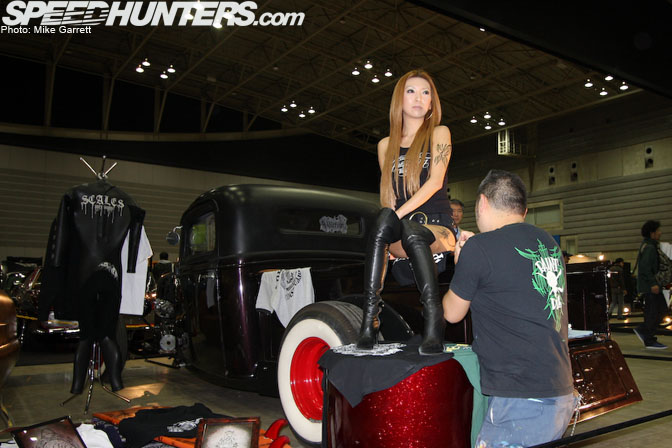 Yokohama is one of the epicenters of Japan's hot rodding and custom car scene, and there is no event bigger than the Mooneyes Yokohama Hot Rod and Custom Car Show which has been held annually for 17 years. The 2008 edition of the show was held on Sunday and I headed to Yokohama to have a look. I'm sort of a Mooneyes fanboy, so I had been anxiously awaiting this one for while. As you can see by the photo, the show is one of the coolest, and most unique car events in Japan. Yes, that guy is pinstriping a girl's thighs…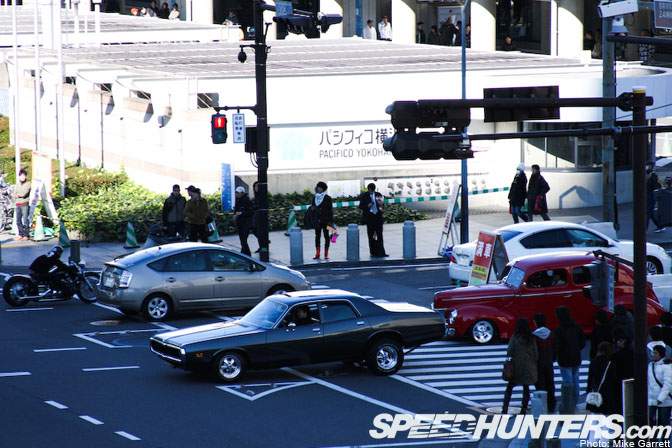 The show itself is held indoors at the Pacifico Yokohama, in the heart of the city's waterfront Minatomirai 21 district. Just walking towards the Pacifico, the streets were filled with classic cars and hot rods as well as plenty of vintage motorcycles. The scene in the photo above could almost pass for SoCal with the exception of the Japanese writing on the signs and the backwards streets.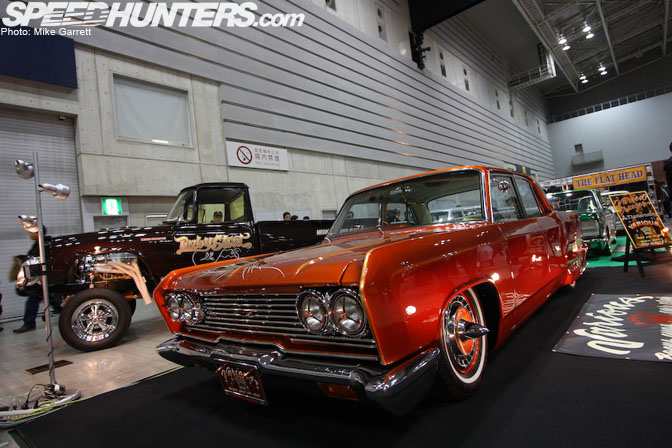 The show includes lots of traditional American rods and customs, customized Japanese classics, mini-trucks, air-cooled VW's, muscle cars, and lots of motorcycles. There's also much more besides just the cars. You have live music, a pinstriping convention, and a whole vendor section selling kustom kulture and hot rod clothing and collectibles. The car in the center of this photo is a Mitsubishi Debonair sedan done in a traditional early '60s custom style. This kind of fusion of east and west is one of the trademarks of the show, and of Japan's custom scene in general.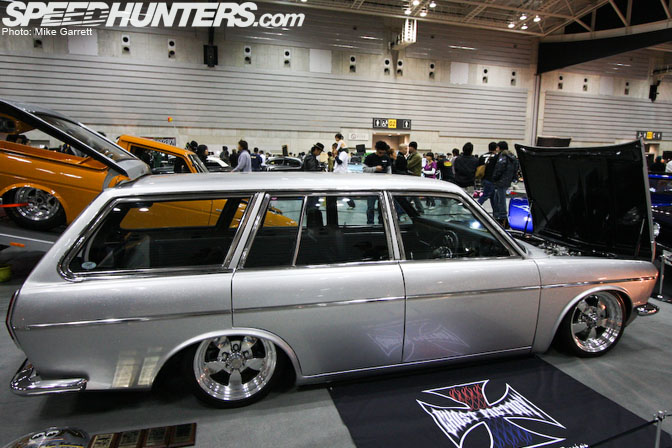 I know this Datsun 510 wagon isn't done in the typical classic Japanese style, but it was one of my favorite cars at the show! I dig the billet wheels, shaved door handles, and of course the low stance. This "contemporary" customization style not be fashionable right now as far as American rods go, but I think it works well on classic Japanese compacts. Agree?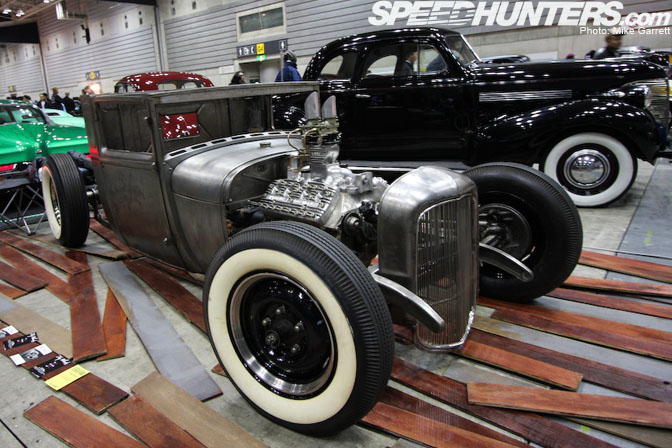 Traditional style rods seem to be getting more and more popular here in Japan. There were at least 15-20 high quality examples at this show alone. The bare metal look is quite popular, as seen on this flathead-powered beast. Like a lot of indoor car shows, exhibitors also put a lot of work into the their displays as you can see with the wood panels on the floor.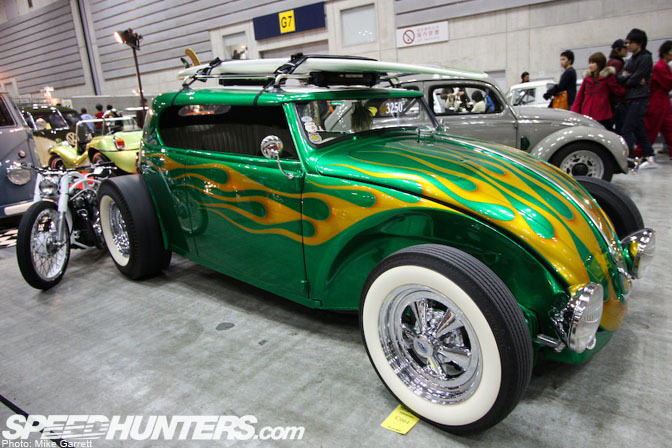 The Volksrod movement seems to be growing all around the world, and there were a few at this show. While most of the VW-based rods seem to go with the budget or "rat" style, this one was done more with a period show car flair. The high quality flamed paintjob and gleaming Cragar mags really draw the eye. Check out the custom work on the roof! This car was certainly not a backyard budget project.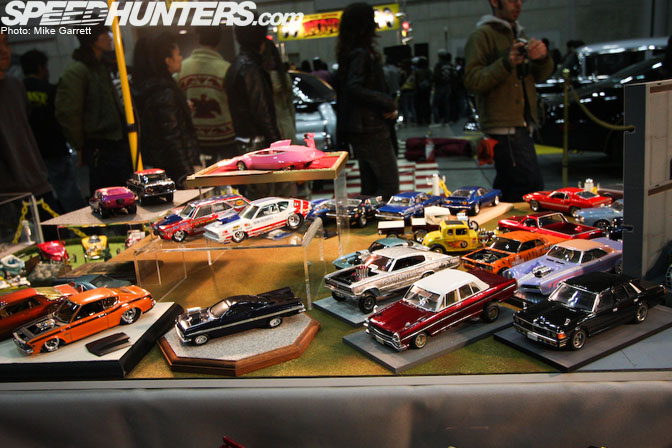 There was also a special area of the show for pro-built plastic model kits, or puramoderu as the Japanese like to call them. It's kind of hard to tell without seeing them in the flesh, but there are some amazing creations here.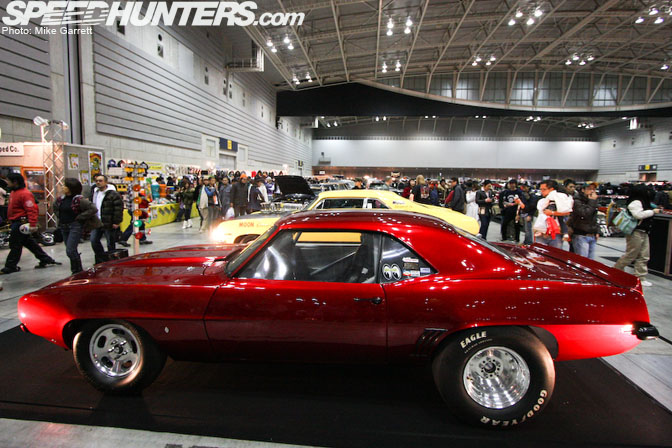 This '69 Camaro has an interesting story behind it. A Japanese guy bought the car back in the early '80s when he was living in SoCal  and then brought it back to Japan with him when he returned. It even has the original 1981 registration tags on its blue California license plates.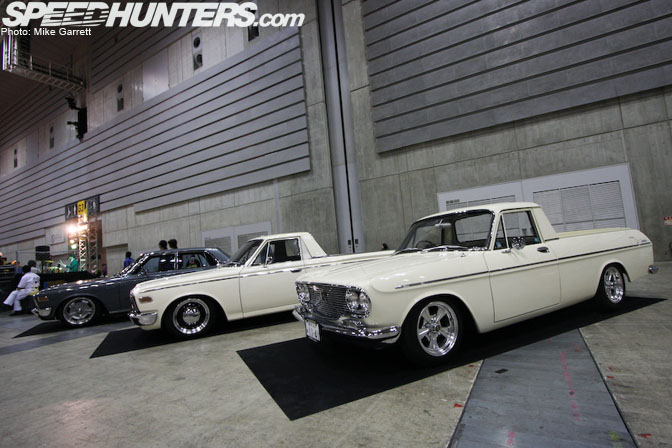 A Mooneyes show wouldn't complete with out some customized Toyota Crowns from Crown Classics. These cars are all powered by Toyota 1JZ and 2JZ engines. Again, it's more hybridization of Japanese and American styles.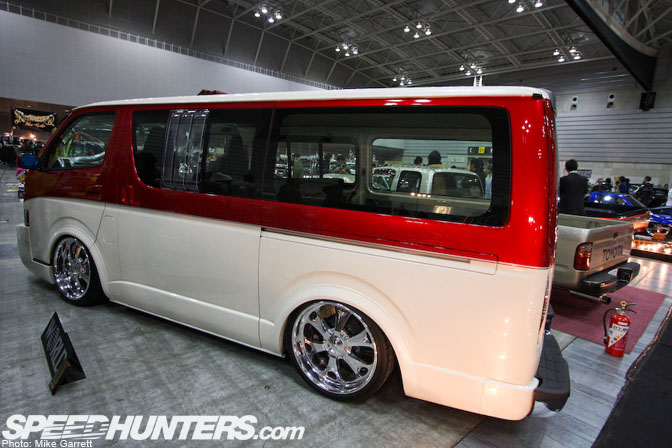 Customized Toyota Hiace 1-box vans are very common in Japan, but this one's unique in that it's done customized like a mini-truck with two-tone paint and custom billet wheels. Typically these vans are done in VIP or "NASCAR" style.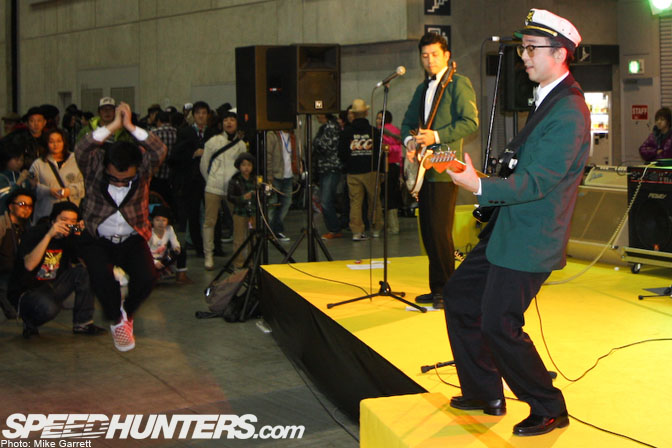 A few different bands kept the rock 'n roll tunes flowing all day long. An excellent instrumental rock band called the Dynotones came all the way from Orange County to play at the show. The guys rocking out in this photo are a Japanese band called Jackie and the Cedrics. They play a fine mixture of early rock and roll and instrumental surf music. No cheesy idol pop or techno like you hear at Tokyo Auto Salon.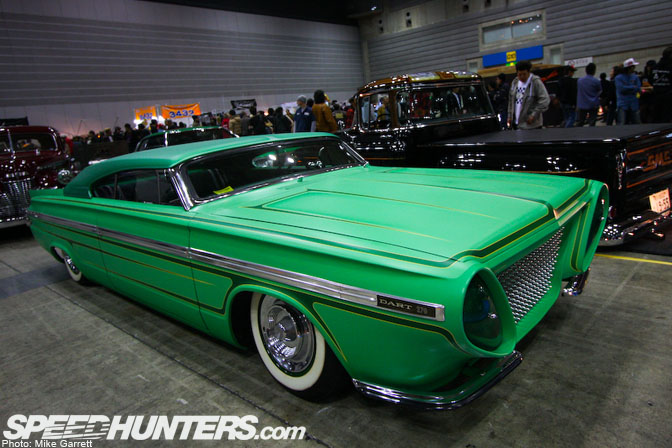 This wild kustom was once a mid '60s Dodge Dart. The paint work on this car was seriously some of the coolest I have ever seen. Not too long ago, I was chatting with Brian "BH" Harte about how cool this paint style would look on a drift car.
I'll be back with more from Yokohama soon.
-Mike Garrett