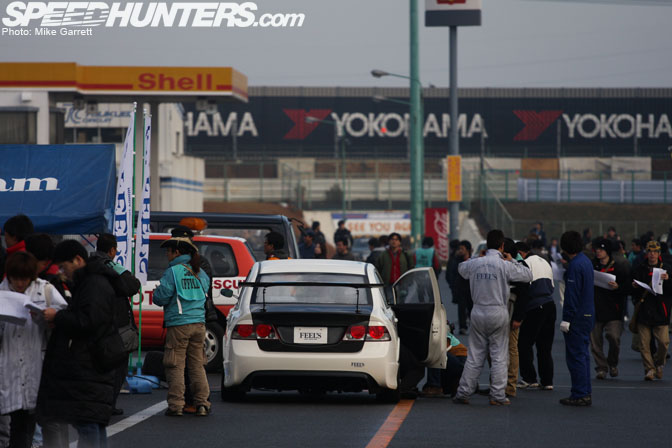 I'm sure you have all seen Antonio's "Lifestyle" features from the various events over the past months. I always enjoy those posts as they do a good job of "bringing the event to life" and I think a lot of readers agree with me. Now it's time for me to try my hand at it. Yesterday at the Rev Speed Tsukuba Super Battle, I spent some time in the paddock documenting the activity going on throughout the day. Unlike a multi-day event like say D1GP, the Rev Speed event has a ton of action (and a lot of cars) squeezed into just one half day. This means that both the race teams and the press members like myself stay quite busy trying to get everything taken care of in a matter of hours.
Anyways, here are some behind the scenes shots from yesterday's action.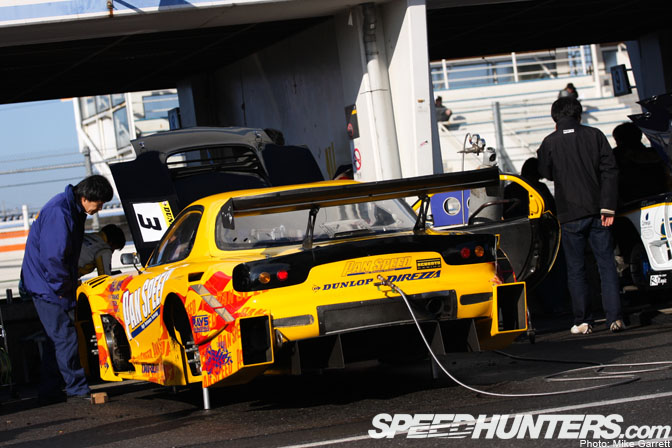 The Pan Speed FD3S looks less like time attack car and more like something out of a Science Fiction movie as it "hovers" on its air jacks in the pits. The exhaust hole in the bumper even looks kind of like an afterburner.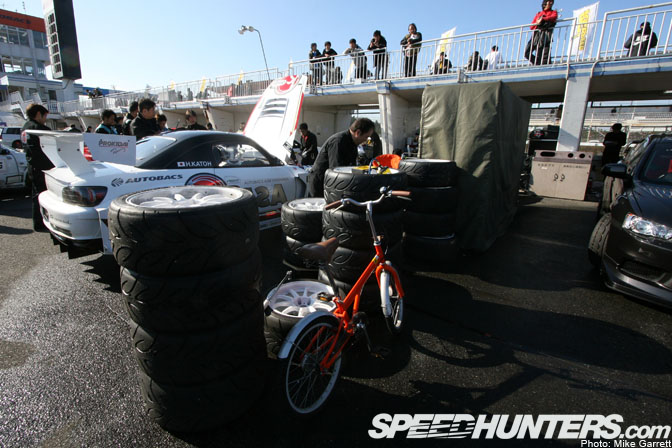 You wouldn't think that's its possible to go through this many tires in just three short track sessions, but the ASM Yokohama team doesn't fool around when it comes to this stuff. I think pro drift cars use less tires during one event. You can also see the little bicycle there, it's the pit vehicle of choice at race tracks all over Japan.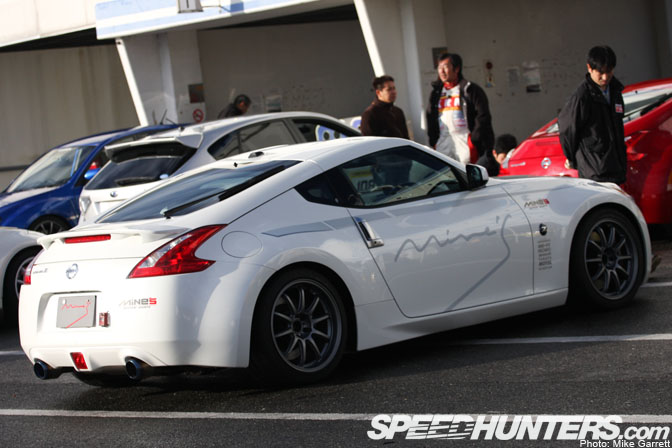 People were stopping to check out the Mine's Z34 Fairlady all day long as it was probably their first time seeing the new Z in person. I know it's mine. The car has already been equipped with suspension, wheels, the signature Mine's graphics, and what looks to be a titanium exhaust system.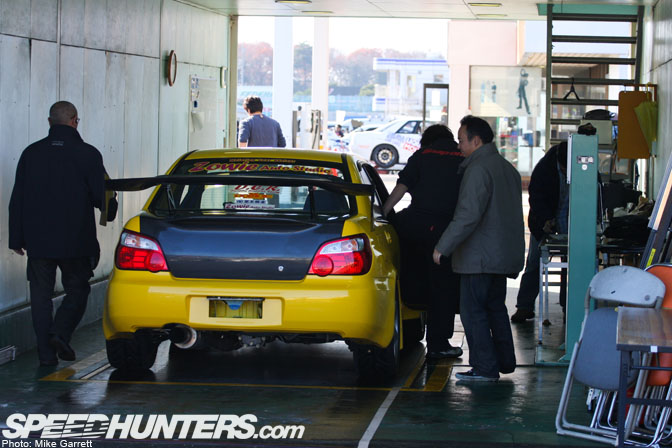 This Impreza is undergoing technical inspection inside of Tsukuba Circuit's "shaken" bay. Speaking of Tsukuba Circuit, I'll be doing a Temple of Speed story about the track later this month.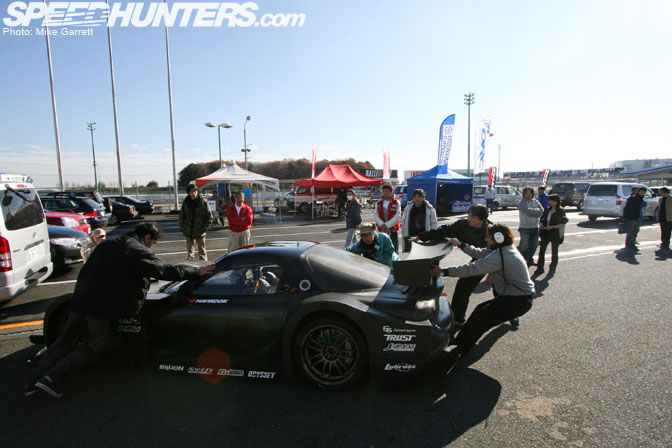 It looks like reverse gear is not an option on the Revolution FD. Nope, this is not your typical tuner car. The big teams like Revolution and ASM could easily be mistaken for Super Taikyu or even Super GT race teams with their degree of commitment to time attack. Revolution even has their own enclosed transporter for this car.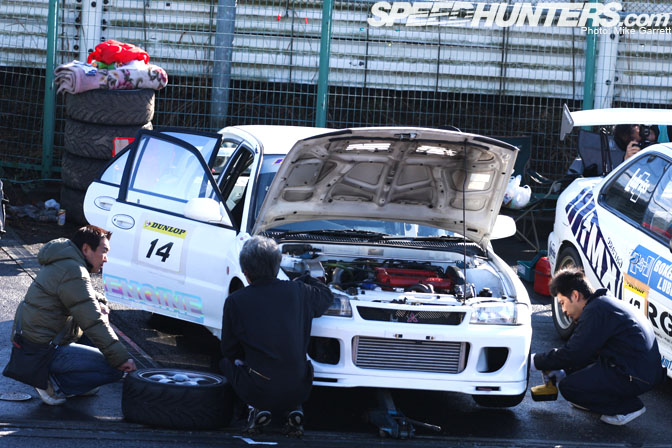 On the contrary, the smaller shops and privateer teams take a more low key approach, like the Orange Flag team seen here with their Evolution I. A couple guys, a jack, some tools, and an extra set of tires is all you need.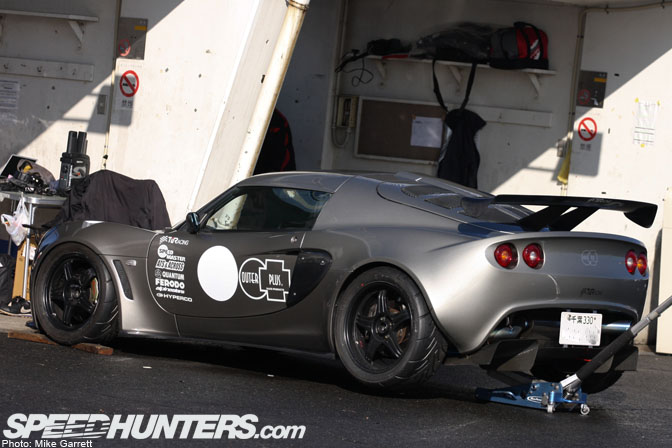 The Outer Plus Exige looking tough in the pits. I love this car.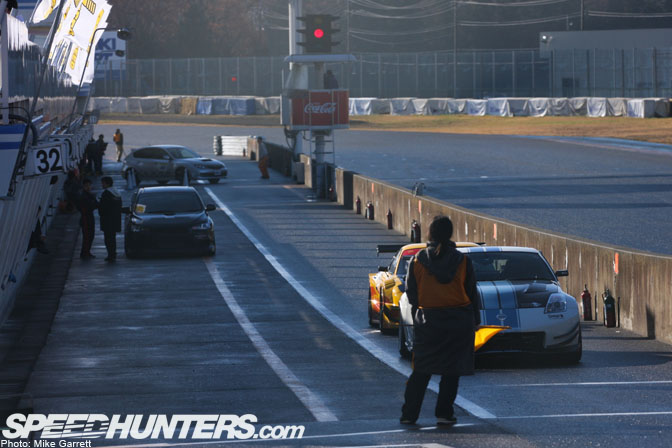 Here's a the view looking down pit road as a few competitors line up to head out on the track for the first session of the day. You can see that the course was still pretty wet when this photo was taken.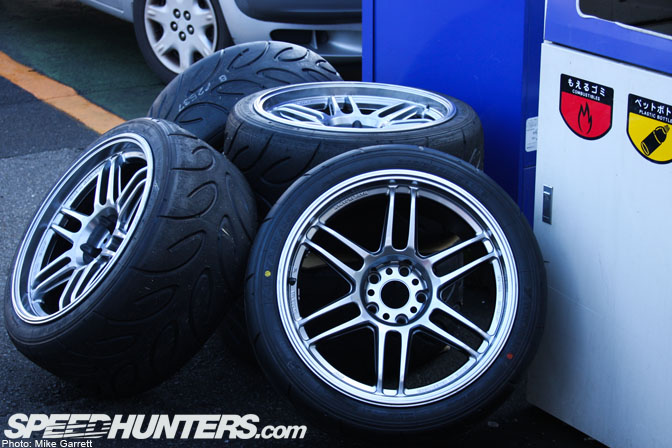 I thought this set of the Cyber Evo's new AME Tracer TM-02 wheels and grippy Advan A050 tires looked pretty cool just sitting there next to trash can in the pits.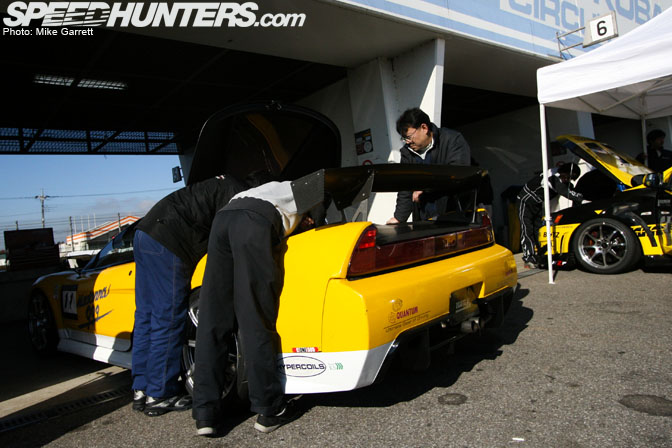 Esprit wasn't the only team to enter a tuned NSX in this year's event. Route KS also brought out their yellow machine. Although the NSX's V6 engine isn't particularly exotic in nature, the Route KS car has a really mean sound to it, even at idle.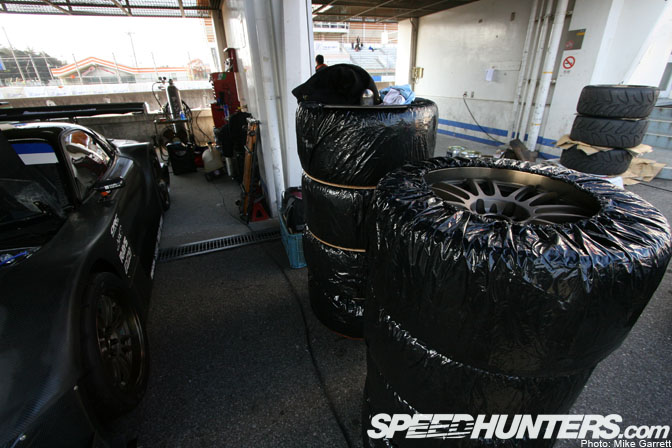 Stacks of spankin' new Volk Racing RE30 wheels and racing tires in the Revolution pit. It's strange to think that just one set of these and wheels and tires is probably worth more than the Honda Fit that I drove to this event in. Tsukuba Time Attack is serious business.
Next time, I'll start looking at the cars from this year's Rev Speed Tsukuba Super Battle.
-Mike Garrett