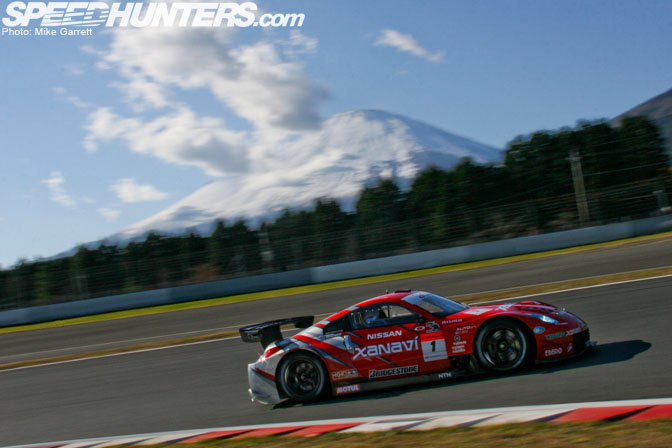 Now for some coverage from the Nissan mecca that was the 2008 Nismo Festival at Fuji Speedway. Above, we have the 2005 Super GT Nismo Xanavi Z rounding FSW's final corner with Mt. Fuji looming in the background.This shot was taken during the special race that included Super GT and Super Taikyu Z's mixed with some of Nissan's Group C cars.This race was perfect for Z33 fans as they could see all the different race versions of the car racing together.
Speaking of Z's, I was hoping to see some variant of the Z34 at event, but surprisingly Nissan didn't show the new car there. I wonder if the Super GT and Super Taikyo teams will switch to the new car sometime next year?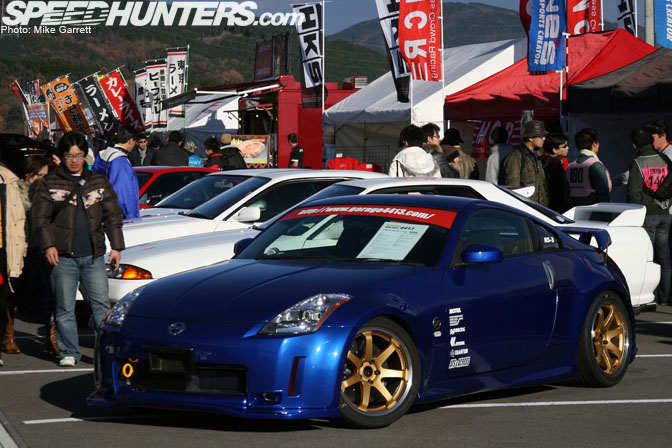 Most of the big Nissan tuning shops had booths in the paddock with their demo cars on display. Apparently, Nismo wasn't keen on tuners showing their modded R35's, so instead they brought out their older GT-R's and Z's. This Z33 Garage 4413's street car machine equipped with a set of GP Sports Gulf Flame wheels. For some reason I really liked this car…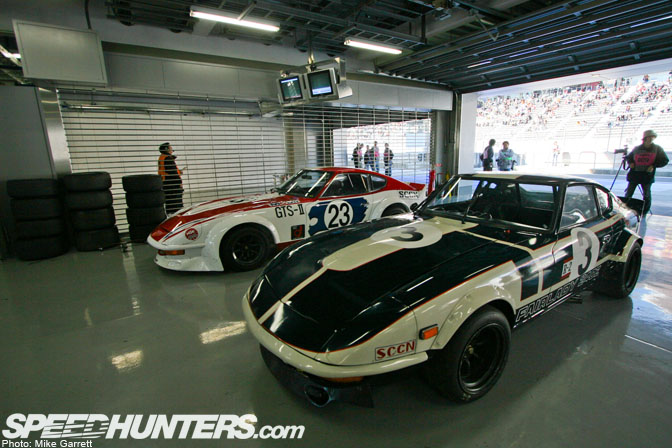 A pair vintage 240ZG race cars in the garage. Just the opportunity to see this classics running flat out is more than enough to make a trip the Nismo Festival worthwhile.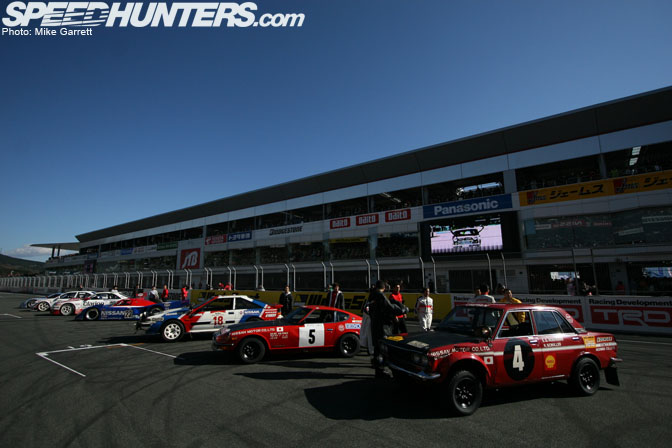 Nissan held a celebration commemorating 50 years of international motorsports dating back to the 1958 Datsun 210 "Fuji" rally car that competed in Australia. Other cars included the 510 Bluebird and S30Z rally cars, plus Le Mans machines and the Primera touring car from the BTCC. The original drivers of the 1958 rally car even made an appearance and talked about old times.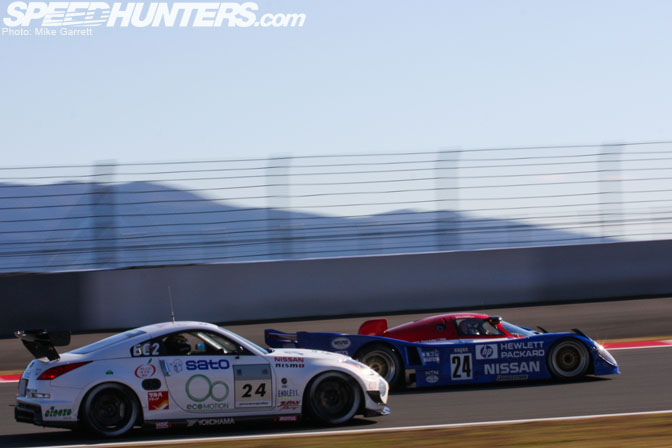 A blast from the past as the 1992 R92CP easily overtakes the Z from this year's Tokachi 24-hour race. Scenes like this are what make the Nismo Festival such an awesome thing…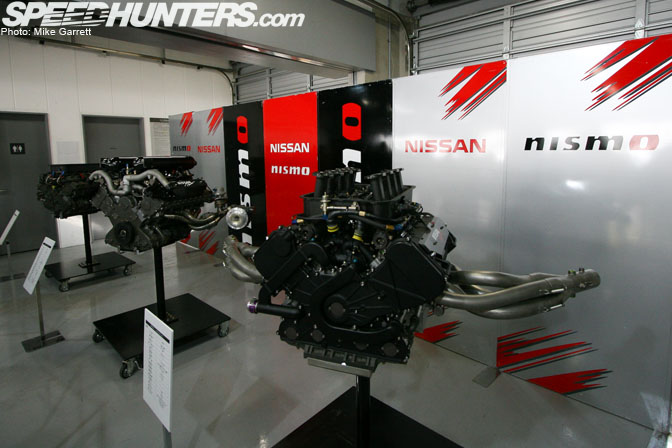 It's not just cars that Nismo pulls out of its collection, but race engines as well…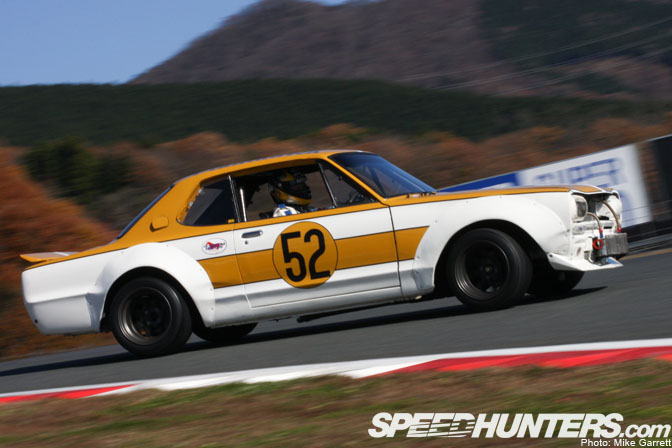 Combine Fuji Speedway, some perfect late fall weather, and a KPGC10 Skyline GT-R race car, and you have what is essentially paradise. I was thinking this shot would make a great desktop wallpaper.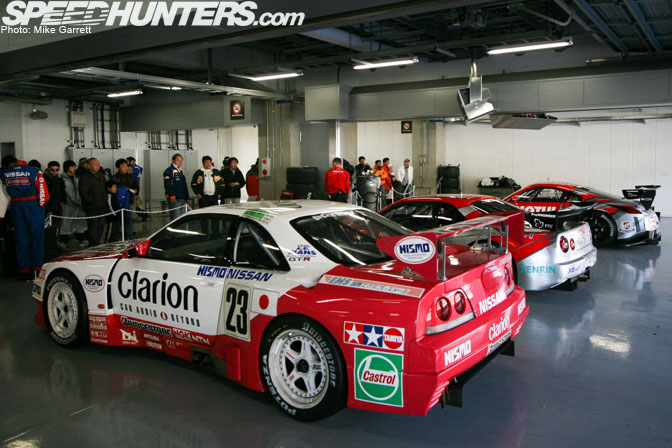 A view of the 1996 LeMans R33 GT-R race car sitting alongside some Super GT cars in the garage. Looking at the 1996 LM car made me wonder what the rumored R35 GT-R Le Mans race car might look like…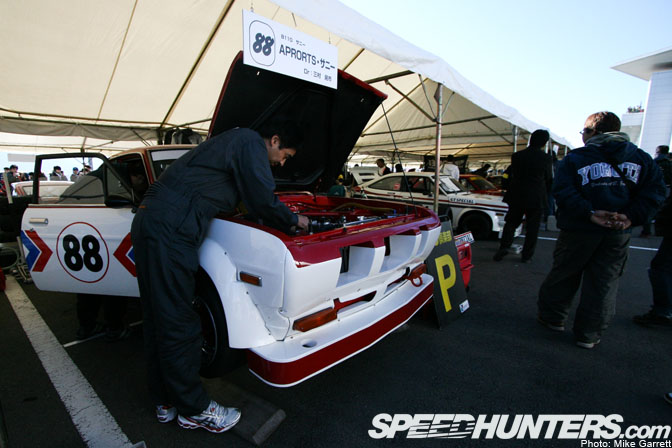 One of the B110 Nissan Sunny race cars undergoing some work before the historic car race. It's surprising how fast the OHV-powered Sunny's can be when properly tuned. Cars like the Tomei B110 were running right with the larger displacement GT-R's and Z's.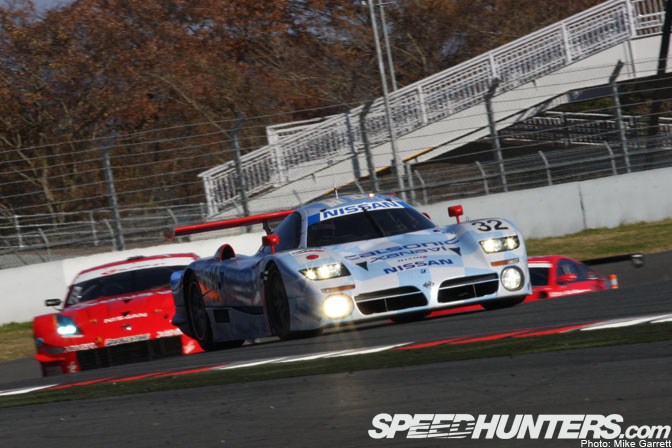 Awesome scenes like the R390GT1 being chased by Super GT Z's could probbaly convert anyone to a Nissan flag-waver.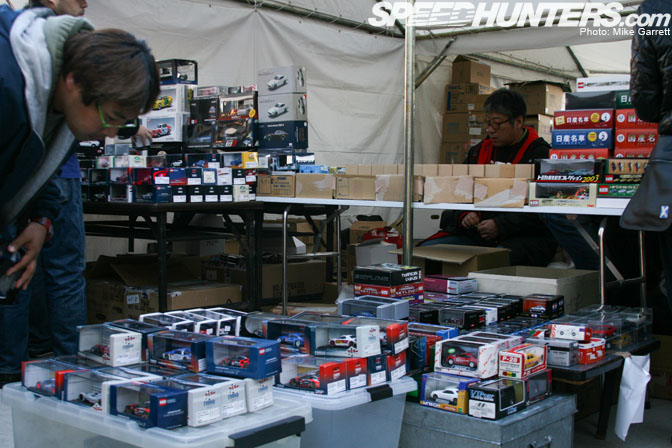 Me and my pocketbook should probably be glad that there was no spare time to take a look at the stuff for sale in the vendor booths…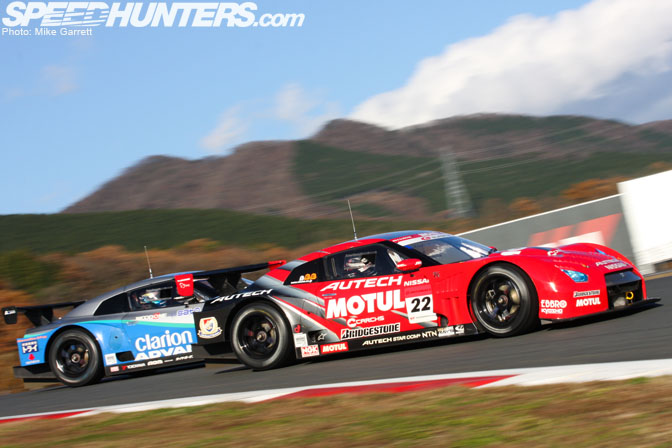 In closing, a shot of the Motul and Clarion GT500 cars engaged in a friendly battle during the afternoon's "main event" GT-R special race.
To be continued…
-Mike Garrett