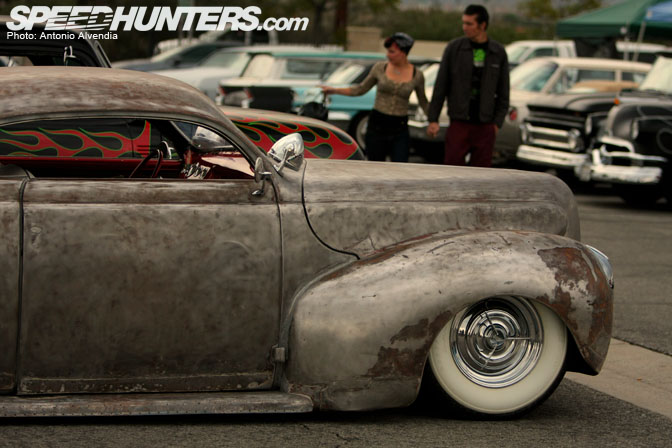 I hope you all had a great weekend, because I know I sure did. It started getting colder in Southern California this week, and it even rained a couple times; soon it might be time to pack away our shorts and summer gear for the winter. Even though I know most of us think of drifting when we think of Irwindale, this weekend I went back to our familiar home track in Irwindale for a different event altogether – the Annual Mooneyes Christmas Party and Drag Race!
I need to be honest with you all. This was my first time going to a real hot rod event such as this; I honestly didn't know what to expect. I think my vision of hot rods was skewed… I thought the hot rod scene was all comprised of a bunch of old guys who have been into it since they were in high school in the 1950s and 1960s. I didn't think that I, the guy who never stops thinking about deep offset wheels and Japanese car culture, would have anything in common with the old guys who are the foundation of the hot rod scene. Growing up, I went to a mostly "caucasian" high school, and even in my first year of college, most of the local guys there drove cars like oxidized Fox body Mustangs, clean-but-slow 1966 Mustangs, 1967 Camaro SS with built 350 (one lucky guy), beat up 1970s Camaros, 1995 Camaros that reeked of Vanilla air fresheners, IROC Z28s with Flowmasters and polished stock wheels (makes me think of Eddie Murphy Raw lol), and even my roommate had a Dodge Viper (to make a long story short, he was a lucky guy who made money off the internet boom). Back in the day, all these guys thought they were sooo cool with their big V8 (and V10) cars, and used to make fun of me and my 4 cylinder front wheel drive Toyota Celica all the time. All the time. LOL One guy even had a license plate frame that said, "Missing your Toyota? Check under my tires" on his Ford F150. These guys all aspired to own hot rods. Nowadays, whenever I think of those guys, it makes me roll my eyes and laugh, but honestly, all my experiences with those "good old boys" from my high school made me less and less interested in hot rods and American muscle cars. It makes sense to me – those guys all reminded me of Biff from Back To The Future!
It wasn't until recently (very recently) that I began opening up my mind to the world of hot rods. Part of it has to do with my involvement with this Speedhunters project, to be honest. I've always liked the idea of clean vintage cars, as the owner of several older Japanese cars myself. I've been a devoted fan of 1970s Japanese cars for over 10 years. However, I didn't really know anything (and still don't know much) about hot rod history, style and culture… and I didn't really begin caring to learn about it until Rod asked me to go with him to shoot the NHRA Museum in Pomona and So Cal Speedshop this year. Meeting people and becoming friends with certain people, like Tony Thacker at the NHRA Museum and Christian Mejia at So Cal Speedshop, really opened my eyes… these guys weren't stuck up old fogeys… theyse hot rod guys turned out to be very cool after all! These guys are surrounded with these insane examples of priceless hot rod history and culture every day, but they are very open minded and welcoming towards the Japanese classic cars that I'm so enamored with as well. I didn't expect that! I even got the chance to meet people like Alex Xydias and Jimmy Shine from So Cal Speedshop, and Wally Parks, the late founder of NHRA (met Wally a few years ago though)… once I began talking to these key people behind all these hot rods, I began learning that the Japanese car culture that I love so much has a lot more in common with hot rodding than I originally thought!
So when Rod asked me if I'd be interested in going to the Mooneyes Annual Christmas Party and Drag Race at Irwindale, I definitely wanted to check out more of the cars that my new hot rodder friends were so passionate about. Even though I came primarily to look at the cars and shoot photos of the drag race happening, to be honest I found myself drawn more to the whole lifestyle aspect of this culture, and spent wayyy more time than I expected, just cruising through all the aisles in the jam-packed parking lot of Irwindale Speedway. This event was HUGE!!! Amazing.
The Mooneyes show had tons of things going on simultaneously – the had live bands like the Dynotones playing onstage; a super long, drawn out art auction (alot of people got bored because it took a long time, but hey, it was for charity so stop complaining!); drag racing, a "cackle-fest," which is basically a contest to see how loudly you can rev your car, and the favorite of many showgoers, the pin-up girl contest.
Over the next several days, I'll be publishing more stories and photos from this event that are more specific and themed in nature. However, for this first story about the Mooneyes show, I just wanted to show you all some select photos that represented my experience at the event – I loved it!
Like in the photo above, there were TONSSSSSSS of retro styled cars (and people) in the parking lot. I've never seen Irwindale that full before; I was suprised to see that the Mooneyes show had the place more hype than any drifting event I ever attended at Irwindale, except for the first D1GP in August of 2003.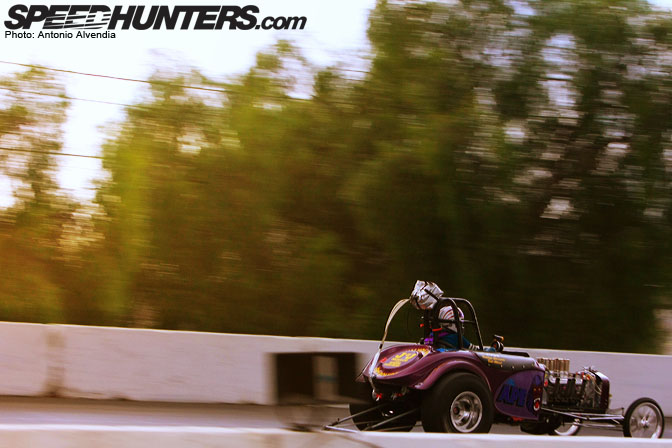 There were lots and lots of people gathered around to watch some of the coolers cars (like this one above) flying down Irwindale's dragstrip, but in my opinion, the majority of the cool cars (and photos) to shoot were in the parking lot.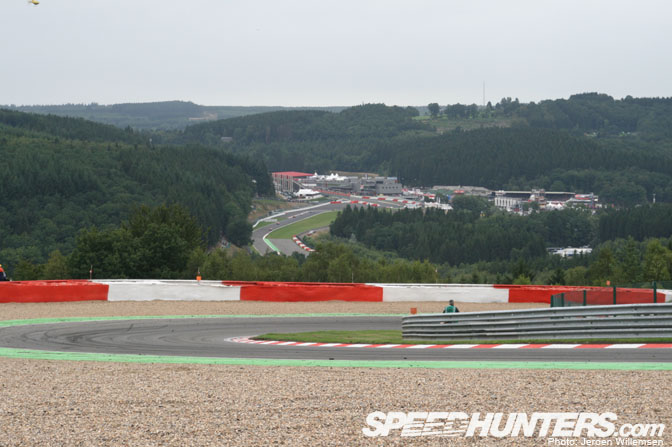 This has got to be one of the most PG photos from the pin-up girl competition. This one up front and the one in pink (on the right) were pretty cute. But they don't have nuttin on the umbrella girls I know from the Formula D Series. I suppose it's all a matter of taste, I guess. (Like how I added that politically correct statement up in there?)
Let me know if you want to see photos of the best girls. IF enough people request them in the comments section, I'll put some more photos up. If not, I won't, and I'll just stick to the cars.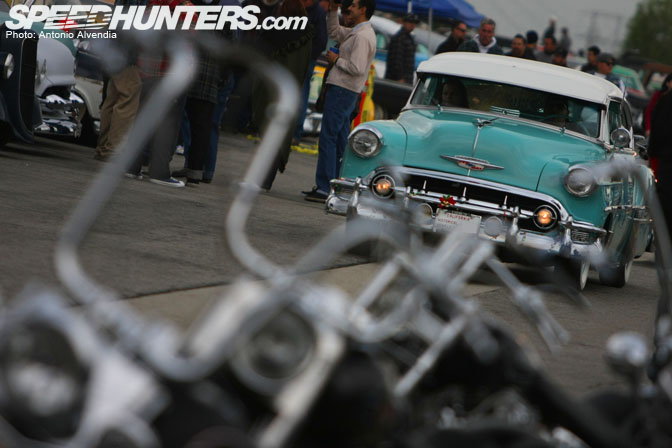 There was just sooo much to look at… it was like a sensory overload! There were tons of old school cars, and tons of old school bikes! And there were even more old school car crews and biker gangs in attendance. Most of them looked pretty cool, in their own "Sons of Anarchy" style, minus the unfashionable white K-Swiss shoes. The guys at the Mooneyes show had their style down! They even sold hair products at the vintage clothing booths so the greaser guys could get their pompadours in control.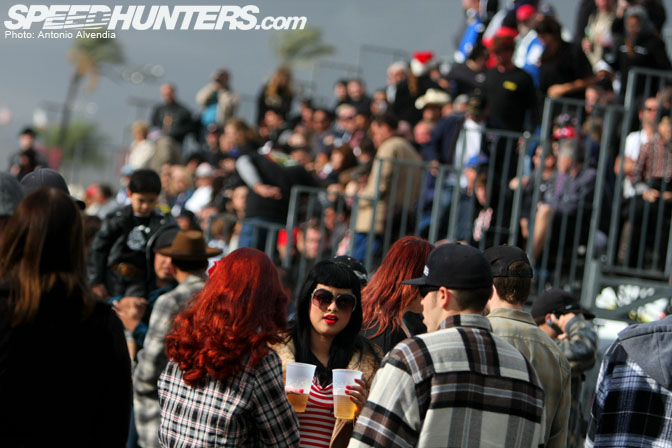 Here's part of the crowd watching the drag races while hanging out and drinking… relax, relax, she had only apple juice in those cups! I promise.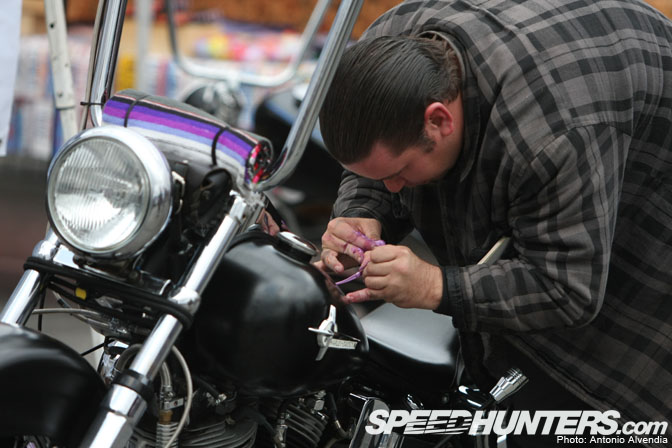 Who needs vinyl die cut stickers, when you could just get your crew's name pinstriped onto your car or bike? There were lots of people getting their cars (or other items) pinstriped. More on this later!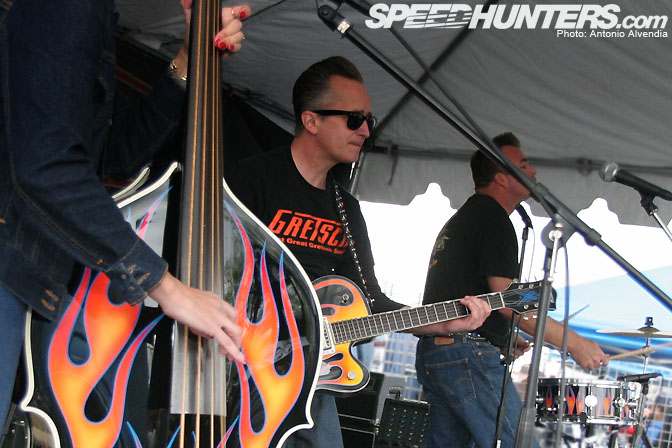 There were a few bands playing – the Dynotones and some other band… my friends and I watched part of their performance, and came to the conclusion that they were great musicians, but they needed to hone their skills as performers a bit more. Because to me, MC means move the crowd! I'm sure they'll be killing it by next year, if they get the new Wii version of Rock Band and practice every day in their living room.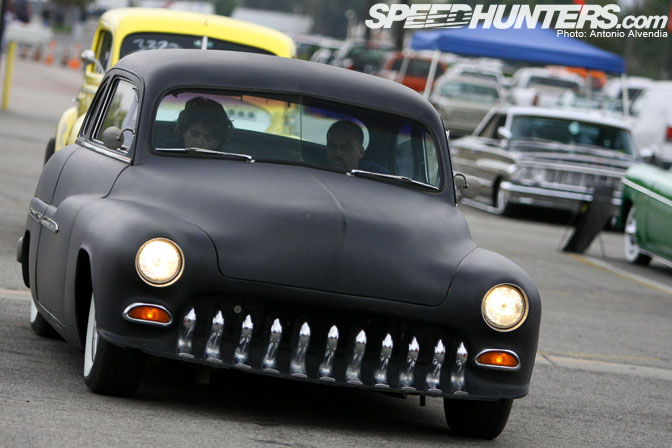 Do you guys think this is where the term "murdered out" came from? Yeah, I know, I roll my eyes when I hear that lame-o MTV term too, but look at this car! Doesn't it look like some sort of death cab or something?
I realize not everyone in our reader base might be feeling these types of cars, or these types of features… I for one, think it's cool to mix it up so it's not always Japanese cars on the site. What do you guys think? Hit us up and voice your opinion! (Try to be polite though, sheesh!)
-Antonio Alvendia