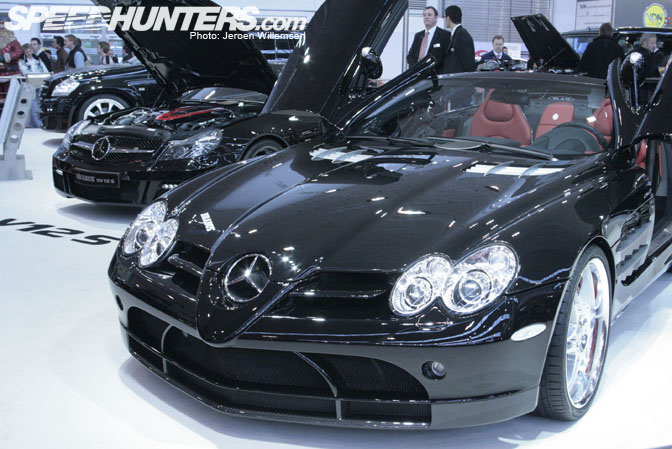 Tuesday morning I hit the road with a good friend of mine towards Essen, Germany; the place to be this week for European car fans. Inside the Messe building, resided one of the largest gathering of tuned cars in Europe…. But you won't find any tuned Hondas with large bodykits or fancy paintjobs at Essen; it's more like an aftermarket show with high end cars and famous tuners from Germany like Techart and Brabus.
In the opening shot you can see what I mean…. This photo just a small section of one of Brabus' three stands. In front, is their interpretation of the SLR and behind it you can spot the Brabus SV12 S. These are the kind of cars that dominated Essen.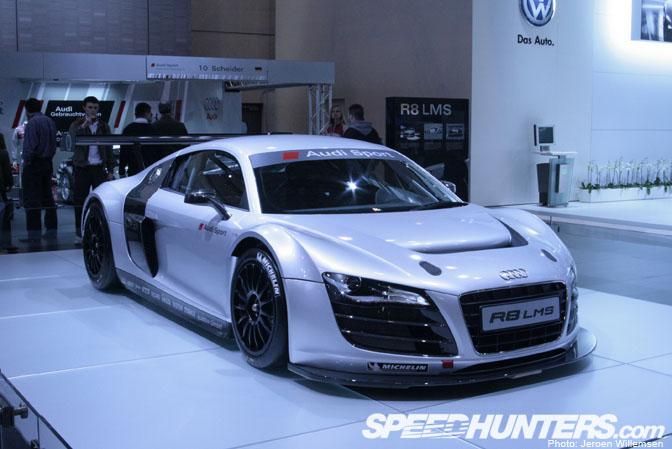 Audi made a real effort to showcase their involvement in racing. They had the Audi R10 Le Mans racer and one of their DTM cars at their booth, but my favourite was this R8 LMS. It is powered by a V10 with more than 500bhp at the rear wheels. Yep that's right, this baby is rear wheel drive only. Rod just posted a video about this car if you want to see it in action.
Audi also announced that they will retire the R10 and develop a completely new car called the R15 for next season.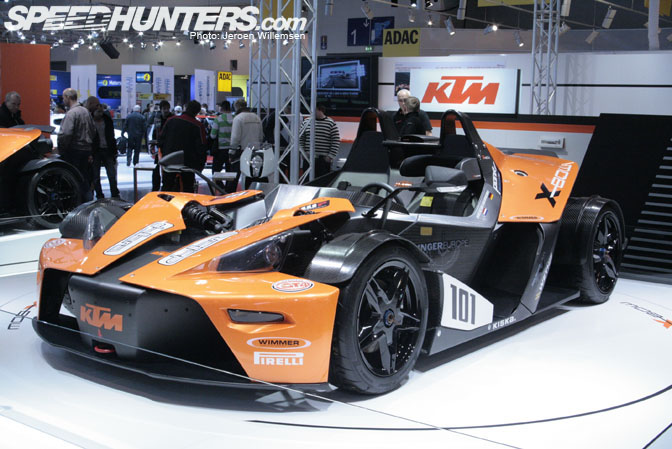 I saw this KTM X-bow when I went to the Spa 24hrs Race with John, Rod and Antonio. I thought it looked pretty hard with all the exposed carbon. It is going to compete in the FIA GT4 Light Championship next year against other lightweight vehicles.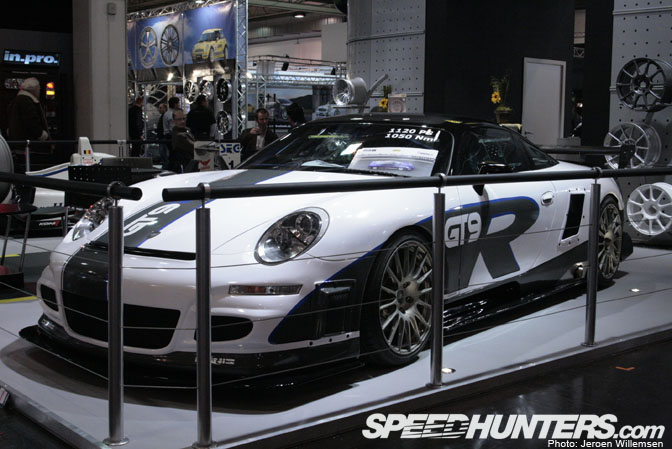 Remember this car? 9ff has been busy making the next evolution called the GT9R. I had a hard time finding this car because it wasn't on the 9ff stand!…  Eventually I located the machine and I was greeted by the lowest Porsche I have ever seen. This car puts out an amazing 1120ps and a mind boggling 1050Nm. With these kind of numbers it is possible to reach 300km/h in less than 16 seconds!!! It's top speed is measured at 409km/h making it the fastest street legal car in the world.
They even advertise the GT9R with the words "want to beat the Veyron?"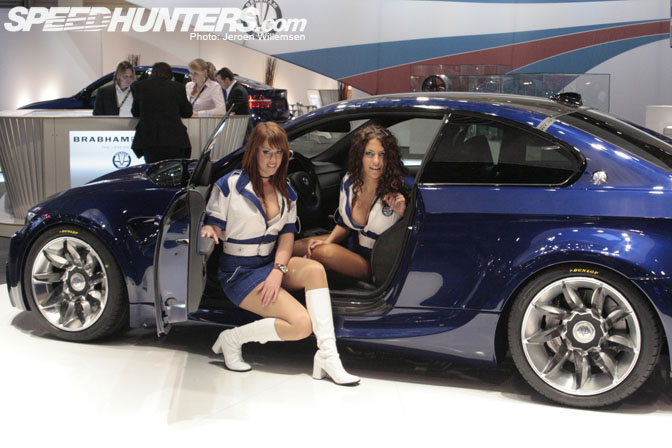 And of course there were girls, I found these two on the Brabham stand. There wasn't a whole lot of info regarding this car, the only thing I heard from the representatives was that the bodywork was all made from carbon fibre and that it had 19″ wheels.
I did hear the rumor, there is a dispute going on regarding the name Brabham. The Brabham family lives in Australia and are living motorsports legends…. They made it very clear that there is no connection between the Brabham family and the car that was displayed in Essen. Even the head honchos at BMW made a statement saying they have to stop using the logo on their website or close it. So the future for this car is uncertain at this moment.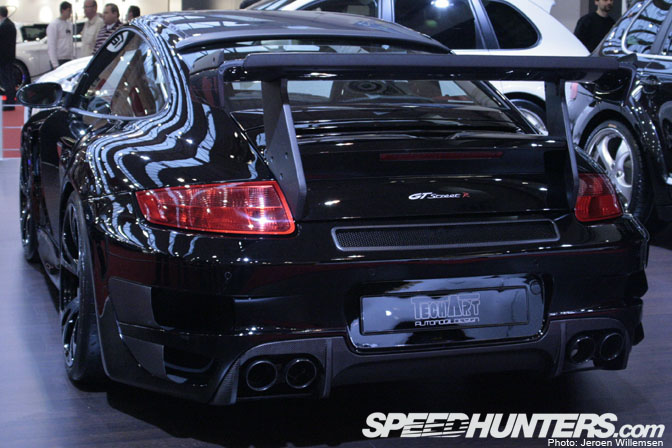 Ah yes, the Techart GTStreet R… This was one of my favorite cars at the show. It features a newly designed, wind tunnel tested, bodykit and provides an extra 10kg of downforce at 140km/h. The blown boxer engine is able to push out 660bhp and catapults it to 100km/h in 3.4 seconds. I will go in further detail about this car in a future post.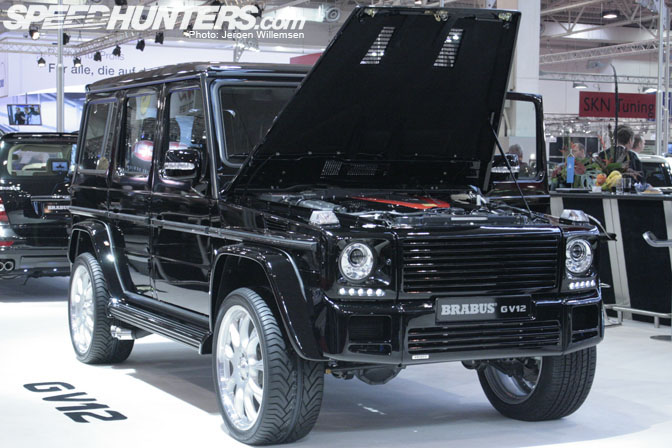 Pulling up in this Brabus G wagon at my local pub is something I can only dream of. The export price for this vehicle is just shy of 300.000 euro's. It features the same V12 that Brabus puts in all of their special vehicles. Some numbers; 0 to 100km/h in 4.7s, topspeed 240km/h, power 602 bhp, torque 742 lb-ft. Amazing machine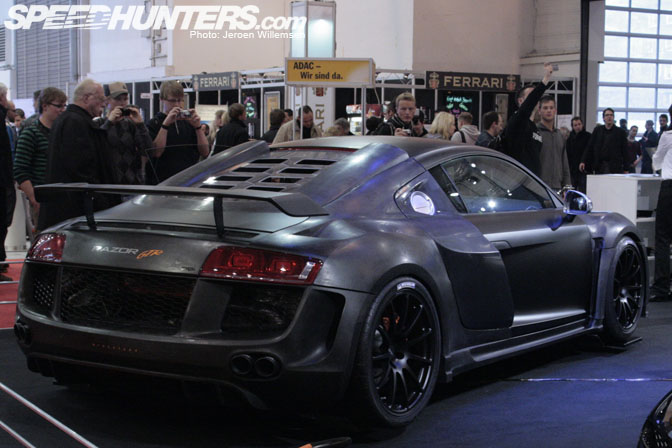 Here we have something special: the PPI Razor GTR. The people at PPI were very friendly and helpful! This car was on a rotating platform and they stopped it rotating just for me so I could get some decent pictures! Expect a full feature soon.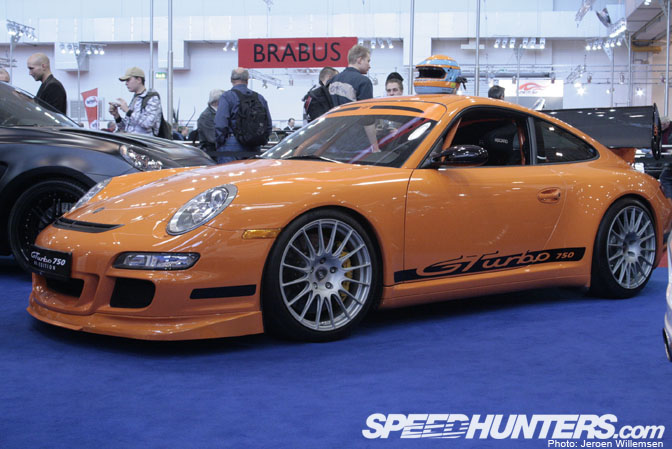 This is another Porsche build by 9ff: their GTurbo 750 NR-Edition. In this case the NR stands for Nürburgring. According to the press release, this car has been optimized on the Nürburgring with special equipment that gives the car maximum performance and is also street legal. It's a bi turbo and puts out 750bhp and 850Nm.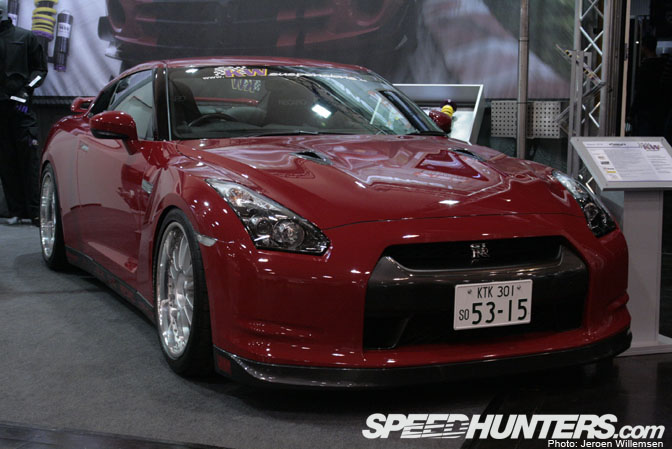 It was hard to find at Essen but eventually I found some Japanese muscle in the form of this Nissan GT-R. The R35 was featured at the KW Suspension stand and it had some nice OZ wheels and of course a KW suspension setup.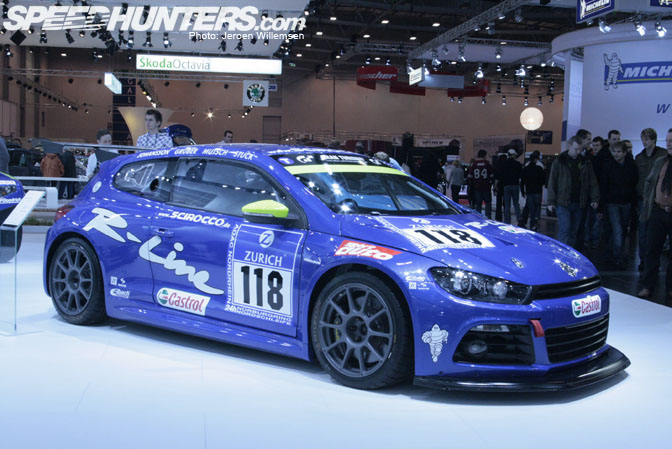 This Volkswagen Scirocco stood proud on the Volkswagen stand. This is the actual car that was driven during the 24hrs of the Nürburgring.
The Scirocco model was really present during the Motor Show. A lot of the tuners had one of these machines on their stand in different guises and setups. I'll showcase more of these cars in a future post.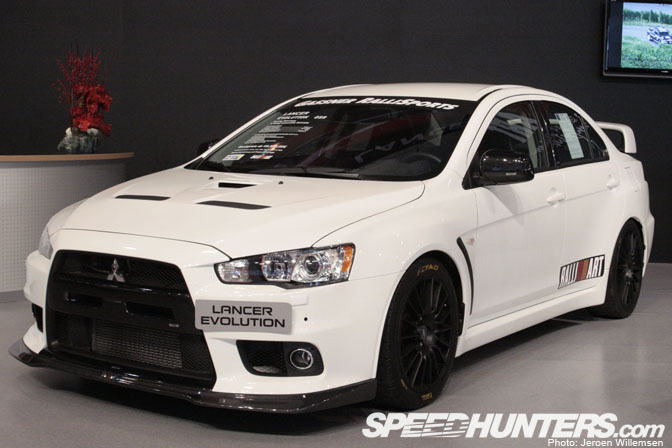 This EVO X was tucked in the back on the Mitsubishi stand… something I found it very funny. The center stage was for another EVO X with ugly rims, in my opinion they should have had this car in front of all the other EVO's out there and educate the people on how a well tuned X should look. Black on White works perfect.
My overall thoughts about the show are good, the only problem I had was
that some of the stands were too crowded with cars. Some of them were
so close to another, it was hard to find a spot to photograph tfrom. So I did my best and I hope you guys have enjoyed this first part of my trip to Essen, stay tuned for more.
-Jeroen Willemsen