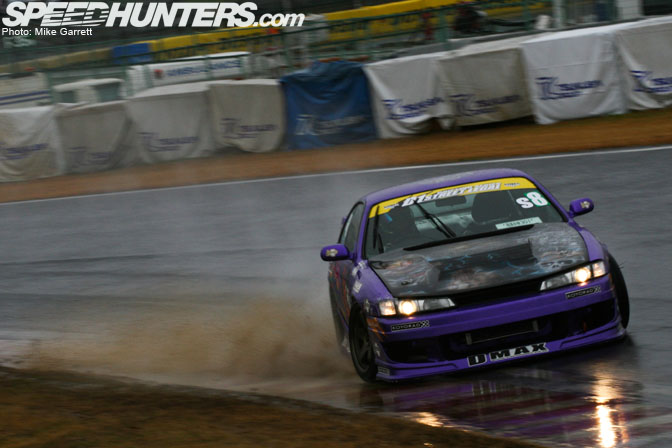 It seems like things have been running non-stop for me over the past two weeks. First there was the Nismo Festival, followed by the Yokohama Hot Rod and Custom Car Show and the Rev Speed Tsukuba Super Battle, and finally today the D1 Street Legal season finale, also held at Tsukuba Circuit. Unlike last Wednesday when the weather cleared up just in time for the time attack, today's conditions were solidly cold, rainy, and dark. As nice as it would have been to stay at home where it's warm and dry, I decided to do the manly (crazy) thing and headed out to the track to cover the action.
I am pretty exhausted after a full day of being rained on, nearly freezing to death, and trying to avoid getting hit by flying mud, so I'm going to keep this post short.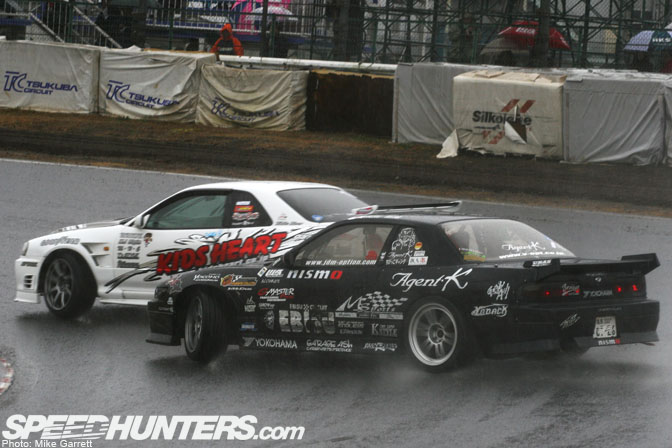 Our own contributor Naoto Suenaga would be attempting to secure the D1SL season championship, and that alone made this event worth the trip. Here's Naoto running tandem with Tsuyoshi Tezuka in his new ER34 Skyline during the morning's rain soaked practice session. I don't know about you, but I feel cold and wet just looking at this picture. Unlike Japan's summertime rainstorms which are warm, this one was extremely cold. It even snowed a little up on Mt. Tsukuba today.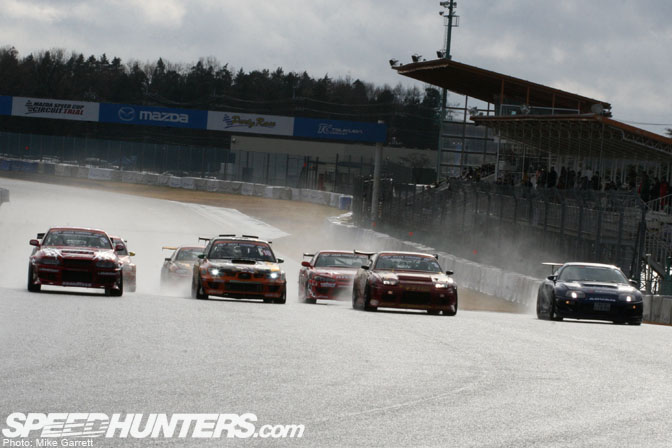 Putting a full grid of D1 drivers in their drift cars and having them do a 5-lap grip race on a soaking wet race track is a recipe for madness. More on this later.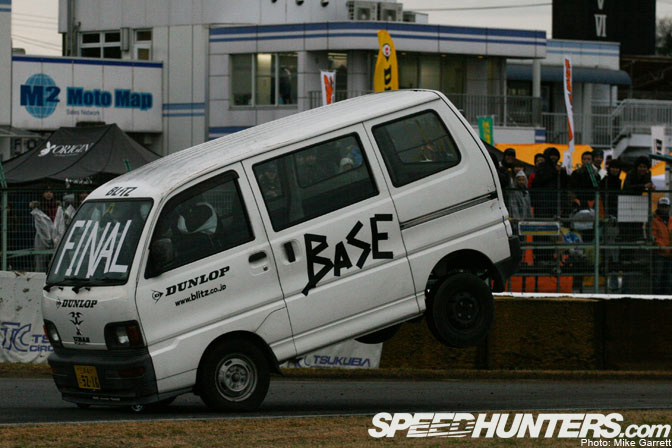 Doing stoppies in kei vans is the new automotive fad that's sweeping Japan.
OK, more on the way tomorrow. Time for some much needed sleep.
-Mike Garrett